Stanbic IBTC Introduces Scholarship Scheme for Undergraduates
By Modupe Gbadeyanka
Entries for the maiden edition of the scholarship scheme put in place by Stanbic IBTC Holdings Plc have commenced and it is open to Nigerian undergraduates.
A statement from the firm, which is a member of the Standard Bank Group, disclosed that students who participated in the 2020 Unified Tertiary Matriculation Examination (UTME) and have just gained admission into any of the tertiary institutions can apply for the programme.
The foremost end-to-end financial services provider said the total scholarship worth N40 million would be spread across four years and disbursed in tranches of N100,000 per academic year.
The firm also said that subsequent disbursement of the funds would be based on the maintenance of at least second-class upper grade and good conduct of the student as referenced by the university.
The Stanbic IBTC 2020 Scholarship Programme is geared towards encouraging hard work and academic excellence amongst Nigerian undergraduates
The CEO of Stanbic Holdings, Mr Demola Sogunle, explained that the scheme was put in place because the organisation recognises the importance and impact of education in the life of every Nigerian youth.
"Education empowers and encourages the youth to prepare for the future while also confronting challenges. Education is a panacea for the growth and enduring development of any nation or organisation," the bank chief said.
He reiterated that apart from making deliberate efforts to cushion the effect of the economic hardship caused by the pandemic on parents and guardians, the Stanbic IBTC 2020 Scholarship Programme would also seek to reward exceptional candidates who demonstrate academic excellence and good character.
While assuring members of the public of the organisation's commitment to the growth and development of Nigerian youths, Mr Sogunle said: "Over the years, we have demonstrated our obligation to the future leaders through the various plans and programmes geared towards supporting their dreams and aspirations. One of such programmes is the annual Stanbic IBTC Youth Leadership Series (YLS), which engages Nigerian youth on how to explore their innate potentials to become better business leaders."
The Stanbic IBTC 2020 Scholarship Programme kicked off on September 1, 2020, with the call for applications through the firm's website and social media platforms.
Criteria for selection include a minimum score of 200 in the 2020 UTME and letter of admission into a Nigerian university, issued by the Joint Admissions and Matriculation Board (JAMB) or the university.
Upon the close of entries and completion of the scholarship process, 100 successful applicants will be offered their scholarship letters.
Intending participants can apply for the programme HERE
Adeniran Praises Makinde for Allocating 18.78% of 2023 Budget to Education
By Modupe Gbadeyanka
The Governor of Oyo State, Mr Seyi Makinde, has been applauded by the Chairman of the Oyo State Universal Basic Education Board (Oyo SUBEB), Mr Nureni Aderemi Adeniran, for allocating more funds to education in the 2023 budget.
Speaking recently on a live programme on the Oyo State Broadcasting Corporation (BCOS) in Ibadan, the state capital, the educationist said this was commendable.
According to him, education has the second largest allocation in the proposed 2023 appropriation bill presented to the Oyo State House of Assembly by Mr Makinde.
He said with a budget of N58.2 billion, the government has recorded an unprecedented affection for education.
Mr Adeniran said Governor Makinde had maintained an unbroken record of allocating huge funds for the overhaul of the sector, especially the basic education sub-sector he supervises.
"Governor Makinde's record of allocating funds for education conforms to UNESCO standards of 15-20 per cent of the budget. In fact, this time, education is 18.78 per cent of the total budget proposal," he said.
Speaking further, the Oyo SUBEB chief lauded the current administration for consistently maintaining an 18 per cent to 22 per cent budgetary allocation.
He insisted that this has helped the state in regular payment of the Universal Basic Education Commission (UBEC) counterpart funding and received matching grants, "enabling us to execute numerous projects in the education sector."
"Oyo State Universal Basic Education Board has so far completed over 56 model schools and constructed and renovated over 700 classroom blocks across Oyo State, among other projects," he affirmed.
He, therefore, appealed to residents of the state to re-elect Governor Makinde for a second term, saying his efforts to make Oyo better could be further actualised with continuity.
GOMYCODE Opens New Flagship Hackerspace in Lagos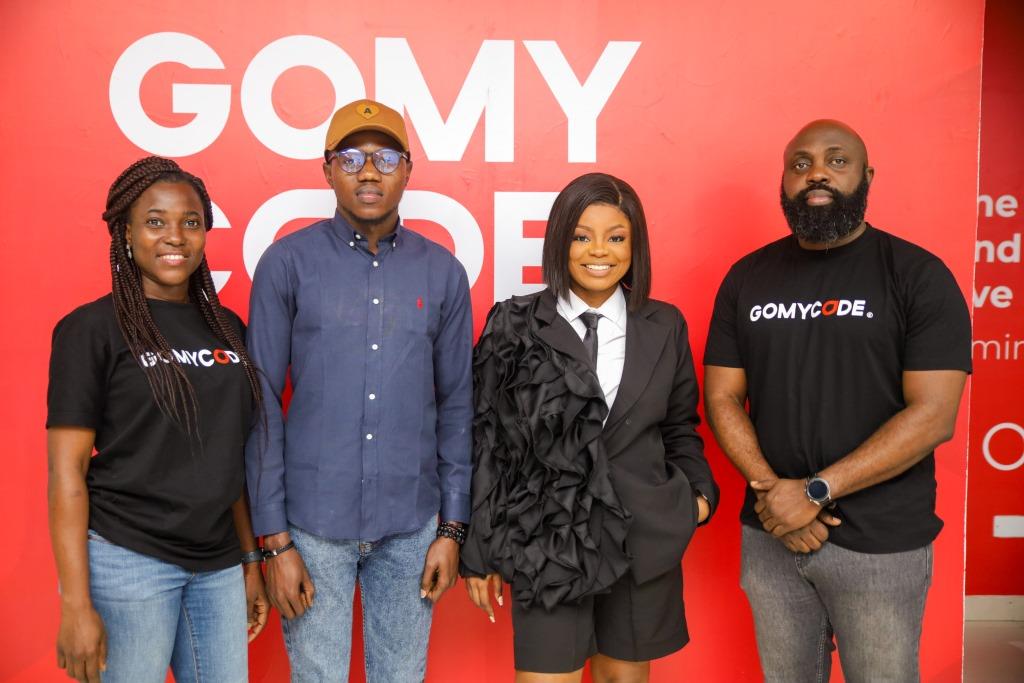 By Modupe Gbadeyanka
Africa's leading edtech platform, GOMYCODE Nigeria, has opened a bigger office space in Lagos at 230 Herbert Macaulay, Alagomeji-Yaba.
Comprising 5 floors, the new GOMYCODE hackerspace has a capacity five times larger than the old one, about 600 students compared with the 120 students the previous hackerspace accommodated.
In a statement, the firm disclosed that the new space is remarkable, with unique colours that stand out from the other buildings around it and can accommodate even more students in a more comfortable environment where they can learn.
GOMYCODE is pushing the limits on students' experience to the next level with 3 floors of classrooms, each dedicated to teaching. The classrooms are equipped with fibre optics and comfortable equipment for the students' success.
The new hackerspace has a rest and relaxation room for students to balance learning and leisure time or simply to continue working on their projects. There is also ample parking space in a dedicated garage for students that ensures easier accessibility to the facility.
The second floor of the hackerspace will be occupied by the educational advisors who now have even more facilities to welcome, inform, guide and support the current and future students.
Lastly, a large conference room, with enough seating for 200 people, allows guests to gather for talks and conferences, giving the setting an even greater range.
"This move signals our intentions for and deep commitment to the Nigerian market. Whilst we provide training online through what we call our online 'hackerspace', we know from research and our own experience that students prefer in-person classes and what we do is to ensure that these classes take place in the best possible spaces", says Babatunde Olaifa, General Manager, GOMYCODE Nigeria.
The move from a 3-room training space to a 5-storey centre in the heart of Yaba underscores our commitment to providing quality, relevant and affordable digital skills education to anyone in Nigeria looking to future-proof their careers. This is just the beginning. We are expanding rapidly, and in a few months, we will open hackerspaces in multiple locations in Lagos and Abuja", adds Olaifa.
Organisations Donate to Wesley School of Hearing Impaired
By Modupe Gbadeyanka
Some educational materials have been donated to Wesley School of Hearing Impaired, Surulere, Lagos, and Whanyinna Nursery and Primary School, Makoko, Lagos.
The items were given by GE Gas Power in collaboration with United Way Greater Nigeria (UWGN) through the Back to School drive to foster student development.
About 150 schoolchildren from the two schools received the learning essentials to encourage reading culture among children from disadvantaged backgrounds.
"This collaboration with GE to enhance the quality of education as well as promote literacy and reading culture among children in beneficiary schools is important in our efforts to improve lives by mobilising the caring power of communities.
"It is also in line with Sustainable Development Goal 4, which seeks to ensure inclusive and equitable quality education and lifelong learning opportunities for all while supporting children in low-income and potentially disadvantaged communities," the Executive Director of United Way Greater Nigeria, Mrs Deola Durodola, said.
Also speaking, the Communications Director, GE Africa & Diversity Leader, GE Gas Power Europe, Middle East and Africa, Anne Ezeh, said, "GE Gas Power is pleased to collaborate with United Way Greater Nigeria to help students access education, in line with our overall commitment to education and skills development in the communities we live and work in. We recognize that supporting children to access quality education prepares them to become productive citizens in the future."
Wesley Schools for The Hearing Impaired was founded in 1962 and currently hosts students with hearing impairments and special needs to empower them to achieve their full potential.
Whanyinna Children Foundation is a charity that uses education to combat child labour, illiteracy, malnutrition, crime, and health.
More than 260 children living in slums have been provided with tuition-free elementary education through the organisation.
The principals of both schools expressed their gratitude for the donation as it would ease the financial burden of parents and reduce student absenteeism.
Latest News on Business Post