Tax Office Seals Off Federal Agric Varsity over N2.3bn Debt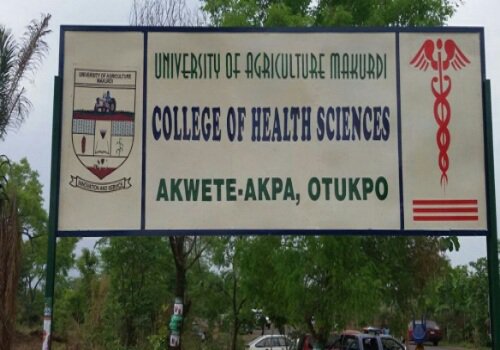 By Modupe Gbadeyanka
The Federal University of Agriculture in Makurdi, Benue State, has been sealed off by the Benue State Internal Revenue Service (BIRS).
The higher institution of learning was shut by the Benue State tax office over non-remittance of Personal Income Tax running into N2.3 billion.
The action, we gathered, followed reported failure of the school to respond to several letters written to it by the tax office to pay up the outstanding Personal Income Tax from 2007 to 2011.
Chairman of BIRS, Mrs Mimi Adzape-Orubibi, who led the enforcement team to seal off the university, noted that her agency received an interim order to restrain FUAM because it failed to deduct PAYE tax in some cases or deducted less in other cases.
According to her, the school would now have to pay almost N3 billion inclusive of penalties and interest."
Meanwhile, the university's chapter of the Academic Staff Union of Universities (ASUU) has described the move as an attempt to commence another round of illegal deductions from salaries of its members.
Firm Partners A.G. Leventis to Promote STEM Education
By Adedapo Adesanya
As part of its commitment to inspire young minds, STEM METS Resources Limited has partnered with A.G. Leventis to impact the next generation through Science Technology Engineering and Mathematics (STEM) Robotics workshop for schools in Apapa Local Government Area of Lagos state.
The partnership is a long-term commitment to educate, empower and elevate young minds while also ensuring accountability through measurable outputs.
STEM METS Resources, a social enterprise dedicated to enriching young minds is an indigenous company geared towards providing world-class services that are skillfully designed to equip Nigerian children and youth with the necessary skills set to compete and succeed in the global space.
In the modern global economy, STEM is closely linked with a country's economic prosperity. Developed countries that have become global leaders have relied heavily on the hard work and innovations of scientists and engineers.
To ensure consistent economic prosperity, it is necessary for developing countries such as Nigeria to focus on STEM education.
Now more than ever, there is a need for Nigeria and Africa to expand the capacity and diversity of the STEM workforce pipeline to equip the younger generation with the requisite skills for jobs of the future.
Also, with the pandemic outbreak in 2020, a lot has changed in the workforce. The resolve to work and learn remotely introduced global cross-functional teams.
This has reinforced the need to educate the next generation to help them compete on a levelled playing field against their international contemporaries in the global job market.
Commenting on the partnership, Ms Jadesola Adedeji, the CEO of STEM METS said "Technology is an integral part of a nation's accelerated growth and stabilized economy which then makes STEM education a top priority in the educational system.
"Exposing these young minds to it at an early age is a guaranteed way to build a generation of innovators and thinkers who will sustain and strengthen the evolving position of Nigeria and Africa at large."
On her part, Ms Seun Oni, the Group MD of A. G Leventis noted that "The future is digital, and we believe that strategic partnerships such as this will provide a conducive learning environment around STEM and ensure a ready pipeline of skills for young minds.
"Through various trainings and workshops, we remain committed to supporting the educational journey of children in our host community and preparing young champs for the future of work in the global space."
STEM METS Resources is a long-term partner in improving Nigeria's STEM education system through the provision of innovative and alternative educational learning platforms and continues to equip children and youths with the required skill set to compete in the future global workforce.
Over the years, more than 10,000 young minds have benefitted from the various workshops, holiday camps and weekly enrichment camps.
Low Turnout Mars Schools Resumption in Oyo
By Modupe Gbadeyanka
The Oyo State Government has expressed its displeasure over the low turnout of pupils/students in schools on Monday for the start of the second term of the 2021\2022 academic session.
The state government had directed public schools across the state to resume today after the first term holiday to celebrate Christmas and New Year.
Speaking during an inspection of resumption in primary schools in Ibadan metropolis on Monday, the Executive Chairman of the Oyo State Universal Basic Education Board (Oyo SUBEB), Dr Nureni Aderemi Adeniran, said he was not impressed with the turnout of pupils to the schools visited.
The SUBEB chief, who visited some schools in Ido, Ibadan North, Ibadan South-West, Ibadan North-West Local Government Areas of Ibadan, alongside a team from the board, observed that while some public schools in the axis had teachers on the ground, many pupils were yet to resume for school activities.
"There are some schools where we didn't meet a substantial number of students in classes. We are using this opportunity to appeal to parents to release their children and wards to resume for normal activities, which has commenced," he said.
Mr Adeniran said the Oyo State government's policy is that headteachers and teachers must hold pre-resumption meetings before the commencement of academic activities.
He, therefore, frowned at some schools holding such meetings during school hours, to the detriment of the pupils in classrooms.
The Oyo SUBEB boss sternly warned school headteachers to desist from such acts, urging them to monitor the activities of teachers and pupils in their various schools.
The Chairman further urged heads of public schools to commence academic activities immediately and ensure all COVID-19 prevention protocols are adhered to in schools.
He opined that early commencement of academic activities would enable schools in the state to cover the syllabus, adding that it would help with quality and standard learning outcomes.
"Henceforth, teachers should enforce compliance to all COVID-19 protocols. They should use nose-masks and provide water and soap," he said.
Resumption: Lagos Denies Plans to Shut Down Schools
By Modupe Gbadeyanka
The Lagos State government has said it has no plan to shut down schools in the state over non-compliance with the January 4 resumption directive.
It was reported last week that the state government was furious with some schools for disobeying the resumption order, with sanctions threatened.
The issue generated reactions and the Director-General of the Office of Education Quality Assurance (OEQA), Mrs Abiola Seriki-Ayeni, in a statement on Sunday dismissed the reports, saying such action would be counterproductive.
However, she stressed that most schools complied with the directive as 640 out of the 720 schools visited by officials of OEQA complied with the January 4, 2022, resumption date set by the Lagos State Government, signifying a compliance rate of about 89 per cent.
Mrs Seriki-Ayeni, while commending the schools that adhered to the state's resumption date, lamented that about 80 schools failed to comply.
She, however, clarified that the government had no plan to seal any schools as this would be counter-productive to learning.
The DG explained that rather, the OEQA only issued letters and placed stickers of non-compliance on the gates of schools that disobeyed the directive.
The OEQA boss clarified that the directive for public and private schools to maintain a uniform calendar was not new as it had been in place for several years. She, however, said the renewed enforcement was imperative because of the interruptions to school days occasioned by COVID-19 and the accompanying lockdowns.
Mrs Seriki-Ayeni recalled that in June 2021 there were meetings between representatives of the State government, private school proprietors, private school associations, and other relevant education stakeholders where it was agreed to ensure that the calendar and the January 4 date would be adhered to.
A statement by the DG on Sunday read in part, "For the avoidance of doubt, the Lagos State Government has not and will not shut down any school, as it would be counter-productive to learning."
She appealed to public and private school administrators in Lagos State to work with families to ensure that children are in school as expected and start the new term on a sound note.
"Just like we have always done in the past, the state government expects compliance and will continue to dialogue with all schools on matters relating to the progress of education in the state," Mrs Seriki-Ayeni said.
Latest News on Business Post