Do Small Businesses Really Need Online Presence?
By Adeniyi Ogunfowoke
Although having an online presence is quite affordable today, some small and medium scale businesses still struggle with the question of whether they should have an online presence or not.
Plainly and expectedly, you would think that this question should not come up at all due to the huge exposure that the internet gives many businesses today. Regardless, as a small business that does not have huge capital, every penny spent must return reasonable or significant value. Hence, do not be surprised that this question pops up once in a while.
Jumia as a startup/business that runs online
Jumia arrived in Nigeria in 2012 when internet usage was slowly picking up. Seven years later, it is the market leader when it comes to eCommerce in Africa. Now, it has opened up its platform to other businesses to sell and access new customers.
The secret here is starting small. In today's internet and mobile world, your business cannot afford to contemplate on whether to have an online presence or not, It should be part of your plan from the very beginning.
Therefore, let us look at some of the benefits of having an online presence
24/7 Accessibility
The Internet never sleeps, and every online platform you use gives your business a virtual 24-hour showroom. This allows potential customers to research your product or service after business hours, and in the privacy of their own homes. If you sell products, an online store allows for 24-hour order placement to capture a sale as soon as a customer is interested, as opposed to waiting for your brick-and-mortar store to open, by which time the urge to buy may have passed.
Brand building
Brand building means building a potential customer's trust in your company or product. Providing an online presence not only gives customers access to your product or service, but it also provides a way for the customer to "check out" your company. Online reviews, your interactions with other customers and the frequency and quality of your posts help to form a positive impression of your company in the potential customer's mind, making a future sale more likely.
Greater audience
The Internet encompasses a much larger area than the few miles to your business' office or store. Your Web presence reaches out to everyone who passes by your virtual doorstep, which could include people from right next door or in another country. Depending on your specific industry and offerings, this could open up a much wider customer base than relying on face-to-face interactions would.
Easier selling and marketing
It's a well-known marketing fact that people like to buy but don't like to be sold. A well-written piece of copy for your products or services on your website allow buyers to make a more relaxed, informed decision to purchase, as opposed to feeling pressured by a pushy salesperson. Marketing your business is also easier and more far-reaching, as the electronic format allows for a wider, more cost-effective distribution as opposed to traditional marketing, which usually includes printing and mailing costs.
How to create an online presence for your small business
Be present on all digital channels
It should go without saying that to develop an online presence, you have to be present on digital channels. However, a large number of small businesses still rely entirely on traditional means of marketing. These businesses lack a website, social media profiles, a mobile app and so on. These digitally deprived companies cite a number of reasons for their slow adoption of a branded website or social media accounts. The most common one by far is that business is going well enough without it. If you are into this type of business, you are simply limiting the potential reach of your business because this new approach (of having digital channels) has proved to be a good model for having a very successful business, with Jumia as a good case study.
Get SEO
Being solid starts with your website. It should be the central place where your audience can learn more about your brand and what you have to offer and how people can contact you for your services. However, this won't have any impact if your webpage is hidden amidst a sea of content on the web. And this is where SEO comes in. You're not an SEO expert? That's okay. Ask for help from experts or others around you with enough expertise to keep you ahead. Excellent application of SEO techniques can literally take your website from zero to ranking on the front page of Google. Beyond hiring an expert, it's also important to understand basic SEO practices so that you can channel your efforts towards creating sellable content.
Build Relationships
No matter which industry your business belongs to, there will be few online communities related to that industry. It will be worth finding out the communities where individuals or thought leaders from similar industry share their views. By participating in the relevant discussions and being an active member, you can start building relationships. Why is this so important? Well, chances are these people are better connected than you are and they might be able to help introduce you to others who are in your industry. New connections can be customers or partners who can help you grow your business.
The Need for Digital Marketing Inclusion in Varsities' Curriculum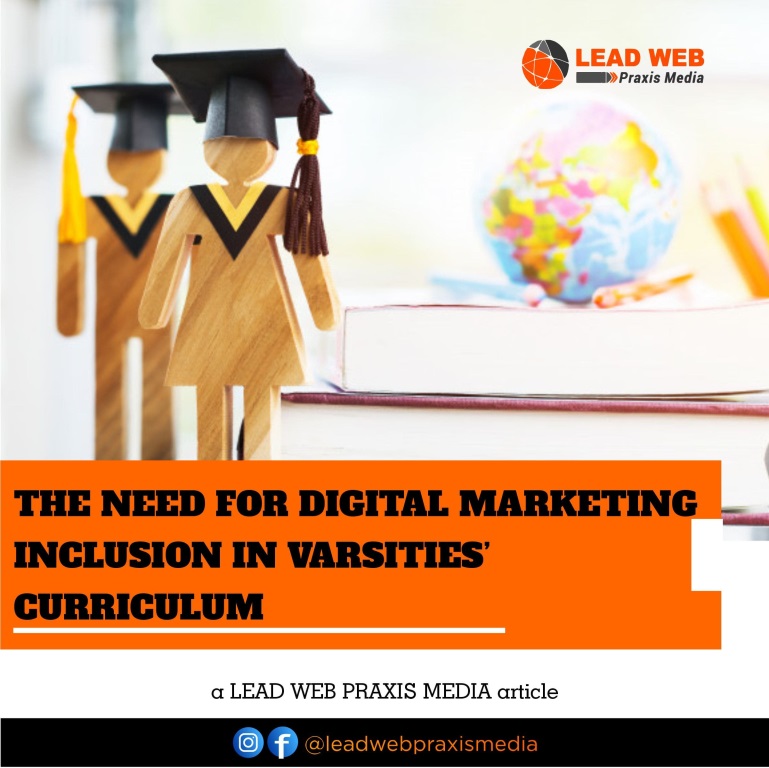 By Lead Web Praxis Media
The internet can boast of a high number of users worldwide and this is attributable to the development of technology.
This has led to the utilisation of digital marketing by a lot of businesses interested in reaching their target audience via the internet.
Simply put, digital marketing can be defined as the branch of marketing that makes use of the internet as well as the various digital technological devices for the facilitation and promotion of goods and services.
This concept is very vital especially if included in the curriculum of universities and here are the various reasons why such a move should be taken:
Fast-growing rates of digital markets
Digital marketing is experiencing a very rapid increase and statistics have revealed that this field of marketing will witness a very high number of job opportunities.
People are moving away from the analogue form of advertising and marketing and turning to more digitized options.
Introducing digital marketing as a course in the curriculum of universities across the country would be a step in the right direction. It will expose the students to an early learning experience in digital marketing and better equip them for this newly evolving field.
High profit
Digital marketing is believed to have one of the highest return on investment (ROI) in the marketing field. In a general sense, this means that a lot of companies are utilising this marketing strategy to push their products and services to their target audience.
Social media marketing as well as content marketing are best known to produce a very high ROI. Email marketing is also known to have a good conversion rate. The students would be taught the various types of digital marketing and they will also get the opportunity to choose the best digital marketing platform to use.
Active online shoppers
About 84 per cent of internet users would prefer to read reviews about certain products and services which will inform their buying decision. Google has about 3.5 billion searches carried out each year and most of these searches relate to businesses.
Most of the times, these searches are geared towards the purchase of goods and services rather than mere informational purposes about the businesses. These shoppers are always impatient with these searches and often don't go past the first 5 pages of Google or any other search engine. This is the reason why most businesses adopt Search Engine Optimisation (SEO) strategies. Students can learn more about SEO if digital marketing is introduced in the university's curriculum.
Boost in economy
This is one of the important benefits of digital marketing that cannot be overlooked. Some people are still making use of the traditional marketing mediums which includes flyers, newspaper, TV and radio adverts in trying to put their businesses out in the visibility domain.
The truth of the matter remains that these approaches have a different impact on business. If students are able to understand and learn about the various aspects of digital marketing in the university, there is a higher chance that some of the traditional approaches to marketing would be jettisoned and online marketing would be adopted which will, in turn, boost sales and the economy generally.
Versatility and digital skill gap
Once a student is able to master the top roles of a Digital Marketer, he or she will be exposed to a wider range of skills that may be related or not. It is important to note that there is a very high demand for people that possess digital marketing skills.
There are a lot of online skills which most people lack and this is often referred to as the skills gap. It is not strange to find out that certain persons that possess one skill might not be able to complete certain projects or jobs because of the fact that they don't possess certain skills too. Well, that is different from digital marketing because, with it, you can be able to up-skill your knowledge about trending technologies
Digital Marketing is very vital to the growth of every business owing to the latest trend in technological advancement. Early exposure to this area of online marketing would be the best for the growth of businesses across the country and the economy generally thereby the need for introducing digital marketing into the curriculum of universities.
We strongly suggest Digital Marketing inclusion in varsities globally.