29 Things You Must Take Along To NYSC Camp
By Modupe Gbadeyanka
On Thursday, November 24, 2016, the Batch B of the National Youth Service Corps (NYSC) will resume orientation.
Already, their call-up letters have been posted on the NYSC portal for print out.
It is no doubt that some intending corps members get confused on what they should take along to the camp, but Business Post is here to help you solve that problem.
Below is a list of Official NYSC Camp Registration Requirements:
CALL UP LETTER: This is a vital part of camp registration and the only evidence that you are a prospective corps member and you are not impersonating anyone. This will be taken from and not returned to you.
Tip: DO NOT LAMINATE IT!
Registration Documents: Foreign graduates should take along important registration documents used in registering at Abuja.
Final Year Student Identity CARD
Notification/Statement of Result from School
PASSPORT PHOTOGRAPHS: This is very important. Take as many as you can, about 20 in red backgrounds. You would need them at every registration point mostly.
PHOTOCOPIES OF YOUR DOCUMENTS: Now make about 5-10 copies of every document required. There would be photocopiers in camp at mammy market but trust me, it is double the price and it saves time.
Tip: The forms that will be handed to you are very easy to fill. Attach your passport where necessary and fill them correctly. After your registration, you will be issued with your State Code Number. This will be like your PIN throughout your Service Year.
CERTIFICATES/LICENSES: For Doctors, Pharmacists, Nurses & Lab Scientists, take along your proof of certification.
STATIONERY: PEN, PAPER, GUM, TIPPEX.
Tip: After getting your NYSC State Code Number, you can proceed to claim your NYSC Kit and Mattress after which you can proceed to get a Room. After you have gotten your kit and secured a place in the hostels. Your NYSC kit should contain 1 NYSC Crested Vest, A pair of Khaki Trousers, Cap and Jacket, 2 White T-shirts, 2 Pairs of Knickers, 2 pairs of green-stripped Stockings, A Pair of Orange Jungle Boots and One Pair of White Converse. A "Belt" is also included.
YOUR DAILY NEEDS:
ROUND-NECKED WHITE T-SHIRTS: This is an essential outfit in camp in fact in most camps this is the only allowed cloth to be worn throughout your 3 weeks. Even to church, you might not be allowed to wear colour cloths. You would be given 2 pairs of white t-shirts at camp but endevour to bring extra pairs 6, Why? Because you probably won't have time to wash during the week after being stressed out from the parades and Man-O-War drills.
Tip: Do not carry more than 2 pairs of colour clothes because you won't need it.
WHITE SHORTS: I beg you please do bring yours. you would also be given 2 pairs of shorts which are really poor in material. They tear easily and it can be annoying. So my dear Otondos bring like 4 pairs of shorts.
PLAIN WHITE SNEAKERS/TENNIS SHOES
WHITE SOCKS: Just get extra pairs.
MOSQUITO TREATED NET: You would do not want to fall sick in camp from malaria. Just bring yours.
BASIC DRUGS: Like Panadol or paracetamol, medicine for your allergies, menstrual pain relief drug, nausea relief drugs, antibiotics e.t.c. The camp clinic is sometimes inadequately stocked with drugs so help yourself.
PADLOCKS: Please lock your boxes and bags to avoid regrets and tears.
WAIST POUCH: You need it to carry your money, phone, small valuables, pens, etc around with you at all times.
BEVERAGE: The camp will supply u with "Tea-water" so you can make tea when u need to!
DETTOL OR ANY DISINFECTANT
DETERGENT: [BUY from Mammy.] Again, this reduces the amount of load you're bringing into camp. However, if you're lucky the mammy market will have vendors offering laundry services! It costs about N50 per item, N100 for your khaki trousers or shirt, extra N50 if you want your items pressed.
Tip: The Bucket: Buy this in Mammy. Don't stress yourself taking one to Camp, which you're probably going to leave behind after 3 weeks.
Toiletries: Toilet Paper, Sanitary Pad, soap dish etc. BUY in Mammy.
TOWELS
A PAIR OF SLIPPERS: [BRING or BUY]
Bed sheets, Pillow Cases and A Pillow. You could also get pillow from mammy market to reduce load.
HANDKERCHIEF.
FLASHLIGHT OR RECHARGEABLE LAMPS: [BRING or BUY]
PLATE, BOWL AND CUP: [BRING or BUY]
Some form of entertainment: Novels, PSP, chess, iPod or MP3 players
Your Ray-Ban sunglasses for the sun.
Get extra phone batter(ies) and extra Network SIMs.
CASH: Extremely important. You would need about N15,000. Then between N20,000 – N30,000 to be 'just' comfortable. For those that can manage, say, N10,000 – N15,000. There are lots of things that take up money. Things like food (for those who don't intend eating camp food), drinks, recharge cards, charging of phones, laundry, pleasures e.t.c
http://thesummary.com.ng/index.php/news-categories/education/item/6803-2016-batch-a-corpers-things-you-must-take-along-to-nysc-camp-to-avoid-stress
Court Rejects Abba Kyari's Plea to Thrash Charges
By Modupe Gbadeyanka
The application filed by the suspended Deputy Commissioner of Police (DCP), Mr Abba Kyari, to throw out the charges against him has been rejected by the Federal High Court in Abuja.
The embattled cop had challenged the court's jurisdiction to entertain the drug-related charges levelled against him by the National Drug Law Enforcement Agency (NDLEA).
But Justice Emeka Nwite, in his ruling on Wednesday, dismissed Mr Kyari's plea, stating that the court has the exclusive right and jurisdiction to hear the case.
Recall that the NDLEA dragged the former head of the Intelligence Response Team of the Nigeria Police Force and others before the court.
The other four members of the IRT accused of being involved in drug-related offences arraigned before the court are ACP Sunday J. Ubua, ASP Bawa James, Inspector Simon Agirgba and Inspector John Nuhu.
They were accused of conspiring to deal in 17.55kg of cocaine without lawful authority. They were also alleged to have conspired to tamper with cocaine and unlawfully tamper with the 21.35kg of cocaine seized from two convicted drug dealers.
But Mr Kyari asked the court to dismiss the suit against him, arguing that the charges were premature as the NDLEA ought to have allowed the police to exhaust its internal machinery before taking an action.
According to him, authorities of the police had already ordered a probe into allegations against him, with an interim report released.
He argued that the Police Service Commission (PSC) has similar powers to investigate and discipline erring police officers in line with the Police Act & Regulations, the same way the National Judicial Council (NJC) disciplines judicial officers.
However, Justice Nwite was not moved by the arguments of the suspect, informing him that the powers of the PSC do not supersede the powers of the Federal High Court
Ramadan: Rite Foods Preaches Peaceful Coexistence
By Modupe Gbadeyanka
As Muslims across the globe and Nigeria prepare for the annual one-month Ramadan, a period for fasting and getting closer to Allah, Nigeria's market leader in the food and beverage industry, Rite Foods, has called on all to adhere to the doctrines of Islam, which preach peaceful coexistence.
The annual Islamic ritual, which is in fulfilment of the fourth pillar of Islam, is expected to commence this week.
In a statement, the world-class and proudly-Nigerian company said it has made available its unrivalled brands for consumption and refreshing moments during the fasting period for Islamic believers and on extraordinary occasions.
The Managing Director of Rite Foods, Mr Seleem Adegunwa, stated that as a consumer-centric company poised towards the delivery of quality products for consumers' satisfaction with award-winning brands comprising the 13 variants of Bigi carbonated soft drink (CSD) and premium water, Rite sausages, Fearless energy drink, and the premium Sosa fruit drink for Muslim faithful's during the holy month of penitence and self-denial as enshrined in Islam.
He urged the believers to uphold virtues that foster unity, decency, tolerance, and love for one another, by what they propagate and are known for.
In the same vein, the company's Assistant Brand Manager, Ms Boluwatife Adedugbe, avowed that Rite Foods would continue to cater to the needs of consumers with its leading brands that are produced with state-of-the-art infrastructure and in a first-rate factory in line with global best practices.
She affirmed that Rite Foods would continually identify with its consumers with initiatives that add value to lives and felicitate them during religious undertakings.
Against the backdrop of continually connecting with its consumers, the company's Bigi brand unveiled its new slogan, Bigi For Every Moment, as the most delicious brand that suits all occasions.
The mantra highlights the idea that there is a perfect refreshing flavour to suit every moment for all demographics, whether for a celebration or a relaxing mood. It is suitable for all events.
Similarly, with its new mantra, Embrace The Thrill, the Fearless energy drink has demonstrated that it would continue to rejuvenate consumers to become braver and more adventurous, to activate their dreams to attain success with the positive energy it provides.
It motivates them to go beyond their limits and not be laid back by the many rejections they have received. The brand also encourages them to be daring and energetic, exhibit the willpower to excel, be enthusiastic in their endeavours, and be vigorous.
US Threatens Sanctions Over Voter Intimidation at Lagos Guber, Others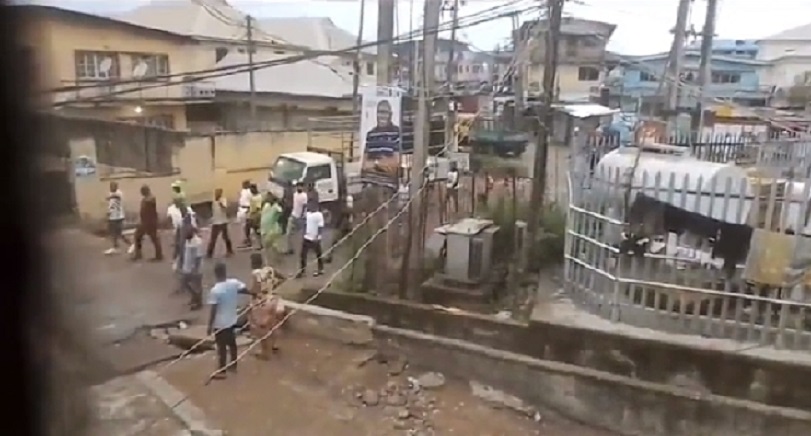 By Adedapo Adesanya
The United States government has condemned the disturbing acts of violent voter intimidation and suppression that took place during the governorship polls in Lagos and 27 states in Nigeria on Saturday, March 18.
The world power also said it would consider all available actions, including additional visa restrictions, on individuals believed to be responsible for, or complicit in, undermining the democratic process in Nigeria.
In a statement on Tuesday, the US diplomatic mission in Nigeria said it observed the elections in Lagos and elsewhere and witnessed some of these incidents first-hand.
It condemned "The use of ethnically charged rhetoric before, during, and after the gubernatorial election in Lagos," which it said "was particularly concerning."
"We commend all Nigerian political actors, religious and community leaders, youth, and citizens who have chosen to reject and speak out against such violence and inflammatory language, affirming Nigerians' commitment to and respect for the democratic process.
"We call on Nigerian authorities to hold accountable and bring to justice any individuals found to have ordered or carried out efforts to intimidate voters and suppress voting during the election process.
"The United States likewise will consider all available actions, including additional visa restrictions, on individuals believed to be responsible for, or complicit in, undermining the democratic process in Nigeria.
"Following the February 25 national elections, the United States joined other international observers in urging the Independent National Electoral Commission (INEC) to improve voting processes and technical elements that experienced flaws in that voting round.
"The March 18 elections appear to have had significant operational improvements, as polling stations generally opened on time and most results were visible on an electronic viewing platform in a timely manner," the statement read.
The United States used the opportunity to call on those dissatisfied with the outcome of the exercise to go through established legal processes to reclaim their mandate.
"We further call for Nigeria's people to work together as they participate in and continue to strengthen the country's vibrant democracy," the statement added.
Business Post reports that the candidate of the Labour Party (LP) in the governorship election in Lagos, Mr Gbadebo Rhodes-Vivior, has promised to approach the court to challenge the exercise.
Latest News on Business Post