Africa's Traditional Institution Under Serious Threat—Monarch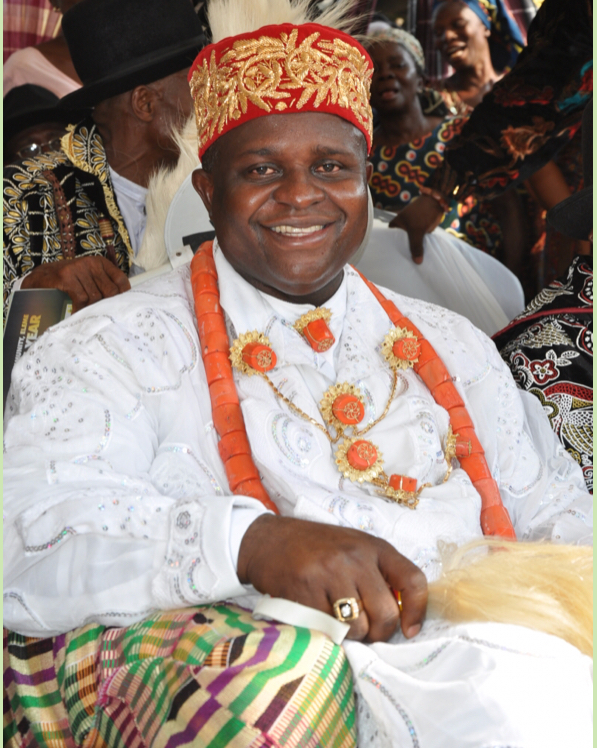 **Says Libation Not Fetish
By Dipo Olowookere
A paramount ruler in the South-South region of Nigeria, Dr Appolus Chu, who is the Egbere Emere Okori of Eleme kingdom, has called on monarchs across the country to do well within their power to preserve and promote the African culture.
This is as he said civilization was eroding today's society with the advent of western culture, which he said was threatening the African tradition.
The custodian of the local culture, during a courtesy visit to the Esogban of Benin Kingdom in Edo State, Chief D.U. Edebiri, Mr Chu discredited the notion that libation was a fetish practice, and stressed that it is an African traditional means of offering prayers and thanksgiving.
"Libation is prayer and what do you do when you offer prayer? You pray for progress, success, good health and every good things of life.
"The drinks that are used are bought from the market and not from the shrine, so also is the palm wine that is used.
"And as you are praying, you are libating and directing your faith towards your demands and you appease the gods, because we believe the gods are here.
"It is just like when you go to church and the pastor uses olive oil and water to pray. When the congregation choruses amen, it is agreeing that God has answered the prayer. So, libation is part of our culture, and we shouldn't neglect our culture," he said.
The monarch said further that, "The traditional institution of Africa is under a form of blackmail. We are being blackmailed to despise and snub our cultural system.
"And we are abandoning our tradition out of ignorance. Today, our children who are now pastors and bishops are propagating the Western religions and snubbing our traditional beliefs and values. As a strong believer in African tradions and culture, I will advocate that we should not see libation as a fetish practice. It is just a form of prayer ad an integral part of our culture."
In his remarks, Chief Edebiri consented to the views of HRH Chu, and presented him with a gift, after which libation was offered.
"We believe that when you die, you go to heaven and you meet your ancestors, those who have left before you.
"They also congregate there, as we do here on earth. And whenever we are doing anything here, we remember them, so that they may be part of what we are doing and bless whatever project we are embarking on. We always pour libation so that our ancestors will partake in whatever we are doing. It has nothing to do with fetish activity. There is no juju when you pour libation. It is your conscience, it is your mind, because you believe that you are coming from a tradition. The tradition is the belief that your parents did it and they lived well. If you do it too, you will live well and die well. So, pouring libation has nothing to do with being fetish."
"As a matter of fact, in a football match, if a team wins, you will see people opening bottles of champaign to celebrate. That is pouring libation. If your son buys a new car and he brings it home, you pour libation to bless that gift.
"So, those who say that pouring of libation is fetish are being misled and misinformed. In the African tradition, we pour libation after kolanut, so that our ancestors will bless whatever we want to do," he concluded
SweepSouth to Battle Fichaya, Others for Market Share in Nigeria
By Adedapo Adesanya
Johannesburg-based SweepSouth, the home cleaning service startup that was launched in 2014, is looking to hijack some customers from its competitors in Nigeria by offering quality services.
SweepSouth allows people to book home cleaning services at affordable prices and connects them with cleaners they call SweepStars, who are carefully vetted and are professionals with extensive experience in home cleaning.
Traditional domestic service agencies in Nigeria are mostly informal, and people who use these cleaners often have to find them by asking around their neighbourhood but the problem with this approach is that it is difficult to know if the cleaner is experienced.
Things are about to change as SweepSouth's value proposition will help its customers find a cleaner in minutes and will deliver the best services.
The startup's expansion in Nigeria is led by its new country manager, Ms Awazi Angbalaga, an operator who has worked across industries in the past eight years.
Ms Angbalaga noted that SweepSouth has been test-running its services in Nigeria for the last two months and that the uptake has been exciting.
"Although we've largely been testing out our service here, we have already had our first 300 bookings, and the feedback we've received backs our belief that our proposition is compelling to Nigerians. While we're growing our bookings every week, our focus continues to be providing the best service to our customers," she said.
At the moment, SweepSouth charges a base fee of N3,400 ($8) for cleaning a one-bedroom apartment and around N7,500 ($18) for cleaning a 3-bedroom apartment. The pricing is at par with what is obtainable with traditional domestic service agencies, which is important for a service which is aiming for mass-market adoption.
But SweepSouth will face competition from those traditional domestic service agencies and newer startups such as Fichaya which are now targeting Nigeria's young working-class population.
Remote work and a growing class of young tech workers, who are willing to pay gig workers for services that make their lives easier, are powering the home services industry. Other startups in this space even offer home-cooked meals and laundry.
To break into the market, SweepSouth may also look to provide additional services such as its SweepSouth Connect, which links people with a wide range of professional artisans. SweepSouth Connect is already available in Kenya and South Africa.
The startup did not confirm if it will launch its Connect service in Nigeria but it stressed that for now, the focus is to reach mass adoption and provide exceptional service to customers.
At the moment, customers can only make bookings from the SweepSouth Nigeria website, but the startup shared that it will launch its app this month. The app will improve customer experience across the entire process from booking to leaving reviews for the SweepStars they're matched with.
Buhari Loses Suit to Challenge Electoral Act at Supreme Court
By Adedapo Adesanya
The Supreme Court has struck out a suit filed by President Muhammadu Buhari and the Attorney General of the Federation (AGF), Mr Abubakar Malami, challenging Section 84(12) of the Electoral Act.
On Friday, the case was expunged on the grounds that it lacks the jurisdiction to entertain it and is an abuse of the court process.
A notice for the judgment delivery was served on President Buhari and the National Assembly on Thursday, inviting them to appear before the court today for the judgment.
The President and the Minister of Justice had filed a suit at the Supreme Court, seeking an interpretation of the controversial clause in the Electoral Amendment Act 2022.
In the suit filed on April 29, President Buhari and Mr Malami, who are the plaintiffs, listed the National Assembly as the sole defendant.
There have been several debates regarding Section 84 (12) of the amended Electoral Act 2022 which was assented to in February.
Upon assenting to the act, President Buhari had asked the National Assembly to delete the contended clause, however, the parliament declined the president's request.
Section 84 (12) of the legislation holds that "no political appointee at any level shall be a voting delegate or be voted for at the convention or congress of any political party for the purpose of the nomination of candidates for any election."
In their suit marked SC/CV/504/2022 and filed on April 29, 2022, President Buhari and Mr Malami sought an order of the apex court to strike out the section of the Electoral Act, which they argue was inconsistent with the nation's constitution.
According to the court document, the plaintiffs contend that the Section 84(12) of the Electoral (Amendment) Act, 2022 is inconsistent with the provisions of sections 42, 65, 66, 106, 107, 131, 137, 147, 151, 177, 182, 192 and 196 of the Constitution of Federal Republic of Nigeria, 1999, (as amended), as well Article 2 of the African Charter on Human and People and Peoples Rights.
The plaintiffs further contended that the constitution already makes provisions for qualification and disqualification for the offices of the President and Vice President, Governor and Deputy Governor, Senate and House of Representatives, House of Assembly, Ministers, Commissioners, and Special Advisers.
They urged the Supreme Court to make: "A declaration that the joint and or combined reading of section 65, 66, 106, 107, 131, 137, 147, 151, 177, 182, 192 and 196 of the constitution of the Federal Republic of Nigeria, 1999, (as amended), the provision of Section 84 (12) of the Electoral Act, 2022 which also ignores Section 84(3) of the same Act, is an additional qualifying and/or disqualifying factors for the National Assembly, House of Assembly, Gubernatorial and Presidential elections as enshrined in the said constitution, hence unconstitutional, unlawful, null and void".
However, in its decision on Friday, the Supreme Court held that President Buhari, having assented to the bill on February 25 2022, cannot turn around to challenge the same act.
In a unanimous judgement delivered by Justice Emmanuel Agim, the court said allowing the suit to have its way will amount to approbating and reprobating at the same time and no court of law shall allow that.
The apex court unanimously agreed that President Buhari lacked the jurisdiction to bring the suit before it because of the nature of the reliefs sought.
London Police Arrest Ekweremadu, Wife Over Organ Harvesting
By Adedapo Adesanya
The London Metropolitan Police has announced that it arrested a Nigerian national, Mr Ike Ekweremadu, and his wife, Mrs Beatrice Nwanneka Ekweremadu, for allegedly conspiring to bring a child to the United Kingdom for organ harvesting.
In a statement on its website, the Met Police wrote that "Beatrice Nwanneka Ekweremadu, 55 (10.9.66) of Nigeria is charged with conspiracy to arrange/facilitate the travel of another person with a view to exploitation, namely organ harvesting.
While the statement did not, however, give further details about the suspects, the age and description given match that of the former Deputy Senate President and his wife.
"Ike Ekweremadu, 60 (12.05.62) of Nigeria is charged with conspiracy to arrange/facilitate [the] travel of another person with a view to exploitation, namely organ harvesting."
As at press time, neither Mr Ekweremadu nor his aides have issued a comment about the development.
But the police added that "both [have] been remanded in custody and will appear at Uxbridge Magistrates' Court later today.
"The investigation was launched after detectives were alerted to potential offences under modern slavery legislation in May 2022.
"A child has been safeguarded and we are working closely with partners on continued support. As criminal proceedings are now underway we will not be providing further details."
Latest News on Business Post