Balami Covers Pleasures Magazine's March/April 2020 Issue
The commercial aviation industry is a highly complex space, where a large number of entities are involved in the delivery of travel products and services, which is sometimes manifested in a single product from a customer perspective.
These actors are often collaborating and partnering to be able to co-deliver value and meet the expectation of customers.
According to International Air Transport Association (IATA) statistics, from the moment passengers search online for an air ticket to the time they arrive at their destination, the airline is just one of around 26 business partners involved in the aviation chain.
Would you board a plane if you know it had very poor maintenance record? Would you put your life in the hands of an airline that uses defective parts for its aircraft?
If you answered no to both questions, then you would appreciate the importance of other players involved, especially the aircraft maintenance industry.
Basically, the safety of air travel relies on the assurance of quality manufacturing of aviation equipment and its maintenance that ensure that complex and sensitive puzzles have to sit perfectly together for the success of each flight that takes place anywhere in the world.
Truth be told, aircraft maintenance, repair, overhaul and modification services have a long history of been seen as a 'white man profession' but there seems to be a paradigm shift in the profession with inspirational success stories from Africans who have great passion and love for all the aviation industry.
In fact, it is not out of place to state that with the new crop of top African aircraft talented aircraft engineers with excellent technical knowledge blazing a path forward, it's been difficult for the industry not to sit up and take note of the shift.
Therefore, to deepen the importance of celebrating Great Success stories in Africa and also correct the wrong impression that whenever the continent is mentioned it is only a prism of war, corruption, disease, poverty, and hunger PLEASURES Magazine presents the theme of the March/April 2020 issue of your deluxe Pan-African Entrepreneurial and Luxury magazine: Paradigm Shift, a special edition to celebrate the success story of Isaac Balami, the founder and Chief Executive Officer of 7 Stars Global Hangar, the first-ever Aircraft Maintenance Repair and Overhauling Facility in the West African sub-region who has also excelled greatly as the President of the National Association of Aircraft Pilots and Engineers.
As earlier mentioned, once a White man's turf, aircraft maintenance, which encompasses the performance of tasks required to ensure the continuing airworthiness of an aircraft or aircraft part, including overhaul, inspection, replacement, defect rectification, and the embodiment of modifications, compliance with airworthiness directives and repair.
Balami, who once worked as a painter and soak-away evacuator who is taking the world by storm is proving that this notion has been sent to the oblivion. But of course, it took some grit, guts and a lot of hard work along the way for Balami to get there.
In this exclusive interview with PLEASURES Magazine, the President, National Association of Aircraft Pilots and Engineers (NAAPE) who doubles as the Chief Executive Officer of 7 Stars Global Hangar, Engr Isaac David Balami, speaks with the Publisher, PLEASURES Magazine, Adedotun Babatunde, on his amazing journey from been a suya seller, painter and suck-away evacuator to one of the leading providers of aircraft maintenance, repair, overhaul and modification services in the world.
According to him, ''I come from an extremely humble Christian background in Borno state, a state in north-eastern Nigeria. My parents and grandparents were privileged to be Christians, my parents are also pastors. I grew up in a large family, my parents were not doing very well and found it hard to pay for the kind of school I wanted to go to.
"One thing I tell people is this, in life, you must know who you are! God did not bring anybody into this world for no reason, everybody has a reason why he or she is existing. My family named me Isaac because they believed I would bring laughter to the family, community and my generation.
"So, I remain focus though the future was still obscure then. At a very young age, I would do menial jobs like laundry, farming among others to augment the little money my parents had to go to school.
"But today, who would have thought that a mere labourer just 22 years ago could become the national president of the Association of Nigerian Pilots and Engineers? Who would have thought that an ordinary mai suya in the north some years ago could become the past spokesperson of Trade Union Congress of Nigeria? Who would have thought that a filthy and stenchy soak-away evacuator from the North-Eastern part of Nigeria could become the president of Arewa Youth Consultative Forum?
"Who would have thought that a man who could hardly afford a daily meal could cater for over 500 widows and sponsor nearly 500 children in school as a commitment from a foundation he owns? Who would have thought that a helpless man who faced a lot of challenges would be the founder of Nigeria Rebirth Project?" he asked rhetorically.
On what has helped him to become what he is today, Engr Balami averred that the Industry is for the bold and courageous.
He said: "What has helped me is my being bold. It takes a bold person to be able to take up the pressures in the Aviation Industry. It is not for weak people. Growing up you can imagine a young man, sleeping and waking up in the bush, encountering snakes and all sorts.
"Going through that wilderness, going through tough times, sponsoring myself, these are what have shaped me! Aviation is a global business but at the time you would hardly see Nigerians in the various fields in the Aviation industry.
"I was young and inexperienced but I had the drive, passion and commitment to excel and it was my desire for the airline owners to be able to train locals to take up the jobs the white people were doing, not that I was racist but because I believed they can do it."
Against the threat of being sacked, he said he contest for election to be head of the airline and won by a landslide victory against the incumbent president who was his director at the time.
"I chose between losing my job and winning the election and I made them know that if I lost the election it would be on record that I chose to salvage my people working in this industry at the peril of losing my job."
On the making of his yet to be launched airline, Engr Balami said "The airline will redefine the aviation industry, and change the entire narrative.
"The plan is if you fly economy class with us, you will be treated as a business class passenger. Currently, we're bringing in some aircraft that have all been converted to business class. We will be having our VIP lounge therein; we are trying to give people that fly private jets an exquisite experience with us.
"With us, you're assured of safety and comfort. With God by our side. It's a one-stop-shop and we're redefining the entire status quo."
On what the future holds for 7 Star Global Hangar, Engr Balami averred that in the next three years, the company project to be at the New York Stock Exchange while in the next five years, it will not just be doing Aircraft maintenance but by God's grace have assembled a team of aeronautical engineers, aircraft maintenance engineers to fly the first made in Nigeria aircraft.
"The Chinese now have made in China Aircrafts. While we are still a consuming nation? We can manufacture aircraft, if from nowhere, a boy from Borno, God can use me today to create jobs in the aviation sector, if as a nobody, God can take me to this height, what that means is that with the current team I have on the ground, with the expertise, the experience will be global exposure. We can salvage the Nigerian Aviation sector," he said.
On giving back to society through NGO, he said the Isaac Balami foundation a Nigeria Initiative is empowering and uniting people.
According to him, "The night I prayed to God to give me a scholarship was the night I established the Isaac Balami foundation. The moment God gave me a job, I started funding the foundation. The Isaac Balami Foundation is aimed at empowering the less privileged and uniting people.
"We train people to acquire skills, we help the needy with fees among other humanitarian activities. Coming from Borno state, I was raised in the midst of Muslims, I was trained and empowered by Muslims and the Isaac Balami Foundation is working to ensure there is unity, national healing, peaceful coexistence, religious tolerance.
"Today, Nigeria is polarized, so much dichotomy, so much hatred and envy amongst us. When I saw that we are at that level, I had to go beyond the Isaac Balami Foundation for the My Nigeria Initiative to emerge. We wrote to the Presidency and today the First Lady is our National Grand Matron.
"We launched this foundation with several dignitaries and ambassadors from across Nigeria in attendance. We called together 200 youth organizations and held a programme to sign a peace accord after our brothers and sisters from the eastern part of the country were asked to leave the north. Since then, there has been a lot of stability and peace."
Also featured, in your favourite PLEASURES Magazine is the President of Seychelles, H.E Danny Faure, who believes persistence is important in becoming a leader in your field. A seasoned and experienced politician, President Faure talks to PLEASURES Magazine about how his own experiences and his motivation to improve the lives of the Seychellois people, as well as those around the world. Also, an exclusive on Beech Holdings, owned by one of Manchester's biggest developers Stephen Beech, PLEASURES Magazine caught up with him to talk about the growth of Manchester and what the future holds for Beech Holdings.
It is also a pleasant read with, Morin O's Creative Director, Maureen Obaweya, who has been on the cutting edge of making quality leather goods in Africa for over two decades. A look at Century Plaza, a luxury living in the heart of Los Angeles and latest collections from African Luxury fashion brand by Adebayo Jones, the London based fashion Designer and style consultant who have long been associated with glamour, elegance, opulence and style. And as usual, the magazine is incomplete without your usual light stories and other human-interest narratives such as startup success stories of Kator Hule and Olubunmi Crown Gbadewole.
Sea Piracy in Nigeria Drops 80%—NIMASA
By Adedapo Adesanya
The Nigerian Maritime Administration and Safety Agency (NIMASA) has disclosed that sea piracy has declined drastically by 80 per cent on Nigeria's territorial waters.
This was made known by the Director-General, Mr Bashir Jamoh, during a courtesy call by Executive Members of the Nigeria Union of Journalists (NUJ), Lagos State Council, led by the Chairman, Mr Adeleye Ajayi to the NIMASA headquarters in Lagos.
According to Mr Jamoh, $783 million had been lost to piracy in the Gulf of Guinea.
He said: "We have recorded a drastic reduction in piracy and this is enough for us to beat our chest and say that we are ready to return to the category 'C' of membership of International Maritime Organisation (IMO).
"However, the year 2021 has witnessed a significant turnaround under my leadership as insecurity on Nigerian waters had reduced by 80 per cent."
Mr Jamoh said that the last time the country had a drop in piracy attack in the nation's waterways was in 1994, saying that Nigerian waterways were one of the top 10 safest glasses of water in the world.
He noted that this achievement was enough reason to sensitise and inform the international community that the Nigerian waterways were now safe than ever before, as Nigeria must take its rightful position among the comity of nations globally.
"We want the cost of the insurance premium paid by Nigerians as a result of insecurity to be reconsidered as insecurity in the country's waterways had drastically reduced," Mr Jamoh said.
The NUJ chairman, in his remarks, assured NIMASA of regular publicity as well as a robust relationship between the Lagos Council of NUJ and NIMASA.
He lauded NIMASA for the giant strides it had achieved in the maritime sector, which included safeguarding of Nigeria's waterways, collaboration with sister agencies of government as well as donations worth millions of naira to the Internally Displaced Person (IDP) camps and victims of the disaster in the country.
LAWMA, Alliance Evacuate 75,000 Plastic Bottles from Ilashe Beach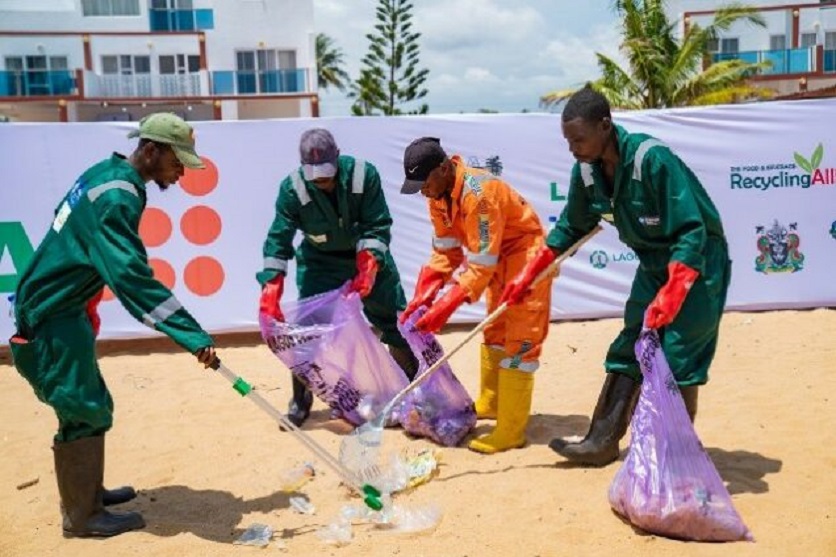 By Adedapo Adesanya
The Lagos Waste Management Authority (LAWMA) commemorated the 2021 World Clean-up Day by evacuating 75,000 plastic bottles from Ilashe Beach, Lagos.
The exercise was undertaken by Food and Beverage Recycling Alliance (FIBRA), an umbrella body for about 20 food and beverage manufacturing companies along the five kilometres Ilashe/Ibeshe beach area on the outskirts of Lagos.
Others were Nigerian Maritime Administration and Safety Agency (NIMASA); Lagos State Waterways Authority (LASWA), Nigerian Ports Authority (NPA), Lagos Ferry Service, among others.
The World Clean-Up Day, celebrated every September 18, is an annual global social action programme aimed at combating the global solid waste problem, including the problem of marine debris.
Speaking at the event, the Managing Director of LAWMA, Mr Ibrahim Odumboni, said at the event that his agency was using the opportunity of the World Clean-up Day to open up the entire Ilashe Island shoreline to proper cleanup.
Mr Odumboni urged residents and beach users to come together and make a difference by leaving an enduring legacy of a people-friendly environment for improved living and economic prosperity.
"The idea of the World Clean-up Day came up in 2018 when nearly two million volunteers, across individuals, corporate bodies, NGOs and government organizations, came together for massive clean-up activities in major cities across the world.
"We are setting the pace here in Ilashe Island of Lagos for our country. So, I enjoin all residents to sustain this effort.
"LAWMA is not leaving any stone unturned in our determined effort to rid Lagos State of all forms of solid waste.
"Our Marine Unit is effectively evacuating marine debris around the Lagos waterways and we will continue to increase the scope of our activities," Mr Odumboni said.
Also speaking, the President of the Association of Waste Managers of Nigeria (AWAN), Mr David Oriyomi, noted that it was important to educate residents of the aquatic environment on the effects of dumping rubbish into the water.
Mr Oriyomi said that the fishes feed on that rubbish while human beings fed on the fishes which was very dangerous to human health.
In his remark, the Chairman of Lagos Recyclers Association, Mr Femi Idowu, noted that what people see as trash, was actually money, suggesting that people should see the economic value in waste materials.
The programme was attended by Special Adviser to the Governor on Tourism, Mr Solomon Bonu, General Manager of Lagos State Waterways Authority (LASWA), Mr Oluwadamilola Emmanuel, Executive Secretary of FIBRA, Ms Arase Aghareva, among others.
SERAP Urges NASS to Reject Buhari's Fresh Loan Request
By Adedapo Adesanya
The Socio-Economic Rights and Accountability Project (SERAP) has urged the National Assembly to reject the fresh loan request of President Muhammadu Buhari.
Last week, at the resumption of plenary on the Senate after a break, Mr Ahmad Lawan, the Senate President, read a letter from Mr Buhari requesting to borrow $4 billion and €710 million.
But in a letter, SERAP said both chambers, the Senate and House of Representatives, should not grant this request until the publication of details of spending of all loans obtained since the Buhari-led administration took office on May 29, 2015.
In the open letter signed by SERAP deputy director, Mr Kolawole Oluwadare, the group expressed "concerns about the growing debt crisis, the lack of transparency and accountability in the spending of loans that have been obtained, and the perceived unwillingness or inability of the National Assembly to vigorously exercise its constitutional duties to check the apparently indiscriminate borrowing by the government."
SERAP said: "The National Assembly should not allow the government to accumulate unsustainable levels of debt, and use the country's scarce resources for staggering and crippling debt service payments rather than for improved access of poor and vulnerable Nigerians to basic public services and human rights."
According to SERAP, "Accumulation of excessive debts and unsustainable debt-servicing are inconsistent with the government's international obligations to use the country's maximum available resources to progressively achieve the realisation of economic and social rights, and access of Nigerians to basic public services."
The letter read in part: "The country's public debt has mushroomed with no end in sight. The growing national debt is clearly not sustainable. There has been no serious attempt by the government to cut the cost of governance. The leadership of the National Assembly ought to stand up for Nigerians by asserting the body's constitutional powers to ensure limits on national debt and deficits.
"SERAP urges you to urgently propose a resolution and push for a constitutional amendment on debt limit, with the intent of reducing national debt and deficits. This recommendation is entirely consistent with the constitutional oversight functions and spending powers of the National Assembly, and the country's international anti-corruption and human rights obligations.
"Indiscriminate borrowing has an effect on the full enjoyment of Nigerians' economic and social rights. Spending a large portion of the country's yearly budget to service debts has limited the ability of the government to ensure access of poor and vulnerable Nigerians to minimal health care, education, clean water, and other human needs.
"Should the National Assembly and its leadership fail to rein in government borrowing, and to ensure transparency and accountability in the spending of public loans, SERAP would consider appropriate legal action to compel the National Assembly to discharge its constitutional duties.
"The National Assembly under your leadership has a constitutional responsibility to urgently address the country's debt crisis, which is exacerbated by overspending on lavish allowances for high-ranking public officials, lack of transparency and accountability, as well as the absence of political will to recover trillions of naira reported to be missing or mismanaged by the Office of the Auditor-General of the Federation.
"The National Assembly should stop the government from borrowing behind the people's backs. Lack of information about details of specific projects on which loans are spent, and on loan conditions creates incentives for corruption, and limits citizens' ability to scrutinise the legality and consistency of loans with the Nigerian Constitution of 1999 (as amended), as well as to hold authorities to account.
"SERAP notes that if approved, the country's debts will exceed N35 trillion. The government is also reportedly pushing the maturity of currently-secured loans to between 10 and 30 years. N11.679 trillion is reportedly committed into debt servicing, while only N8.31 trillion was expended on capital/development expenditure between 2015 and 2020.
"Ensuring transparency and accountability in the spending of loans by the government and cutting the cost of governance would address the onerous debt servicing, and improve the ability of the government to meet the country's international obligations to use maximum available resources to ensure the enjoyment of basic economic and social rights, such as quality healthcare and education."
Latest News on Business Post