CBA Foundation Shares Food, Cash to Anambra Widows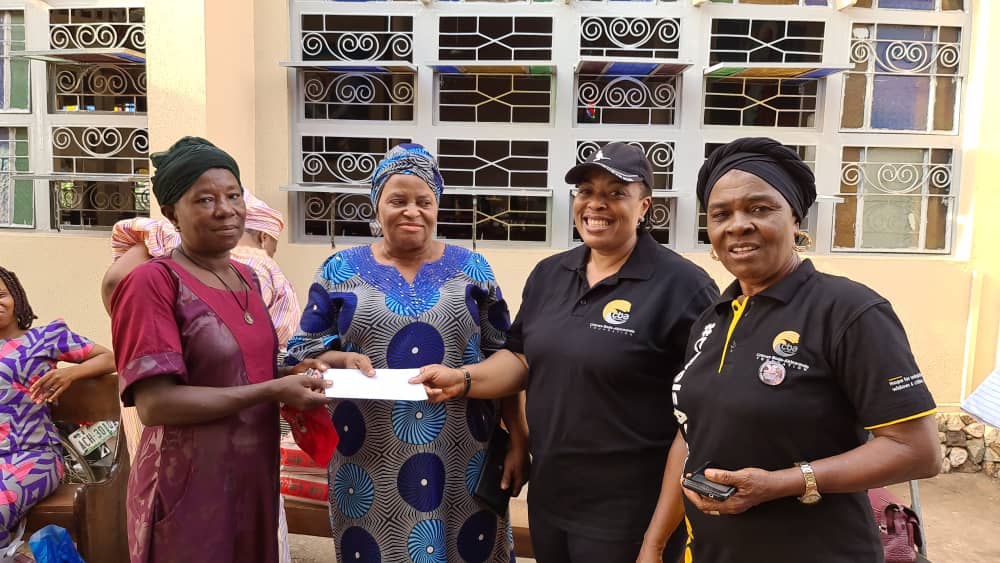 By Aduragbemi Omiyale
As part of the New Year celebration, the Chinwe Bode-Akinwande (CBA) Foundation, a non-governmental organization in Nigeria, has put smiles on faces of some widows in Nnewi, Anambra State.
The event, which was held on Friday, January 1, 2021, had excited widows numbering over 55 going home with food-items and financial empowerment.
Speaking at the event, the founder of the NGO, Mrs Chinwe Bode-Akinwande, said the basis for diligently driving the foundation is derived from the passion and need to impact the lives of underprivileged widows who have gone through so much pain and discrimination and might have lost hope.
"We give hope to the hopeless. We are driven to support underprivileged widows to have a positive outlook on life despite the problems they experience by losing their loved one, mostly the breadwinner of the family.
"At the moment, we have over 1,200 authentic widows on our profile. The successes have been enormous, many women are now business owners and are able to not just fend for their families but are employers of labour. Over 40 children who had lost hope in education are back to school, through the payment of school fees as well as provision of stationeries. Twenty-six underprivileged widows through our medical intervention recovered from stroke.
"We have reached out to over 5,600 underprivileged widows and over 850 children through our International Widow's Day outreaches since we started with food items, clothing, skill acquisition training, and financial empowerment to some selected and medical outreaches. We can go on and on but time wouldn't permit me," she said.
Mrs Bode-Akinwande added: "We have a long term expansion plan but what matters to us at CBA Foundation is our immediate environment.
"This indeed forms the basis for expanding our environment beyond Lagos, Ogun and Anambra which we currently cover. We are hopeful that more individuals and organisations will support us to spread across the country and beyond."
At the Nnewi outreach, the widows expressed gratitude to the foundation as some were seen with smiles and relief on their faces.
According to Mrs Nwosu, one of the widows, a bitter kola and palm kernel trader, every market day, she goes to the town's market society to borrow money to be able to buy and resell; she thereafter returns the money along with a part of the profit.
Mrs Nwosu was given a seed capital for bitter kola and palm kernel business by the CBA Foundation.
Mrs Nnodu is a mother of three. She and her kids hawk fruits on the streets. They share the routes they have to cover daily. To boost her income, she used to borrow money from the women group to sell plastics but was unable to meet up interest and timelines. She became a lucky beneficiary of CBA Foundation seed capital for the plastic business and packaging of the fruits.
Just like Nwosu, periodic checks and reports are to be done by leaders of their respective groups to track their progress, Mrs. Chinwe Bode-Akinwande, the CBA founder said.
For Mrs Okonkwo, the kids' welfare had remained a huge challenge. The widow who cleans the streets and takes care of her very aged mother, wants to start a poultry business that can fetch her money, take care of the sick aged mother with her is enough for her to cater for her kids. CBA has come to her rescue also by providing seed capital for the poultry business which will be tracked by her group leader just like others who were empowered the same day of outreach.
One of them, Mrs Akoma, goes into thick bushes to fetch firewood, arranges them and takes to different market days to sell and earn a living. Akaoma was also among the beneficiaries of the seed capital to start a business to immediately stop the risk to her life in the thick forest.
The CBA Foundation is primarily dedicated to promoting the protection of Nigerian underprivileged widows and their vulnerable children, restoring immediate and lasting hope, confidence, and courage in their lives.
Established in 2015, the foundation, under its five-point agenda, has reached out to thousands of underprivileged widows and children through skills acquisition training, health intervention, business start-ups and provision of clothing, nutrition and tuition fees for the children.
A breakdown shows 5,600 widows have been empowered through its women empowerment and capacity building initiative; over 3,500underprivileged widows have received health intervention while over 3,600 have received food items.
The foundation has also reinstated 45 children in schools, empowered 120 widows financially to start a business of their own and provided palliatives to 250 widows during the COVID-19 pandemic lock-down.
EFCC Goes After Car Dealers, Real Estate Agents, Others
By Modupe Gbadeyanka
The Chairman of Economic and Financial Crimes Commission (EFCC), Mr Abdularasheed Bawa, has hinted that a searchlight will be beamed on car dealers, jewellery sellers, real estate agents and others.
The anti-money laundering agency, while addressing newsmen in Abuja on Thursday, disclosed that evidence has shown that these set of people use proceeds of corruption for their business transactions.
He said the EFCC was working on a number of proactive strategies including a special control unit against money laundering, established particularly to address non-designated financial institutions including car dealers, real estate, jewellery dealers, among others.
Mr Bawa said that he was confident that when the unit is fully established, corruption will significantly decline in the country.
He added that the agency was equally working towards the development of a biometric ownership database to address money laundering.
According to him, most proceeds of crime are laundered through real estate and have become a huge challenge, giving examples of property acquired especially in Lagos, Abuja, and Port Harcourt where billions of naira were laundered through this means.
He, however, declined to disclose actual perpetrators or the properties involved but revealed that since his assumption, a number of recoveries have been made including N6 billion, $161 million, £13,000, €1,730, among others.
He further said internet fraudsters numbering 1,502 have also been apprehended between January and June 2021, noting that efforts were underway to file about 800 of them.
Mr Bawa was at the Presidential Villa yesterday to clarify the specific Minister involved in the laundering of about $37 million into real estate to which he referred in his earlier statement.
He said the matter was an old case involving a former Minister of Petroleum, Ms Allison Diezani Madueke.
KedCo Warns Customers Against Meter Bypass
By Adedapo Adesanya
The management of Kano Electricity Distribution Company (KEDCO) has cautioned customers in its franchise areas against meter bypass as it intensifies efforts in meter installation.
According to a statement by KEDCO's Head of Corporate Communications, Mr Ibrahim Sani Shawai, "the warning had become necessary as a way of ensuring that renewed efforts at speeding up metering are not sabotaged.
"Anyone caught bypassing our meters would not be spared as we will go all out within the provisions of the law of the land to ensure that violators are made to pay penalty after prosecution.
"We are speeding up processes to ensure that 87,747 meters are installed by the end of the month under the zero phase.
"We have met with all vendors and mandated them to increase manpower to ensure speedy deployment and installation of meters to customers.
"We appeal to our numerous customers to give vendors the necessary cooperation to ensure that estimated billing system is brought to an end in KEDCO franchise within the shortest time possible."
The distribution company had recently warned customers against meter apathy as it observed that some customers were deliberately refusing to get metered, which it considers unacceptable.
KEDCO is one of the major Nigerian electricity distribution companies. KEDCO operates in the northwestern geopolitical zone of Nigeria and generates, distributes and markets electricity in three states. It covers the franchise states of Kano, Katsina and Jigawa.
Navy Seizes 251 Bags of Smuggled Rice in Akwa Ibom
By Adedapo Adesanya
The Nigerian Navy, Forward Operating Base (FOB), Ibaka, Mbo Local Government Area of Akwa Ibom has impounded 251 bags of rice smuggled through the waterways.
The Commanding Officer of FOB, Navy Captain Suleiman Abdullahi, disclosed this in Ibaka on Thursday when he handed over the bags of contrabands to the Nigeria Customs Service (NCS).
He said that the 251 bags of rice were seized from smugglers on June 15 during routine patrol operations by the unit, explaining that the suspects abandoned the rice and the boat and fled on sighting the naval patrol team, emphasising that the Base would not relent in putting an end to illegalities on the Akwa Ibom waterways.
"What you are witnessing here today is the handover of 251 bags of rice suspected to be smuggled into the Nigerian maritime border.
"By the directive of the Flag Officer, Eastern Naval Command, Rear Admiral Sanusi Ibrahim, we have zero tolerance for smuggling.
"By the directive, we have carried out intensive patrol and on June 15, 2021, we seized one wooden boat and 251 bags of smuggled rice.
"On sighting the patrol team, the smugglers abandoned the rice inside the boat and flee to escape arrest.
This is an indication of their awareness of the crime perpetrated by these suspects for them to have abandoned their boat and flee," Mr Abdullahi said.
The commanding officer warned smugglers to relocate out of the Nigerian maritime borders, stressing that it would not be business as usual for them.
He urged them to desist from smuggling and other illegal businesses, but they should engage in legitimate endeavours.
"I will like to use this opportunity to warn those maritime criminals that it is not going to be business as usual.
"That they should desist from their criminal ways and engage in genuine business, otherwise the long arm of the law will catch up on them," he said.
Receiving the 251 bags of rice on behalf of the customs, the Comptroller of Sector 1, Port Harcourt, Mr Shehu Abubakar, said the agency would do everything possible to stop smuggling in the country.
Mr Abubakar, who was represented by the Superintendent of Customs, Border Drill Patrol Team, Oron Axis, Mr Mustapha Ahmed, warned smugglers to desist from the illegal trade, stressing that the organisation would continue to checkmate all economic sabotage in the country.
Latest News on Business Post