Consumers Gear up for Festive Season Like no Other
The global retail sector is in an unprecedented state of flux and as the end of the year approaches, Nielsen has identified a range of evolving consumer groups as well as four Holiday/Festive consumer behavioural resets related to this crucial holiday period.
Nielsen Retail Intelligence MD for Sub-Sahara Africa Kelly Arnold comments; "As the end of the year approaches, upcoming festivities are going to look very different for consumers depending on where they live, what restrictions they face and how COVID-19 has changed their spending habits.
However, the reality is that the 'golden quarter', the crucial holiday trading period is already underway and with the continued spread of the virus and ongoing restrictions, this year's festive period will be unlike any other.
Evolving Consumer Groups
Against this backdrop Nielsen has identified five different consumer groups that indicate how financial and physical restrictions could manifest leading up to the festive season.
Constrained and Restricted consumers have suffered income loss as a result of COVID-19 and have less money to spend and also have less freedom to physically congregate and shop for their holiday needs due to local restrictions to travel, business openings and social interaction. As a result of limited physical shopping, they may have less opportunity to shop around for the best deals and assortment.
Constrained but Free consumers have also suffered income loss and are likely to have a savings mindset as they prepare for the festive season but because they have no physical restrictions, they will have more freedom to celebrate with others and to seek the right products and price points to suit their needs.
Cautious Middle consumers have not yet been impacted financially and their celebrations are not limited by local physical restrictions. They are more likely to be cautious spenders and may prioritise occasions and gift giving with only those closest to them.
Insulated but Restricted consumers have not been financially impacted by COVID-19 but festivities will be impacted by local physical restrictions. Smaller gatherings may curtail normal spending and encourage self-indulgent celebrations. Financial flexibility will drive these consumers to splurge in some ways to compensate for experiences that are no longer possible (e.g. travel).
Insulated and Free consumers have also not been financially impacted by COVID-19. While their social interactions may not be restricted, their typical celebrations may be affected by those unable to be with them this year. These consumers are likely to spend the most freely and to exhibit pre-COVID-19 holiday behaviour.
New Purchase Behaviours
To help chart the behaviour of these consumers, Nielsen has also identified four emerging patterns to help predict the drivers of pandemic purchase decisions in future. When applied to the context of the many upcoming holidays and year-end festivities, these reset patterns now highlight some important new behaviours that could emerge this season.
Basket Reset – Holiday spending and gifting will be refined based on what and who are considered essential for each consumer. This will require retailers and manufacturers to redefine what's festive and capitalise on the broadened assortment of what consumers might consider "giftable" this year. From a necessity that can no longer fit the budget, to a product that has been harder to get in stores this year, there will be big shifts in what defines a "gift".
Homebody Reset – Gatherings will be smaller and more intimate with many planned at the last minute. This might see the introduction of so-called 'Single-Serve Celebrations that cater to needs for convenience, health and budget consciousness by offering serving sizes and packages conducive to small or socially distanced gatherings.
Rationale Reset – Consumers will spend more on themselves, prioritising self-care this year. Retailers might then look to engage with empathy and recognize the trade-offs consumers will need to make. There is also scope for just-in-case solutions that cater to consumers who may be waiting to see whether they are able to physically celebrate a festive occasion or not.
Affordability Reset – Online shopping will power more holiday consumer behaviours than ever before creating a need to convert impulsivity. With limited physical touchpoints with consumers, it'll be vital to create spontaneity, even in an online environment.
Within this new Festive framework Arnold points out; "It's clear that celebrations are going to look very different for many consumers depending on where they live, what restrictions they face and how COVID-19 has impacted their purchasing power.
Despite the diverse global spectrum of holiday celebrations, COVID-19 has forced many consumers to re-think their holiday plans in similar ways, based upon known levels of virus-related constraints and this will have far-reaching consequences for both brands and retailers."
Atiku Emerges PDP Presidential Candidate for 2023 Election
By Dipo Olowookere
Former Vice President, Mr Atiku Abubakar, has emerged as the candidate of the Peoples Democratic Party (PDP) for the 2023 presidential election.
He won the PDP presidential primary at the special national convention of the opposition party held on Saturday at the MKO Abiola Stadium, Abuja.
The flagbearer of the party in the 2019 presidential election polled 371 votes to beat his closest rival, Governor Nyesom Wike of Rivers State, who garnered 237 votes, to clinch the ticket.
Shortly before the voting started on Saturday night, one of the aspirants and Governor of Sokoto State, Mr Aminu Tambuwal, stepped down for Mr Atiku. This may have boosted the votes of the eventual winner of the exercise.
In his acceptance speech, the former VP promised to work together with the other contestants and unite the party so as to wrestle power from the ruling All Progressives Congress (APC).
He said if elected as President of Nigeria next year, his administration will tackle the security issues in the country and then work tirelessly to revamp the economy, which will lead to the creation of jobs for the youths.
He called on members of the party, especially those who left because of the way they were treated, to return and work with him to save the nation.
"Today, the battle to rebuild and unite our great country moves forward. I'm honoured to be named the PDP candidate. I look forward to speaking with Nigerians across the country, taking the message of hope and unity as we build one future for one people," the PDP presidential candidate said after he was announced the winner of the primary.
Mr Atiku first attempted to become the president of the country in 1992. In 1999, he was sworn in as VP and served with former President Olusegun Obasanjo, who governed the country between 1999 and 2007.
Temile, Hyundai LPG Vessel Construction Deal Thrills NCDMB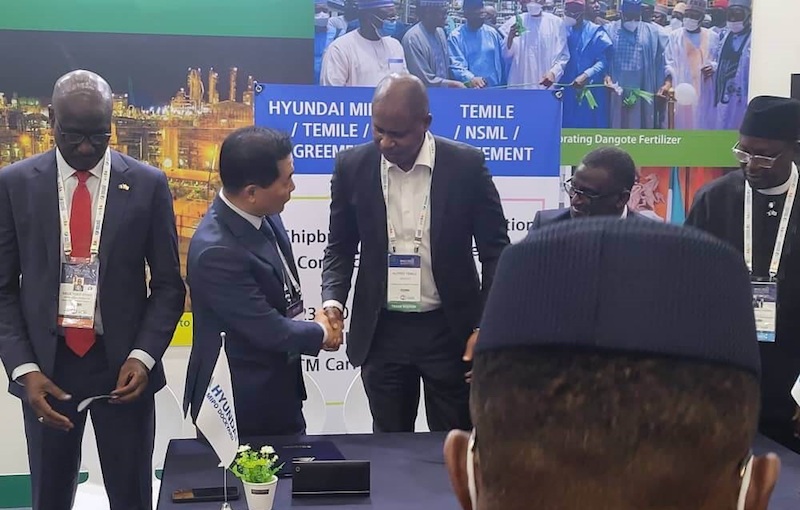 By Adedapo Adesanya
An indigenous shipping company, Temile Development Company, has signed a contractual agreement with Hyundai Mipo Dockyard (HMD) for the construction of a new 23,000 cubic meters Liquefied Petroleum Gas Carrier (LPG) Vessel.
The Nigerian shipping firm also sealed a separate deal with an integrated maritime services subsidiary of Nigeria LNG Limited, NSML, for the supervision of the project.
The LPG vessel is the second that is being constructed by the Temile Development Company and is a sequel to the first vessel which was constructed in 2018 and is currently chartered to Nigeria LNG Limited for domestic LPG supply.
This development has sweetened the Nigerian Content Development and Monitoring Board (NCDMB), which has expressed its excitement over the involvement of local companies in boosting gas development in the country.
The Executive Secretary of NCDMB, Mr Simbi Kesiye Wabote, saluted Temile Development Company for its bullish initiative in investing in an area that is regarded as off-limits for local players.
In a video message delivered during the signing ceremony held on the sidelines of the 2022 World Gas Conference in Daegu, South Korea, he described the accomplishment as evidence of significant growth in the capacity and confidence of local companies to play in the international arena and in complex areas of the oil and gas industry.
The new 23,000 cubic LPG/NH3/VCM Carrier to be constructed is a high-end specification vessel that has been designed by NSML in accordance with bespoke requirements using HMD's highly efficient eco-design. The new LPG carrier is expected for delivery on July 26, 2023, at HMD in Ulsan, Korea.
Mr Wabote indicated that the agreement signing event and subsequent construction and supervision of the contract align with the board's strategic plan of maximizing the potential in the Midstream and Downstream Sectors of the Nigerian oil and gas industry, especially as the oil and gas industry strives to actualize the Decade of Gas policy of the Federal Government.
According to him, "this project clearly supports our LPG penetration initiative in Nigeria and will further close the gap in LPG penetration in Nigeria."
He stated further that the project will bring invaluable local content opportunities in technology and innovation, human capital development and research and development.
Speaking further, the Executive Secretary commended Hyundai for the work it was doing at the Brass Shipyard and other investment projects in Nigeria that will support the repair of vessels.
He also applauded NLNG for the strategic initiative of deploying 100 per cent LPG to the local market to close the gap in respect of LPG penetration in-country, adding the company has helped in reducing cost as well as creating a cleaner source of energy for our people.
On his part, Mr Temile's Chief Executive, Mr Alfred Temile said "We are delighted to execute the construction of our new LPG carrier with HMD, bringing onboard NSML to supervise the construction, as an indigenous company this demonstrates our commitment and support to the Nigeria Local Content Act and as well establishes our confidence in local capacity to deliver international acceptable standards.
"Having taken delivery of our first LPG carrier vessel which is currently chartered to Nigeria LNG Limited for domestic LPG supply, we look forward to taking delivery of this new carrier in July 2023 to make an addition to the global gas supply industry."
He added that "working with HMD again makes us feel in very safe hands as we are confident that this eco-design / cleaner fuel vessel shall be constructed in line with international best practices and industry regulations thereby creating a space for the vessel in the international gas supply value chain."
Peter Obi Joins Labour Party
By Aduragbemi Omiyale
Former Governor of Anambra State, Mr Peter Obi, has joined the Labour Party after resigning his membership of the Peoples Democratic Party (PDP).
On Wednesday, May 25, 2022, Mr Obi, who was the vice presidential candidate of the PDP in the 2019 election, announced his exit from the party and thereafter withdrew from the presidential primary of the leading opposition party.
"I am writing to intimate you of my resignation from the Peoples Democratic Party (PDP), which was conveyed to the Chairman of Agalu Ward 2, Anaocha LGA Anambra, effective Friday, May 20, 2022.
"Consequently, I am by this letter informing you of my withdrawal from the PDP presidential primaries," a statement issued by him about 48 hours ago stated.
On Friday, the businessman confirmed that he has joined the Labour Party and would possibly use the platform to achieve his ambition of becoming the President of Nigeria.
"Since I resigned from the PDP because of issues that are at variance with my persona and principles, I have consulted widely with various parties and personalities to ensure we do not complicate the route to our desired destination.
"For me, the process of achieving our goal is as fundamental as what one will do thereafter.
Therefore, I have chosen a route that I consider to be in line with our aspirations and my mantra of taking the country from consumption to production; and that is the Labour Party which is synonymous with the people, workers, development, production, securing and uniting  Nigerians as one family.
"I invite all Nigerians to join me in taking back our country.
"Be assured that I'll never let you down," Mr Obi said in the statement today.
Latest News on Business Post