Corporate Governance Society Inducts Polaris Bank Chairman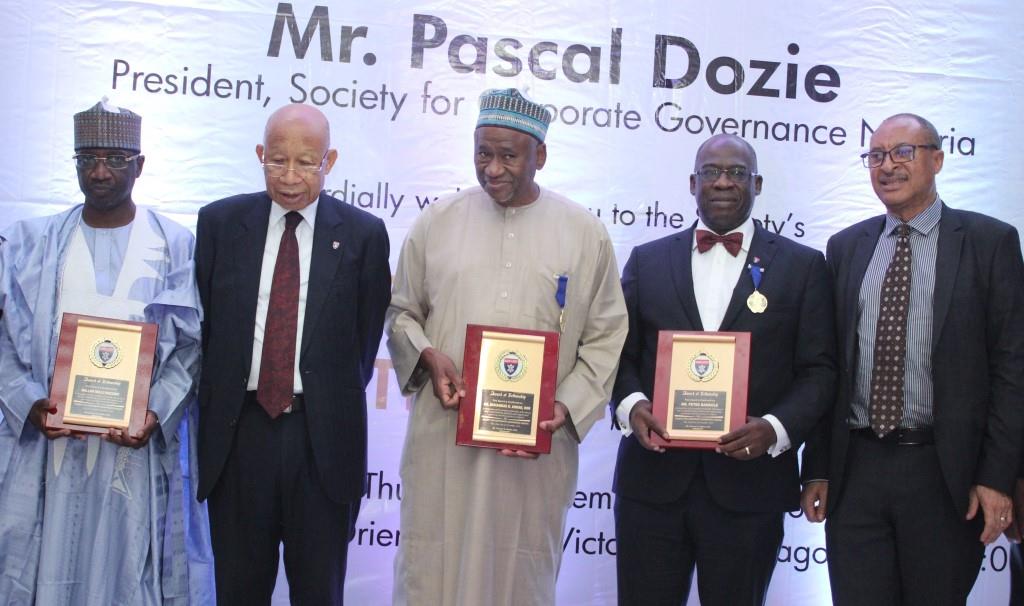 By Dipo Olowookere
Chairman of Board of Directors of Polaris Bank Limited, Mr Muhammad Ahmad, has been inducted as an honorary fell of the Society for Corporate Governance Nigeria (SCGN).
Mr Ahmad was honoured in recognition of his unblemished professional records in the public and private sectors as well as positive contributions to the socio-economic development of Nigeria, the body said.
During the 2018 President's Dinner/Induction Ceremony of SCGN held in Lagos recently, the Polaris Bank chairman was described as an astute professional with impressive footprints across various public-sector organisations and financial services institutions where he played strategic roles and acted as the catalyst for the entrenchment of good corporate governance.
Speaking at the ceremony, President of SCGN, Mr Pascal Dozie, said the conferment of the honorary fellowship on Mr Ahmad and three other recipients was in line with the key objective of the body.
"The Society is a registered, not for profit organisation and is committed to the development of corporate governance and best practices. Leadership, accountability, collaboration, diversity and quality, integrity of character remain the pillar of this organisation. Since its inception 13 years ago, the Society has contributed to the development of good corporate governance in this country. The society prides itself in research work some of which have been published in the journal of corporate governance", he said.
Responding on behalf of the other fellows, Chairman of Polaris Bank expressed delight at the recognition and said they would continue to remain the ambassadors of professional excellence.
"For every society, there are professional standards. And professional standards worldwide are more onerous. Therefore, for us, we are taking additional responsibility. Having been made fellows, what it means is that we should be consistent; we should ensure that whatever the Society for Corporate Governance Nigeria stands for, we should stand for as well", he affirmed.
Commenting, Group Managing Director/CEO of Polaris Bank, Mr Tokunbo Abiru, said the award was a celebration of the exemplary leadership capabilities of the Polaris Bank's Chairman.
"On behalf of the management and staff of Polaris Bank, I congratulate our amiable chairman on this well-deserved honour and recognition by the highly respected Society for Corporate Governance Nigeria. Under Ahmad's leadership, we see a rewarding, bright future for our bank", he said.
A man of many great accomplishments, Ahmad boasts about 35 years distinguished professional experience leading and working in various public-sector organisations and financial services institutions in Nigeria.
Amongst others, he was the pioneer Director General/Chief Executive Officer of the National Pension Commission, and also a pioneer staff of the Nigeria Deposit Insurance Corporation (NDIC), where he rose through the ranks to become the Managing Director.
He has served on the boards of various corporate and not-for-profit organisations including a Non-Executive Director of FBN Holdings Plc until 2017. He has also served on various presidential committees including a member of the Presidential Committee for the North East Intervention (PCNI).
Mr Ahmad holds a Masters Diploma in Innovation and Strategy from the University of Oxford and has also attended courses and programmes in various first-rate business and management schools, including Harvard Business School, IMD and INSEAD. Ahmad is a recipient of the Nigeria national honour – Officer of the Order of the Niger (OON).
Ikeja Electric Signs Deal for Better Power Supply to Ayobo
By Adedapo Adesanya
A tripartite interconnected mini-grid agreement has been signed by Ikeja Electric Plc, Enaro Energy Limited and the Ayobo community for the provision of reliable and uninterrupted electricity supply to Ishokan Phase 1 Estate, Mercy Land Estate, and Mercy Land Phase1 residents in Ayobo, Lagos State.
The initiative is in line with the Nigerian Electricity Regulation Commission's (NERC) goal of ensuring there is a reliable and steady power supply across communities in the country through partnerships between distribution companies (DisCos) and independent power generators.
The agreement, which was signed on Wednesday at Ikeja Electric's corporate headquarters in Alausa, Lagos, will rely on the interconnected mini-grid initiative of the power sector to provide the customers with an uninterrupted power supply.
Speaking on this, Mrs Seqinah Adewunmi, the Chief Finance Officer of Ikeja Electric, who represented the Chief Executive Officer, Mrs Folake Soetan, during the signing of the agreements, stated that the initiative was a landmark in the history of the power sector in the state.
She added that those communities will be the first to experience uninterrupted power supply via a blend of grid and off-grid generation and distribution of power.
According to her, "it will demonstrate the possibility that our customers can enjoy 24 hours power supply which is in line with the core mission of Ikeja Electric to be the provider of choice wherever power is consumed."
She congratulated everyone that has been part of the process, revealing that the initiative will transform the ways in which electricity is being distributed in Nigeria.
She further stated that this initiative will set the pace for bigger things to happen as the plan is to expand to other communities within the Ikeja Electric Franchise area.
On his part, Mr Oluwaseun Smith, the Managing Director of Enaro Energy, expressed his appreciation that the project was finally coming to fruition, adding that the journey began about two and half years ago and was glad that all the efforts towards ensuring the signing of the contract were worth it.
He stated that Enaro Energy was committed to providing the necessary resources to ensure the success of the project.
Obasanjo Charges Africa to Decide Its Energy Future
By Adedapo Adesanya
Former president of Nigeria, Mr Olusegun Obasanjo, has said Africa must take charge of its own energy destiny and use its rich resource assets for the benefit of its own people.
His comments come in support of the Africa Oil Week (AOW), which is necessitated as the world scrambles to find new sources of oil and gas to meet its energy needs following Russia's invasion of Ukraine.
In this context, Mr Obasanjo noted that African countries cannot be beholden to the unrealistic ideals of the Global North for an exclusively renewables-driven economy, saying this is particularly true when the developed world is itself accepting the need for hydrocarbons.
"Like the rest of the world, Africa must follow energy policies that promote socio-economic development and sustainable hydrocarbon use," he said.
The former Head of State, who ruled Africa's largest crude oil producer from 1999 to 2007 said, "Africa is the lowest producer of greenhouse-gas emissions and needs to lift nearly half-a-billion citizens out of poverty.
"Responsible management of our hydrocarbons and investment in our economies is necessary to ensure a just energy transition and sustainable growth for our people."
The European Union (EU) had previously said it intends to cut Russian-supplied oil by up to 90 per cent by the end of 2022, and the announcement has already caused global energy costs to soar.
Africa is one of the potential new sources of energy to replace this supply, with an estimated 61 billion barrels of oil equivalent being discovered in the region over the past 10 years.
Mr Obasanjo's view aligns with that of the African Petroleum Producers Organization (APPO), which also called on member countries and other global institutions to use petroleum as a catalyst for energy security, sustainable development, and economic diversification in Africa through collaboration and partnerships.
Mr Obasanjo has been a major leader of Africa's post-colonial period, having overseen Nigeria's transition to representative democracy. Since his move out of the government sphere, he has been a senior statesman, active in defining geopolitical issues – including energy.
He also helped to shape the modern Nigerian oil industry, inaugurating policy reforms that have seen the country become an energy superpower on the African continent.
"Creating an African oil industry that benefits Africa's people needs strong policy and regulation.
"During my time in government, we launched oil-and-gas policy reforms that helped to build a modern oil and gas hub. There were many learnings that we can apply across the wider region. I look forward to discussing these opportunities for Africa."
He then called for accelerated dialogue on the sustainable development of hydrocarbons, and the role of Africa as a supplier of global energy needs.
"There has been much talk at forums such as the World Economic Forum (WEF) in Davos about a just energy transition. However, we must not allow Africa to be dictated to. The discussions at AOW will be pivotal in charting a new energy course for Africa. We will decide what is best for us," he said.
Akande-Sadipe Mourns as Another Oyo APC Chieftain Dies
By Modupe Gbadeyanka
A member of the House of Representatives, Mrs Tolulope Akande-Sadipe, has expressed sorrow over the death of a chieftain of the All Progressives Congress (APC) in Oyo State, Mr Muili Ojuolape.
In a statement on Thursday, the lawmaker from the Oluyole Federal Constituency in Ibadan, the Oyo State capital, described the Oyo APC chieftain as a father who would be missed.
Mrs Akande-Sadipe, in the statement signed by her media aide, Mr Olamilekan Olusada, prayed to God to comfort the family of Mr Ojuolape and grant them the fortitude to bear the loss.
She expressed shock over the death of the party chieftain, saying, "The unthinkable happened. We received the news of the second loss in Oluyole APC. We are saddened by the exit of another committed progressive. It's difficult to bear the pain!"
"Baba Ojuolape, as I fondly called you, Baba Muili Ojuolape, you were indeed a father to me in Oluyole. As you go to your maker, I pray you to rest in perfect peace. I will surely miss you, APC Oluyole will surely miss you, and APC ward one shall surely miss you too. TASK Oluyole shall surely miss you. My sincere condolences to your immediate family. May the Almighty uphold your family to bear this loss," she added.
Mrs Akande-Sadipe stated further that, "It is natural to grief when death strikes in a well-knitted family, but we have the confidence that the sacrifices you made in your life to build the APC in your local chapter, Oluyole into a viable democratic institution, shall not be in vain.
"You have played your part and left, and your democratic credentials should always spur us to greater service."
It was gathered that Mr Ojuolape, a prominent member of the APC in the Oluyole local government area of Oyo State, died on Tuesday after a brief illness in Ibadan.
Latest News on Business Post