CSOs Gather in Edo to Discuss FOI Implementation
No fewer than 100 Civil Society Organisations are to meet in Benin, Edo State capital, Tuesday, to discuss the implementation of Nigeria's Freedom of Information (FOI) Act in the state.
Chairman, Board of Governors, Freedom of Information Coalition, Nigeria (FOIC-N), Dr Walter Duru, disclosed this in a press release made available to newsmen, Sunday afternoon.
Mr Duru, who described the FOI Act as a powerful tool for the fight against corruption in Nigeria, expressed concern over low usage of the law by citizens in holding government at all levels accountable.
He explained that the Edo FOI meeting is supported by the European Union, through the Rule of Law and Anti-Corruption (ROLAC Programme) managed by the British Council.
"The Nigerian Freedom of Information (FOI) Act was signed into law on May 28 2011. The law was passed to enable the public to access certain government information, in order to ensure transparency and accountability.
"The FOI Act aims to make public records and information more freely available. It enables citizens to hold the government accountable in the event of misappropriation or public services failure. It also protects serving public officers against any adverse consequences from the unauthorized disclosure of certain kinds of official information.
"A recent survey by the Rule of Law and Anti-Corruption- ROLAC programme, in collaboration with the Freedom of Information Coalition, Nigeria- FOICN and Media Initiative against Injustice, Violence and Corruption-MIIVOC on the level of knowledge of the provisions and use of the FOI Act revealed that the gap in capacity is wide among citizens.
"It also shows that there is low compliance level with the provisions of the Act in Nigeria, especially, as it concerns some of the critical segments, such as Proactive Disclosure and Annual Compliance Reports," he said.
"In an attempt to close the identified knowledge gap, the Rule of Law and Anti-Corruption Programme, in collaboration with the FOI Unit of the Federal Ministry of Justice (FMOJ), the Freedom of Information Coalition in Nigeria and the Media Initiative against Injustice, Violence and Corruption is holding a 2-day FOI Capacity Building Roundtable with representatives of non-state actors/CSOs, targeting the Media, Legal and mainstream Civil Society actors in Edo State, aimed at training participants on the provisions and use of the Act in the state," he added.
Continuing, Mr Duru explained that state actors, particularly, Information Officers, Directors and Permanent Secretaries in Edo State will also be trained on the provisions and applications of the FOI Act, with a view to ensuring that stakeholders are on the same page.
"It is a comprehensive training package. Journalists, lawyers, community-based organisations, representatives of public institutions and other critical stakeholders shall be trained on FOI.
"The roundtable aims to build the capacity of citizens to have a working knowledge of the purpose and benefits of the FOI Act, as well as processes for dealing with requests as prescribed by the law.
"We are hopeful that at the end of the training, participants will have improved understanding on the application of the FOI Act.
"On the part of the state actors, in addition to the provisions and applications of the FOI Act, they will have better understanding of the duties of public institutions under the FOI Act," he said.
He further called on Nigerians to take advantage of the Freedom of Information Act to participate in governance in the interest of the country.
InTouch, GTP to Unlock Financial Inclusion for African Consumers
By Modupe Gbadeyanka
A partnership targeted at unlocking financial inclusion for African consumers has been entered between GTP, a specialised provider of prepaid and virtual card processing solutions, and InTouch, a leading pan-African fintech.
This collaboration will commence in Senegal and Côte d'Ivoire and expand into the rest of the continent. The goal will be achieved by democratising access to card credentials for millions of African consumers, as it would bridge the gap between digital payment platforms and card-based transactions, giving InTouch customers access to cross-border transactions through Visa credentials.
"With this partnership, we are democratizing access to card payments and enabling international and online payments as well as cash in and cash-outs in our TouchPoint network in Senegal and Ivory Coast and very soon in 16 other African countries.
"Our goal is to offer the simplest and most accessible solutions for digital payments to millions of customers across the African continent," the founder of InTouch, Omar Cissé, said.
Also, the chief executive of GTP, Christian Bwakira, said, "InTouch is an innovative pan-African payments aggregator that has demonstrated consistent innovation in markets in which it operates.
"By working together, we will unlock the power of card credentials for millions of Africans across the continent and make borders matter less for them in the global digital economy."
Access to card credentials plays a pivotal role in Africa's financial ecosystem, opening doors to a wide range of economic opportunities and driving financial inclusion.
Studies currently estimate that 90 per cent of transactions conducted in Africa are still reliant on cash, highlighting the significant gap in digital financial inclusion across the continent.
But McKinsey argues that card-linked digital wallets are already a significant driver of growth in the issuance and usage of cards.
Prepaid cards are decoupled from the traditional banking infrastructure, allowing banks and fintech companies to give more people access to a globally accepted payments method without a need for a traditional bank account.
By partnering with GTP, an MFS Africa company, InTouch aims to democratise access to card credentials for its African customers across its 13 markets. This collaboration will enable users of InTouch's innovative digital platform, which aggregates over 400 services through its API` to seamlessly link their digital wallets to card credentials, enhancing their access to the global digital economy.
Through the integration of GTP's robust prepaid and virtual card processing solutions, InTouch users will be able to tap into the advantages of card-based transactions, including wider acceptance, enhanced security, and seamless integration with global payment networks.
Nigeria's Acute Food Insecurity May Worsen from June— FAO, WFP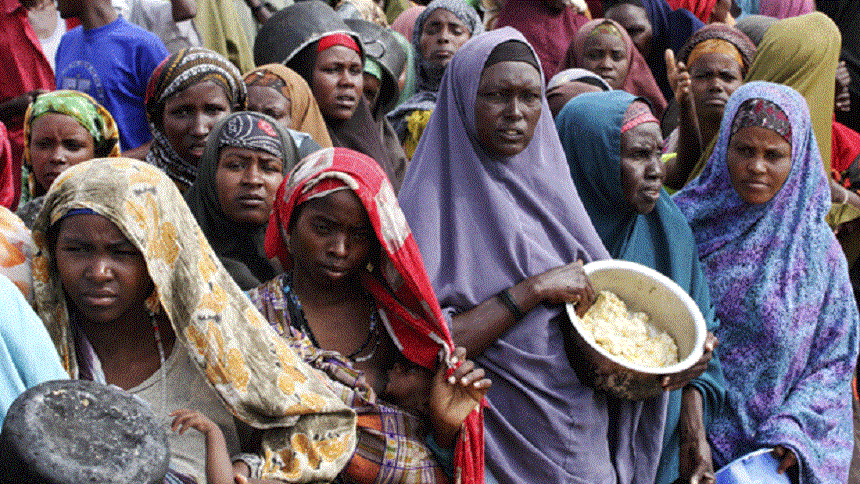 By Adedapo Adesanya
The Food and Agriculture Organization of the United Nations (FAO) and the United Nations World Food Programme (WFP) has warned that Nigeria remains among the highest-level countries facing acute food insecurity, which is likely to deteriorate further during the outlook period from June to November 2023.
For the outlook period, FAO and WFP issued an early warning for urgent humanitarian action in 18 hunger hotspots, including two regional clusters comprising a total of 22 countries.
According to the report, Afghanistan, Nigeria, Somalia, South Sudan, and Yemen remain at the highest alert level. Haiti, the Sahel (Burkina Faso and Mali) and Sudan have been elevated to the highest concern levels; this is due to severe movement restrictions for people and goods in Burkina Faso, Haiti and Mali and the recent outbreak of conflict in Sudan.
All hotspots at the highest level have communities facing or projected to face starvation or are at risk of sliding towards catastrophic conditions, given they already have emergency levels of food insecurity and are facing severe aggravating factors. These hotspots require the most urgent attention, the report warns.
The Central African Republic, the Democratic Republic of the Congo, Ethiopia, Kenya, Pakistan and Syria are hotspots with very high concern, and the alert is also extended to Myanmar in this edition.
All the above hotspots have a large number of people facing critical acute food insecurity, coupled with worsening drivers that are expected to further intensify life‑threatening conditions in the coming months. Lebanon has been added to the list of hotspots, joining Malawi and Central America (El Salvador, Guatemala, Honduras and Nicaragua) that remain hotspots.
In the hunger hotspots, parts of the population will likely face a significant deterioration of already high levels of acute food insecurity, putting lives and livelihoods at risk. Targeted humanitarian action is urgently needed to save lives and livelihoods in all 18 hunger hotspots.
In eight of these – Afghanistan, Haiti, Nigeria, the Sahel region (Burkina Faso and Mali), Somalia, South Sudan, the Sudan and Yemen – humanitarian action is critical to prevent starvation and death.
Speaking on this, Mr QU Dongyu, FAO Director-General, said, "Business-as-usual pathways are no longer an option in today's risk landscape if we want to achieve global food security for all, ensuring that no one is left behind."
"We need to provide immediate time-sensitive agricultural interventions to pull people from the brink of hunger, help them rebuild their lives, and provide long-term solutions to address the root causes of food insecurity. Investing in disaster risk reduction in the agriculture sector can unlock significant resilience dividends and must be scaled up," he added.
"Not only are more people in more places around the world going hungry, but the severity of the hunger they face is worse than ever," said Ms Cindy McCain, WFP's Executive Director.
"This report makes it clear: we must act now to save lives, help people adapt to a changing climate, and ultimately prevent famine. If we don't, the results will be catastrophic," she warned.
The report warns of a major risk of El Niño conditions, which meteorologists forecast to emerge by mid-2023 with an 82 per cent probability. The expected shift in climate patterns will have significant implications for several hotspots, including below-average rains in the Dry Corridor of Central America, and raises the spectre of consecutive extreme climatic events hitting areas of the Sahel and the Horn of Africa.
Adegoke's Murder: Court Sentences Ife Hotelier Rahman Adedoyin to Death
By Modupe Gbadeyanka
The owner of Hilton Hotel in Ile-Ife, Osun State, Mr Rahman Adedoyin, has been sentenced to death by hanging over the death of a postgraduate student of Obafemi Awolowo University, Ile-Ife, Mr Timothy Adegoke.
Mr Adegoke was murdered in his hotel in 2021 after he lodged in the facility. His corpse was moved away from the hotel and hurriedly buried in the vicinity.
The hotelier was arrested and has arraigned in court.
On Tuesday, according to Vanguard, the Osun State Chief Judge, Justice Oyebola Ojo, found Mr Adedoyin culpable in the murder of the deceased.
The judge also found other suspects guilty in the murder of the deceased and dismissed the alibi that the hotel owner was in Abuja for many days around the time the death of the late Adegoke occurred.
But four members of the staff prosecuted alongside Mr Adedoyin were discharged and acquitted of charges against them.
The matter became known to the public after his family raised an alarm that he had been missing after he lodged in the hotel and that efforts to reach him were abortive.
Latest News on Business Post