Dow Partners Nigerian Firms to Tackle Plastic Waste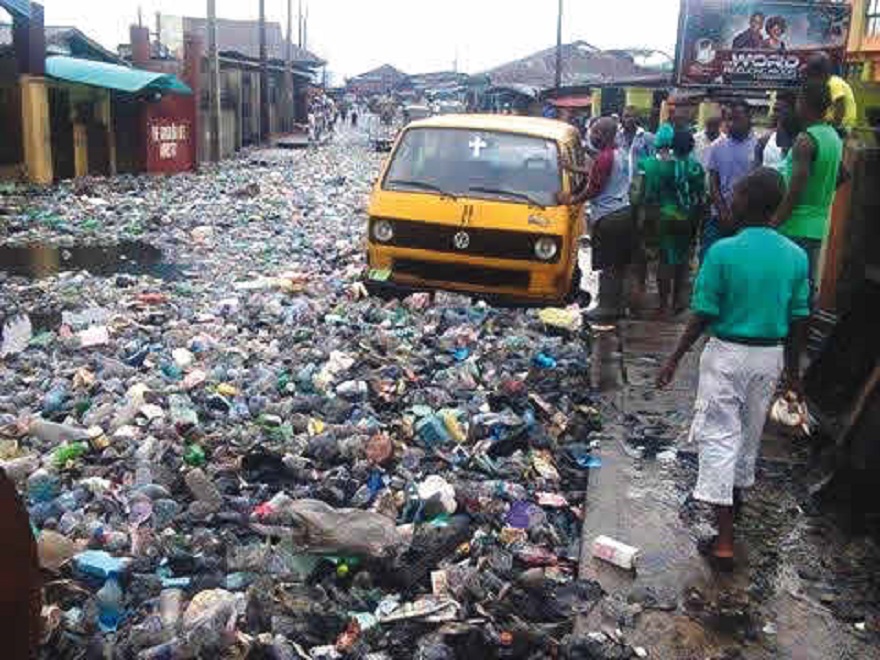 By Modupe Gbadeyanka
An initiative called Project ReflexNG, which aims to collect and recycle plastic waste in Lagos, Nigeria, has been launched by Dow in partnership with some local firms.
The Nigeria-based firms involved in this scheme include Omnik, RecylePoints and the Lagos Business School Sustainability Centre.
The parties will specifically recycle water sachets through a pilot program, designed to show that they can be collected and recycled to be utilised in new, quality packaging applications.
A statement from Dow disclosed that the project aims to divert 600 MT of sachet water pouches (approximately 300 million sachets) which otherwise would have ended up in the environment or landfill, into recycling applications, while promoting education to engrain sustainability into a select group of small and medium waste entrepreneurs.
The pilot is set up to enable a viable business case for the use of recyclate (resins made from recycled plastics) in non-food primary packaging applications.
According to Dow, this initiative aligns with its global Stop The Waste sustainability target which will enable the collection, reuse or recycling of one million metric tons of plastic globally by 2030.
An estimated 19 per cent of the Nigerian population still does not have access to clean, safe drinking water.
Though access to clean water has improved significantly over the last decade, it is crucial that everyone has access to it.
For many years, water sachets have provided an affordable and readily available source of drinking water for the masses, particularly in heavily populated urban environments like Lagos.
These pouches have become a fundamental part of life for millions of Nigerians every day.
However, their widespread consumption has led to the unintended consequence of environmental pollution due to inadequate waste management infrastructure and poor waste disposal behaviour.
As in many developing countries, there is an informal waste collection economy, but this favours rigid plastic in Nigeria and disregards low weight water sachets because waste pickers are paid by weight.
The water sachets will be collected by RecyclePoints, a waste management company, which uses kiosks, a phone app and employs waste pickers in order to collect waste that can be recycled.
The kiosks act as a bring-back focal point for the community to return waste in exchange for groceries, mobile phone credits, cash and other useful items. The app can coordinate pick-ups from several points around the city.
The collection part of the project is being funded by Dow's Impact Fund and will expand to include additional collection partners in a later phase.
Once the waste is collected, it will be taken to Omnik, where it will be processed into PCR (post-consumer recyclate).
Currently, the first few batches have been collected and sent to Dow's Pack Studios in Tarragona, Spain, where they will be analysed and tested.
Based on this assessment, Dow and Omnik will collaborate to enhance the properties of the recyclates so they can adequately be used again.
Additionally, as part of this project, Omnik has funded a stationary buy-back centre, operated by RecyclePoints, at premises of Lagos State Ministry of Environment to create long-term infrastructure for recovering plastic waste.
The project aims to create an end-use for the waste stream of water sachets, while employing over 200 registered waste pickers through RecyclePoints, for this new waste stream. The pilot will potentially increase the income of 8,000 RecyclePoints app subscribers.
Lagos Business School's Sustainability Centre (LBS sustainability Centre) will act as an educational partner to enable small and medium waste enterprises to learn sustainability principles to enhance their businesses.
Currently, LBS sustainability Centre runs a Circular Economy series and are partnering with Dow to train a selected group of 40 social entrepreneurs who currently have businesses in the waste management space.
The goal is to ensure that the education and materials these entrepreneurs receive through the process will result in long term sustainable collection for flexible packaging, specifically water sachets.
"Currently, more than 90 per cent of waste generated in Africa is disposed at uncontrolled dumpsites and landfills.
"Through our partnerships with Nigerian enterprises, academic institutions and local industry associations, we are making significant strides in addressing the crises of plastic waste and proving that the material does have intrinsic value," said Adwoa Coleman, Dow's Africa Sustainability and Advocacy Manager for Packaging and Specialty Plastics. "Together with our industry partners and in alignment with Nigeria's vision for plastic waste management, we are creating new opportunities for local business entrepreneurs and their surrounding communities."
"Plastic is a man-made solution to a pre-existing problem. Rather than turning it into the problem, we should continue to find sustainable environmentally friendly ways to ensure it continues to serve its purpose as the most affordable and hygienic form of packaging," said Alkesh Thavrani, Managing Director, Omnik Ltd.
Mazi Ukonu of RecyclePoints adds, "Circular Economy can only thrive if players at the different stages of the waste recovery value chain run viable activities, especially the waste pickers who are the unsung heroes of waste recycling in frontier markets like ours."
By collaborating with individuals and organizations that are already supporting waste management infrastructure and recycling, Project ReflexNG is driving local, sustainable solutions for Nigeria. Beyond the pilot phase which runs to February 2021, Dow will scale up Project ReflexNG to recover even more quantities of flexible packaging with potential for replication across the region.
We're Yet to Receive Formal Report of Sylvester Oromoni's Death—Police
By Modupe Gbadeyanka
The Lagos State Police Command on Saturday night said it was yet to receive a formal report of the death of one Sylvester Oromoni, a 12-year-old student of Dowen College, Lekki, Lagos.
The death of Master Oromoni has been trending online for the past few days and the video of his painful death sparked reactions after it was reported that he was bullied in school and allegedly forced to swallow substances believed to have eventually killed.
The incident forced the Lagos State government to shut down the school indefinitely for investigation.
On Saturday night, the spokesman for the Lagos Police Command, Mr Adekunle Ajisebutu, a chief superintendent police (CSP), said though none of the parents or the school has formally filed a report on the matter, the command has swung into action to get to the root of the matter.
According to him, "the Commissioner of Police, upon hearing about it instantly, directed the Divisional Police Officer, Maroko Division under whose jurisdiction the place of incident is to immediately visit the school to carry out an initial investigation into the incident."
"This directive has been carried out as an investigation into the case has since commenced. However, in view of the seriousness of the case, the Homicide Section of the State Criminal Investigation Department, Panti, has also been directed to take over the investigation of the case immediately," he added.
"Members of the public, particularly the deceased's bereaved parents, friends and relatives, are assured that the Lagos State Police Command has deployed all available human and material resources at its disposal to unravel the circumstances surrounding the sad and unfortunate incident," the police image-maker for the command stated.
"While a diligent investigation is ongoing, members of the public are advised against taking the law into their own hands. They are also enjoined to refrain from comments that could jeopardize the investigation," he appealed.
Concluding, Mr Ajisebutu said, "The Commissioner of Police, CP Hakeem Odumosu, while commiserating with the bereaved family, has equally assured that the outcome of police investigation would be made public in due course."
Adisa Receives Media Friendly State Lawmaker Award
By Modupe Gbadeyanka
For his contributions to the infrastructural development of his constituency and outstanding achievements as a lawmaker, the member representing Afijio constituency in the Oyo State House of Assembly, Mr Seyi Adisa, has been given the Media Friendly State Lawmaker Award.
The award was conferred on the state legislator by the Nigeria Union of Journalists (NUJ), Oyo State Council during its press week at the Press Centre, Iyaganku, Ibadan.
Chairman of the NUJ Oyo chapter, Mr Demola Babalola, disclosed that the award was in recognition of Mr Adisa's outstanding performance as a lawmaker, who has excelled in his calling as well contributed to the development of society.
He said his contributions to the development of his people, communities in his constituency and his senatorial district of Oyo North are laudable.
"You are given this special award of exemplary performance and also awarded as the Media-Friendly State Lawmaker of the Year in Oyo state because we believe you deserve it," he said.
While receiving the award, Mr Adisa declared his appreciation of the gesture, saying "big thanks to the Oyo State Council of the Nigeria Union of Journalists (NUJ) for this special recognition and Award of Exemplary Performance that also doubled as an Award for the Media-Friendly State Lawmaker of the Year.
"I do not take this for granted."
We Will Defend Free Press in Nigeria—US Government Assures
By Adedapo Adesanya
The United States government has promised to do everything possible to defend free press in Nigeria, which it said remains vital to democracy and good governance.
The American government expressed this with a partnership, through its Embassy, with the Nigerian Guild of Editors (NGE) for the first of the six media-focused Town Halls and Workshops in Lagos on Thursday.
The event will also take place across the country in the next several months.
The capacity-building programme will provide a forum for over 200 participating Nigerian editors and leaders of the independent press to discuss and share best practices and to also hear from the United States government.
Experts on topics such as journalistic standards, identifying bias, and conducting fact-based investigative reporting to better inform the Nigerian public will be provided.
Delivering keynote remarks at the opening programme in Lagos, the US Ambassador, Mrs Mary Beth Leonard discussed the challenges faced by Nigeria and other democracies across the world and highlighted democracy's greatest strength: the ability to improve upon and reinvent itself.
She quipped that when belief in democracy, good governance and elections are restored, Nigerians will want to be a part of that system and will defend it.
Ambassador Leonard noted, "Our hope is that in this forum today is that you will lead and serve as catalysts for further discussions on countering disinformation; increasing transparency; solution building; and encouraging media literacy and their contribution to a democracy that is accountable to its people."
The US government is committed to initiatives that build media capacity in Nigeria, she added.
According to her, for years, the US Mission has funded partnerships that promote Nigeria's democratic governance, unity and stability by improving government transparency and accountability, the rule of law, free and professional media, as well as civil society capacity and engagement.
On his part, the General Secretary of NGE, Mr Iyobosa Uwugiaren, said, "At the end of the project, we expect to see a pool of Nigerian editors, senior journalists and media managers, who will be galvanised and committed to the highest ethical standard and to take robust actions towards this.
"Editors who will be committed to the promotion and protection of the right to an independent press, freedom of expression and deepening democratic space; and constantly projecting issue-based governance in defence of the mass of the Nigerian people."
The Town Halls and editor workshops are supported through a grant from the US Embassy's Public Affairs Section in Abuja to the NGE.
In addition to Lagos, the programmes will take place in Kano in January 2022, then Yola, Abuja, Port Harcourt and Enugu will follow in subsequent months.
Latest News on Business Post