Edo Assembly Impeaches Speaker, Elects Onobun
By Modupe Gbadeyanka
Speaker of the Edo State House of Assembly, Mr Frank Abumere Okiye, has been impeached by members of the state parliament.
Mr Okiye's removal comes barely two weeks after he led his colleagues to pay a visit to Governor of Edo State, Mr Godwin Obaseki, shortly after he won the governorship election for another term of four years in office.
According to reports from Benin City, the state capital, Mr Okiye was booted out of office by nine members of 10 members of the House of Assembly.
At the plenary on Monday morning, Mr Okiye was accused by his colleagues of his alleged high-handedness and other allegations.
In view of this, the Majority Leader of the House, Mr Henry Okhuarobo, moved a motion for this impeachement, which was supported by other lawmakers. He was subsequently removed from office.
Meanwhile, a member of the House representing Esan West Constituency, Mr Marcus Onobun, has been elected as the new Speaker. He is believed to be the youngest Speaker the state has produced
Details later.
People with Intellectual Disabilities Deserve Equal Opportunity—Jalo-Waziri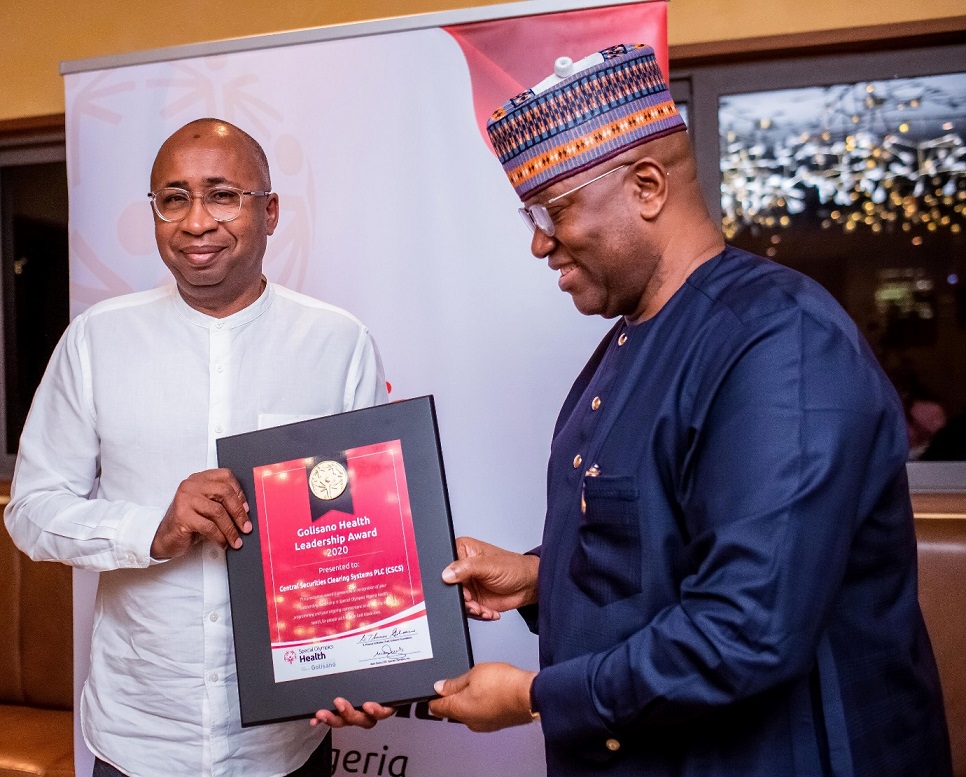 By Aduragbemi Omiyale
The Chief Executive Officer of Central Securities Clearing System (CSCS) Plc, Mr Haruna Jalo-Waziri, has called for equal opportunity for people with intellectual disabilities.
He described them as "an important part of our society," emphasising that they deserve to get "all relevant support to fulfil their aspirations."
Mr Jalo-Waziri made a case for these set of individuals when CSCS, Nigeria's capital market infrastructure, bagged the prestigious Golisano Health Leadership Award 2020, a premium recognition of its significant contributions to Special Olympics' Health programmes and the promotion of equal access to healthcare, wellness, and fitness for people with Intellectual Disabilities (ID) in Nigeria.
While receiving the award, he said, "This award is a great honour, a privileged recognition of our commitment to human welfare, especially amongst one of the most important segments of the society, people with intellectual disabilities, who have consistently made this country proud through their dedication to excellence."
"Being an integral part of our business sustainability principles, we take seriously our social responsibility, as we believe in the mutual prosperity of our communities," he added.
"We would continue to invest in the socio-economic wellbeing of our society, with a particular interest in ensuring everyone, irrespective of age, gender, ethnicity, race as well as physical and intellectual ability, have access to basic and required healthcare," he assured.
He further promised that the organisation "will continue to promote inclusion and acceptance of individuals with intellectual disabilities, as they deserve to be valued, respected, and fully integrated into all aspects of our social and economic institutions."
According to him, "This award is a call to service, not just for CSCS Plc to do more but to also encourage our partners, stakeholders and indeed everyone in our network to support healthcare and general wellbeing of people in our society, especially those with intellectual disabilities and other similar limitations.
"I use this opportunity to thank the Board of Directors of CSCS Plc, whose leadership and oversight remain the bedrock of our partnership with Special Olympics."
"We are proud of the Special Olympics and we would sustain our partnership with this incredible not-for-profit organization which is uplifting the standards of living of people with intellectual disabilities, helping to discover their unique capabilities, providing the platform for realizing their dreams and giving hope to these especially talented fellows in the society.
"The well-documented successes of the Special Olympics are impressive, and it is a pride to be part of this humanitarian service to our society," he further said.
The Golisano Health Leadership Award is the highest honour that Special Olympics awards to health partners who are on the frontlines of bringing essential health care services to people with Intellectual Disabilities.
The award was launched in September 2016 to recognise individuals and organizations that further the cause of Special Olympics and improve access to health care, fitness, and wellness programmes for people with intellectual disabilities.
Facebook, Reuters Launch Free Online Course for Journalists
By Adedapo Adesanya
The Facebook Journalism Project has partnered with Reuters to launch a free online course for journalists under the umbrella of the Reuters Digital Journalism Course.
The project works with publishers around the world to strengthen the connection between journalists and the communities they serve.
Its training, programs and partnerships work by investing in organizations that fund quality journalism; training newsrooms globally; and partnering with publishers and nonprofits to combat misinformation, promote news literacy, and improve journalism.
Reuters developed the free online course curriculum after its Digital News Report found more people were using social media to access news.
It focuses on digital newsgathering, verification and reporting, and publishing on social media. It also covers wellness and resilience training while reporting.
According to Facebook, the course is aimed at both seasoned journalists and industry newcomers. Upon completing the course, participants will receive a certificate.
Speaking on the programme, Mrs Jocelyne Muhutu-Remy, Strategic Media Partnerships Manager, Sub-Saharan Africa said, "At Facebook, we're grateful to journalists across Africa who are working hard to keep their communities informed about the issues that matter.
"The Facebook Journalism Project will assist our region's journalists in developing strong fundamental knowledge as they navigate the rapidly changing digital news landscape."
The Digital Journalism Course aims to support journalists across English speaking countries in Sub-Saharan Africa to build a strong foundation in digital reporting and editing.
Adding her input, Ms Gina Chua, Reuters Executive Editor said in a statement, "With news media firmly in the digital age, being able to use digital platforms safely and effectively is essential.
"The Reuters Digital Journalism Course offers best practices from Reuters journalists around the world to provide the foundation for sound journalism, whether you're a budding journalist or a seasoned one looking for a refresher."
To sign up for the course, interested parties must create an account on the Reuters Digital Journalism course website, accessible here. The course is also available to journalists from all over the world, including Nigeria.
Osinbajo Heads Committee to Lift 100 million Nigerians from Poverty
By Adedapo Adesanya
President Muhammadu Buhari on Tuesday inaugurated the National Steering Committee (NSC) of the National Poverty Reduction with Growth Strategy (NPRGS) to be chaired by the Vice President, Mr Yemi Osinbajo.
The President in a statement released through his media aide, Mr Femi Adesina, reiterated his commitment to lifting 100 million Nigerians from poverty in 10 years, with a well-researched framework for implementation and funding.
"This journey began in January 2021 when I directed the Chairman of the Presidential Economic Advisory Council and Secretary to the Government of the Federation to collaboratively work together to articulate what will lift 100 million Nigerians out of poverty in 10 years.
"I am happy to note that the process of designing this inclusive poverty reduction strategy recognised and addressed past mistakes, as well as laid the foundation for a sustainable poverty reduction through the wide range consultations held at all levels of government, development partners, the private sector as well as the civil society," Mr Buhari was quoted as saying.
President Buhari was confident that the NPRGS would address the underlying causes of poverty on the basis of which it developed programmes that would deal with the multi-dimensional nature of poverty within the practical context of comparative advantage of human and natural resources in the various geo-political zones.
According to him, the major challenge before the committee is to translate the good intention of the government into a positive impact on the average Nigerian in order to create an appreciative impact on the poverty situation in the country.
"If India can lift 271 million people out of poverty between 2006 and 2016, Nigeria can surely lift 100 million out of poverty in 10 years.
"Fortunately, we have already started but we need to unlock the challenges of slow implementation, inappropriate targeting, and absence of adequate resources," the President said.
The responsibilities of the committee, he noted, include anchoring collaborative efforts; provide oversight for the implementation of the strategy; provide guidance to Technical Working Group and federal ministries, extra ministerial departments and agencies, subnational governments and other stakeholders on meeting the objectives of the programme; as well as monitor progress and any other effort that would enhance the attainment of the objective of lifting 100 million people out of poverty in 10 years.
"The performance of our economy despite COVID-19 gives me comfort that we can achieve our goal, but we need to seriously scale up and work more with state and local governments.
"This call becomes more pertinent in the face of recent forecasts by the International Monetary Fund, the World Bank and our own Nigerian Economic Summit Group which all agreed that Nigeria needs to frontally tackle her poverty situation if our economic gains are to be sustained," he told the gathering at the event.
Mr Buhari asked the committee to commence work immediately to enable the Technical Working Group to begin to put things together.
He said the responsibilities were onerous but expressed confidence that the committee would be able to lay the foundation and demonstrate, within the next two years, the practicality of lifting 100 million Nigerians out of poverty in or under 10 years.
In his remarks, Vice President Osinbajo said the NPRGS would consolidate other efforts of the government to reduce poverty in the land.
He noted that the President's position that local governments, states, and the federal government should work jointly to alleviate poverty in the country would be properly reflected in the framework and implementation, stressing the need for access and inclusivity.
The SGF, Mr Boss Mustapha, who is a member of the committee, said the poverty situation in the country assumed an enormous proportion with an increasing population, adding that the situation was compounded by the COVID-19 pandemic.
He, however, said the administration responded to the COVID-19 poverty fallout swiftly and was able to ameliorate the situation and ensured a quick exit from recession.
The committee also has as members Chief of Staff to the President, Governors of Ekiti (South West), Delta (South South), Sokoto (North West), Borno (North East), Nasarawa (North Central), and Ebonyi States (South East).
Others are Ministers of Finance, Budget and National Planning; State for Budget and National Planning; Humanitarian Affairs, Disaster Management and Social Development; Agriculture and Rural Development; Industry, Trade and Investments; Labour and Employment, Education and Health.
Latest News on Business Post