El-Rufai Furious over Destruction of Military Structure in Kaduna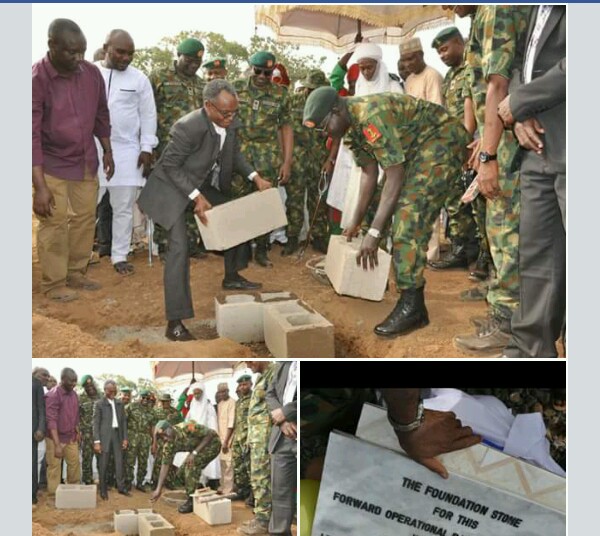 By Dipo Olowookere
Governor Nasir El-Rufai of Kaduna State has expressed his frustration over the destruction of the Military foundation laid in Southern Kaduna last week by unknown persons.
Mr El-Rufai, in a statement issued on Saturday by his Special Assistant on Media and Publicity, Mr Samuel Aruwan, said perpetrators of the act would be fished out and "brought to justice without fear or favour."
The Governor had last week laid the foundation for the establishment of the Nigerian Army Battalion at Ungwan Yashi area of Zangon Kataf Local Government as a response to the incessant killings occurring in Southern Kaduna since 1980.
Mr El-Rufai said he "received the news with shock over the unfortunate destruction of foundation laying structure of the proposed Nigerian Army battalion in Southern Kaduna."
"The very structure we erected to establish the long-awaited Army Barracks to assist promotion of peace and end the decades of senseless bloodletting in the southern part of Kaduna State," he said further.
The Governor described the incident as "unfortunate, condemnable and a setback to the government's communal stabilization and peace building efforts" but emphasised that his administration "will not be deterred."
Mr El-Rufai urged the "people that cherish peaceful coexistence to  continue to be resilient, focused and resolute in overcoming antics of forces of darkness and evil," noting that, "Those that did this are determined to derail the contributions of the security agencies, having failed to spread their tentacles of hate, bigotry and penchant for divisiveness."
"I want to use this medium to appeal to all men and women of conscience to remain firm and optimistic, while government in collaboration with security agencies, civil society, religious and traditional institutions will continue to work assiduously for peace and security of life and property," he said.
Jangebe Abduction: Why We Can't Attack Terrorists—Buhari
By Aduragbemi Omiyale
The abduction of secondary schoolgirls in Jangebe, Zamfara State on Friday has not gone down well with President Muhammadu Buhari, who has sent out a strong warning to the terrorists, who carried out this act as well as their sponsors.
Over 300 students of Government Girls Secondary School, Jangebe, were kidnapped in the wee hours of today. It occurred barely two weeks after some gunmen went away with some students and teachers of a government secondary school in Niger State.
Reacting to Friday's incident, Mr Buhari described it as "inhumane and totally unacceptable," emphasising that his "administration will not succumb to blackmail by bandits who target innocent school students in the expectations of huge ransom payments."
In the statement issued by the presidency, Mr Buhari maintained that "no criminal group can be too strong to be defeated by the government," adding that "the only thing standing between our security forces and the bandits are the rules of engagement."
"Let them not entertain any illusions that they are more powerful than the government. They shouldn't mistake our restraint for the humanitarian goals of protecting innocent lives as a weakness or a sign of fear or irresolution," he further said.
The President urged state governments "to review their policy of rewarding bandits with money and vehicles, warning that the policy might boomerang disastrously."
He also advised states and local governments to be more proactive by improving security around schools and their surroundings.
He noted that the federal government has the "capacity to deploy massive force against the bandits in the villages where they operate, but our limitation is the fear of heavy casualties of innocent villagers and hostages who might be used as human shields by the bandits," stressing that "our primary objective is to get the hostages safe, alive and unharmed."
President Buhari noted that "a hostage crisis is a complex situation that requires maximum patience in order to protect the victims from physical harm or even brutal death at the hands of their captors."