Ex-Ebonyi Governor Martin Elechi Joins APC
By Modupe Gbadeyanka
Former Governor of Ebonyi State, Mr Martin Elechi, has left the Peoples Democratic Party (PDP) for the All Progressives Congress (APC).
Mr Elechi was the immediate past Governor of Ebonyi State and a strong member of the PDP, presently the opposition party battling with leadership tussle.
At a thanksgiving service at a church on Sunday in Abakaliki to mark the recovery of President Muhammadu Buhari from his ill-health during his vacation to London, Mr Elechi told party supporters and leaders that he was joining them majorly because of his affection for Mr Buhari.
He said further that the crisis in his former party also informed his decision to pitch tent with the ruling party.
He thereafter registered for the APC at his country home in Echialike, Ikwo Local Government Area of the state.
"I knew Buhari 49 years ago when I started the movement for the creation of Ebonyi as he intervened during my arrest with nine other comrades, by officers of the defunct Nigerian Security Organisation (NSO).
"I was interrogated while standing for nine hours and he as the Brigade Major in Abakaliki at that time, ordered our immediate release.
"I thank God for his health as he had favoured the people of Abakaliki and will triumph in his onerous task of rescuing the country from misrule," he said.
"Three years ago, I would have attacked anyone who said Ebonyi belongs to APC, but currently, me identify with PDP? God forbids," he said.
Shell Must Clean up Oil Spills in Niger Delta—Amnesty International
By Modupe Gbadeyanka
Amnesty International has emphasised that a prominent energy company, Shell, must make every effort to clean up devastating oil spills in the Niger Delta region of Nigeria.
According to Amnesty International's Head of Business and Human Rights, Mr Mark Dummett, this is the right thing for the organisation to do.
Mr Dummett was reacting to reports that two Nigerian communities have filed claims against Shell at the High Court in London.
"More than 13,500 residents from the Ogale and Bille communities in the Niger Delta have now filed claims against Shell asking that the company clean up oil spills which they say have wrecked their livelihoods, poisoned their wells, and polluted their land and water, which means they can no longer farm or fish.
"Amnesty stands by these two communities in the Niger Delta, which have been engaged in litigation against Shell for seven years, asking that the company clean up the damage caused and compensate them for their lost livelihoods.
"Shell announced in 2021 that it plans to sell its onshore oilfields and assets in the Niger Delta after 60 years of highly profitable operations in the area. It is concerning that Shell has not explained how it plans to address the widespread and systemic pollution of Nigerian communities linked to its operations over many years before it sells up and leaves.
"This case is now proceeding to trial to determine whether Shell's parent company in London, as well as its Nigerian subsidiary the Shell Petroleum Development Company (SPDC), is legally responsible for the harm caused to the communities in Nigeria," Mr Dummett said.
Also, the Director of Amnesty International Nigeria, Osai Ojigho, while commenting on the matter, stated that, "Had this level of contamination and pollution occurred in Europe or North America, it is hard to imagine that there would not have been swift and severe consequences and legal redress.
"Shell should clean up the pollution the oil has caused in these communities and compensate those whose livelihoods have been devastated and whose health has been harmed."
Survey Shows Nigerians Don't Trust INEC for Credible Elections
By Modupe Gbadeyanka
A new survey has shown that though a majority of Nigerians believe that elections are the best method to choose their leaders, they do not trust the Independent National Electoral Commission (INEC), chaired by Mr Mahmood Yakubu, to conduct a credible exercise.
Later this month, Nigerians will vote to elect a new President, with many youths happy that there is a third option for them to choose from, unlike in the previous elections, in which two major political parties contested.
In the latest Afrobarometer survey, a large majority of the respondents agreed that multiple political parties are needed to provide voters with a genuine choice and that once elections are over, the losing side should accept defeat and work with the government to help the nation flourish.
While a majority of citizens believe that the last national election in 2019 was generally free and fair, popular trust in the INEC is declining.
According to the key findings of the report, about 71 per cent of Nigerians support elections as the best way to choose their leaders, with about 69 per cent agreeing that Nigeria needs many political parties to ensure that voters have a real choice, a 13-percentage-point rebound from 2020.
It was observed that 78 per cent of the respondents say that once an election is over, the losing side should accept defeat and cooperate with the government to help it develop the country rather than monitoring and criticising it, while 56 per cent of the respondents said the last national election, in 2019, was generally free and fair, but almost four in 10 believe otherwise.
The survey showed that only 23 per cent of Nigerians said they trust INEC "somewhat" or "a lot," while more than three-fourths (78 per cent) express "just a little" or no trust at all in the election-management body.
Afrobarometer is a pan-African, non-partisan survey research network that provides reliable data on African experiences and evaluations of democracy, governance, and quality of life.
Eight survey rounds in up to 39 countries have been completed since 1999. Round 9 surveys (2021/2022) are currently underway. Afro barometer's national partners conduct face-to-face interviews in the language of the respondent's choice.
The Afrobarometer team in Nigeria, led by NOIPolls, interviewed a nationally representative sample of 1,600 adult citizens in March 2022. A sample of this size yields country-level results with a margin of error of +/-2.5 percentage points at a 95% confidence level. Previous surveys were conducted in Nigeria in 1999, 2002, 2004, 2008, 2012, 2014, 2017, and 2020.
Surulere Fracas: Police Declare Tajudeen Bakare Wanted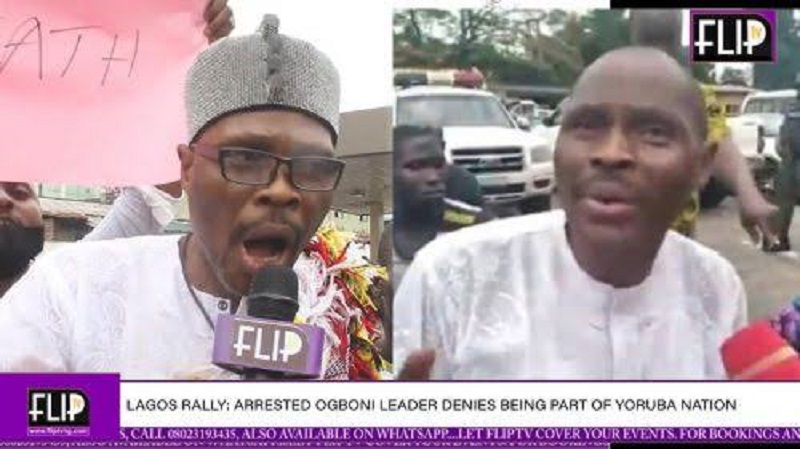 By Modupe Gbadeyanka
A self-acclaimed leader of the Ogboni fraternity, Mr Tajudeen Bakare, has been declared wanted by the Lagos Command of the Nigeria Police Force.
A statement issued on Thursday by the spokesman of the Command, Mr Benjamin Hundeyin, was Mr Bakare evaded arrest after some police personnel raided his residence to apprehend him.
He was said to have been captured in a video "wielding a pump action rifle and threatening public peace," which prompted the police to go after him.
According to the statement, officers of the Rapid Response Squad (RRS), working on actionable intelligence, carried out a sting operation on his residence in the Surulere area of the state.
"Found in the suspect's residence were three pump action rifles, one Beretta pistol magazine, one expended 9mm ammunition, one expended and three live cartridges and a picture frame of the suspect.
"The suspect, Tajudeen Olanrewaju Bakare, narrowly escaped arrest and is hereby declared wanted," the statement said.
The police said, "Any useful information leading to his arrest would be highly appreciated and treated with the utmost confidentiality."
"While appreciating Lagosians for their vigilance and prompt information to security agencies, the Lagos State Police Command once again warns all trouble makers to steer clear of the state as anyone found wanting would be dealt with in accordance with the law," Mr Hundeyin further said.
This is not the first time Mr Bakare is having an issue with the Lagos Police Command.
In 2021, he was accused of being part of unrest in the Ojota area of Lagos State, which led to the death of a female hawker, Miss Jumoke Oyeleke. He was charged to court for the death of the teenager.
Latest News on Business Post