FEC Okays N126b to Construct 12 Roads
By Dipo Olowookere
About N126 billion has been approved by the Federal Executive Council (FEC) for the construction of 12 roads across the country.
This information was revealed by the Minister of Power, Works and Housing, Mr Babatunde Fashola, on Wednesday after the FEC meeting presided over by Acting President, Mr Yemi Osinbajo, at the State House in Abuja.
According to the Minister, the roads are expected to make lives easier for residents of the beneficiary states, which will in turn boost the countnry's economy especially at a time it is battling with recession.
Mr Fashola, while addressing newsmen after the meeting, disclosed that the 12 roads would be in Adamawa, Bauchi, Borno, Enugu, Gombe, Kaduna, Kano and Kwara States.
He said further that some of the projects included reconstruction, rehabilitation and bridge construction.
FG Declares June 12 Public Holiday
By Modupe Gbadeyanka
Monday, June 12, 2023, has been declared a public holiday by the federal government to celebrate Democracy Day.
In a statement on Thursday, the federal government congratulated Nigerians on the occasion and wished them a Happy Democracy Day celebration.
"Nigeria's democratic journey has, like in many other climes, encountered both stormy and smooth sails, but the ship of state, its institutions and most importantly, the Nigerian people have remained steadfast on the tenets of democratic governance.
"On this memorable occasion, therefore, Nigerians and friends of Nigeria are invited to appreciate the progress that has been made, celebrate the milestones covered and look forward to a better future for the country's democracy," the statement issued in Abuja by the Permanent Secretary in the Ministry of Interior, Mrs Oluwatoyin Akinlade, said.
The government moved the Democracy Day celebration from May 29 to June 12 to honour the presumed winner of the June 12, 1993, presidential election, the late Mr MKO Abiola.
Only 5% of Nigeria's Private Sector Employers Invest in Childcare—Report
By Aduragbemi Omiyale
A report published by the IFC and the Nigerian Exchange (NGX) Limited has revealed that despite 67 per cent of working parents reporting that they were more productive at work when they had easier access to childcare, only 5 per cent of Nigeria's private sector employers invest in childcare.
In the survey titled Investing in Childcare: A Game Changer for Businesses and the Nigerian Economy, it was submitted that improving family-friendly workplace policies in Nigeria, including access to quality childcare for parents, could boost private sector productivity and benefits employees, children, and businesses in the country.
According to the study, investing in childcare by offering on-site or near-site childcare services or the financial support to access childcare presents an opportunity for employers to improve employees' productivity, reap efficiency improvements, and boost business outcomes.
The report estimates that by 2025, the demand for childcare services in Nigeria's private sector will likely increase by 10 per cent. However, childcare providers face barriers to scale and meet the growing demand, especially because they lack access to formal capital and investments.
The study found that 76 per cent of childcare providers faced challenges in accessing formal financing, highlighting an opportunity for partnerships and investments in addressing market gaps.
The chief executive of the NGX, Mr Temi Popoola, said access to effective and affordable childcare is vital to ensuring a productive, engaged, and inclusive workforce.
"This report presents a compelling business case for stakeholders, both in the capital market and the broader private sector, to step up actions and collaborate on crucial measures to improve workplace solutions for childcare, as it will benefit companies, employees and the overall economy," he said.
"Childcare and family-friendly work policies are often overlooked aspects of social and economic development—but they shouldn't be," said Dahlia Khalifa, IFC Director for Central Africa, Liberia, Nigeria and Sierra Leone. "This report reinforces the value of expanding family-friendly workplace policies in Nigeria to support social and economic development."
Launched on the sidelines of the Africa CEO Forum in Abidjan, the report assessed the needs and challenges of 7,000 stakeholders, including employees, employers, and childcare providers. Demand for childcare in Nigeria is forecast to increase rapidly along with the country's population.
The report's research covers six commercial hubs in Nigeria: Enugu, FCT-Abuja, Kano, Lagos, Ogun, and Rivers.
It was funded by the IFC-led Nigeria2Equal Initiative, launched in 2020 in partnership with the exchange to increase women's participation in the private sector.
Through the initiative, IFC and NGX are working with private sector companies listed on the exchange to implement gender-smart solutions that reduce gender gaps across leadership, employment, and entrepreneurship.
Civil Society Engagement at Core of US-African Relations in Multipolar World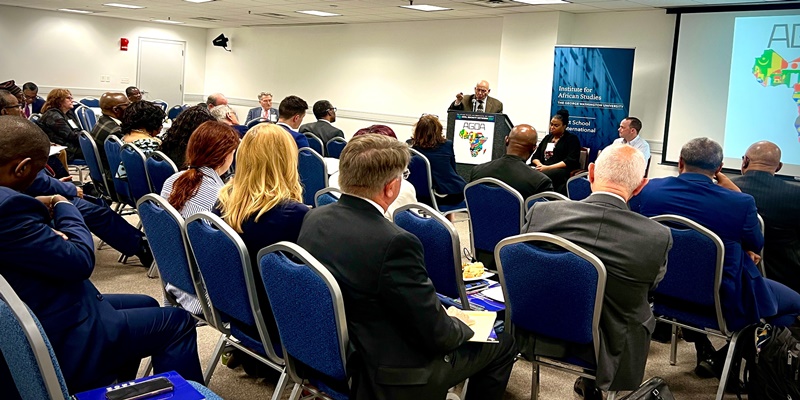 By Kestér Kenn Klomegâh
The United States has held its 8th annual civil society forum to review progress, examine challenges and renew interest in forging ways to strengthen relations with Africa. The United States has the largest African diaspora with close-knitted business, educational and cultural links with African countries. This helps to support official efforts in promoting relations with Africa.
The conference was a hybrid event that brought together civil society organizations, business, and government leaders from across Africa and the United States virtually and in person. The purpose of the gathering was to advocate for a ten (10) year Enhancement/Extension of AGOA benefits from 2025 to 2035, support the African Union's Agenda 2063, including the implementation of the African Continental Free Trade Areas and an African Customs Union, and come up with recommendations on the way forward.
Since its passage by Congress on May 18, 2000, and signing into law on October 2, 2000, by President Bill Clinton, the African Growth and Opportunity Act (AGOA) has been the cornerstone of U.S. economic engagement with the countries of Sub-Saharan Africa (SSA).
AGOA is a long-term commitment with broad bipartisan support. On June 25, 2015, Congress overwhelmingly approved the Trade Preferences Extension Act (TPEA) of 2015, and on June 29, 2015, President Barrack Obama signed TPEA into law. TPEA reauthorizes AGOA and the associated "third Country fabric "provision for ten years through 2025.
Congress passed, and the executive branch implemented three prior legislative enhancements of AGOA, with significant bipartisan support in 2002, 2004, and 2006.
Discussion Highlights:
The Biden-Harris Administration is committed to strengthening US-Africa trade and commercial relations and engaging Congress on the next steps for AGOA.
In December 2022, the African Union Ministers of Trade from the AGOA-eligible countries met in Washington, DC, at the request of Ambassador Katherine Tai, USTR, "to have a full and frank exchange of views on how to work together to improve the utilization rates under AGOA and ensure that the program can be an effective tool for development."
At those high-level engagements, there was consensus that there is a need to extend AGOA beyond 2025. The recommendation has been tabled before the US Administration. During the meeting, Ambassador Tai, the African Ministers, and the Africa Group of Ambassadors also underscored the following:
An extension of AGOA for at least ten years with the inclusion of ALL African countries
The importance of Africa speaking with One Voice in all US-Africa trade and investment engagements; and,
Enhanced commercial diplomacy between the US and Africa. There was also agreement that South Africa would host the next AGOA Forum in August/September this year.
United States Trade Representative (USTR) Ambassador Katherine Tai is committed to robust trade and economic collaboration with Sub-Saharan Africa. USTR Tai believes that Africa is the future. On-going discussions are taking place with African nations, including negotiations between Kenya and the U.S. regarding a strategic trade and investment partnership.
Stringent requirements from the various U.S. trade regulatory authorities and the limited industrialization capabilities in Africa are factors for the very low utilization of AGOA benefits. As a result, only a few product lines, such as fossil fuels, vehicles, clothing, textiles, and currently, Beef, are exported from Africa under AGOA.
Under-utilization has caused African exports to the U.S. under AGOA to decline from USD 78.01 billion in 2013 to USD 28.19 billion in 2022, resulting in a setback for Africa.
African countries are devising methods to improve export diversification, growth, and industrialization, including developing regional and continental value chains. These efforts present a tremendous opportunity for US companies to take advantage of the market provided by the African Continental Free Trade Area.
Succeeding in the African Continental Free Trade Area, a market with enormous growth potential, requires investing.
Each State participating in the African Continental Free trade agreement retains its national external tariffs. Exporting into this market will generate tariff charges.
Creating an African Customs Union will allow for a shared external tariff and pave the way for Africa to establish free trade agreements with trading partners.
American companies can enjoy duty-free exporting from their home bases, and Africa is in a better position to grow US-Africa trade with the African Customs Union in place.
A renewed U.S. policy on AGOA should prioritize investment in specific sectors, such as Trade, Financial Services, Health, Climate, Food Security, Tourism, and Logistics, including Gateway Initiatives and the Digital Economy.
Targeted U.S. investment conducted in partnership with businesses and institutions in each AGOA-eligible country, and per their respective utilization/transition plans, will catalyze American investment and technology, encourage innovation, instil U.S. values and best practices throughout Africa, create more jobs for youth on both sides of the Atlantic Ocean, and fill in gaps in markets across the continent in preparation for the African Continental Free Trade Area and the African Customs Union.
Africa is the major consumption hub of the future. The general population is young and increasing; the African middle class is also growing, and with it, demand for industrial goods is 1.5 times higher than the global average.
The issue of low utilization rates of AGOA benefits needs to be addressed. Studies show that nations with AGOA Country Strategies have higher utilization rates than nations without country strategies, and these countries use AGOA benefits to create good-paying jobs.
The utilization rate of the Generalized System of Preferences (GSP) and all U.S. preferential trade programs for Least Developed Countries (LDCs) has decreased. AGOA is the only U.S. preferential trade program with a positive utilization rate of about 1.6%.
The metric and measure of AGOA's success should be contingent on RETURN ON INVESTMENT, not its shortcomings.
AGOA's cost to U.S. taxpayers is nominal especially compared to U.S. investment in Development Aid to Africa.
AGOA's non-oil imports have risen approximately 307% to $5.7 billion in 2022, while AGOA's apparel imports have singularly increased by more than 280%.
AGOA has created hundreds of thousands of new direct jobs and millions of indirect jobs in Africa in the textile, agricultural, and automotive industries and more than 500,000 in the U.S.
The economic impact of the COVID-19 Pandemic and Putin's Conflict in Ukraine poses a threat to US-Africa trade and investment, US-Africa strategic alliances, and gains made over the last two decades using the benefits of AGOA. AGOA has incentivized market-based economies that safeguard private property rights, the rule of law, political pluralism, and the right to due process. It has also enhanced healthcare and education access while protecting globally acknowledged workers' rights. All these achievements are now at risk.
AGOA remains a transformative success story. Despite AGOA's challenges and areas of needed improvement, AGOA serves as "proof of concept" at a small financial cost to the U.S. taxpayer, which did not exist 20 years ago.
Africa is the major consumption hub of the future. The general population is young and increasing; the African middle class is also growing, and with it, demand for industrial goods is 1.5 times higher than the global average.
The region of Africa is too significant to ignore. Simply giving inspiring speeches and using diplomacy will not be enough for America to regain its economic and commercial leadership in Africa.
Members of Congress want to see AGOA benefits shared widely and used to create good-paying jobs across Sub-Saharan Africa (SSA); members are open to discussions on ways to build on what is working, and deliberations by members and staff on the future of the legislation are ongoing as re-authorization is approaching in 2025.
There is interest on Capitol Hill to see how investment can be coupled with trade to address poverty reduction and advancement in targeted sectors, such as health care, critical minerals, and others.
Work in Progress Financing helps micro, small, and medium/smallholder farmers to increase productivity and create jobs.
Investing in a Special Purpose Investment Fund and taking advantage of tax incentives should be seen as an opportunity for the American public to support the growth of youth, effective governance, innovative ideas, strategic alliances, and the vast potential of African markets.
Congress never intended for AGOA to be permanent – it is a Trade Preference Agreement (TPA). And all TPAs must meet standards and requirements set by Congress.
Out-of-cycle reviews provide African nations with the opportunity for reinstatement once the sanctions have been addressed.
When AGOA is up for renewal, there is a decline in trade figures across the board, particularly in the apparel sector. Uncertainty regarding extending AGOA affects investment potential in AGOA-eligible countries. Extending AGOA for ten years will stimulate investment in AGOA-eligible countries.
AGOA needs to be extended as most people, especially women and SMEs, are just beginning to learn about AGOA when the current legislation is about to expire.
Recommendations: During the event, delegates made the following recommendations:
The Biden-Harris Administration and the 118th Congress enhance and extend AGOA benefits for ten years from its current September 2025 sunset to September 30th, 2035, to support the African Union Agenda 2063 and the creation of an African Continental Free Trade Areas and African Customs Union – critical tools necessary to utilizing trade to strengthen U.S.-Africa strategic alliances.
Expand AGOA benefits to all 55- member states of the African Union from the current 49 Sub-Saharan African countries.
The U.S. must deliver on commitments made to Africa during the US-Africa Leaders' Summit, including a $55 billion pledge to support the African Union's Agenda 2063 and the creation of a new Digital Transformation with Africa (DTA) initiative intended to invest more than $350 million in financing Africa's digital transformation.
The AGOA CSO Network and private sector stakeholders, with the support of the 118th Congress, the Biden-Harris Administration, and the African Union Commission, to establish a $5 Billion Special Purpose Investment Fund (SPIF), with tax incentives to catalyze U.S. investment, technology, innovation, shared values, and best practices throughout Africa.
The 8th Annual  AGOA CSO Network Spring Conference, under the theme 'Extending AGOA to 2035' was jointly coordinated by the AGOA Civil Society Organization (CSO) Network Secretariat and The Foundation for Democracy in Africa (FDA), in partnership with the Institute for African Studies, The Elliot  School for International Affairs, George Washington University.
Latest News on Business Post