FG to Fast-Track SCADA System to Halt Recurring Grid Collapse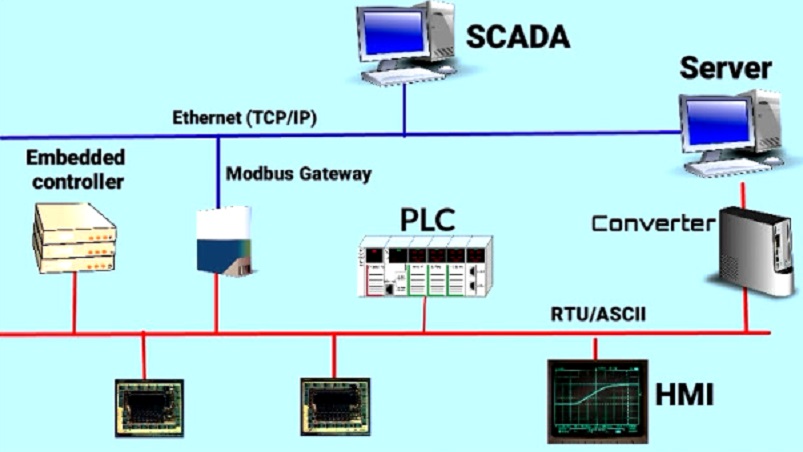 By Adedapo Adesanya
To tackle the reoccurring cases of grid failure, the federal government has said it would fast-track the purchase and installation of a Supervisory Control and Data Acquisition (SCADA) system.
The SCADA system is software used to monitor and control an electrical grid system based on the information it collects from the substations within that system.
This is as the country witnessed the fifth grid collapse this year over the weekend.
Following the federal government's failure to acquire the SCADA, the supply system has been unable to provide remote coverage and relay of interconnected network communication to enable Distribution Companies (Discos) have real-time access to monitor and control their distribution infrastructure.
This indicates that Nigeria's discos still use the analogue system of detecting faults within their networks.
However, the FG said SCADA would assist in monitoring/controlling existing injection and distribution substations.
It would further reduce downtime, help in faults location, track and restore the system in cases of collapses, increase revenue generation as well as reduce Aggregate Technical, Commercial and Collection (ATC&C) losses.
In March 2022, the country witnessed a blackout twice amid a severe fuel crisis as well as in January and February this year. The latest system collapse occurred twice within a few hours.
The grid, which is being managed by the government-owned Transmission Company of Nigeria (TCN) has continued to suffer system collapse over the years amid a lack of spinning reserve that is meant to forestall such occurrences.
A statement issued on Saturday by the Minister of Power, Mr Abubakar Aliyu, signed on his behalf by his Special Adviser, Media, Mr Isa Sanusi, noted that the stakeholders were working round the clock to ensure that normalcy is restored as soon as possible.
Mr Aliyu added that power has already been restored in several parts of the country since the latest incident, noting that it was carrying out reforms to ensure that such power failures are reduced to the minimum.
"We wish to notify the general public of the incidence of a system collapse which occurred at 1830 hours on April 8, 2022, resulting in power outages in many parts of the country.
"While a detailed investigation into the immediate and remote causes of the recurring grid failure is currently ongoing by the Nigerian Electricity Regulatory Commission (NERC) and System Operator (the operator of the national grid), the process of restoring supply is ongoing with some sections of the national grid already energised and supply restored to consumers.
"We wish to assure Nigerians that the federal government is working assiduously to deliver on the much-needed reforms and investments, including SCADA, that are critical to improving the capacity and reliability of the national grid.
"This is in line with the Mr President's directives on closing infrastructure deficits in critical sectors of the Nigerian economy," the minister explained.
Also, the FG blamed the current nationwide blackout on the damage done by suspected vandals to one of its facilities in the Niger Delta.
It stated that the vandalism of the transmission tower in Odukpani Ikot- Ekpene resulted in the substantial loss of power generation.
"Further to our earlier press release, we wish to apprise the general public that the immediate cause of the national blackout (system collapse) was an act of vandalism on a transmission tower on the Odukpani Ikot Ekpene 330kV double circuit transmission line.
"This resulted in a sudden loss of about 400MW of generation. This consequently led to a cascade of plant shutdowns across the country.
"We wish to notify the public that power on the grid is being restored sequentially by the system operator as other on-grid power plants are being dispatched to cover the lost generation capacity from the Calabar power plant owned by the Niger Power Holding Company Ltd.," the Minister noted.
Famous Black and White Logos: Features and Benefits
Despite the fact that many consider black and white logos to be old-fashioned and too simple, experience with their use shows their high efficiency and the presence of a large number of advantages. In any case, history knows many cases when black and white logos became super recognizable and turned into a real brand.
You can develop a black and white logo in the logo maker Turbologo for a couple of mipnuts.
What is a logo
A logo is a symbol (containing a picture, an inscription, or both of these elements in any proportions). Its main purpose is to make the company recognizable and distinguishable from firms engaged in similar activities.
A company with a unique and attractive brand name attracts customers. In addition, such brands inspire more trust among the potential audience.
The logo is not just a stylish picture – it has several significant "missions":
 Creation of brand image. A brand name can convey a lot of information about a company. In addition to the specialization of the brand, the logo tells potential customers and the strengths of the products sold and the services provided. A high-quality logo will show the audience that you are responsible for your business;
 Advertising. The emblem presents the brand on the market, increases its significance. With the help of the logo, customers can find out the necessary information about the company and, if they wish, apply for services or goods. It is also effective to use the logo in business correspondence;
 Market identification. The logo helps customers who are already familiar with the brand to recognize it among other companies;
 Protection from unfair competition. Some firms copy products that belong to another (often promoted) brand. And the logo helps to show customers which of the goods is really genuine;
 Reputation building. If a consumer once used the services of your organization and was satisfied, then he is more likely to contact you again;
 Good quality guarantee. Products marked with the brand name are genuine. This protects customers from buying fakes.
Black and white logos are quite popular in the modern world. They have both advantages and disadvantages. They are economical (they do not require large development and printing costs to use), are minimalist, unobtrusive, are associated with luxury service companies (as large companies choose simple logos), and stand out against the background of the color emblems of competitors.
While the combination of different shades in a logo can look great, sometimes a black and white theme gets the point across better.
These colors are powerful in their simplicity, and they are suitable for almost any platform.
It can be printed on a T-shirt.
It can be pasted on a wall, pictured on a billboard, or even printed on a car window.
Instagram profile , or used as a Facebook cover.
It can be printed on the athlete's equipment to promote the brand.
If you want a logo that can fit into any setting, go for the black and white option.
Printing in other colors can be expensive, but binary colors such as black and white are cost effective.
Black and white paints are readily available compared to other colors.
In addition, a binary logo is likely to use less power than a color logo.
Famous black and white logos
Today, dozens of extremely successful black and white brand logos are familiar. This color scheme has significantly increased recognition and has become a real "highlight" of companies such as:
 Nissan is a famous car manufacturer from Japan.
 Sony is a company engaged in the creation of technology, as well as the production of films and video games.
 Bentley is a popular automotive giant from the UK.
 BBC is the most famous news agency in the world, headquartered in London.
 Nike is a giant in the sportswear and footwear industry;
 Wikipedia is an international scientific and educational project known to every person who has ever sat down at a computer and used the Internet.
 Walt Disney is a company familiar from childhood that produces animated films, as well as feature films such as Pirates of the Caribbean.
 Gillette is a world-famous brand that produces blades, razors, creams and other shaving accessories.
 Playboy is a legendary adult magazine.
These are just some of the options for black and white logos that have become famous throughout the world and are known to almost every consumer on Earth. As can be seen from the examples presented, many world-famous brands prefer the combination of black and white to color versions of the logo.
Conclusion
Reducing the color gamut can be a key choice to bring your symbol to high standards, versatility and modernity.
Now is the time to make a black and white symbol that will exalt the brand that has appeared on the market. You can make a black and white logo yourself or by ordering it. The first option is much cheaper, and thanks to the emergence of numerous resources, the logo can be made by yourself, using special designers for this. It doesn't take much time, but the result is amazing.
LandWey to Deliver over 1000 Houses to Nigerians Soon
By Modupe Gbadeyanka
Over 1,000 houses would be delivered to Nigerians by the end of the second quarter of 2022, the managing director of Landwey Investment Limited, Ms Shola Bello, has disclosed.
This is part of the efforts being made by Landwey, which is one of Nigeria's largest residential developers, in reducing the housing deficit in the country.
Ms Bello, in a chat with newsmen on Monday, noted that the company has been able to deploy measures to mitigate the challenges posed by the COVID-19 pandemic and the resultant economic recession in the real estate sector in Nigeria.
"2022 began on a rough note for most real estate developers in Nigeria. This has been made obvious by the growing apprehension amongst some clients over the viability of their investment owing to delayed delivery of housing units and some publications addressing these issues.
"Many developers in Nigeria have openly addressed some of the challenges experienced in the course of construction and delivery of housing projects, a challenge which is largely attributed to the impact of the 2020 Covid-19 pandemic and the resultant economic recession.
"In the past few years, many developers have had to navigate the harsh economy and its severe impact on all businesses across many industries. While it may appear that many of these businesses have recovered from the impact, the story is not quite the same for the real estate industry.
"The industry has felt its huge blow from resultant factors ranging from scarcity of labour, a challenge we have since overcome, scarcity of building materials, unfavourable importation policies, long project approval timelines as well as other environmental limitations.
"However, our clients are always at the forefront of everything that we do, therefore, we have had no other choice but to unearth new and creative solutions in order to mitigate the rippling effects of the pandemic and the harsh realities of the global economy," she told journalists.
The real estate guru lamented that most real estate development companies had to reassess and adjust their operations to acclimate to the "new atmosphere by working and negotiating potential changes in project completion timelines and the management of their internal and external workforce, communicating challenges and progress updates routinely with investors and reviewing supply agreements with suppliers while also determining the impacts of delays in our delivery obligations as well as other potential risk factors."
She added that after what appeared to be a challenging Q1, the company is now making a headway on housing project delivery with a mass delivery of homes scheduled to take place at the end of the second quarter.
"I can assure you, by the third quarter of 2022, we would be well on our way to completing at least 1000 homes," Ms Bello concluded.
AfDB to Facilitate Nigeria's Return to Agric Electronic Distribution System
By Adedapo Adesanya
The African Development Bank (AfDB) has announced that it is ready to help Nigeria return to the electronic wallet system of input distribution to farmers to boost agricultural production.
This was disclosed by the president of the multilateral lender, Mr Akinwumi Adesina, on the sidelines of the bank's ongoing 2022 Annual Meetings in Accra, Ghana themed Fostering Climate Resilience and a Just Energy Transition for Africa.
During his time as Nigeria's Minister of Agriculture, Mr Adesina introduced the e-wallet system which allowed the government to register about 14.5 million farmers.
Through this platform, it reached them directly with inputs, notably seeds and fertilisers, via electronic coupons on their mobile phones.
Mr Adesina said the bank would support Nigeria with about $30 million reallocated fund to be used for an emergency food plan to produce in the dry season.
"Nigeria needs to go back and use the electronic wallet system that I developed when I was a minister to get fertilisers straight to farmers and cut out all the middlemen.
"We are going to help the government to do that because when farmers have quality seeds and fertilisers, they can rapidly triple food production," he said.
According to him, Nigeria will also benefit significantly from the African Emergency Food Production Plan.
Business Post had reported that the AfDB Board had approved the $1.5 billion facility which will support smallholder farmers in filling the food shortfall. It will provide 20 million African smallholder farmers with certified seeds.
It is also set to increase access to agricultural fertilizers and enable them to rapidly produce 38 million tons of food, which is about a $12 billion increase in food production in just two years.
"In Nigeria, we have provided $540 million for special agro-industrial processing zones in seven states including the Federal Capital Territory.
"That will allow Nigeria to have special zones where you can have agro-processing value addition and increased competitiveness of agriculture.
"We are not alone, we put in $170 million and others put in money such as the Islamic Development Bank and other partners,'' he said.
Latest News on Business Post