Ika Weekly Newspaper and a Catalyst for New Order
By Jerome-Mario Utomi
In the words of Ben Carson, a retired Director of Pediatrics Neurosurgery at John Hopkins Hospital and now a Washington Times Columnist and Fox News contributor, many people use the terms wisdom and knowledge interchangeably.
They are, however, quite different, and have in no way confers the other. Knowledge is familiarity with facts. The more knowledge one has, the more things one is capable of doing, but only with wisdom is one able to discern which of the many things they are capable of doing should be pursued and in what order.
Certainly, the above words/description fittingly captures the clarity of vision and singleness of purpose that set the stage for the advent of Ika Weekly Newspaper, a weekly tabloid published at Agbor in Delta State.
Established in 1989, the Ika Weekly Newspaper which currently operates both print and online, is, for the purpose of clarity, a community newspaper based in Agbor, owned by the Ewuru, Ika South Local Government Area, born publisher, Steven Ekiri-Mekiriuwa Ashien, a former newspaper vendor/bookseller.
Among other objectives, the newspaper was birthed to disseminate across the world news/ information that is Ika nation-specific, act as a vehicle for the propagation and promotion of Ika culture and tradition while recognizing/celebrating Ika sons and daughters that demonstrate uncommon talent in their various fields of endeavours. The newspaper's interest/attention/focus was neither at war nor in conflict with any state, regional/provisional, or nationally owned newspapers.
While the above information is important as it provides relevant direction for understanding the origin of the newspaper, readers with critical minds may be tempted to put forward the following question; what is the kernel of this piece/ intervention?
Why is the author fixated with a community newspaper and not even a national one, at this critical time when Nigeria as a country is going through the pangs of insecurity and the masses weakened by economic crunch?
One possible answer to the above questions is that aside from the fact that the newspaper's progress is a reflection of a leader's search for new fields to increase the wealth, culture and socioeconomic wellbeing of his people, Ika Weekly Newspaper's odyssey is laced with profound lessons to draw by the generality of mankind.
Media professionals/industry on their part has enough insight to gain from how Ashien's grappled with the problems of self-reinvention in order to keep the news organization afloat.
Most superficially, similar to the knowledge of history which is useful to the scientist, the economist, or the student of literature or philosophy on the grounds that no science or art is static, the piece in a synoptic manner x-rays the account of problems faced by the publisher in his resolve to build the newspaper house and how he set about solving those problems after pondering on them and the limited options available. To ignore or misstate this account could lead one to wonder in a dilemma.
Let's take a detailed look at the particulars of the above claim.
Very fundamental is Ashien's early consciousness/understanding that economic principles of wealth development is very important for the oppressed communities and will go a very long way towards liberating them from the influence of the elite class, even more, is education, he set out to use the media as a vehicle to educate, enlighten and socially influence his people.
Now, this is the first lesson arising from the 'self-inflicted responsibility' of educating the people. The task came in double folds. As he (the publisher) bothers to educate the people, he seizes the opportunity to educate himself and exit being educationally disadvantaged.
Says a commentator, the amazing contradiction is that, with little formal education, the man now embodies what it means to be educated. He has read more than the self-acclaimed educated people. His fascination with philosophy has guided his reading habit well. You can be forgiven for doubting his claim of lack of proper education when you consider his proven editing skill and publishing track records. For a man who claims as I remember it, to have started his career as a newspaper vendor in Warri, he has totally reinvented himself and has made his mark in the world of letters.
Before you hastily conclude that things became rosy from this point, wait till you cast a glance at the next paragraph.
But as it is a trademark of many media organizations across the world, 16 weeks of initial publications the newspaper left the newsstand- a factor attributable to macro and uncontrollable reasons.
With the collapse of this effort which Mr Ashien had invested heavily, life again started to become very rough for him. Like many Nigerians at that time, the more he tried his hands on other ventures, the worst it became.
However, as a determined man who always thinks positively coupled with his love for education, he fell back on selling second-hand books, to the extent that he started travelling to Ghana to buy second-hand books which he was hawking from one higher institution in Nigeria to another.
The harder he tried, the more difficult things became.
At this time, Mr Steve Ashien became virtually housebound, lonely, and desolate because finding money to travel out of Agbor became extremely difficult.
But as someone that understands that courage faces fear and masters it while cowardice represses fear, and is thereby mastered by it, he neither allowed himself to be overwhelmed by the uncertainties of life nor lost the will to live.
Rather, on one particular day in 2007, he did something theatrical.
He suddenly decided to go back to Ika Weekly Newspaper publishing. The surprising things about this decision were that at that time, Mr Steve Ashien did not have any money to invest in his dream newspaper publishing.
Though a faith-based man who always put God first in all he does and whose habit of giving/generosity, many characterized as legendary. That notwithstanding, people who knew about his intention gave him neither the needed support nor a chance to succeed. They were sceptical about how possible it would be for him to do magic this time around.
But as native wisdom proclaims, 'the protestation of the innocent chick does not prevent or stall the sacrifice. If anything, the protestations enriched the sacrifice and hasten its value and efficacy.
Likewise, the flood of oppositions did not stop Mr Steve Ashien from plunging into Ika Weekly Newspaper publication.
Rather, such doubt and oppositions acted as a tonic.  He prayed to God for direction and held on to honesty as his hardest currency while working night and day, sleeping on the floor of his office in order to ensure that the Newspaper hits the newsstand.
As luck will have it, help however came from a few people who were ready to report, highlight, and analyse the current affairs/events and topical issues happening in Ika land that was of interest to the people, especially in the political and community leadership.
He promoted citizens/community journalism.
Clearly, a bracing account particularly as the newspaper has since then, remained uninterrupted at the newsstand for over years with workers' salaries promptly and dutifully paid. Not even the dreaded outbreak of the coronavirus pandemic which disrupted millions of businesses across the world could halt its publication.
Also alluring is the awareness that the organization has grown into other areas of interest. For example, it established the St. Steven's Library of congress- a resource centre for research and documentation of critical information, and study of Ika history, people, culture, and tradition. However, this library is no longer functional but the knowledge impacted on the general public is still cherished to date.
Despite these achievements, Ashien has refused to be seen. Instead, he opts to function like a cameraman who records events/successes without getting noticed.
But there exists a difference, and that is the fact that even in his 'hiding', he remains not just a shining star but a source of inspiration to the youths, a good ambassador of the Ika nation, and most importantly, a Catalyst for New Order. For its part, the newspaper has become a leading light reputed for filling the information gap in Ika Land.
Jerome-Mario Utomi is the Programme Coordinator (Media and Public Policy), Social and Economic Justice Advocacy (SEJA), Lagos. He could be reached via jeromeutomi@yahoo.com/08032725374
Group Reports Lagos Government to Buhari
By Mohammed Kerimu
The Shangisha/Magodo Landlords Association of Nigeria has petitioned President Muhammadu Buhari over the refusal of the Lagos State Government to execute the ruling of the Supreme Court on the return of 549 plots of land to its original owners by the state.
In a document submitted to the Presidency and sighted by this reporter, the association expressed optimism that Mr Buhari would do justice to the matter he has demonstrated that a strong judiciary is a sine qua non for the operation and sustenance of democracy which he had vowed to defend.
The group further noted that since their story is similar to that of Mr President, who faced several denials in his electoral victories before God intervened in his fourth outing, he will finally lay their matter to rest since he was the Head of States about 37 years ago when they were forcefully evicted from their land.
It will be recalled that after its first judgement, the Supreme Court on March 1, 2016, again voiced out its displeasure with Lagos State Government and the state Chief Judge over their refusal to execute its earlier judgement; warning of the dangers it portends for the state to deliberately refuse to carry out its order concerning the Shangisha/Magodo land.
However, analysts are of the view that the refusal by the Lagos State Government to execute the judgement of the Supreme Court, which is the highest court in the land, is sending wrong signals to foreign investors who needed assurance of a strong judicial system before committing their resources for investment in the country.
They warned that if nothing was done to compel the state to toe the line of law and order, the country may be up for doom as no serious investor will consider a country with a weak legal system in their investment decisions.
Following the refusal of Lagos State to execute the ruling of the Supreme Court on the return of Shangisha/Magodo land which it forcefully acquired from its owners without building any public interest institution on it, the question many are asking is when did Lagos State secede from Nigeria that the ruling of the country's apex court could no longer be binding on it?
We Cater for Over 17.5 Million Nigerian Orphans—SOS Children's Villages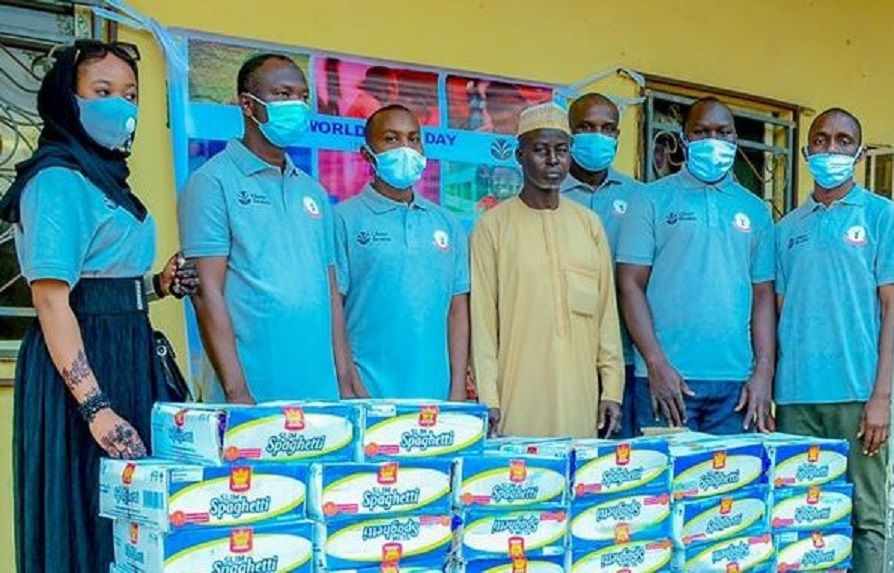 By Ashemiriogwa Emmanuel
Over 17.5 million orphans in Nigeria are being catered for under the watch of the SOS Children's Villages in Nigeria.
The independent, non-governmental, non-profit international development organization, in addition, runs family strengthening programs, where children and families in need benefit from vocational training, care, medical and food assistance.
The National Director of the SOS Children's Villages in Nigeria, Mr Eghosa Erhumwunse, recently disclosed this in Isolo, Lagos, while receiving food items donated by Crown Flour Mill (CFM) Limited, producers of the popular Mama Gold flour and semolina brands and Crown Pasta food products.
Thanking the firm for the humanitarian gesture, he said, "By making this food donation to bring relief to the children at the Villages, Crown Flour Mill Limited has demonstrated that it is a business that values the wellbeing of its host communities.
"We cater for over 17.5 million orphans in Nigeria. Our in-country strategic partners have been instrumental in ensuring the vulnerable segments are able to survive the various shocks of the ongoing global crises and local challenges."
Some of the food items donated included Crown Premium Spaghetti bags of Mama Gold Semolina and Crown Supreme Semolina and a range of sanitary products and toiletries.
In addition to these, a cookout for over 480 students of Biyamusu Primary School, Ajingi, Kano was also organized by the firm along with the donation of food products and toiletries to the wards of Nasarawa Children's Home an orphanage also in Kano state.
These contributions supported by the flour milling firm were in line with its series of activities lined up to commemorate the 2021 World Food Day (WFD) tagged: Our actions are our future – Better production, better nutrition, a better environment, and a better life.
Speaking during the visit, the Managing Director of Crown Flour Mill Limited, Mr Ashish Pande, lamented the gap that exists between many children and their access to a healthy future.
He reiterated the firm's determination in providing consumers, the underprivileged, and people affected by food shortage with access to affordable and nutritious food options.
On her part, the Corporate Affairs Manager at Olam Nigeria, Ms Damilola Adeniyi, said, "No one, most of all children, deserves to suffer hunger or lack access to good food.
"Therefore, we are taking actions that align with the United Nations' Sustainable Development Goals (SDGs) of achieving zero hunger in the world in our business operations, which lay emphasis on food safety, fortification, security, and Corporate Social Investments (CSI) such as this."
200 Retirees in Jigawa to Share N331.7m
By Adedapo Adesanya
No fewer than 200 retirees in Jigawa State will share N331.7 million, the Executive Secretary of the Jigawa State and Local Government Contributory Pension Scheme, Mr Kamilu Aliyu, has disclosed.
Speaking on Wednesday in Dutse, Mr Aliyu stated that the beneficiaries were retired from the service in the state, local government and Local Education Authorities (LEAs).
He said that the payment comprises retirement benefits, death benefits, death pension balance and refund of eight per cent contribution.
Breaking down the figures, Mr Aliyu said that 83 of the beneficiaries were from state service, 72 from local government service and 45 from LEAs.
He said that a total of N331.698 million would be paid to 200 retirees in the disbursement exercise.
"Forty-seven beneficiaries from the state service will be paid N99.709 million as retirement benefit, and 52 retirees of the local governments will receive the sum of N72.653 million, while N26.753 million will be paid to 22 beneficiaries from LEAs.
"For the death benefits, 15 retirees from the state will be paid N38.721 million and 14 retirees from the local government will be paid N27.270 million while 18 others from LEAs will get N47.645 million," he said.
Mr Aliyu said that under the death pension balance, nine beneficiaries from the state would be paid N9.2 million, six retirees from the local government will receive N1.613 million while five others from LEAs will get N6.9 million.
According to him, 12 beneficiaries will receive N1.25 million as a refund of the eight per cent contribution.
The executive scribe reiterated the commitment of the state government to ensure prompt payment of pension and other entitlements to improve the wellbeing of pensioners.
To achieve this, he said, the board had adopted proactive modalities to hasten payment processes of the retirees whenever their number reached about 200.
"We no longer have to wait until we have a large number of retirees.
"This will enable the retirees not wait for long or suffer before they start enjoying their benefits after disengagement from the service," he stated.
Latest News on Business Post