Investigation Shows How Inexperienced Visionscape Got Lagos Waste Management Deal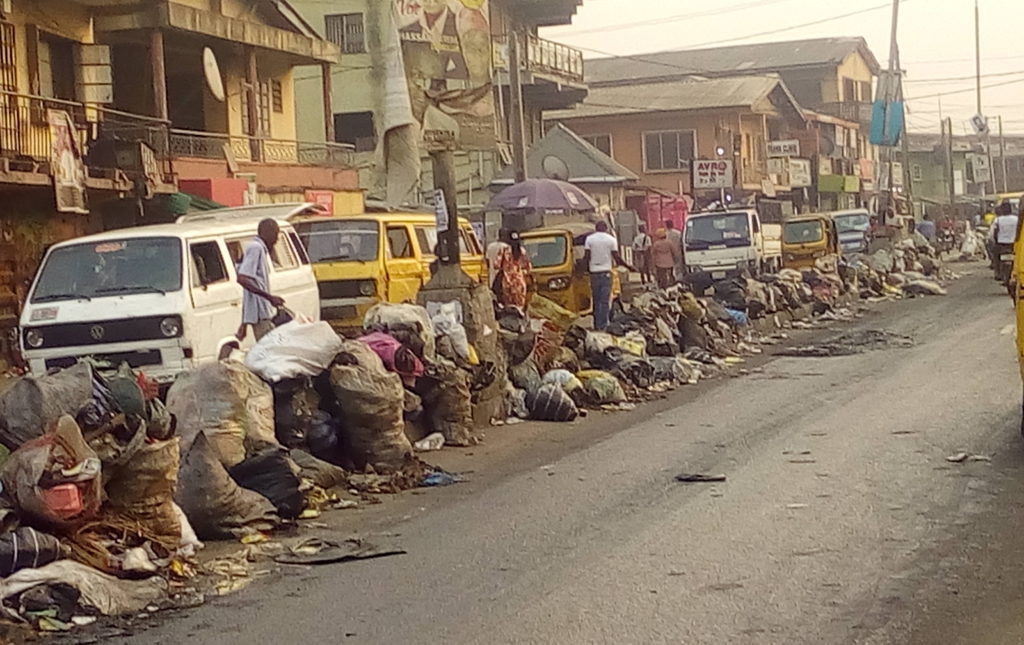 By Dipo Olowookere
An investigative report by Premium Times has shown how the Lagos State government led by Mr Akinwunmi Ambode gave the contract of waste management to Visionscape despite not having the necessary experience for the job as earlier insinuated by the Governor.
Lagos has recently become very dirty with heaps of refuse seen across the city, which used to be very clean until the present administration cancelled the existing system to introduce its own.
Residents of the metropolis have had to deal with daily exposure to severe odour oozing from the refuse dumps in the 'mega city'.
There have been fears that if the issue is not quickly tackled, there could be an outbreak of disease in the aquatic city.
Below is the full report by Premium Times;
Brimming with confidence like the salesman of an elixir that promises to finally cure an intractable disease, the Governor of Lagos State, Akinwunmi Ambode, told participants at an environmental conference last July, that Visionscape, a foreign waste management company, was the solution to the state's perennial refuse-collection problem.
The governor, who also used the opportunity to sell his government's waste management programme, nicknamed Cleaner Lagos Initiative (CLI), claimed Lagos was the top waste generating city in the world with about 16,000 metric tonnes of waste daily. He said Visionscape has what it takes to realise the state's waste-to-wealth vision.
"Through the initiative, one of the best known private sector companies in waste management is Visionscape and they are everywhere in the world. We have attracted them to Lagos and for us to do that in a period of recession speaks volume about how we are managing the state because of them, they believe if they can conquer Lagos, it means that there is nothing about waste management that they cannot conquer, which is our selling point also," he told participants at the Water Technology and Environmental Control Conference and Exhibition (WATEC).
But weeks after the governor's self-assured statement about Visionscape's capacity to rid the state of waste, it became evident that the company was struggling with the task. Heaps of refuse began to gather on streets and major roads across the city. Things got so bad that residents began to fear the outbreak of an epidemic.
Overwhelmed by the volume of waste the state generates, Visionscape quietly re-engaged some private waste collectors, popularly known as PSPs, whose services had been terminated by the state government, to assist it in removing the waste across the city.
However, contrary to Mr Ambode's claim that Visionscape has a pedigree of waste management all over the world, a PREMIUM TIMES investigation reveals that the Lagos contract was the first ever undertaken by the company.
VISIONSCAPE'S PROFILE
Though on its website, and other places, Visionscape readily flaunts its foreign origin while brandishing its offices in Dubai, the United Arab Emirate; Johannesburg, South Africa; Mumbai, India and in Essex, United Kingdom, there are no records nor evidence that it has handled any waste management projects in any of these countries. In fact, all available evidence points to the fact that Visionscape Group and majority of its foreign subsidiaries were incorporated in the last seven months with virtually no history of waste management.
Governor Akinwunmi Ambode of Lagos state
Though Visionscape Sanitation Solutions, the company's Nigeria subsidiary was registered in 2015, its current shareholders and directors, took control of the company a few months before it was awarded the waste management contract by the Lagos State Government.
Visionscape International Holdings, the group's parent company is a registered offshore company in Dubai, where it does not have any operations and in fact is prohibited by UAE law from carrying out any business operation outside opening an offshore bank account, purchase of real estate and promotional activities.
Visionscape International Holdings is also not required to disclose the name of its shareholders and directors on a public register. Though required to keep audited financial statements, offshore companies in UAE are not required to file them.
While some investors choose the UAE to set up offshore businesses because of its effective banking system and the ease of doing business, many are drawn to the country particularly for its high-level secrecy and its zero tax regime – offshore investors in the country do not pay corporate or personal income tax.
Similarly, a search of the UK registrar of companies, Company House, revealed that a slew of companies affiliated to the two owners of Visionscape Group, Adeniyi Makanjuola and Christoffel Ackerman (also known as Harry Ackerman), a South African, were briskly incorporated within the last seven months.
The companies included Vision Gelpack Limited, incorporated on September 11, 2017; Visionscape UK Holdings Limited and Visionscape International Holdings (UK) Ltd, incorporated on September 25, 2017; Visionscape Environmental Ltd, incorporated on January 11, 2018; Visionscape CSH Limited, incorporated on February 7 2018; and Visionscape Consulting Ltd incorporated on March 13, 2018.
There is also Vision Petlon Polymers UK Limited, a company that was incorporated as Vision Polymer (UK) Limited on June 20, 2017 but underwent at least four name changes within three months of its being registered. Mr Makanjuola was, however, removed as a director of the company on February 20, 2018, 11 days after he was appointed.
In India the story isn't exactly different. From all indications, its office at Level 3, Neo Vikram, New Link Road Andheri West, Mumbai 400053 is not more than a virtual office.
Businesses make use of virtual addresses as a cost-effective way of having a physical address. Most virtual offices provide mailing addresses, telephone services, meeting rooms and video conferencing facilities, which enable employees to work without being physically present at the office.
A search of the Indian Ministry of Corporate Affairs company register database produced two companies named Visionscape. The first, Visionscape Developers Private Limited, is a trading company set up in 2006, while the other, Visionscape Interior Design Private Limited is an interior design firm. Both companies have no immediate connections to either Mr Ackerman or Mr Makanjuola.
When confronted with the findings of this investigation, Tolagbe Martins, of SWM Solutions, a consulting firm contracted by Visionscape and the Lagos State Ministry of Environment on the Cleaner Lagos Initiative, admitted that Visionscape may not have been involved in actual "municipal waste collection" elsewhere. She, however, said the company's chief executive officer and members of its advisory board have well-established pedigree in waste management; adding that the company's contract transcends waste collection but involved waste processing and recycling.
Visionscape (Photo Credt: Independent Newspapers Nigeria)
"John Irvine, the CEO himself, has 35 years waste management experience, in Panama, Brazil, India. Thomas, the COO, has done waste management in Morocco, in Mali, Egypt, Congo for decades. The CEO and the advisory board between them have over 70 years waste management experience; that is what I call pedigree."
Visionscape later claimed in an email that a member of its advisory board, Mr Singh (no first name was provided), worked for one of India's leading waste management companies, Antony Waste Handling Cell Pvt Ltd.
Curiously, the Mr Singh was, however, not listed among the members of its advisory board posted on its website.
Ms Martins told this reporter that one of Visionscape's technical partners was Petlon Polymers Ltd, a manufacturer of plastic products. Visionscape also added in an email that it also has an on-going partnership with another UK company, CSH Environmental, a non-hazard waste collection company.
Company House record showed that Petlon Polymers Ltd is an insolvent company, which went into administration on August 15, 2017 three weeks before one of Visionscape's affiliate companies, Vision Industrial Polymers (UK) Limited changed its name to Vision Petlon Polymers (UK) Limited. There are no immediate connections between both companies.
However, Mark Slide, a director of CSH Environmental Ltd, is listed as a member of Visionscape's advisory board.
A FIXED TENDER
On Thursday, May 5, 2016 a full-page unsigned vacancy advert in waste collection and management in Lagos was placed in the Guardian newspaper. The association of PSP operators said it was surprised by the advert, since none of its members placed it. The association said it complained to the Lagos State Government, but officials told it to disregard the advert. The officials also promised to publish a disclaimer, but never did.
But the PSP operators began to make sense of the mysterious job advert, when on September 6, 2016, Mr Ambode invited stakeholders in the state's waste management to a town hall meeting at his office. After a slide presentation about waste collection and management, the governor briskly announced that he had decided to reform the waste management system in the state and has decided to concede the residential waste collection to a foreign company. He said he was going to pass a law to enable the company to operate. He explained that the new law will restrict private waste collectors commonly known as PSPs to collecting commercial wastes.
Multiple persons who attended the meeting told this reporter that the meeting lasted no longer than 10 minutes and the governor was dismissive. He directed those with concerns and questions to speak with his commissioner for environment.
Olalekan Owojori, a consultant to the PSPs, said they wrote several letters to the government explaining that their revenue was built around the collection of residential waste. He said since the PSP operators are assigned to work in specific political wards, some of them would be run out of business as some wards do not have enough commercial waste to make waste collection a profitable venture. Mr Owojori said none of the letters to the government were even acknowledged.
A month after the meeting with Mr Ambode, the state government placed an advert for tender for residential waste collection on pages 22 and 23 of the Punch newspaper. One criteria for interested company was that they should have at least 100 employees. The deadline for the submission of bids was set at 11 days after the advertisement was published.
Mr Owojori told PREMIUM TIMES that since the PSPs were by nature small businesses with no more than 50 employees each, he believed those requirements were deliberately included to prevent them for applying.
"The tender was discriminatory to existing players. The structure of the business is a small/ medium size business. Eleven days was also too short for them to form any sort of merger," he said during a telephone chat.
Mr Owojori said by now it now became clear that the waste collection jobs advert in the Guardian of May 5, 2017 was placed by Visionscape, which eventually won the concession, or on its behalf. According to him, this was a clear indication that the company had prior knowledge of the prequalification criteria for the tender months before it was even made public.
Ms Martins said she did not see anything wrong with the job advert, which she described as a "survey."
"Any serious market entrant will do a survey before commencing operations. Assessing the skills level is standard procedure particularly in an emerging market," she replied via sms.
Ms Martins, in an earlier interview, had explained that the decision to award the collection of residential waste to Visionscape was a result of a study commissioned by a Lagos government inter-ministerial committee, which included the ministries of environment and justice on how to "scale up because the PSP were working but that is all they were doing."
 "A study was carried out and it was estimated that Lagos was going to need something in the region of a N100 billion to address the various issues because more compactors was not the solution. The solution was the ways to optimise the compactors that were on the road, create the structures to treat and manage the waste and then reduce what was being actually buried because of Lagos limited landmass. The scoping study was done by a company called Averda one of the biggest waste management companies in the world. How do you solve this raft of problems holistically? You pulled the best resources and brains."
THE BLAME GAME
The decision to replace the PSPs with Visionscape almost immediately backfired. Piles upon piles of refuse was appearing at almost every available public space in the city. Sections of roads were blocked by heaps of waste thus worsening the already dire traffic situation in the metropolis. Odious smells, flies and fleas flourished on them causing fear of an outbreak of an epidemic.
Ms Martins said refuse gathered all over the city not because Visionscape was overwhelmed by the task for which Mr Ambode had spoken so loftily of its capability to handle. She also said it was not as a result of the company's lack of pedigree in waste collection.
She said the coming of Visionscape disrupted an ecosystem of collusion between PSP operators and cart-pushers to maximize profit; so they ganged up to sabotage the company's operations.
"The PSP are actually more political force than anyone realised. The cart-pushers work very closely with the PSP because the PSP don't have as many trucks as they say they do, so the cart-pushers support by going rounds at a more frequent interval. The cart-pushers sort the waste and remove the recyclable and they dump the rest. Deep clean operations last year found over 2000 black spots. I am talking black spots of decades of years. And that is way it is a lucrative business. Suddenly we are saying you are not going to do that anymore, but you are going to compete with businesses.
"Rank, frank sabotage (she showed photos of what appeared to be vandalised Visionscape trucks). Trucks are being shot at missiles are being thrown at trucks. There is video, there is evidence of open dumping at night. They literally rallied round people and told them to bring out everything and began to dump refuse in the middle of the highway," she said.
Apart from the photos of alleged vandalised trucks, this reporter was not shown a video or any other evidence.
Ms Martins added that the PSPs were belligerent and refused to accept a handshake offered to them to work with Visionscape. She explained that when Visionscape won the contract, it planned to collaborate with the PSPs while it ramps up its capacity to a level where it can do the job independently; but its gesture was rebuffed. She, however, admitted that the government and Visionscape may not have communicated their intentions in the right manner.
"There is experience in waste. Maybe there is no experience about how things work in Lagos. Maybe there is no experience on how to carry stakeholders along. You get to a position where you cannot put a foot right because everybody is mad at you. Yet you cannot call out your client (the government).
"If your fleet was at 30 per cent capacity and you were expected overnight to handle 100 per cent, when you had said you were at 30 per cent capacity. And there is no amount of experience that can deal with the fact that you can't do it if you don't have the asset and the asset that are around don't want to work with you; which was our expectation coming in that there would be a handshake," she said.
Mr Owojori laughed off Ms Martins' claim that Visionscape offered a handshake. He said his clients first heard of Visionscape after it placed an advert on its site for residential waste collection and they didn't formally meet officials of the company until last January.
"If you are going to a foreign country to you want to have a handshake with existing players, the moment you land into that country, what you do is to go and meet them. If you are going to shake somebody hands, at least you have to see them to shake their hands. There was no contact whatsoever until we finally found out who they were," he said.
He also denied that the PSPs sabotaged the Visionscape's operations or vandalised the vehicles.
File photo of Lagos showcasing 'modern' initiative to take waste off streets
"We are businessmen. We are not thugs. That was why we went to court to challenge this discriminatory treatment. There is no sabotage. Let them show us evidence of sabotage."
He said apart from Visionscape lacking what it takes to do the task for which they are being paid, the state government should also be blamed for the filth in the city.
"The cut of funds to LAWMA led to long queues at the dumpsite. Government started announcing that the Cleaner Lagos was going to start, that was on September 2, and it didn't start up until December. And the moment people heard that the Cleaner Lagos was going to start, and they don't have to pay PSP anymore, they stopped paying PSP operators.
"When there is waste on the streets, it is bad news for us. The people see dumping waste on the road as a free service. They are using it to avoid paying the PSPs. The more wastes are on the street, to PSPs it is loss of revenue. Visionscape on the other hand, the more waste they carry, the more they are paid. So, blackspots are in their interest."
COMMERCIAL VS RESIDENTIAL WASTE COLLECTION
Visionscape said the opposition to its operation is baffling. Ms Martins claimed that the PSPs, who have now been restricted to the collection of commercial wastes following the enactment of a new environmental law, still got a better deal.
"Domestic waste is 40 per cent of that, Commercial waste is 60 per cent and the PSPs are refusing to accept the new arrangement," she said.
She explained that Viscionscape's contract transcends mere waste collection but includes the operation of a landfill and the production of push bins and bin bags which will be needed for collecting refuse.
When asked if the company has started manufacturing the bins and bags, Ms Martins said that they were at the stage of manual sorting of recyclables from the collected waste.
Responding to this, Mr Owojori said Ms Martins' breakdown of the volume of residential versus commercial waste was incorrect.
"Our own breakdown is that residential is 80 per cent of the waste generated in Lagos and commercial is 20 per cent. And our analogy of this is very simple, there are more houses than there are companies, while a company pays more than an average house has volume, the major commercial areas in Lagos is Apapa, Victoria Island and Maybe Ilupeju. And from our revenue stream we see that 80 per cent comes from domestic so clearly that is the large part of the market."
He said the PSPs were not averse to reform and are ready to work alongside new entrants in the business. He, however, said what the government has done with the far-reaching concessions granted Visionscape was to create a monopoly that will eventually stifle them out of business.
He further explained that apart from enjoying a government-granted monopoly in residential waste collection, Visionscape and one of its affiliate companies, ABC Sanitations Solution, were listed among the list of qualified commercial waste collectors.
"The government barred us from collection of waste from markets, embassies, government offices and public schools. So, what that means is that Visionscape now controls 90 per cent of waste collection in the state.
PREMIUM TIMES confirmed that ABC Sanitations and Visionscape were on the list of general waste collector published on the website of the Cleaner Lagos Initiative.
THE FAVOURED DUO
While Visionscape is enjoying unrivalled concession from the state government in the area of waste management, eyebrows have been raised by segments of the business community at the ease with which companies owned by or affiliated to Messrs. Makanjuola and Ackerman have been winning state government contracts.
The family business of Mr Makanjuola, Caverton Group, where he served as chief operating officer and an executive director, manages the state government's security surveillance helicopter under the public private partnership (PPP) arrangement.
Messrs Makanjuola and Ackerman are also directors and members of the advisory board of Raven Energy, a subsidiary of Raven Resources Group. Raven Energy has commenced the development of an independent power project to provide electricity to power the Blue Line of the Lagos State Urban Rail Network.
Similarly, another company owned by the duo, Visionscape Water Solution Limited, is part of a consortium of companies that have been shortlisted, alongside two other companies, for the 70MGD Adiyan Phase II Water Scheme through Public – Private Partnership arrangement.
Ms Martins said she doesn't see any problem with the companies winning the bids. She explains that it could merely be an indication that the promoters of the companies are more thorough with bids.
"Usually there are guidelines and specifics. Certain criteria must be met. Often, especially for Lagos State contracts, you must be registered with the Public Procurement Agency, you must be a director who has paid your taxes up to a certain level, you must display technical competence and knowledge of what you want to do and because it is Nigeria, you must show evidence of technical partnership with a company that may be specialise in that area. I don't want to over speculate but most times when an assessment is being done, they are ticking boxes and rating proposals," she said.
Idowu Onafowote, the General Manager of the Lagos State Public Procurement Agency, declined to comment on whether companies linked to Messrs Makanjoula and Ackerman have been unduly favoured in the award of government contracts to the detriments of other bidders. He said as a technocrat, he cannot comment on such complaints and directed this reporter to approach the ministry of information for comments.
Kehinde Bamigbetan, the state's Commissioner for Information and Strategy, through an aide, told this reporter to write his questions and contact in a sheet of paper with a promise to show the questions to the units and ministries concerned. Six days later, nothing has been heard from him.
Similarly, officials of state Ministry of Environment for over 10 days refused to respond to questions sent to the ministry.
FG Declares June 12 Public Holiday
By Modupe Gbadeyanka
Monday, June 12, 2023, has been declared a public holiday by the federal government to celebrate Democracy Day.
In a statement on Thursday, the federal government congratulated Nigerians on the occasion and wished them a Happy Democracy Day celebration.
"Nigeria's democratic journey has, like in many other climes, encountered both stormy and smooth sails, but the ship of state, its institutions and most importantly, the Nigerian people have remained steadfast on the tenets of democratic governance.
"On this memorable occasion, therefore, Nigerians and friends of Nigeria are invited to appreciate the progress that has been made, celebrate the milestones covered and look forward to a better future for the country's democracy," the statement issued in Abuja by the Permanent Secretary in the Ministry of Interior, Mrs Oluwatoyin Akinlade, said.
The government moved the Democracy Day celebration from May 29 to June 12 to honour the presumed winner of the June 12, 1993, presidential election, the late Mr MKO Abiola.
Only 5% of Nigeria's Private Sector Employers Invest in Childcare—Report
By Aduragbemi Omiyale
A report published by the IFC and the Nigerian Exchange (NGX) Limited has revealed that despite 67 per cent of working parents reporting that they were more productive at work when they had easier access to childcare, only 5 per cent of Nigeria's private sector employers invest in childcare.
In the survey titled Investing in Childcare: A Game Changer for Businesses and the Nigerian Economy, it was submitted that improving family-friendly workplace policies in Nigeria, including access to quality childcare for parents, could boost private sector productivity and benefits employees, children, and businesses in the country.
According to the study, investing in childcare by offering on-site or near-site childcare services or the financial support to access childcare presents an opportunity for employers to improve employees' productivity, reap efficiency improvements, and boost business outcomes.
The report estimates that by 2025, the demand for childcare services in Nigeria's private sector will likely increase by 10 per cent. However, childcare providers face barriers to scale and meet the growing demand, especially because they lack access to formal capital and investments.
The study found that 76 per cent of childcare providers faced challenges in accessing formal financing, highlighting an opportunity for partnerships and investments in addressing market gaps.
The chief executive of the NGX, Mr Temi Popoola, said access to effective and affordable childcare is vital to ensuring a productive, engaged, and inclusive workforce.
"This report presents a compelling business case for stakeholders, both in the capital market and the broader private sector, to step up actions and collaborate on crucial measures to improve workplace solutions for childcare, as it will benefit companies, employees and the overall economy," he said.
"Childcare and family-friendly work policies are often overlooked aspects of social and economic development—but they shouldn't be," said Dahlia Khalifa, IFC Director for Central Africa, Liberia, Nigeria and Sierra Leone. "This report reinforces the value of expanding family-friendly workplace policies in Nigeria to support social and economic development."
Launched on the sidelines of the Africa CEO Forum in Abidjan, the report assessed the needs and challenges of 7,000 stakeholders, including employees, employers, and childcare providers. Demand for childcare in Nigeria is forecast to increase rapidly along with the country's population.
The report's research covers six commercial hubs in Nigeria: Enugu, FCT-Abuja, Kano, Lagos, Ogun, and Rivers.
It was funded by the IFC-led Nigeria2Equal Initiative, launched in 2020 in partnership with the exchange to increase women's participation in the private sector.
Through the initiative, IFC and NGX are working with private sector companies listed on the exchange to implement gender-smart solutions that reduce gender gaps across leadership, employment, and entrepreneurship.
Civil Society Engagement at Core of US-African Relations in Multipolar World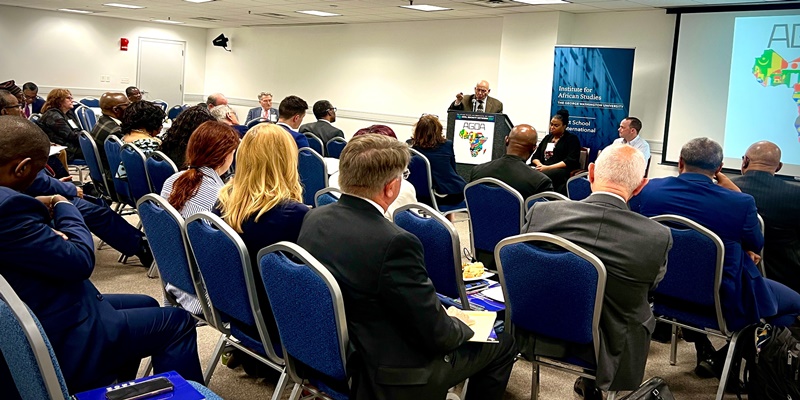 By Kestér Kenn Klomegâh
The United States has held its 8th annual civil society forum to review progress, examine challenges and renew interest in forging ways to strengthen relations with Africa. The United States has the largest African diaspora with close-knitted business, educational and cultural links with African countries. This helps to support official efforts in promoting relations with Africa.
The conference was a hybrid event that brought together civil society organizations, business, and government leaders from across Africa and the United States virtually and in person. The purpose of the gathering was to advocate for a ten (10) year Enhancement/Extension of AGOA benefits from 2025 to 2035, support the African Union's Agenda 2063, including the implementation of the African Continental Free Trade Areas and an African Customs Union, and come up with recommendations on the way forward.
Since its passage by Congress on May 18, 2000, and signing into law on October 2, 2000, by President Bill Clinton, the African Growth and Opportunity Act (AGOA) has been the cornerstone of U.S. economic engagement with the countries of Sub-Saharan Africa (SSA).
AGOA is a long-term commitment with broad bipartisan support. On June 25, 2015, Congress overwhelmingly approved the Trade Preferences Extension Act (TPEA) of 2015, and on June 29, 2015, President Barrack Obama signed TPEA into law. TPEA reauthorizes AGOA and the associated "third Country fabric "provision for ten years through 2025.
Congress passed, and the executive branch implemented three prior legislative enhancements of AGOA, with significant bipartisan support in 2002, 2004, and 2006.
Discussion Highlights:
The Biden-Harris Administration is committed to strengthening US-Africa trade and commercial relations and engaging Congress on the next steps for AGOA.
In December 2022, the African Union Ministers of Trade from the AGOA-eligible countries met in Washington, DC, at the request of Ambassador Katherine Tai, USTR, "to have a full and frank exchange of views on how to work together to improve the utilization rates under AGOA and ensure that the program can be an effective tool for development."
At those high-level engagements, there was consensus that there is a need to extend AGOA beyond 2025. The recommendation has been tabled before the US Administration. During the meeting, Ambassador Tai, the African Ministers, and the Africa Group of Ambassadors also underscored the following:
An extension of AGOA for at least ten years with the inclusion of ALL African countries
The importance of Africa speaking with One Voice in all US-Africa trade and investment engagements; and,
Enhanced commercial diplomacy between the US and Africa. There was also agreement that South Africa would host the next AGOA Forum in August/September this year.
United States Trade Representative (USTR) Ambassador Katherine Tai is committed to robust trade and economic collaboration with Sub-Saharan Africa. USTR Tai believes that Africa is the future. On-going discussions are taking place with African nations, including negotiations between Kenya and the U.S. regarding a strategic trade and investment partnership.
Stringent requirements from the various U.S. trade regulatory authorities and the limited industrialization capabilities in Africa are factors for the very low utilization of AGOA benefits. As a result, only a few product lines, such as fossil fuels, vehicles, clothing, textiles, and currently, Beef, are exported from Africa under AGOA.
Under-utilization has caused African exports to the U.S. under AGOA to decline from USD 78.01 billion in 2013 to USD 28.19 billion in 2022, resulting in a setback for Africa.
African countries are devising methods to improve export diversification, growth, and industrialization, including developing regional and continental value chains. These efforts present a tremendous opportunity for US companies to take advantage of the market provided by the African Continental Free Trade Area.
Succeeding in the African Continental Free Trade Area, a market with enormous growth potential, requires investing.
Each State participating in the African Continental Free trade agreement retains its national external tariffs. Exporting into this market will generate tariff charges.
Creating an African Customs Union will allow for a shared external tariff and pave the way for Africa to establish free trade agreements with trading partners.
American companies can enjoy duty-free exporting from their home bases, and Africa is in a better position to grow US-Africa trade with the African Customs Union in place.
A renewed U.S. policy on AGOA should prioritize investment in specific sectors, such as Trade, Financial Services, Health, Climate, Food Security, Tourism, and Logistics, including Gateway Initiatives and the Digital Economy.
Targeted U.S. investment conducted in partnership with businesses and institutions in each AGOA-eligible country, and per their respective utilization/transition plans, will catalyze American investment and technology, encourage innovation, instil U.S. values and best practices throughout Africa, create more jobs for youth on both sides of the Atlantic Ocean, and fill in gaps in markets across the continent in preparation for the African Continental Free Trade Area and the African Customs Union.
Africa is the major consumption hub of the future. The general population is young and increasing; the African middle class is also growing, and with it, demand for industrial goods is 1.5 times higher than the global average.
The issue of low utilization rates of AGOA benefits needs to be addressed. Studies show that nations with AGOA Country Strategies have higher utilization rates than nations without country strategies, and these countries use AGOA benefits to create good-paying jobs.
The utilization rate of the Generalized System of Preferences (GSP) and all U.S. preferential trade programs for Least Developed Countries (LDCs) has decreased. AGOA is the only U.S. preferential trade program with a positive utilization rate of about 1.6%.
The metric and measure of AGOA's success should be contingent on RETURN ON INVESTMENT, not its shortcomings.
AGOA's cost to U.S. taxpayers is nominal especially compared to U.S. investment in Development Aid to Africa.
AGOA's non-oil imports have risen approximately 307% to $5.7 billion in 2022, while AGOA's apparel imports have singularly increased by more than 280%.
AGOA has created hundreds of thousands of new direct jobs and millions of indirect jobs in Africa in the textile, agricultural, and automotive industries and more than 500,000 in the U.S.
The economic impact of the COVID-19 Pandemic and Putin's Conflict in Ukraine poses a threat to US-Africa trade and investment, US-Africa strategic alliances, and gains made over the last two decades using the benefits of AGOA. AGOA has incentivized market-based economies that safeguard private property rights, the rule of law, political pluralism, and the right to due process. It has also enhanced healthcare and education access while protecting globally acknowledged workers' rights. All these achievements are now at risk.
AGOA remains a transformative success story. Despite AGOA's challenges and areas of needed improvement, AGOA serves as "proof of concept" at a small financial cost to the U.S. taxpayer, which did not exist 20 years ago.
Africa is the major consumption hub of the future. The general population is young and increasing; the African middle class is also growing, and with it, demand for industrial goods is 1.5 times higher than the global average.
The region of Africa is too significant to ignore. Simply giving inspiring speeches and using diplomacy will not be enough for America to regain its economic and commercial leadership in Africa.
Members of Congress want to see AGOA benefits shared widely and used to create good-paying jobs across Sub-Saharan Africa (SSA); members are open to discussions on ways to build on what is working, and deliberations by members and staff on the future of the legislation are ongoing as re-authorization is approaching in 2025.
There is interest on Capitol Hill to see how investment can be coupled with trade to address poverty reduction and advancement in targeted sectors, such as health care, critical minerals, and others.
Work in Progress Financing helps micro, small, and medium/smallholder farmers to increase productivity and create jobs.
Investing in a Special Purpose Investment Fund and taking advantage of tax incentives should be seen as an opportunity for the American public to support the growth of youth, effective governance, innovative ideas, strategic alliances, and the vast potential of African markets.
Congress never intended for AGOA to be permanent – it is a Trade Preference Agreement (TPA). And all TPAs must meet standards and requirements set by Congress.
Out-of-cycle reviews provide African nations with the opportunity for reinstatement once the sanctions have been addressed.
When AGOA is up for renewal, there is a decline in trade figures across the board, particularly in the apparel sector. Uncertainty regarding extending AGOA affects investment potential in AGOA-eligible countries. Extending AGOA for ten years will stimulate investment in AGOA-eligible countries.
AGOA needs to be extended as most people, especially women and SMEs, are just beginning to learn about AGOA when the current legislation is about to expire.
Recommendations: During the event, delegates made the following recommendations:
The Biden-Harris Administration and the 118th Congress enhance and extend AGOA benefits for ten years from its current September 2025 sunset to September 30th, 2035, to support the African Union Agenda 2063 and the creation of an African Continental Free Trade Areas and African Customs Union – critical tools necessary to utilizing trade to strengthen U.S.-Africa strategic alliances.
Expand AGOA benefits to all 55- member states of the African Union from the current 49 Sub-Saharan African countries.
The U.S. must deliver on commitments made to Africa during the US-Africa Leaders' Summit, including a $55 billion pledge to support the African Union's Agenda 2063 and the creation of a new Digital Transformation with Africa (DTA) initiative intended to invest more than $350 million in financing Africa's digital transformation.
The AGOA CSO Network and private sector stakeholders, with the support of the 118th Congress, the Biden-Harris Administration, and the African Union Commission, to establish a $5 Billion Special Purpose Investment Fund (SPIF), with tax incentives to catalyze U.S. investment, technology, innovation, shared values, and best practices throughout Africa.
The 8th Annual  AGOA CSO Network Spring Conference, under the theme 'Extending AGOA to 2035' was jointly coordinated by the AGOA Civil Society Organization (CSO) Network Secretariat and The Foundation for Democracy in Africa (FDA), in partnership with the Institute for African Studies, The Elliot  School for International Affairs, George Washington University.
Latest News on Business Post