Lagos Bishop Endorses Ambode for Second Term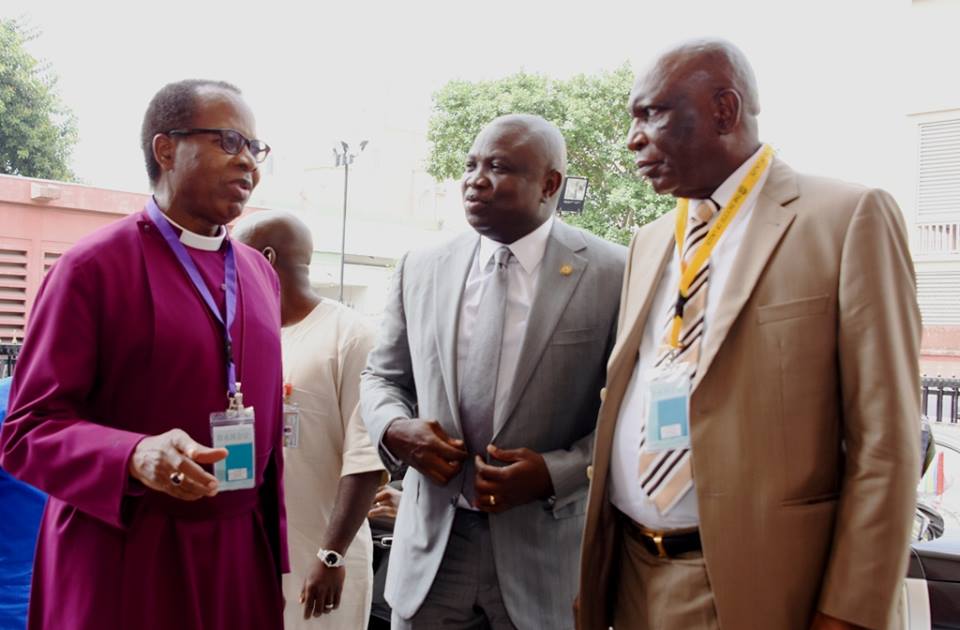 By Modupe Gbadeyanka
Diocesan Bishop of Lagos and Dean Emeritus, Church of Nigeria (Anglican Communion), Most Rev. Ephraim Ademowo, on Monday urged Governor Akinwunmi Ambode of Lagos State to consider going for a second term in office.
The cleric, speaking at the opening ceremony of 33rd Synod of Diocese of Lagos, Church of Nigeria (Anglican Communion) themed 'Serving', commended Mr Ambode for his absolute devotion to duty and passion for the growth of the state, which according to him, had resulted in the massive developmental projects across the State.
Mr Ademowo said the church would pray and support the Governor to win election again for the second term in office, describing him as a trail blazer and innovative leader had transformed the State and taken it to an enviable height.
"We have been watching with keen interest and studying the progressive administration of our Governor. As a trail blazer and innovative leader, he (Ambode) has taken our State to a greater height. Lagos State has become a reference point for other States.
"We are also proud to be identified with your laudable achievements in making Lagos a great financial hub and a reference point for other states in the country. Let me say equivocally that your predecessors did eight years in office, and I say without any doubt that you will also use eight years.
"We want to thank you for your absolute devotion to duty and life of practical humility, doggedness and total commitment to the growth and progress of Lagos State, as well as your constant efforts at making Lagos second to none and a reference point for all other States," Mr Ademowo said.
In his remarks, the Lagos Governor emphasized the need for Nigerians to embrace selfless service to humanity, saying that such remained the essence of existence to positively impact others.
He charged political and religious leaders to continually tow the path of service to humanity, just as he said that politics in the real sense of it should only be about selfless service to the people
Governor Ambode, in his keynote address, described the Synod and the theme as apt and historic having coincided with the celebration of 50 years of existence of the State, which according to him, was all about celebrating those that have served and still serving the State.
According to him, "Serving be it in government, churches, mosques or wherever, is like a clarion call from God and for me, I believe that there is no way I can just give back to humanity for the greater blessings that God has endowed me than just serving and serving selflessly without any inkling of wanting to get a return back from anybody and that is what has actually propelled us to serve the people.
"We believe strongly that our calling on earth is to continually serve which is the whole essence of why we have also decided to dedicate ourselves to say that the only way we can give back to God is to serve humanity and that is what we have always been doing.
"For us that are government officials or politicians, what is it that really makes a difference? The difference is that when you are getting a feedback from people that you have made their lives easier. That is it. People don't want any other thing from us but to make their lives easier; to make them for instance move from one point to the other easily; allow them to send their children to school and then generally make them comfortable.
"Those little things are the things that really matter to our people, and that is why we are more committed to say that on a godly template, this is a calling that we need to serve not necessarily whether we are praised or not."
While acknowledging the fact that Christians usually like to stay away from politics, the Governor said on the contrary, politics must be viewed from the point of service to the people and service without expecting any reward from people but from God.
"I want to encourage everybody to stand on that point of selflessness which is the need to do something without actually asking for a reward. If reward comes, it is just part of the package but not the package.
"We have been blessed, we have been enriched by God and the only thing is that wherever we find ourselves to touch other people positively, we should always want to do it. It should be service before gratification because the real blessing is the blessing of God which is beyond any other thing," Governor Ambode said.
LASEMA Battles to Curtail Fire Outbreak at Balogun Market
By Modupe Gbadeyanka
The Lagos State Emergency Management Agency (LASEMA) has said it was working tirelessly with other agencies to put out the fire at 3/5 Gbajumo Street, Balogun, Lagos Island.
In a statement issued on Thursday, the organisation said it received a distress call from concerned persons in the wee hours of today over the unfortunate incident.
It was gathered that a 5-storey building at the Balogun Market was gutted by fire, destroying properties worth millions of Naira.
Giving an update on the situation, LASEMA said the joint teams, which rushed to the scene of the inferno, were having a constraint preventing the fire trucks from having direct access to the source of the fire, which are the shops constructed on the road blocking all routes.
"The agency received a distress call around 12:30 am today, Thursday, January 26, 2023, regarding a fire outbreak at No 3/5 Gbagumo street Balogun market, Lagos Island, which prompted the immediate activation of the Emergency Response Team to the scene of the incident.
"Consequent upon arrival at the scene of the incident, information gathered revealed that some shops (rubber shoes and clothes are stored) on the first floor of a 5-storey building was gutted by fire. However, the cause of the fire could not be ascertained.
"Fortunately, there is no loss of life or casualty involved in the incident.
"Collaborative efforts to put out the fire are ongoing by the agency's Response Team and its fire unit, alongside Lagos State Fire and Rescue Service, Federal Fire Service, Police Force, CBD, LASAMBUS, LNSC and NEMA.
"However, the joint teams have a constraint which is preventing the fire trucks from having direct access to the source of the fire, which are the shops constructed on the road blocking all routes.
"Efforts are still ongoing to prevent the spread of the fire to nearby buildings. Operations are also still ongoing," the statement said.
Tinubu Never Blamed Buhari for Fuel Scarcity, Others—Onanuga
By Modupe Gbadeyanka
The Director of Media and Publicity of the All Progressives Congress (APC) Presidential Campaign Council (PCC), Mr Bayo Onanuga, has said the party's presidential candidate, Mr Bola Tinubu, did not blame President Muhammadu Buhari for the current challenges in the country.
On Wednesday, during his campaign in Abeokuta, Ogun State, Mr Tinubu accused some powerful persons were behind the current scarcity of petrol in Nigeria, as well as the scarcity of the new Naira notes.
President Buhari is the Minister of Petroleum Resources, and fuel scarcity has remained for months under his watch. He also approved the redesigning of the Naira when Mr Godwin Emefiele, the governor of the Central Bank of Nigeria (CBN), brought the proposal to him.
But while speaking yesterday, Mr Tinubu said, "We will use our PVCs to take over government from them. If they like, let them create a fuel crisis; even if they say there is no fuel, we will trek to vote.
"They are full of mischief, they could say there is no fuel. They have been scheming to create a fuel crisis but forget about it. Relax, I, Asiwaju, have told you that the issue of fuel supply will be permanently addressed," he said at the campaign rally.
"Whoever wants to eat the honey embedded in a mountain won't worry about the axe. Is that not so? And if you want to eat palm kernel, you would bring a stone and use it to break it; then the kernel will come out. It's not easy to…
"Let them increase the price of fuel, let them continue to hoard fuel, only them know where they have hoarded fuel, they hoarded money, they hoarded naira; we will go and vote, and we will win even if they changed the ink on Naira notes. Whatever their plans, it will come to nought," he added.
His comments generated mixed reactions, with some commentators saying he was indirectly indicting Mr Buhari for the crisis facing the country.
But Mr Onanuga rebuffed this, saying the opposition Peoples Democratic Party (PDP) was plotting to "create a wedge between our presidential candidate and President Muhammadu Buhari."
According to him, the former Governor of Lagos State was only empathising "with the Nigerian people facing the dual crises of fuel and new Naira notes scarcity."
"For the records, Asiwaju Tinubu, during the APC campaign rally at Abeokuta on Wednesday, in his statement, did not mention, blame or accuse President Muhammadu Buhari for the current challenges in the country.
"Asiwaju Tinubu was only adverting the government's attention to the sabotage being carried out by some Fifth Columnists in the system, possibly working in cahoots with the PDP.
"The CBN officials, including Governor Godwin Emefiele, have said many times that enough new Naira notes have been supplied to the banks, yet our people complain that they have not been able to get the new notes.
"In recent days, many ATMs are either not working, or when working, they are dispensing the old notes, just a few days to the  January 31 deadline.
"Similarly, Asiwaju Tinubu is aware of the salutary efforts by President Buhari to end the fuel queues by chairing a 14-man panel. Yet the queues and agony continue.
"For a presidential candidate, who cares about the suffering of our people, he has a duty to warn the government that its efforts to make life better for Nigerians are being sabotaged on several fronts.
"Our presidential candidate only re-echoed what is well known and acknowledged, even by President Buhari himself, at different fora: That there are Fifth Columnists in and outside of government who often throw spanners in the works against good intentions and programmes of the government.
"How does an advisory genuinely made by Asiwaju Tinubu to protect and create goodwill for the government of his party become an attack? It can only be so in the jaundiced view of the PDP," a part of the statement issued on Thursday said.
DLM Capital Sponsors Employee's Philanthropic Projects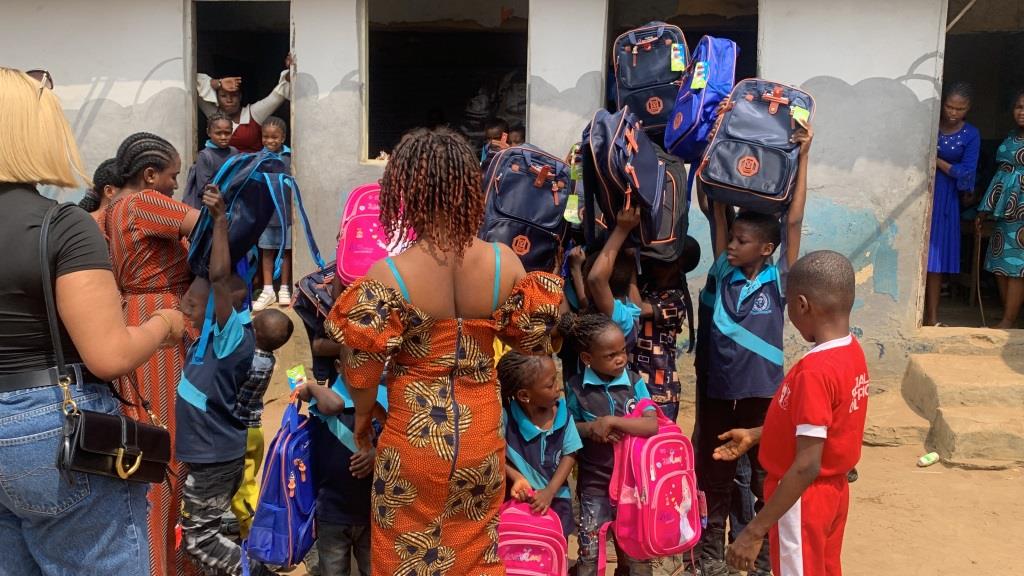 DLM Capital Group, a development investment bank, partnered with the Shile Akinjo Charity Foundation (SACF) on two of its charity initiatives: "Love Feast on the Street" and "Back-to-School Project."
Shile Akinjo, a corporate finance associate at DLM, started SACF in 2022 to support low-income families and the less privileged to fight poverty, receive decent health care, and achieve a basic education.
The "Love Feast on the Street" was held on the 17th of December 2022 to celebrate Christmas with over 400 kids at Makoko Slum, Yaba, Lagos. The day's highlights include face painting, a dance competition, popcorn, food, drinks, and the gifting of party packs to the kids.
The "Back-to-School Project" was held on the 20th of January 2023 at The Light School and Boanerges School at Akesan, Alimosho, local government. All the pupils in basic 1–5 were given school supplies such as school bags, socks, notebooks, pencils, biros, erasers, rulers, crayons, water bottles, and snacks.
Shile Akinjo commented on the initiative, stating, "Happiness is as essential as food if a child is to develop into normal manhood or womanhood." Being able to put smiles on these kids' faces is fulfilling, and we will continue to carry out initiatives that support these goals. I am grateful to Mr. Sonnie Ayere and DLM Capital Group for their full commitment to these projects. I feel lucky to work for a company that supports and encourages its employees to do good things for the community.
In a statement highlighting DLM's sponsorship of the projects, Chinwendu Ohakpougwu, Head of Corporate Communications, said: "At DLM, we are committed to impacting human lives. The management of DLM will continue to support good causes that promote the welfare of others."
Latest News on Business Post