NDLEA Intercepts 1.5 million Tablets of Opioids in Edo
By Adedapo Adesanya
About 1.5 million tablets and capsules of pharmaceutical opioids such as Tramadol, Exol-5, and Diazepam loaded in Onitsha, Anambra State and heading to Yauri, Kebbi State have been intercepted in Edo State by operatives of the National Drug Law Enforcement Agency (NDLEA).
According to NDLEA spokesman, Mr Femi Babafemi, the agency intercepted the drugs on Friday, January 14, adding that on the same day, about 425,000 Diazepam tablets were recovered at Segemu, Kano.
In addition, a total of N1.4 million was seized along with arms and ammunition from a suspected bandit and a drug kingpin in Plateau State while over 137.754 kilograms of assorted illicit drugs were recovered during interdiction operations across seven states in the past week.
It was stated that the interception in Edo State was made possible due to credible intelligence and when the truck was thoroughly searched, the items were discovered to be concealed under legitimate goods.
The drugs seized included 394,480 capsules and 3,000 tablets of Tramadol weighing 83.707kg; Exol-5: 647,500 tablets weighing 203.315kg; Diazepam: 12,500 tablets weighing 2.05kg; Bromazepam: 1,500 tablets weighing 0.45kg; Codeine based Syrup: 999 bottles weighing 134.865kg; Pentazocine injections: 4,000 ampoules weighing 16.64kg.
The driver of the truck, Mr Bashir Lawali, 30, was arrested along with Mr Abubakar Sani, 30, and Mr Ali Abubakar, 19, while the exhibits in Kano were seized from one Mr Sa'idu Yahya, 31.
In other related operations, attempts by drug traffickers to export 73 parcels of cannabis (34.05kg) concealed in foodstuff plastic containers to the United Kingdom through the NAHCO export shed of the Murtala Mohammed International Airport, MMIA, Ikeja Lagos were frustrated by operatives on January 8.
Also, another 50 parcels of cannabis consignment (27.25kg) meant for the United States was also intercepted at the export shed of the airport on Tuesday, January 11 and at least three suspects so far arrested.
In the reverse bid, moves by illicit drug merchants to bring into Nigeria 94 parcels of cannabis indica (Colorado) weighing 43.4kg through the Tincan seaport in Lagos were crushed on January 13 when operatives intercepted the drug inside a 40ft container from Canada.
The exhibit was concealed inside a Toyota Camry car. This came on the heels of a similar seizure on 11th Jan. of 59 parcels of Colorado (17.3kg) concealed in a Mercedes Benz vehicle imported from Canada.
In Plateau State, a fake security agent, Mr Babagana Ma'aji has been arrested through a controlled delivery of 5.6kg cannabis from Lagos. The suspect based in Damaturu, Yobe State, was nabbed following the interception of a commercial bus bringing the consignment from Lagos to Gombe in Mararaban, Jos on January 8.
On Tuesday, January 8, operatives of the Plateau Command of the agency also arrested a suspected bandit, Abdullahi Usman Ahmad, 28, at Hwolshe with one Beretta pistol; seven rounds of live ammunition; two empty shells; 12 grams of cannabis sativa; a pair of handcuffs and one million one hundred and thirty-six thousand, three hundred and forty-four naira only (N1, 136,344), suspected to be ransom money as well as an Opel car with registration number ZAR35LQ.
Similarly, the suspected leader of a cocaine distribution ring in Plateau, Mr Chibueze Okoro John, 42, has been arrested along Zaria Road, Jos, with quantities of cocaine and Tramadol recovered from him as well as a Sienna Bus (BWR 584 AL), Toyota Camry car (RBC 461 BF) and the sum of two hundred and seventy-seven thousand naira only (N 277, 000), which the suspect offered to the narcotic officers as a bribe but was rejected.
Meanwhile, in Delta State, the bid by 38-year-old Ejike Obiora to smuggle different quantities of cocaine and heroin into the Nigerian Correctional Centre, Ogwashi-Uku, Aniocha South LGA, was foiled on January 8, when he was discovered to have concealed the drugs in foodstuffs meant for an inmate.
This is even as 598kg cannabis was recovered during a raid in the Owo area of Ondo State with the two owners: Mr Arataye Raimi, 41, and Mr Tope Osinnuwa, 36, eventually arrested in follow up operations.
Still, on the latest feats by the NDLEA, one Abdullahi Mohammed was arrested in connection with the seizure of 48.5 blocks of cannabis in Potiskum, Yobe State, another fake security agent, Dike Davison was nabbed at Aliade, Benue State with 50grams of cannabis and 29 rounds of live ammunition of 7.62mm calibre.
In Abuja, a buy and bust operation on Friday, January 14, led to the arrest of one Habib Yusif, 41, with a total of 28.2kg cannabis recovered from him, while in Osun State, the trio of Samuel Joseph; Francis Ujor, and Sola Johnson were arrested in Onikoko village Area 5, Ile-Ife, with 100 bags of cannabis weighing 1,530 kilograms recovered from them on Thursday, January 13.
Co-founder of Bukka Hut Laolu Martins Dies After Battle With Depression
By Module Gbadeyanka
An investment banker and co-founder of Bukka Hut, Mr Laolu Martins, has died.
He was said to have kicked the bucket in the early hours of Tuesday.
Mr Martins has allegedly been battling with depression and had made efforts to overcome it, according to reports.
His family, which confirmed his demise in a statement on Wednesday, asked for understanding and privacy as they mourn him.
"We hereby solicit the support and understanding of everyone as the family grieves the loss of our beloved Laolu in our privacy.
"Our kind request is that you support the family – wife, children, aged mother and father and his siblings with your prayers at this difficult time.
"Further announcements will be made by the family," the statement said.
Mr Martins established Bukka Hut with his friend, Mr Rasheed Jayeola. The company is a leading a restaurant that offers a wide variety of tasty homemade meals.
NDLEA Sets Ablaze N194bn Cocaine Seized in Lagos
By Modupe Gbadeyanka
The 1.8 tonnes of cocaine worth N194 billion recovered by the National Drug Law Enforcement Agency (NDLEA) from a warehouse in the Ikorodu area of Lagos last week has been set ablaze.
The illicit drug was burnt on Tuesday, September 27, 2022, in the Badagry area of Lagos and was witnessed by the Chairman/Chief Executive of the agency, Mr Buba Marwa.
Mr Marwa, represented by the Director of Prosecution and Legal Services, Deputy Commander General of Narcotics (DCGN), Mr Sunday Joseph, said the cocaine was set ablaze following an order of the Federal High Court in Lagos.
He said the sheer volume of the drug haul speaks volumes about the extent of the nefarious activities of the drug underworld, noting that this has made it imperative for Nigerians to continue to support NDLEA in the renewed war against illicit drugs.
The NDLEA chief said out of the 1.8-tonne seizure, 1,828 blocks of the cocaine will be crushed and set ablaze, while the remnant will be secured for the purpose of prosecution of the suspects who were brought to witness the procedure and sign the certificate of destruction.
According to him, the agency is proceeding with the prosecution of those arrested in connection with this consignment, promising that the organisation will pursue the trial to a logical conclusion.
"Since January 25, 2021, when we commenced our offensive action against drug traffickers, the Agency has secured record convictions.
"Presently, 2,904 drug offenders are serving various jail terms, while other cases are ongoing in court, which we are confident will end in positive results too," he was quoted as saying in a statement signed by the spokesman of the agency, Mr Femi Babafemi.
While soliciting more support for the agency's work, Mr Marwa said the safety of society was the responsibility of every citizen.
He said the fact that the Ikorodu operation was conducted clinically without any skirmish or bloodshed was further testimony to the evolution of the NDLEA and its new capabilities and a pointer to the fact that the game has changed in the war against illicit drugs.
He expressed appreciation to the organisation's international partners, especially the American Drug Enforcement Administration (US-DEA), which supported the cocaine syndicate bust and the Nigerian military that provided additional firepower during the operation, as well as other law enforcement agencies that have been supporting efforts to rid Nigeria of illicit drugs.
The NDLEA had in a well-coordinated and intelligence-led operation that lasted two days last week, stormed a hidden warehouse at 6 Olukunola Street, Solebo Estate, Ikorodu. Five suspects, including a Jamaican, were arrested.
Afenifere's Support for Peter Obi Good for Nigeria's Unity—SERG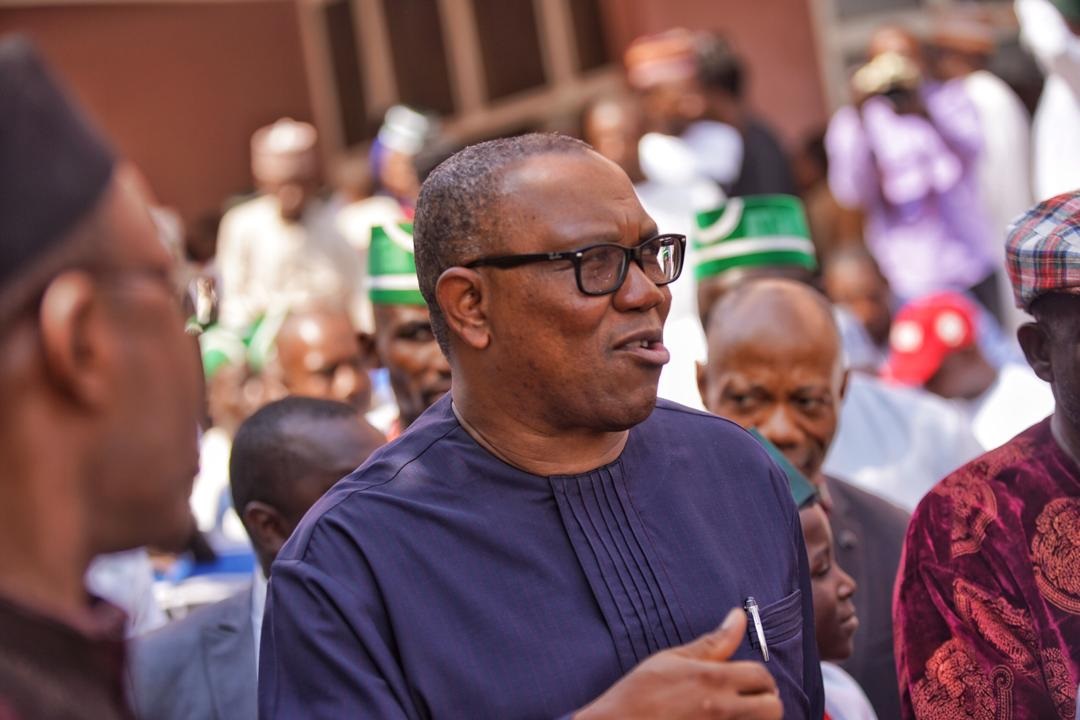 By Modupe Gbadeyanka
The endorsement of the candidate of the Labour Party, Mr Peter Obi, by a pan-Yoruba socio-political group, Afenifere, has been applauded by a pan-Igbo socio-political pressure organisation, the South East Revival Group (SERG).
In a statement issued in Abuja by the president and national coordinator of SERG, Mr Willy Ezugwu, the group said the support for the former Governor of Anambra State for the 2023 presidential election was good for the unity of Nigeria.
The leader of Afenifere, Pa Ayo Adebanjo, had said for equity, justice and fairness, the organisation would be throwing its weight with the candidate of Igbo extraction as it was the turn of the South East to govern Nigeria.
"The unequivocal support coming from credible South West political bloc, which the Afenifere represents, is a support for equity and justice, which will boost Nigeria's national unity," SERG said.
It maintained that "the renewed declaration of support for the Peter Obi presidential bid, alongside his running mate, Yusuf Datti Baba-Ahmed, by the Afenifere has demonstrated that there are still individuals and groups around who love the country and would sacrifice anything to keep Nigeria united and prosperous.
"The support by Afenifere is in line with the advocacy sustained by the former Executive Governor of Kaduna State and elder statesman, Alhaji Balarabe Musa, ahead of the 2023 general elections before his death.
"Alhaji Balarabe Musa had urged Nigerians to give the South East the chance to produce the next President of Nigeria in 2023 to give the region a sense of belonging.
"We, therefore, totally agree with Pa Adebanjo that by the Afenifere's support, the group is contributing to shaping Nigeria into a truly Federal Republic where no person or ethnic nationality would be sidelined or oppressed.
"We recognize the fact that Afenifere, as well as the Southern and Middle Belt Leaders Forum, have been consistent in their advocacy for restructuring and, by extension, the need for a Nigerian President of South East extraction as part of efforts towards national integration.
"With this reiterated endorsement from the Afenifere against all odds, it should now sink into the minds of all Nigerians, especially South East political leaders, that the Peter Obi presidential bid is devoid of ethnic colouration and must be embraced by all and sundry in Igboland.
"We, therefore, call on all Igbo sons and daughters to join the support train, not because Peter Obi is an Igbo but because he has proven to be competent with a reasonable understanding of Nigeria's problems and how they can be fixed.
"Nigeria is greatly troubled in every sector, with complications from security challenges as evident in all parts of the country, and we need urgent rescue from total collapse.
"Peter Obi has a track record of integrity, competence, and proven performance and has expressed his readiness to work with Nigerians of all tribes and religions to make the country work again by focusing on production, which will boost the country's economy and return the country to the path of recovery and prosperity," the SERG said.
Latest News on Business Post