NDLEA Seizes Drugs From Pregnant 30-year-old Dealer's Warehouse
By Adedapo Adesanya
Operatives of the National Drug Law Enforcement Agency (NDLEA) have recovered drugs from the warehouse of a pregnant 30-year-old dealer's warehouse in Delta State.
A statement issued on Sunday by the spokesman of the agency, Mr Femi Babafemi, disclosed that the items were seized last week in a raid in Abbi town, Ndokwa West LGA, Delta State.
According to him, officials of the organisation recovered 1,161kgs of C/S from the woman identified as Aniekem Evelyn.
Also, he disclosed that at the Murtala Muhammed International Airport, Ikeja, Lagos, the NDLEA intercepted parcels of cocaine concealed in different parts of a travel bag brought into Nigeria by a Brazil returnee.
Mr Babafemi disclosed that the drug enforcement agency apprehended one Mr Nwadinobi Charles Uchemadu in connection with the drugs on his return from Sao Paulo, Brazil, via Doha on a Qatar Airways flight.
Mr Uchemadu was arrested on Monday, December 5, at the Lagos airport during inward clearance of passengers on the Qatar Airways flight following the discovery of three parcels of cocaine weighing 2.70 kilograms factory sealed in parts of his travel bag.
At the SAHCO export shed of the airport the same day, NDLEA operatives equally intercepted cans of powdered milk, baby food and beverages used to conceal 3.4 kilograms of cannabis going to Dubai, UAE. A freight agent, Mr Ewelike Chibuike Cyril, who presented the consignment for export, was subsequently arrested.
In the same vein, parcels of cannabis weighing 6.30kgs concealed in sound systems (speakers) going to Malabo, Equatorial Guinea, through the SAHCO export shed of the airport were also seized on Thursday, December 8, by the operatives who initially arrested a freight agent, Mr Joseph Obiji involved and later the following day, Friday, December 9, nabbed another agent, Mr Mbanu Ifeanyi Andrew in a follow-up operation at ASPAMDA market, Trade Fair Complex, Ojo area of Lagos.
At the Akala notorious drug hub in the Mushin area of Lagos, no fewer than 15 drug dealers, including two ladies, were arrested with 1,400kgs of cannabis Sativa, among other illicit substances such as heroin, methamphetamine, and 320 bottles of codeine syrup recovered from them during a raid of the area on Friday, December 9.
Another raid of the popular Idumota business district of Lagos Island on Saturday, December 10, led to the seizure of 35,014 pills of tramadol, diazepam, rohypnol and 21.2 litres of codeine syrup while a targeted notorious dealer is still on the run. This is even as officers of the Directorate of Seaports Operations of the Agency arrested a Malian, Dembele Ousmane, on Monday, December 5, with 32,400 capsules of tramadol 225mg concealed in factory packed buckets of custard while attempting to travel to Mali via boat at Ebute -Ero Jetty in Lagos.
In Ondo state, operatives on Tuesday, December 6, stormed a sharp corner, Ipele forest in the Owo area of the state, where they arrested Rotimi Oyekan and Precious Aluju with C/S weighing 903.3kgs, while another team of NDLEA officers arrested Babatunde Oluyara at Igbotako area of the state, with 168.5kgs of the same substance; 6kgs of monkey tail and various quantities of methamphetamine, cocaine and heroin.
Meanwhile, in Kebbi state, two suspects: Austine Julius and Sale Yakubu, were arrested on Sunday, December 4, along Yawuri-Kebbi road in a loaded Dyna Truck with 117 bags of Cannabis Sativa weighing 1,070 kilograms concealed under bags of oranges.
The following day, Monday, December 5, another set of two suspects: Abdullahi Bala and Ibrahim Wade, were intercepted along Koko- Kebbi road in a Dyna Truck loaded with 114 bags of the same substance weighing 1,140 kilograms concealed under crates of soft drinks.
LASEMA Battles to Curtail Fire Outbreak at Balogun Market
By Modupe Gbadeyanka
The Lagos State Emergency Management Agency (LASEMA) has said it was working tirelessly with other agencies to put out the fire at 3/5 Gbajumo Street, Balogun, Lagos Island.
In a statement issued on Thursday, the organisation said it received a distress call from concerned persons in the wee hours of today over the unfortunate incident.
It was gathered that a 5-storey building at the Balogun Market was gutted by fire, destroying properties worth millions of Naira.
Giving an update on the situation, LASEMA said the joint teams, which rushed to the scene of the inferno, were having a constraint preventing the fire trucks from having direct access to the source of the fire, which are the shops constructed on the road blocking all routes.
"The agency received a distress call around 12:30 am today, Thursday, January 26, 2023, regarding a fire outbreak at No 3/5 Gbagumo street Balogun market, Lagos Island, which prompted the immediate activation of the Emergency Response Team to the scene of the incident.
"Consequent upon arrival at the scene of the incident, information gathered revealed that some shops (rubber shoes and clothes are stored) on the first floor of a 5-storey building was gutted by fire. However, the cause of the fire could not be ascertained.
"Fortunately, there is no loss of life or casualty involved in the incident.
"Collaborative efforts to put out the fire are ongoing by the agency's Response Team and its fire unit, alongside Lagos State Fire and Rescue Service, Federal Fire Service, Police Force, CBD, LASAMBUS, LNSC and NEMA.
"However, the joint teams have a constraint which is preventing the fire trucks from having direct access to the source of the fire, which are the shops constructed on the road blocking all routes.
"Efforts are still ongoing to prevent the spread of the fire to nearby buildings. Operations are also still ongoing," the statement said.
Tinubu Never Blamed Buhari for Fuel Scarcity, Others—Onanuga
By Modupe Gbadeyanka
The Director of Media and Publicity of the All Progressives Congress (APC) Presidential Campaign Council (PCC), Mr Bayo Onanuga, has said the party's presidential candidate, Mr Bola Tinubu, did not blame President Muhammadu Buhari for the current challenges in the country.
On Wednesday, during his campaign in Abeokuta, Ogun State, Mr Tinubu accused some powerful persons were behind the current scarcity of petrol in Nigeria, as well as the scarcity of the new Naira notes.
President Buhari is the Minister of Petroleum Resources, and fuel scarcity has remained for months under his watch. He also approved the redesigning of the Naira when Mr Godwin Emefiele, the governor of the Central Bank of Nigeria (CBN), brought the proposal to him.
But while speaking yesterday, Mr Tinubu said, "We will use our PVCs to take over government from them. If they like, let them create a fuel crisis; even if they say there is no fuel, we will trek to vote.
"They are full of mischief, they could say there is no fuel. They have been scheming to create a fuel crisis but forget about it. Relax, I, Asiwaju, have told you that the issue of fuel supply will be permanently addressed," he said at the campaign rally.
"Whoever wants to eat the honey embedded in a mountain won't worry about the axe. Is that not so? And if you want to eat palm kernel, you would bring a stone and use it to break it; then the kernel will come out. It's not easy to…
"Let them increase the price of fuel, let them continue to hoard fuel, only them know where they have hoarded fuel, they hoarded money, they hoarded naira; we will go and vote, and we will win even if they changed the ink on Naira notes. Whatever their plans, it will come to nought," he added.
His comments generated mixed reactions, with some commentators saying he was indirectly indicting Mr Buhari for the crisis facing the country.
But Mr Onanuga rebuffed this, saying the opposition Peoples Democratic Party (PDP) was plotting to "create a wedge between our presidential candidate and President Muhammadu Buhari."
According to him, the former Governor of Lagos State was only empathising "with the Nigerian people facing the dual crises of fuel and new Naira notes scarcity."
"For the records, Asiwaju Tinubu, during the APC campaign rally at Abeokuta on Wednesday, in his statement, did not mention, blame or accuse President Muhammadu Buhari for the current challenges in the country.
"Asiwaju Tinubu was only adverting the government's attention to the sabotage being carried out by some Fifth Columnists in the system, possibly working in cahoots with the PDP.
"The CBN officials, including Governor Godwin Emefiele, have said many times that enough new Naira notes have been supplied to the banks, yet our people complain that they have not been able to get the new notes.
"In recent days, many ATMs are either not working, or when working, they are dispensing the old notes, just a few days to the  January 31 deadline.
"Similarly, Asiwaju Tinubu is aware of the salutary efforts by President Buhari to end the fuel queues by chairing a 14-man panel. Yet the queues and agony continue.
"For a presidential candidate, who cares about the suffering of our people, he has a duty to warn the government that its efforts to make life better for Nigerians are being sabotaged on several fronts.
"Our presidential candidate only re-echoed what is well known and acknowledged, even by President Buhari himself, at different fora: That there are Fifth Columnists in and outside of government who often throw spanners in the works against good intentions and programmes of the government.
"How does an advisory genuinely made by Asiwaju Tinubu to protect and create goodwill for the government of his party become an attack? It can only be so in the jaundiced view of the PDP," a part of the statement issued on Thursday said.
DLM Capital Sponsors Employee's Philanthropic Projects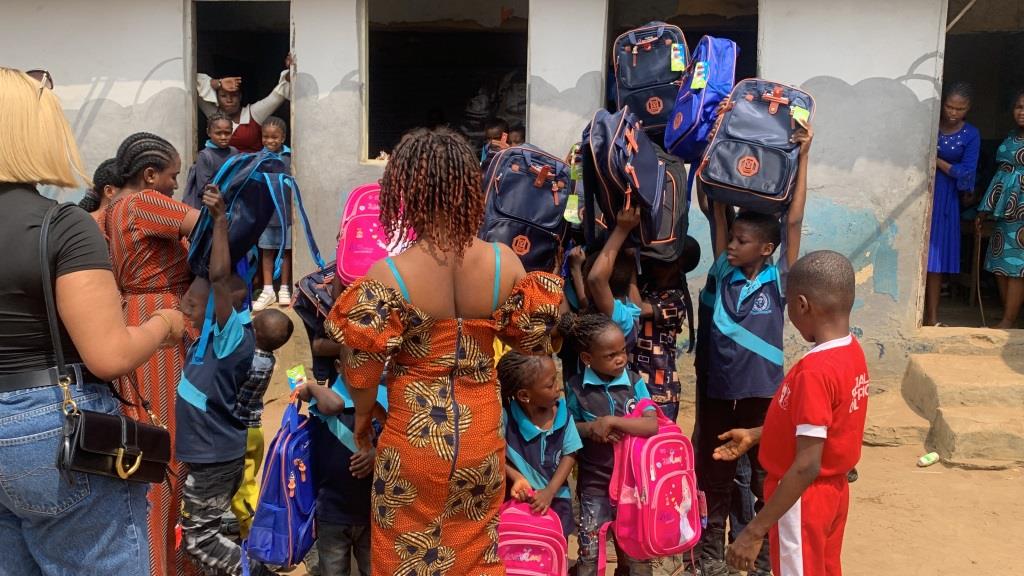 DLM Capital Group, a development investment bank, partnered with the Shile Akinjo Charity Foundation (SACF) on two of its charity initiatives: "Love Feast on the Street" and "Back-to-School Project."
Shile Akinjo, a corporate finance associate at DLM, started SACF in 2022 to support low-income families and the less privileged to fight poverty, receive decent health care, and achieve a basic education.
The "Love Feast on the Street" was held on the 17th of December 2022 to celebrate Christmas with over 400 kids at Makoko Slum, Yaba, Lagos. The day's highlights include face painting, a dance competition, popcorn, food, drinks, and the gifting of party packs to the kids.
The "Back-to-School Project" was held on the 20th of January 2023 at The Light School and Boanerges School at Akesan, Alimosho, local government. All the pupils in basic 1–5 were given school supplies such as school bags, socks, notebooks, pencils, biros, erasers, rulers, crayons, water bottles, and snacks.
Shile Akinjo commented on the initiative, stating, "Happiness is as essential as food if a child is to develop into normal manhood or womanhood." Being able to put smiles on these kids' faces is fulfilling, and we will continue to carry out initiatives that support these goals. I am grateful to Mr. Sonnie Ayere and DLM Capital Group for their full commitment to these projects. I feel lucky to work for a company that supports and encourages its employees to do good things for the community.
In a statement highlighting DLM's sponsorship of the projects, Chinwendu Ohakpougwu, Head of Corporate Communications, said: "At DLM, we are committed to impacting human lives. The management of DLM will continue to support good causes that promote the welfare of others."
Latest News on Business Post