NIMC Captures 60 million Nigerians in National Database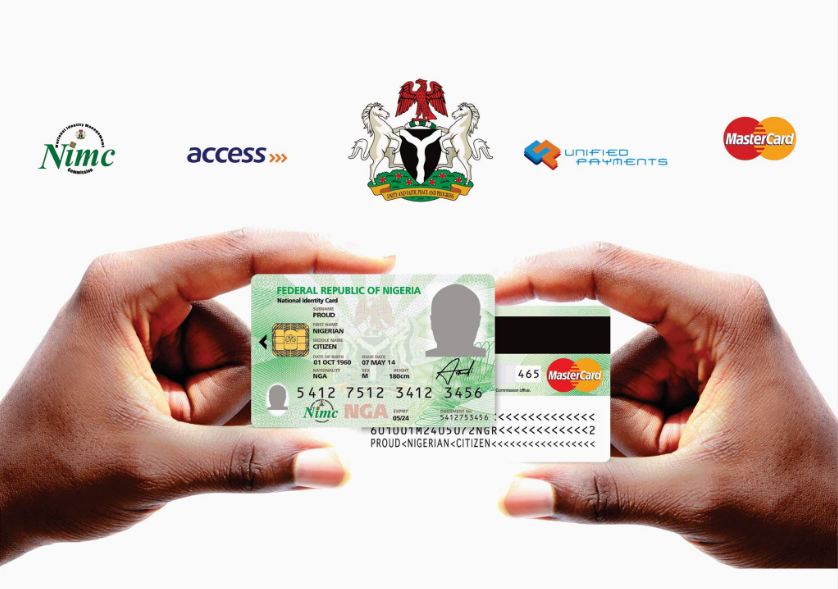 By Adedapo Adesanya
The National Identity Management Commission (NIMC) said it has registered more than 60 million Nigerians for the unique National Identification Number (NIN) records in the National Identity Database (NIDB).
The commission said the feat could not have been possible without the cooperation of all stakeholders, including the general public.
In a statement issued by the Head of Corporate Communications, Mr Kayode Adegoke, the agency said, "The transformational value of a robust and inclusive foundational Identification system in today's world cannot be overstated."
"As a commission, we're committed to keeping this momentum of scaling up and speeding up NIN issuance nationwide for better identification, authentication and improved service delivery," Mr Adegoke added.
Mr Adegoke, who commended Minister of Communications and Digital Economy, Mr Isa Pantami for his leadership in driving the programmes of the commission, emphasised that NIN remains the primary identification for all citizens and legal residents in Nigeria.
The NIMC was established pursuant to Act No. 23 of 2007 to amongst others create and manage the NIDB, enrol citizens and legal residents and issue them a unique NIN, a general multipurpose card as well as harmonise and integrate existing identification databases in government agencies into the NIDB.
Section 27(1) and (2) of the Act, 2007 also mandates all government and private agencies providing services as captured in the NIMC Act to make the NIN a prerequisite for service provision to citizens and legal residents.
The NIN not only affirms the identity of an individual, but it also avails the government with the necessary information needed for national planning, creation of social intervention initiatives, allows individuals access services, claims and entitlement, tracks and monitors crime, curbs corruption nationwide amongst other numerous benefits.
A successful functional NIDB has been tagged as a crucial addition to the development of the nation; government agencies like the Central Bank of Nigeria (CBN), Nigerian Immigration Services (NIS), Pension Commission (PenCom), Joint Admissions and Matriculation Board (JAMB), Nigerian Communication Commission (NCC), are currently in compliance with NIMC by making the NIN a prerequisite for transactions and accessing services they provide.
Why to Start a YouTube Channel for Yoga
Introduction
YouTube is one of the most creatively driven platforms on the Internet right now. Thanks to YouTube, many artists, and unconventional professionals have found a place to share what they love, do something they enjoy and showcase their talents to the world, and do some pretty crazy stuff for people to see. And just by creating and sharing fun, they are able to earn money as well! Previously, it was difficult for people of their professions to leave a mark, and often, they did not make enough. However, with YouTube, creative pathways opened for everyone around the world.
Moreover, videos entered the commercial picture and changed the face of marketing. Prior to YouTube domination, people found it extremely difficult to watch or transfer videos due to their size. However, when YouTube came in, things changed drastically, and new avenues opened for all.
Starting a YouTube channel is a giant leap for anyone today. As a Yoga teacher, this must have been on your mind for some time. It is essential to know, however, the best possible way to start one so that you can do a better job at it.
How to start your YouTube channel for Yoga
There are a few things that you must keep in mind to run a successful Yoga channel on YouTube. To begin with, it is necessary to point out that creating a YouTube channel and making videos are relatively easier tasks as compared to marketing those videos and earning money out of them. However, the following tips will give you a head-up about where to start and how to get going to ensure you not only do what you love, but you also earn a profit out of it.
Chalk out the plan for your video content: As a Yoga instructor, it is vital to base your content around Yoga and the general wellbeing of your viewers. You must be careful to present your content in a way that your audience will appreciate and be attracted towards. You can do this by researching and watching videos of established Yoga teachers on YouTube. The engagement on their posts will tell you what your audience is likely to enjoy, share, and engage with. Moreover, make sure you use great intros and outros. There are plenty of templates readily available to create impactful intros and  inspire your YouTube end screen ideas. Additionally, there are intro makers and YouTube outro templates that you can use at your convenience.
Pre-define your target audience: Before you delve into your channel, research about the kind of audience you are aiming to reach. They are your targets, and you should be as specific as you can get. Take inspiration from the active audience of some fellow predominant Yoga instructors on YouTube and tailor it to your needs.
Make sure your videos are SEO friendly: SEO is a critical factor for your videos to get a better ranking and reach more people on YouTube. You can either learn all about it from tutorials and guides on the Internet, or you can even hire a freelancer to do it for you. Use video descriptions well to make your videos rich in keywords so that the YouTube algorithm can detect it and thereby recommend your videos to anyone who's looking for related content.
Follow a schedule to upload your videos: Creating a schedule is of utmost importance especially whenever you feel your motivation and energy levels declining. When you first create your channel, you will be enthusiastic and fired up. You will upload the videos according to the decided frequency, and things will be fine. However, once the enthusiasm subsides and you calm down, you will find yourself postponing and delaying the videos. Hence, to discipline yourself, you must create a schedule and make sure to follow it. Moreover, your audience will find it easier to follow your content if you have a routine, especially because Yoga is a lot about being punctual about the practice.
Create your brand presence: Creating a brand presence is important to establish your credibility among your audience. Your brand, if it is famous and of repute, will ensure the trust of your clients and viewers. Your content will be viewed as authentic and your followers and subscribers are also likely to increase.
Promote your content across social media: Your work as a creator does not end with uploading the video. After this, another part of the job starts- marketing. Use all the social media platforms available to promote your videos and reach many people as possible. Use SEO everywhere and make your content catchy and attractive. Concentrate on adding value, and people will automatically share your content with their friends and social groups. Use your social media to drive traffic to your YouTube account. This will also help you create a personal brand.
Collaborate with brands and other YouTubers in your videos: Collaborations with different brands and companies, or other creators on YouTube will help you expand across many genres and reach a much larger chunk of the audience. If you want a diverse range of viewers, make sure to collaborate with influencers in those particular areas. This act will excite their audience and introduce your content to them. The exchange, if properly conducted, can bring you a ton of new subscribers within a short period. It will definitely widen your scope of success on YouTube.
Conclusion
As a YouTube creator, make sure to concentrate on your content. Think of all the ways you can add value to your viewers with Yoga and anything associated with it. Engage with your audience regularly and modify your upcoming videos to suit their needs. Ask for feedback and analyse your growth. Being a creator is easy, but being a creator who people want to watch, is a tough nut to crack.
Promoting Sustainable Nigerian Leather Products in the Global Market
The term "globalization" gained popularity in the early 1990s; with technological advancement, it has continued to shape modern everyday life, making it a global village whilst growing interdependence of the world's economies, cultures, and populations. Countries have built economic partnerships to facilitate the continued surge in cross-border trade in goods and services, technology, and flows of investment, people, and information.
With a long history of producing high-quality leather products, Nigeria has a rich heritage of leather production, and to build a sustainable 'Made-in-Nigeria' brand, it is essential to promote Nigerian leather products in the global market.
Globalisation has made the global market indeed a global village through technology. To aid the balance of trade, countries must ensure it manufactures for local consumption and then produces with a mindset of exporting to foreign countries. To achieve this, its products must first meet global standards and receive acceptance from its local market. Nigeria is at a vantage point to promote African leather products in the global market, being one of the continent's biggest producers and exporters of raw leather materials.
With advanced technology from developed economies to reduce the cost of production, coupled with their capacity to export, local consumers in developing economies have easy access to imported products which has adverse effects on the local economy, such as unemployment and a decrease in demand for locally produced goods. As the world continues to evolve, it is important to balance importing goods and supporting local businesses to improve GDP and the economy.
The benefits of manufacturing goods locally in a nation instead of importing should not be overlooked. It has a long-term value on a country's economy than the latter. Any developing country seeking economic growth should endeavour to reduce importation to the bare minimum and utilize local resources, even if it does not have the required production capacity for export purposes. In the case where a country starts focusing on manufacturing its products locally, there will be an increase in the employment rate; the currency will be valuable and local culture will be strengthened. In Nigeria, for instance, products manufactured locally are referred to as "Made-in-Nigeria goods".
The manufacturing sector in Nigeria has several sub-sectors, such as Petroleum and coal products, electrical equipment, appliances and components, printing and related support activities, textile apparel, leather and footwear, fabricated metal products, chemical and pharmaceutical products, food, beverage and tobacco products, paper products, furniture and related products, plastics and rubber products, and transportation equipment, among others continue to play a significant role in generating employment, increasing productivity, and driving economic growth for the nation. The sector has also contributed to the country's quest to move away from oil dependency and lean towards the green economy.
One of the sub-sectors that has proven resourceful in contributing to the Made-in-Nigeria project and zero oil initiative is the Leather industry. With the total trade of leather products presently between $300 and $400 billion globally, experts believe that Nigeria could account for 15 to 20 per cent to hit $20 billion by 2025. According to recent statistics, the Nigerian leather industry is estimated to be worth over $1 billion and is expected to grow annually by 2.88% (Compound Annual Growth Range 2023-2028). As the third largest in Africa, after South Africa and Ethiopia, the Nigerian leather industry is also a vital source of employment and income for many Nigerians, especially those in rural areas. The industry provides employment to over 750,000 people, with many jobs in tanning, leather goods production, and especially the fashion industry.
Leather has continued to remain a versatile and essential material in the fashion industry, offering durability, luxury, and timeless style for both men and women. Due to its durability and luxurious appeal, it is widely used in various forms of fashionable items such as shoes, bags, jackets, belts, and other accessories.
In contributing to the growth of sustainable Made-In-Nigeria products, a game changer in the leather industry, Lagos Leather Fair, has consistently given leather designers the platform to showcase their expertise for six years now. Established and emerging designers now have the opportunity to showcase their designs and gain recognition in the Nigerian and African leather industries. The annual fair provides a much-needed and solution-based networking platform for leather designers and other players in Nigeria and other African countries to promote and showcase Made-in-Africa and local talent.
According to the founder of Lagos Leather Fair, Mr Femi Olayebi, "The annual celebration of the Lagos Leather Fair is a proof point of our unflinching commitment towards finding sustainable solutions to scale the African leather industry and ensure that the Made-in-Nigeria Project and Zero-Oil Initiative becomes a reality. For over five years, we have created an enabling environment for key players to maximise the potential of the leather industry. We are delighted about LLF2023 and look forward to its significant impact in Nigeria and across Africa."
This year's edition, themed Staying Ahead: Creativity, Collaboration, Commitment, is set to improve the narrative that encourages sustainable Made in Nigeria business. Through the proposed LLF Lab and Accelerator programme, leather designers will have access to mentorship and development programs from entrepreneurs who are already experts in the industry.
LLF 2023 will also feature a series of local and international speakers who will share insights on relevant conversations that affect the African leather industry and a well-curated series of workshops for up-and-coming designers willing to thrive as a manufacturer in Nigeria. The workshops for budding leather designers will feature branding workshops where the fundamentals of branding will be explored, a shoe-making workshop to provide a basic understanding of shoemaking techniques and a social media/marketing presentation using a case study review of different brands.
The Lagos Leather Fair is set to hold on June 17 and 18 at the Balmoral Convention Centre, Victoria Island, and just like the five editions done in the past, LLF 2023 is anticipated to continue from the previous years by strengthening the narrative that ensures the Made-in-Nigeria Project and Zero-Oil Initiative become a reality and fostering the nation's talent and economic growth.
Sanwo-Olu Begs NLC to Shelve Nationwide Strike
By Adedapo Adesanya
Lagos State Governor, Mr Babajide Sanwo-Olu, on Sunday, appealed to the Nigeria Labour Congress (NLC) not to embark on its proposed nationwide strike on fuel subsidy removal slated for Wednesday.
The Governor, who implored labour leaders to exercise patience on its proposed planned strike, urged the labour leaders not to be political over the issue of the removal of fuel subsidy, saying President Bola Tinubu means well for the country's economy.
He said the subsidy removal was in the interest of all Nigerians, urging them to support President Tinubu to run the affairs of the country creditably.
Governor Sanwo-Olu spoke yesterday with journalists after the post-inauguration Church Thanksgiving Service held at the Cathedral Church of Christ, Marina in Lagos.
He begged the labour leaders to join hands with the present administration at the federal level and be patient with the President in his commitment to turn the economy around and make Nigeria a better place for all.
"We are thankful that Mr President is a product of Lagos. We will pray for him and everything that he stands for. We believe he will replicate all the good things he has done in Lagos in our country, Nigeria.
"I want to wish and plead with our citizens even as NLC has said to us that they want to go on strike. It is not the time for a strike. During the campaign trail, every one of our presidential candidates did say that the first thing they were going to do is to remove the subsidy. So, what has changed? What has the current president said or what has he done that is different from what any of the other aspirants said they would do?
"We need to be very patient. He (President Tinubu) has not even done a week. So let us talk to ourselves and say that we shouldn't turn it political. Let us wait and support this man. He had not done a week on the job. Let him go and reflect, and at the sub-national level, we are willing to support him.
"The point is no industrial strike will solve anything at this point, it will certainly not bring an end to the issue. The point will be how we are going to ensure that there is a turnaround in our economy. He has mentioned something about a better wage. We have started that in Lagos. We started it in January, so other parts of the country can also do the same. We don't need to wait for the national government. We just need to reflect on what the challenges are in our country and let us solve the problem," he said.
Latest News on Business Post