Re-launch of Lagos Residents Card Thrills SecureID Group
By Dipo Olowookere
The Lagos State government has been commended by SecureID Group for the re-introduction of the Lagos Residents Card, which is set to further enhance the seamless delivery of government accomplishments.
The founder/Group Managing Director of SecureID Group, Mrs Kofo Akinkugbe, described the re-launch as another landmark achievement which further showcases Lagos as a trailblazer among the league of states in the federation.
The Lagos State Residents Card was first introduced in 2011 by the Lagos State Residents Registration Agency to integrate the residents of the state into e-government initiatives to enable the services provided by the government to be fully utilized and also provide an accurate picture of government policy and planning.
SecureID Group, a foremost smartcard manufacturer, is working with the state government to produce the cards based on its superior end-to-end identity management and digital security solutions for the public sector, private sector, finance sector, telecoms sector and retail sector.
This week, the initiative was re-introduced and Mrs Akinkugbe, while commenting on it, said, "SecureID, as one of the strategic partners of this project, is proud of your numerous achievements, particularly in the areas of technology and digitisation of the state which this project seeks to address.
"We appreciate the opportunity given to us to provide our expertise, specifically in the manufacturing of the card which involves embedding multi-application chip modules, personalization of payment and biometric data and fulfilment of the multi-purpose high-security Lagos Residents smart card," she added.
Mrs Akinkugbe also noted that as a partner, SecureID will remain resolute in her commitment to partner with the state to further develop Lagos State with relevant technology and bespoke digital solutions that will ensure seamless delivery of government promises to the residents of the Centre of Excellence.
Speaking on how the Lagos Residents Card will impact government policies and benefit residents, she affirmed that the cards will ensure the harmonisation of all the unique Ministries, Departments and Agencies (MDAs) of the state and enhance the implementation of the state's THEMES agenda; THEMES – Traffic Management and Transportation, Health and Environment, Education and Technology, which will, in turn, fulfil the yearning to make Lagos a 21st Century Economy in Entertainment and Tourism and in Governance and Security.
EFCC Auctions 435 Cars in Lagos [Photos]
By Modupe Gbadeyanka
About 435 cars will be auctioned by the Economic and Financial Crimes Commission (EFCC) in Lagos between Wednesday, December 7 and Thursday, December 8, 2022.
A statement issued by the commission said this is in line with the EFCC (Establishment) Act 2004, Public Procurement Act 2007, and the Proceeds of Crimes (Recovery and Management) Act 2022.
The vehicles are among those forfeited by corrupt persons, and the courts have given the agency the authority to seize them.
The cars, which pictures were conspicuously displayed with allocated lot numbers for public inspection, were allocated to auctioneers based on assessed values and an open ballot system.
The display was to provide an opportunity for interested bidders to view and indicate interest in any car of their choice.
In the statement released today, the EFCC said Nigerians would be able to acquire the cars through auction at 40 Bourdillon Road, Ikoyi, Lagos; 15A Awolowo Road, Ikoyi, Lagos; 14 Cameroon Road, Ikoyi Lagos and CVU Obalende, Ikoyi, Lagos.
The nine auctioneers who were allocated to the Lagos Zonal Command of the EFCC to dispose of the 435 cars at the designated Centre on 14 Cameron Road, Ikoyi, Lagos, are Rihanna Auction Limited; Kamyus Consult Limited; Areogun Resources  Limited; BIS N JEG; Integrated Services Nigeria Ltd; Mau & Sons Ltd; Langar Aghaji & Co; Fagobe Company Ltd and Musa Kira and Co.
At the inspection of the items for sale on Tuesday in Lagos, the Secretary to the Commission and Chairman of EFCC Asset Disposal Committee (ADC), Mr George Ekpungu, said, "the exercise, which is the first of the planned auction of forfeited properties across EFCC Zonal Commands and EFCC headquarters, is being carried out in accordance with the (Establishment) Act, 2004, Public Procurement Act, 2007 and Proceeds of Crimes (Recovery and Management) Act, 2022.
"It is being conducted in conjunction with the Bureau of Public Procurement to ensure compliance with all extant laws."
While welcoming the auctioneers to the centre, he expressed his gratitude to sister agencies, including the Nigerian Army, who were invited to provide adequate security and ensure orderliness.
Mr Ekpungu also appealed to the members of the public present at the auction to listen carefully to the auctioneers and comply with all stipulated guidelines.
ICPC Confirms Arrest of D'Banj Over N-Power Funds Fraud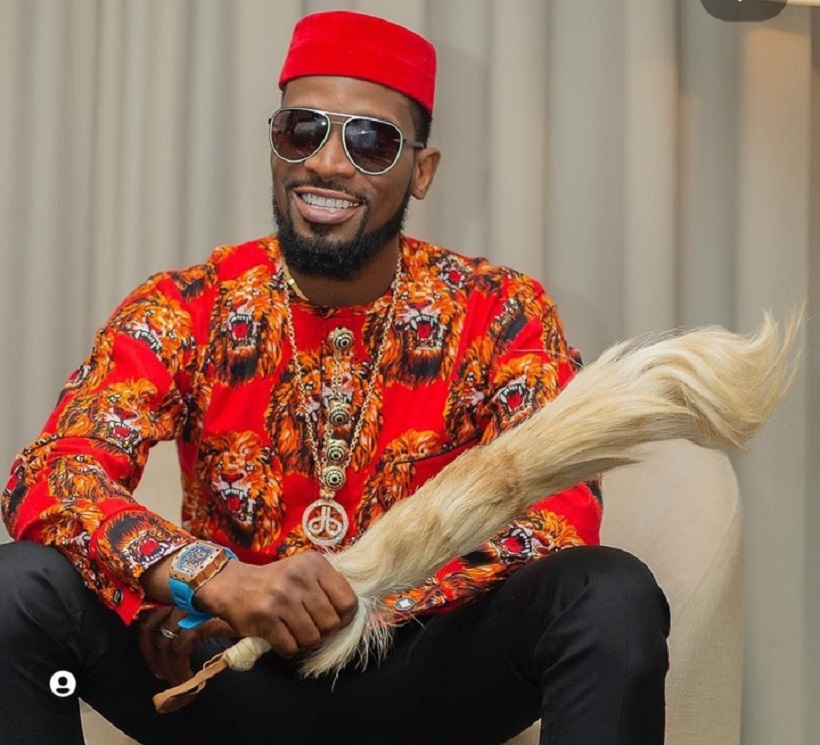 By Modupe Gbadeyanka
The Independent Corrupt Practices and Other Related Offences Commission (ICPC) has confirmed the arrest and detention of Mr Oladipo Daniel Oyebanjo, otherwise known by his stage name D'Banj, over an alleged diversion of funds for the N-Power programme.
On Wednesday, it was reported by Premium Times that the entertainer was in the custody of the agency over his link with the inclusion of ghost beneficiaries in the scheme designed by the administration of President Muhammadu Buhari in 2016 to reduce the unemployment rate in Nigeria.
In a statement issued today, ICPC said it began to investigate the musician after receiving "numerous petitions" from concerned persons, alleging D'Banj and some compromised government officials of embezzling "N-Power funds running into billions of naira following the approval and release of such funds to the beneficiaries by the federal government."
"Many N-Power beneficiaries had complained over the non-receipt of the monthly funds in spite of payment by the government," another part of the statement released this afternoon said.
According to the commission, it swung into action in line with its mandate of looking into matters of corruption in government initiatives.
"About 10 persons have been invited by the ICPC over the last few months in connection with the N-Power fraud and have been granted administrative bail after their detention.
"Several invitations to Mr Oladipo Daniel Oyebanjo to appear before a team of investigators (over the alleged N-Power funds fraud) were ignored and not honoured," it further said.
Recall that the N-Power scheme was established by Mr Buhari on June 8, 2016, to address the issues of youth unemployment and empowerment and help increase social development.
How to Buy Shares, AFCON, Peter Obi, Others Top Google's Trending Searches of 2022
By Aduragbemi Omiyale
The year 2022 has 24 days to wrap up, and in 25 days, the popular greeting would be Happy New Year.
This year has had ups and downs, with different happenings shaking the various aspects of life.
In the year, students stayed at home for about eight years because of a face-off between their lecturers and the federal government. Also, floods almost submerged the nation, displacing many Nigerians and claiming the lives of more than 600 persons.
Similarly, some popular persons died in the year, while a new movement known as the Obidients shook the political scene ahead of the 2023 general elections.
During the year, Nigerians stayed tuned to these and others with the help of a popular search engine, Google, and in its usual style, the platform has released the trending searches for the year.
According to data released by the tech giant, a few top searched questions this year were How to link NIN? How to buy shares? How to register for PVC online? What is Lupus? and What is NATO?
Further, the results, which revealed the most searched terms, people, actors, musicians, topics, questions and the interest of Nigerians, indicated that the Africa Cup of Nations (AFCON), and Casemiro, a Brazilian football player, topped the categories of top trending searches and top athletes and sports people respectively.
Nigeria was eliminated from the 2022 AFCON competition by Tunisia in a 1-0 defeat as Senegal beat Egypt to win their first Africa Cup of Nations title earlier this year.
The strike action by the Academic Staff Union of Universities (ASUU), which lingered for eight months, got the union in second place in the top trending searches by Nigerians in the period under review.
Oxlade, a Nigerian singer and songwriter, topped both categories of top trending people and top trending musicians searched by Nigerians this year. Asake, an Afrobeat singer signed to YBNL Nation, came second in the top trending musicians' list. Anikulapo, a Nigerian epic fantasy film starring Kunle Remi and produced by Kunle Afolayan, topped the category of trending movies and series.
Questions like Who is Peter Obi's running mate? Who is the APC Presidential candidate? Who is Atiku's running mate? Who is leading in the Osun State election? Who is Tinubu's running mate? and Who is Peter Obi? reveal the increased interest of Nigerians in politics and the next year's elections.
Entertainment-related search terms like Finesse lyrics, Buga, the song by Kizz Daniel featuring Tekno and Will Smith all topped their categories revealing Nigerians' interest in lyrics, songs and celebrity personalities.
And in a year with many high-profile deaths, the death of Queen Elizabeth was the most searched loss, followed by gospel singer Osinachi Nwachukwu, who died in April and actress Ada Ameh who died in August.
Google's Year in Search is an annual analysis that reveals the top trending lists and also spotlights what the world searches to see, learn and do.
In Nigeria, the result for this year's Year in Search shows a heightened interest in politics, entertainment, sports, lifestyle and notable personalities.
Here are the trending searches in 2022:
Top 10 trending searches
AFCON
ASUU
iPhone 14
Oxlade
NATO
Buga
Peter Obi
Ukraine
World Cup
Asake
Top 10 trending people
Oxlade
Peter Obi
Asake
Black Sherif
Casemiro
Putin
Lisandro Martinez
Anthony
Gabriel Jesus
Raphinha
Top 10 athletes/ sports people
Casemiro
Lisandro Martinez
Anthony
Gabriel Jesus
Raphinha
Maduka Okoye
Fofana
Eriksen
Tobi Amusan
Graham Potter
Top 10 trending musicians
Oxlade
Asake
Black Sherif
Portable
Lil Tjay
Ruger
Kwaku the traveller
Buju
Angelique Kidjo
DJ YK
Top 10 trending actors
Will Smith
Johnny Depp
Yul Edochie
Osita Iheme
Judy Austin
Olu Jacobs
Peggy Ovire
Amber Heard
Nkechi Blessing
Thuso Mbedu
Top 10 trending loss
Queen Elizabeth
Osinachi Nwachukwu
Ada Ameh
Rico Swavey
Takeoff
Chinedu Nwadike
Dablixx Osha
Dejo Tunfulu
Ifeanyi Adeleke
Alaafin of Oyo – Oba Lamidi Adeyemi
Top 10 trending lyrics
Finesse lyrics
Overdose lyrics
Rush lyrics
If I broke na my business lyrics
Palazzo lyrics
Bandana lyrics
Buga lyrics
Kwaku the traveller lyrics
Cough by Kizz Daniel lyrics
Machala lyrics
Top 10 trending recipes
Fried rice recipe
Afang Soup recipe
Jollof rice recipe
Banana bread recipe
Parfait recipe
Sex on the beach recipe
French toast recipe
Ogbono soup recipe
Chin chin recipe
Lasagna recipe
Top 10 trending devices
iPhone 14 pro max
iPhone 13 pro max
Tecno Camon 19
Infinix Note 12
Tecno Spark 7
Infinix Note 11
Redmi Note 11
Infinix Smart 6
Spark 7
Tecno Spark 9
Top 10 trending movies/ series
Anikulapo
Blood sisters
House of the dragon
Thor love and thunder
The woman king
Selina tested
Tinder Swindler
Black Panther
Eternals
All of us are dead
Top 10 trending songs
Buga – Kizz Daniel ft Tekno
Overdose – Mavins, Crayon, Ayra Starr, Ladipoe, Magixx and Boy Spyce
Machala – Carter Efe ft Berri Tiga
Calm Down – Rema
Rush – Ayra Starr
Terminator – Asake
Girlfriend – Ruger
Finesse – Pheelz ft BNXN
How are you my friend – Johnny Drille
Cough – Kizz Daniel
Top 10 trending "Who is" general
Who is Peter Obi's running mate?
Who is Queen Elizabeth?
Who is the Greek God of war?
Who is the APC Presidential candidate?
Who is Atiku's running mate?
Who is Princess Diana?
Who is leading in the Osun State election?
Who is Tinubu's running mate?
Who is Peter Obi?
Who is Rico Swavey?
Top 10 trending "How to" general
How to link NIN?
How to buy shares?
How to register for PVC online?
How to remove the rotoscope filter?
How to maintain facial health by controlling the type of food consumed?
How to create an NFT?
How to upgrade to iOS 16?
How to hide an app on an iPhone?
How to hide number?
How to write an application letter for a job?
Top 10 trending "What is" general
What is Lupus?
What is NATO?
What is NFT?
What is the cause of the Russia and Ukraine war?
What is the meaning of zazu zeh?
What is PVC?
What is intersex?
What is the meaning of sapa?
What is Greta Thunberg known for?
What is the scientific term for ear ringing?
Latest News on Business Post