Retired Finance Ministry Director Slumps, Dies at Abuja Club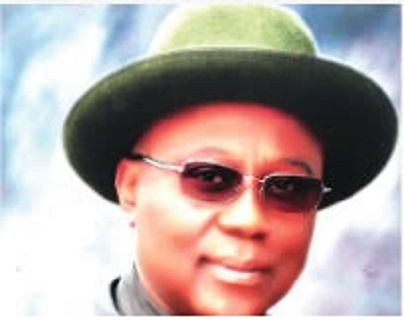 By Dipo Olowookere
A former director in the Ministry of Finance, Mr Emmanuel Ayodele, has reportedly died after he slumped at a club in Abuja, where he had allegedly gone to unwind.
It was gathered that immediately Mr Ayodele, a retiree, went to the ground, he was taken to the hospital, where he was pronounced dead by the doctor.
According to Northern City News, the 65-year-old man had gone to meet his friends at Amity Club in the Garki area of Abuja.
He reportedly showed no signs of illness before the incident, which was why it was a huge shock to his friends and family members, who are yet to believe their eyes.
"He was about entering the club when he slumped and was rushed to the hospital but unfortunately, he died. We shall miss him," the Assistant Secretary-General of Amity Club, Mr Kazeem Idowu, was quoted as telling Northern City News.
The deceased was described as an easy going man who loved his family and friends.
Customs Receives Two Mobile Scanners for Greater Efficiency
By Adedapo Adesanya
To Deploy Drones at Seme Border Soon
Claims N719m Revenue, Processes 635,149.23 metric tons valued at N15.5 billion
The Nigeria Customs Service, Tincan Island Area Command, has taken delivery of two NUCTECH Mobile Scanners MT1213DE with accessories.
The equipment arrived on board Glovis Horizon Leader from the Port of Shanghai, China on Monday, according to a statement signed by the Public Relations Officer of the command, Mr Uche Ejesieme.
The Area Controller, Mr Abdullahi Musa, who received the consignment, said, "Integration of scanning into the clearance procedure for imports was in line with global best practices for trade facilitation."
He said that the key objective of deploying scanners was to reduce the time needed for physical inspection of goods which generated extensive cost and created multiple burdens and inconveniences for both importers and customs.
He expressed delight at the development and thanked the Comptroller-General of Customs (CGC), Mr Hameed Ali, and the entire agency's management team for the feat.
"Recall that the CGC on assumption had promised to reform, restructure and raise revenue; these scanners will constantly enhance trade facilitation and consequently lead to increased revenue," he said.
He assured stakeholders that the deployment of the scanners would result in increased cargo handling and greater efficiency in the trade value chain.
In a related development, the NCS noted that it will soon deploy drones at Seme for effective patrol in checking smuggling activities in the border area.
This was revealed by the Zone A Coordinator and Assistant Comptroller General (ACG) of Customs, Mrs Modupe Aremu, during a working visit to Seme Border Area Command.
She said border management surveillance will be done electronically through the use of drones to ensure that there will be an area overview of what is happening.
She said, "Seme command visit is the end of my tour in Zone A and I must commend all the commands, they account for over 80 per cent of revenue collection by the NCS and so they should keep up the good work.
"With the tour of all commands, I have seen that all the officers are doing well but they can still do better. And I am telling them that they should be expecting impromptu visits from the Zonal Coordinator, so they should not relax on the job.
"Also, e-customs N300 billion contract that is end-to-end automation that is about to kick-off is about Information and Communication Technology connectivity; when it comes on board, we are going to have an electronic signature, drones patrolling the border."
She noted that the service was trying to minimize person to person contact to reduce human interaction and make the work faster and more efficient.
Mrs Aremu expressed satisfaction with the joint border post buildings that was commissioned on October 23, 2018, noting that it ushered in an era of coordinated border management.
"This is one-stop-shop and from what the comptroller has shown me, it is what is practised abroad; this is really commendable that what we see when we travel, we have it here in Nigeria," she said.
She urged Seme Customs to keep abreast of all the Economic Community of West African States (ECOWAS) protocols in order to understand what was happening.
On enforcement activities, she urged the command to keep pushing as the nation at this point in time needed the service to properly secure its borders.
She expressed the hope that the scanner at the border would start functioning to help simplify processes as much as possible, urging the command to ensure proper compilation of case files and prosecution of arrested suspects to show the seriousness of the service in fighting smuggling.
On his part, the Seme Customs Comptroller, Mr Bello Jibo, noted that enforcement activities were not affected by the border closure as the command made a remarkable interception of 1,244 suspected smuggled goods with a duty paid value of over N856 million.
He noted that despite unfriendly economic policies imposed on goods transiting through the Benin Republic, the command was able to collect about N719 million as revenue and processed export volume of 635,149.23 metric tons with a free on board value of N15.5 billion.
Infibranches Raises $2m for Energy Distribution Across Nigeria
By Ashemiriogwa Emmanuel
A Nigerian-based fintech and energy startup, Infibranches Technologies Limited, has closed a total of $2 million in a seed round which will be deployed to bridge the gap of energy distribution and financial inclusion across underserved areas of the country.
The fresh funding saw the participation of investors, including an impact investment company, All On, backed by Shell Foundation to support Infibranches in diversifying its energy products to extend towards rural and peri-urban areas.
The two-year-old energy startup was founded by Mr Olusola Owoyemi with the sole aim of providing digital financial services for service providers in the energy sector, as well as its accessibility across Sub-Saharan Africa.
The firm established two products called OmniBranches and  Green Energy Plug to achieve its milestone purpose which now serves as its flagship products as large distribution networks, Solar Home System (SHS) distributors, and mini-grid developers, manage their operations.
The OmniBranches leverages an active network of agents with hierarchy management, real-time reporting and reconciliation, cashout, and downline commission management, while the Green Energy Plug focuses on improving energy access by financial inclusion via accessible Application Programming Interface (APIs).
Expressing his enthusiasm at the funding, Mr Owoyemi said that so far, OmniBranches has served over a million customers, adding that the investment will focus on tackling poverty while enhancing financial inclusion.
"Through this investment, Infibranches plans to speed up customer acquisition in its current markets. This will also improve existing products like Omnibranches, which has served over a million customers and introduce new products and services to address energy distribution issues," he disclosed.
In his contribution, the CEO of Shell Foundation, Mr Sam Parker, noted that, "The initiative's work with Infibranches has shown how important it is to continue addressing market barriers, enabling enterprises to more quickly expand their life-changing energy solutions to households and SMEs across Nigeria."
Noting that the partnership will bring about a new renovation into the energy sector, the CEO at All On, Mr Wiebe Boer, said, "We are particularly thrilled about this deal because it's an innovative business model that solves the payments and collections problems that Solar Home System distributors and mini-grid developers face across Nigeria.
"This partnership merges fintech and renewables in a way we haven't seen in Nigeria before and will enable tens of thousands of new electricity connections."
Apprehension as Sokoto Shuts Down Telco Services
By Adedapo Adesanya
The Sokoto State Government has shut down telecommunications networks in 14 of the 23 local government areas of the state as part of the efforts to check banditry, making it the third Northwest States to do so within the last one month.
The telecommunication blackout was announced by Governor Aminu Tambuwal on Monday, September 20 in an interview with the Voice of America Hausa Service.
Mr Tambuwal said the state secured approval from the Minister of Communications and Digital Economy, Mr Isa Pantami, before enforcing the ban which kicked off on Monday.
He said the affected council areas are the most vulnerable to bandit attacks in the state and it has caused apprehension among residents of the councils.
The development in Sokoto followed that of the neighbouring Zamfara, where all parts of the state are affected; and Katsina State where 13 local government areas are affected.
Zamfara had announced its communication shut down on September 3 while Katsina followed six days after on September 9.
The governments of the two North-west states announced the suspension of telecommunications networks and banned weekly markets and sale of petrol in jerry cans, among other drastic measures to check the activities of bandits.
Mr Tambuwal said following the ban in Zamfara, bandits have intensified attacks in Sokoto. He said the measure has proved successful in Zamfara, as a result of which the bandits were fleeing from the state to Sokoto.
"Due to the ongoing military successes in Zamfara State, the bandits are fleeing to Sokoto," the governor said.
Mr Tambuwal also explained the network ban is effective in Dange Shuni, Tambuwal, Sabon Birni, Raba, Tureta, Goronyo, Tangaza and Isa local government areas amongst others.
Isa local government area shares boundaries with Shinkafi LGA in Zamfara State, while Goronyo and Sabon Birni from west and north respectively have borders with the Republic of Niger in the east.
Mr Tambuwal said the measure was long overdue. He said the seven governors of the region had agreed on the network ban to flush out the bandits but this could not be done.
Latest News on Business Post