Saraki, Alakija, Others to Speak at Commonwealth Africa Summit 2018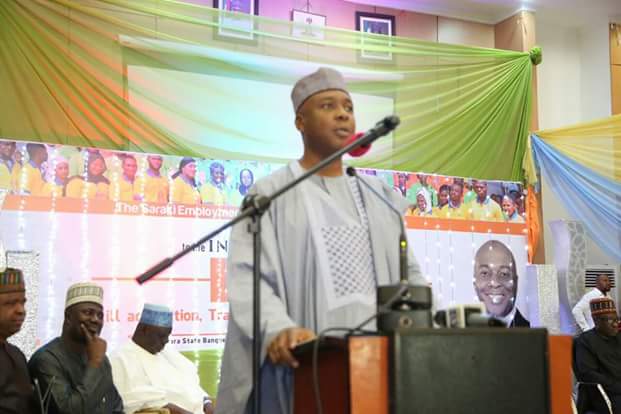 By Dipo Olowookere
Senate President, Mr Bukola Saraki, has been billed to discuss unlocking Africa's economic potential at the Commonwealth Africa Summit 2018 in London.
The Summit aims to spark new thinking on how to promote collective action, achieve shared prosperity and common good for Africans leveraging on their relationship with the commonwealth family of nations.
Through a series of discussions, the event will encourage dialogue on how to strategise and mobilise valuable African resources that are critical to shaping the continent's emerging economies.
The 5th in its annual series, the 2018 Commonwealth Africa Summit themed Common Good will have as Keynote Speaker Mr John Dramani Mahama (Former President of Ghana), Amina J Mohammed (UN Deputy Secretary General), Dr Hassan Ahmed Hilal (Minister of Environment Sudan), Mrs Folorunso Alakija (Vice Chair – Famfa Oil), Mia Amor Mottley MP (Leader of Opposition and Former Deputy Prime Minister of Barbados), Dr Babatope Agbeyo (Chairman Cornfield Group) and others to be announced soon.
Past speakers at the CAS Summit have included Prince Andrew The Duke of York, Mr Yakubu Gowon; Baleka Mbete (Speaker of the Parliament of South Africa), Mr Olusegun Obasanjo, Baroness Lynda Chalker of Wallasey; Lord Watson of Richmond; Lord Ahmed of Rotherham; Baroness Uddin of Bethnal Green; Simon Walker, Director General of the British Institute of Directors (IOD); Ministers of Government, Ambassadors and many other Global Leaders.
The 2018 summit will also feature as panellist a wide array of senior Cabinet Ministers and Chief Executives of corporations from Africa and across the Commonwealth including Dr Hassan Ahmed Hilal (Minister of Environment Sudan), Kate Osamor (UK Shadow Secretary for International Development), Ms Vivienne Yeda (Director General – East African Development Bank), Mark Pursey (CEO BTP Advisers), Henry Sands (SABI Strategy Group), Isha Johansen (President of Sierra Leone Football Association), Muriel Maupoint (CEO Hope for Children), Sally Anne Wilson (CEO Public Media Alliance), Dr Justina Mutale (Advisory Board Member – World Leaders Forum), Tim Loughton MP, John Penrose MP (UK Prime Minister's Anti-Corruption Champion), Mark Stoleson (Chief Executive Officer and Partner at Legatum), Martin Realey (CEO Build Africa), Debbie Ariyo (CEO AFRUCA), Tim Wainwright (CEO Water Aid), Paul Smith Lomas MBE (CEO of Practical Action), Dr Babatope Agbeyo (CEO Cornfield Group and Botosoft Inc), Parminder Vir OBE (CEO Tony Elumelu Foundation), Lord Alan Watson of Richmond (Former Chair of Coca Cola Europe Advisory Board), Dayo Israel (Africa Regional Director, Commonwealth Africa Initiative), Odein Ajumogobia (Former Minister of Foreign Affairs Nigeria), Lord Hughes of Woodside (Chair of the British Anti-Apartheid Movement (AAM)), Paul Kunert (CEO Joule Africa), Dr. V B Narayanamurthy (Professor, India), Sidney Yankson (CEO Ghana Capital Partners Ltd), Dr Amy Jadesinmi (CEO LADOL Energy), Elikem Nutifafa Kuenyehia (CEO ENS Ghana), Paul Kunert, DJ Cuppy Otedola, Dr. Ken Ikpe, Mark Tierney, Helen Tarnoy (Founder, Managing Director Aldwych International Ltd), Mr Omar Selim (CEO Arabeque), Edward George (Country Head, UK Representative Office – ECOBANK Group), and many others.
With more than 300 global and African thought leaders in government and business expected to attend over the three days, the stage will be set for discussion on issues ranging from trade and investment, entrepreneurship, job creation, economic development, health, security and counterterrorism, and energy.
We Will Fulfil Paris Agreement on Climate Change—FG
By Adedapo Adesanya
The federal government of Nigeria has assured that it is ready to fulfil the Paris Agreement on Climate Change to ensure effective gender inclusion.
This was disclosed by Mr Chris Ngige, the Minister of Labour and Employment, during the inauguration and inception workshop of the project in Abuja tagged The Nigeria Initiative for Climate Action Transparency (ICAT), Just and Gender Inclusive Transition (JGIT) Project.
The project is aimed at helping countries to better assess the impacts of their climate policies and actions and fulfil their transparency commitments.
Mr Ngige said the objective of the inception meeting was to launch the ICAT Just Transition project and increase awareness among the national stakeholders for a better understanding of its implementation.
He said that ICAT, an International multi-stakeholder partnership of the United Nations Office for Project Services (UNOPS), was supporting Nigeria in setting up Monitoring, Reporting, and Verification (MRV) of a Just and Gender Inclusive Transition(JGIT).
The minister, represented by Ms Daju Kachollom, Permanent Secretary in the ministry, said Nigeria had signed a Project Cooperation Agreement (PCA) with the UNOPS, represented by the ICAT management.
According to him, the PCA is to firm up the process leading to the take-off and implementation of the project over a 12 months period.
"The objectives of the project, among others, include developing JGIT monitoring and MRV and ensuring it links with the sectoral MRV system.
"Another objective is to Enhance Transparency Framework (ETF) implemented by the Federal Ministry of Environment to achieve synergy, institutional memory, and stakeholder inclusion and cooperation.
"It will further enable a tripartite cooperation between government, labour, and employer associations to achieve a Just and Gender Inclusive Transition going forward with the implementation of the Paris agreement," he said.
The minister said that the ICAT project would be implemented by a team of national experts and international ICAT consultants under the supervision of the Federal Ministry of Labour and Employment.
On his part, Dr Yerima Tarfa, ICAT, JGIT Project Team Lead, said the initiative would help to increase the overall transparency capacities of countries and assess the contribution of policies and development objectives.
According to him, this is by providing appropriate methodological information and tools to support evidence–based policymaking.
Dr Tarfa noted that Nigeria was the largest economy and leading oil producer, and most populous in Africa.
"It faces the unique challenge of having to diversify its economy away from fossil fuels (petroleum, natural gas, and increasingly, coal) while responding to the unmet energy needs of its growing population.
"Nonetheless, Nigeria is turning this challenge into an opportunity by increasing the use of renewable energy, reducing its carbon footprints, and eliminating gas flaring.
"Nigeria's National Determined Contributions (NDCs) is committed to a 20 per cent emission reduction by 2030 unconditionally and 45 per cent conditional, with focus on power and electricity, oil and gas," he said.
The team lead said the highlights of the NDCs include ending gas flaring by 2030 and a 30 per cent energy efficiency level by 2030.
He said the inauguration of the inception workshop would provide the opportunity to create awareness and build a national cross-knowledge sharing that would provide a platform for key stakeholders to facilitate the implementation of the Nigeria ICAT JGIT Project.
He added that this would further set up an MRV of Just and Gender Inclusive Transition and its Roadmap for implementation in Nigeria.
Appeal Court Restores Adeleke as Osun Governor
By Modupe Gbadeyanka
An appeal court sitting in Abuja on Friday upturned the judgment of the Osun governorship election tribunal, which removed Mr Ademola Adeleke as Governor of Osun State.
In January, the tribunal declared the former Governor of the state, Mr Gboyega Oyetola, as the authentic winner of the 2022 governorship election in the state.
While Mr Adeleke contested for the position under the platform of the Peoples Democratic Party (PDP), Mr Oyetola flew the flag of the All Progressives Congress (APC).
Mr Adeleke was declared winner of the poll by the Independent National Electoral Commission (INEC), but Mr Oyetola, who contested as a sitting governor, approached the tribunal to dislodge the winner.
He argued that Mr Adeleke won through an electoral fraud, over-voting and his prayers were answered, as the tribunal upturned INEC's decision and declared him the winner.
However, Governor Adeleke appealed the judgement and today, a three-member panel of justices held that the election tribunal erred when it ruled that Mr Oyetola and the APC proved their allegation of over-voting.
The appellate court held that Mr Adeleke was validly elected as the governor of Osun State and restored his mandate.
NDDC Seeks Partnerships to Reduce Dependency on IOCs, FG for Funding
By Adedapo Adesanya
The Niger Delta Development Commission (NDDC) has disclosed plans not to rely on oil multinationals and the federal government to raise funds for development projects in the region but instead pursue Public-Private Partnerships arrangements to drive development in the Niger Delta region.
According to the NDDC Managing Director, Mr Samuel Ogbuku, this PPP model would ease the financial burden of the central government.
Mr Ogbuku, speaking during an Executive Management and staff meeting at the commission's headquarters in Port Harcourt, announced that a summit was in the offing to enable stakeholders to explore opportunities for collaboration.
He stated the NDDC would not relent in its PPP campaign to bring sustainable development to the Niger Delta region.
"We intend to leverage our PPP initiative during the summit, which will take place in April. It will help us to showcase what we can offer and show the world the future of NDDC.
"We cannot continue to rely on international oil companies and the federal government to raise funds for development projects. We intend to show the world that NDDC has been rebranded.
"We will take the campaign to all relevant organisations. Last week, we were at the meeting of the Oil Producers Trade Section, OPTS, of the Lagos Chamber of Commerce and Industry in Lagos. Henceforth, NDDC will be attending the OPTS quarterly meetings."
The NDDC boss further stated that the commission would also focus on capacity building for youths in the region.
"We are going to focus on youth development programmes; we have come up with a new concept of working with the Niger Delta Chamber of Commerce in the training of our youths and young entrepreneurs.
"We will show the world that we have young entrepreneurs. The various Chambers of Commerce will help us to make the programme sustainable. We will focus on empowering young people because the government cannot employ everybody."
On NDDC's commitment to its contractors, Mr Ogbuku affirmed that the Commission was engaging them to arrive at practicable ways of liquidating the debts saying, "We have been meeting with the contractors, and gradually, all legitimate debts will be defrayed."
The NDDC boss said there was a need for reform within the Commission in order to bring it in line with the NDDC Establishment Act. For instance, he said, "we are reorganising the directorates to bring the number to only 13 provided for in the Act."
Latest News on Business Post