Slain Oshodi NURTW Chieftain 'Hamburger' for Burial Today
By Dipo Olowookere
The remains of chieftain of National Union of Road Transport Workers (NURTW) in Shogunle area of Oshodi, Lagos State, Mr Rasaz Bello otherwise known as Hamburger, would be laid to rest on Friday, June 2, 2017 (today).
Mr Bello was murdered on Monday, May 29, 2017, during the local council primaries of the All Progressives Congress (APC) in Lagos State ahead of the council polls next month.
He was killed by a rival group allegedly led by one Samson Agbetoye, popularly known as Golden, believed to be loyal to Treasurer of the union in Lagos, Mr Musiliu Akinsanya, fondly called MC Oluomo.
The murder of Mr Bello on Monday caused anxiety in the area, but security operatives were on ground to forestall any possible breakdown of law and order in Oshodi and its environs.
The deceased, survived by wife, children, siblings and mother, was the Chairman of Motorcycle Owners Association of Lagos State (MOALS) in the area.
Survey Shows Nigerians Don't Trust INEC for Credible Elections
By Modupe Gbadeyanka
A new survey has shown that though a majority of Nigerians believe that elections are the best method to choose their leaders, they do not trust the Independent National Electoral Commission (INEC), chaired by Mr Mahmood Yakubu, to conduct a credible exercise.
Later this month, Nigerians will vote to elect a new President, with many youths happy that there is a third option for them to choose from, unlike in the previous elections, in which two major political parties contested.
In the latest Afrobarometer survey, a large majority of the respondents agreed that multiple political parties are needed to provide voters with a genuine choice and that once elections are over, the losing side should accept defeat and work with the government to help the nation flourish.
While a majority of citizens believe that the last national election in 2019 was generally free and fair, popular trust in the INEC is declining.
According to the key findings of the report, about 71 per cent of Nigerians support elections as the best way to choose their leaders, with about 69 per cent agreeing that Nigeria needs many political parties to ensure that voters have a real choice, a 13-percentage-point rebound from 2020.
It was observed that 78 per cent of the respondents say that once an election is over, the losing side should accept defeat and cooperate with the government to help it develop the country rather than monitoring and criticising it, while 56 per cent of the respondents said the last national election, in 2019, was generally free and fair, but almost four in 10 believe otherwise.
The survey showed that only 23 per cent of Nigerians said they trust INEC "somewhat" or "a lot," while more than three-fourths (78 per cent) express "just a little" or no trust at all in the election-management body.
Afrobarometer is a pan-African, non-partisan survey research network that provides reliable data on African experiences and evaluations of democracy, governance, and quality of life.
Eight survey rounds in up to 39 countries have been completed since 1999. Round 9 surveys (2021/2022) are currently underway. Afro barometer's national partners conduct face-to-face interviews in the language of the respondent's choice.
The Afrobarometer team in Nigeria, led by NOIPolls, interviewed a nationally representative sample of 1,600 adult citizens in March 2022. A sample of this size yields country-level results with a margin of error of +/-2.5 percentage points at a 95% confidence level. Previous surveys were conducted in Nigeria in 1999, 2002, 2004, 2008, 2012, 2014, 2017, and 2020.
Surulere Fracas: Police Declare Tajudeen Bakare Wanted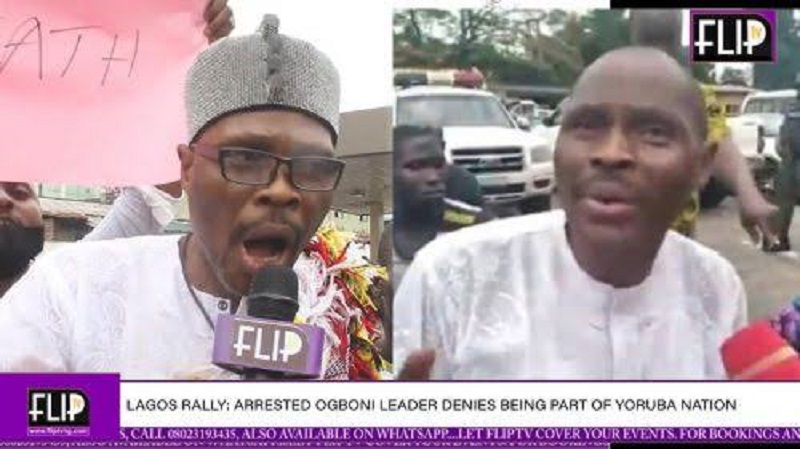 By Modupe Gbadeyanka
A self-acclaimed leader of the Ogboni fraternity, Mr Tajudeen Bakare, has been declared wanted by the Lagos Command of the Nigeria Police Force.
A statement issued on Thursday by the spokesman of the Command, Mr Benjamin Hundeyin, was Mr Bakare evaded arrest after some police personnel raided his residence to apprehend him.
He was said to have been captured in a video "wielding a pump action rifle and threatening public peace," which prompted the police to go after him.
According to the statement, officers of the Rapid Response Squad (RRS), working on actionable intelligence, carried out a sting operation on his residence in the Surulere area of the state.
"Found in the suspect's residence were three pump action rifles, one Beretta pistol magazine, one expended 9mm ammunition, one expended and three live cartridges and a picture frame of the suspect.
"The suspect, Tajudeen Olanrewaju Bakare, narrowly escaped arrest and is hereby declared wanted," the statement said.
The police said, "Any useful information leading to his arrest would be highly appreciated and treated with the utmost confidentiality."
"While appreciating Lagosians for their vigilance and prompt information to security agencies, the Lagos State Police Command once again warns all trouble makers to steer clear of the state as anyone found wanting would be dealt with in accordance with the law," Mr Hundeyin further said.
This is not the first time Mr Bakare is having an issue with the Lagos Police Command.
In 2021, he was accused of being part of unrest in the Ojota area of Lagos State, which led to the death of a female hawker, Miss Jumoke Oyeleke. He was charged to court for the death of the teenager.
There Are People in the Villa Who Want APC to Lose 2023 Elections—El-Rufai
By Aduragbemi Omiyale
The Governor of Kaduna State, Mr Nasir El-Rufai, has disclosed that some persons in the corridors of power are working to weaken the chances of the ruling All Progressives Congress (APC) in this year's general elections.
On February 25, 2023, Nigerians will head to the polls to elect a new president and members of the National Assembly, and on March 11, 2023, the Independent National Electoral Commission (INEC) will conduct the governorship and state houses of assembly elections.
While speaking recently in Ogun State, the candidate of the APC in the presidential exercise, Mr Bola Tinubu, claimed that some powers that be were plotting to ensure that he does not win the presidential poll.
According to him, these people in the administration of President Muhammadu Buhari are behind the current scarcity of premium motor spirit (PMS), commonly known as petrol, and the scarcity of new Naira notes, which has affected many businesses in the country.
"They are full of mischief, they could say there is no fuel. They have been scheming to create a fuel crisis but forget about it. Relax, I, Asiwaju, have told you that the issue of fuel supply will be permanently addressed," he said at the campaign rally," Mr Tinubu said at the campaign rally in Abeokuta recently.
"Let them increase the price of fuel, let them continue to hoard fuel, only them know where they have hoarded fuel, they hoarded money, they hoarded naira; we will go and vote, and we will win even if they changed the ink on Naira notes. Whatever their plans, it will come to nought," he added.
Speaking on Wednesday on a Channels Television breakfast programme, Sunrise Daily, which was monitored by Business Post, Governor El-Rufai agreed with Mr Tinubu that some people in power were making efforts to contribute to the downfall of the APC at the polls this month, saying some of the policies of the federal government led by the APC were anti-people.
"Nigerians should know that these policies are not policies of our party but some economists who are bent on making sure that we lose the election. Policies purposely designed to crash the political process," Mr El-Rufai stated.
He further said, "I believe that there are elements in the Villa that want us to lose the elections because they didn't get their way. They had their candidates but did not win the [presidential] primaries. They are still trying to get us to lose the elections and are hiding behind the President's desire to do what he thinks is right."
Latest News on Business Post