Survey Shows Impact of COVID-19 on Gig Workers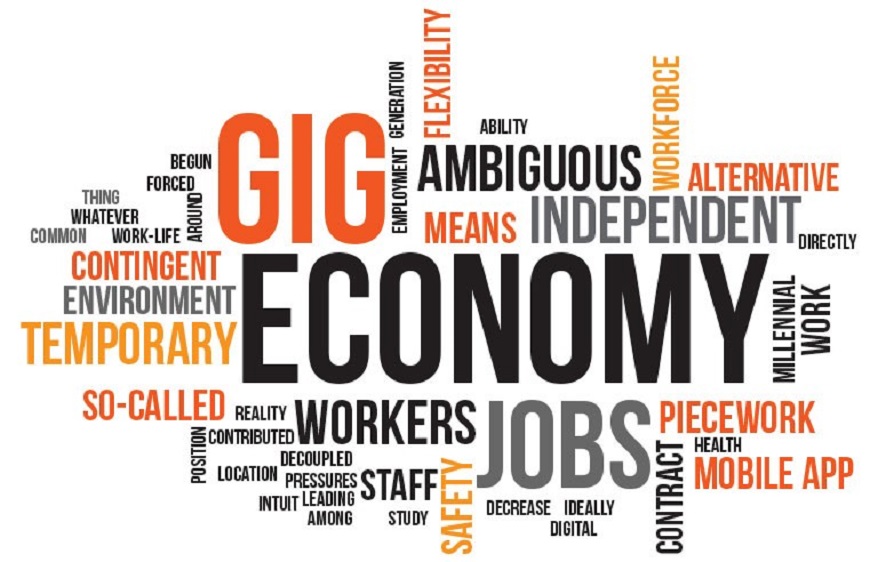 A new survey has shown that gig workers have been impacted by the COVID-19 pandemic, with approximately 4 out of 5 workers now earning less than $240 per month, compared to 16 per cent before the COVID-19 lockdown.
The new study was carried out by Flourish, a mission-oriented global venture capital firm with portfolio investments throughout Africa.
The organisation, which published the South African edition of The Digital Hustle: Gig Worker Financial Lives Under Pressure, said it tracked the experiences of gig workers, including those who use digital platforms such as e-hailing or delivery apps, to learn more about how they are faring during the COVID-19 pandemic.
The South African survey is part of  a bigger study in May tracking the experiences of gig workers across the globe. The firm released the Brazil edition in June 2020 and is currently fielding surveys in India, Indonesia, and the U.S.
With each of its country-specific studies, Flourish aims to help fintech entrepreneurs connect with the people most in need of aid and better understand their needs.
Surveying more than 600 South African gig workers, Flourish found that 76 per cent experienced a large decrease in income since March 2020. The report also summarized how gig workers are coping with economic dislocation.
It was observed that 91 per cent are very concerned about COVID-19, specifically, how gig workers believe it will affect their ability to earn an income (46 per cent) and the risk to their family's health (26 per cent).
Also, some gig workers are impacted more than others. E-hailing drivers were twice as likely as delivery workers to report a significant decline in quality of life, with 83 per cent suffering a large decrease in income.
The report noted that coping strategies among South African gig workers vary. Some have a financial cushion, but a majority live on the edge. If they lost their main source of income, 58 per cent of respondents reported they could not cover household expenses for a month without borrowing.
Most have made sacrifices to cope with the pandemic and accompanying economic dislocation. Over half of gig workers have already reduced their household expenses, almost half borrowed money, and nearly 3 out of 4 had to rely on savings.
Yet, only 1 in 5 are seeking additional income – a low figure possibly driven by the strictly enforced COVID-19 lockdown.
As part of the survey questionnaire, gig workers were asked to share anonymous comments to describe how they are faring in the current conditions. "People are not buying as they used to do," said a delivery driver. "The number of deliveries has dramatically dropped. It is a big challenge now." An e-hailing driver said, "We are eating two meals a day. That is what we can afford now."
The report said in the next 6 months, nearly all respondents plan to restart or continue the work they were doing before the lockdown. The majority are concerned about the ability to earn an income, find work, cover day-to-day work expenses. For 4 out of 5 people, health risk associated with returning to work was not a top concern.
Despite recent hardships, Flourish expects continued growth in online platforms and financial tools to support gig workers.
In addition to these findings, the South African edition of The Digital Hustle: Gig Worker Financial Lives Under Pressure provides early insights into how platforms and financial services providers can best serve this emerging digital workforce.
"Digital platforms have made it possible for workers around the world to participate in the gig economy, providing a degree of formality and stability to their work," said Arjuna Costa, managing partner at Flourish. "When the coronavirus outbreak caused the global economy to come to a halt in Q1 of this year, workers were severely impacted. By tracking gig worker experiences in South Africa, and elsewhere, we hope to open conversations about how fintech companies can build lasting solutions for this vulnerable population of citizens."
Flourish said it partnered with research firm 60 Decibels and gig worker startups FlexClub and Picup to conduct the online survey of 605 gig workers from June 21-28, 2020. Of these respondents, 425 were e-hailing drivers and 180 were delivery workers.
Eaton Calls for Stoppage of Sulphur Hexafluoride Gas 
By Adedapo Adesanya
Leading power management company, Eaton Nigeria, has advocated the regulation of sulphur hexafluoride (SF6) gas usage in electrical power distribution networks.
This call was made during the company's Power & Water Nigeria Exhibition and Conference 2022, an event that connects the Nigerian utility industry.
The event which was organised by Vertex Global services saw the participation of experts and exhibitors from over 20 countries.
The gathering enabled global stakeholders to access engaging technical discussions, on-the-spot assessment of the region's opportunities in power generation, distribution, renewables, and water & utility sectors; as well as exhibitions from leading local and international suppliers.
During his presentation on the topic, A Call to Action on the 'dirtiest' greenhouse gas in clean energy, Mr Charles Iyo, Regional Sales Manager Eaton West Africa said "Sulphur hexafluoride gas which is used in the production of most switchgears remains one of the world's potent greenhouse gases that adversely affect the environment. 1kg of SF6 is equivalent to 23,500 Kg of CO2 in global warming potential, and each unit of switchgear is estimated to use 2.5 kg of SF6 gas; which makes it devastatingly dangerous to the climate."
"Government in Africa, especially Nigeria needs to take proactive measures such as implementing new regulations to ban the use of SF6 Gas in switchgear production. Also, regulatory bodies and industry stakeholders need to collaborate and elevate industry practice and policies to implement the use of SF6 free technology thereby creating a safe and sustainable future," he added.
Mr Iyo further highlighted SF6-free alternatives that could positively combat climate change, saying the adoption of vacuum technology is considered a safe, compact and reliable alternative to SF6 gas in the production of switchgears.
Eaton has been at the forefront of advocating the elimination of SF6 gas globally. The power management company pioneered SF₆ free medium voltage switchgear production in 1960 with Magnefix, a compact solution for distribution system operators.
The various range of SF6 free switchgears are produced with environmentally friendly technology in comparison with the methods used by many other suppliers, which use SF6 as insulation gas.
OVH Energy Rewards Distributors for Outstanding Performance
By Adedapo Adesanya
Leading supplier and distributor of refined petroleum products, OVH Energy Marketing, has rewarded its top-performing lubricant distributors for their outstanding performance at a presentation ceremony held in Lagos.
During the presentation ceremony which happened at Aspamda Market, two qualified distributors who each sold over 1 million litres of lubricants were recognized in line with the management's commitment to award deserving distributors.
Chucorl Nigeria Limited and Ade De Young Auto Limited, who met and exceeded the set target in the distribution of OLEUM lubricants, were awarded OLEUM branded trucks at the ceremony.
Speaking at the event, the Chief Executive Officer, OVH Energy Marketing, Huub Stokman posited that the ceremony was organized to reward top-performing distributors as well as inspire others through their exemplary feats.
"Our distinctive progress as the leading downstream oil and gas company is built on the commendable dedication and support of our partners as well as the contributions of our staff. I applaud the awardees and other OLEUM distributors for their diligence and resourcefulness in making sure that the OLEUM range of lubricants remains a market leader," he said.
"Oleum is a product made in Nigeria, by Nigerians, for Nigerians. Our dream is to formulate the best lubricant available in the Nigerian market at a very affordable price. The hard work of our partners continues to contribute immensely to the growth of the organization and for that we are thankful," he continued.
Commenting at the presentation ceremony, Mr Lateef Adeleke, owner Ade De Young Auto Ltd., an awardee said "I appreciate the company for this initiative to reward distributors with branded trucks. Rewarding deserving distributors with the branded trucks is a thoughtful initiative from OVH Energy Marketing."
On his part, Mr Oliver Jacob, CEO Chucorl Oil and Gas Limited said "This acknowledgement from OVH Energy Marketing is indeed an incentive to do even more. The trucks will be valuable in strengthening our supply chain and meeting our increasing consumer demand."
In recent years, OVH Energy Marketing has embarked on diverse empowerment initiatives such as the OLEUM Academy and the Mechanic Oleum Reseller Enterprise Initiative.
OLEUM academy has impacted over 5,000 individuals nationwide through the provision of automotive mechatronics, lubrication, and entrepreneurship training.
The Mechanic Oleum Reseller Enterprise Initiative is an avenue for auto-technicians to boost their income through the sales of lubricants in their workshop.
Capital Market Can Attract Funds to Solve Nigeria's Infrastructure Deficiency—Yuguda
By Aduragbemi Omiyale
The Director-General of the Securities and Exchange Commission (SEC), Mr Lamido Yuguda, has again emphasised that the current infrastructure deficiency in Nigeria can be solved with the help of the capital market.
While addressing the new executives of the Chartered Institute of Stockbrokers (CIS) in Abuja over the weekend, he said all that was needed was for the government to partner with the private sector to bridge the infrastructure gap by approaching the capital market for funding.
"We have a huge infrastructural deficit in the country like insufficient power, lack of good roads among others. We want our country to have good infrastructure and I know this is possible with the help of the capital market and other stakeholders.
"It requires adequate planning and financing and we can achieve it as a nation. The capital market through the private sector can fund road construction while the government focuses on other issues," the SEC DG said, appealing to the relevant stakeholders to cooperate with the agency to achieve this goal.
He also said for the capital market to attain full potential, all stakeholders need to ensure they carry out their functions with integrity and fairness in a bid to restore investor confidence.
Mr Yuguda acknowledged CIS as a key partner in the commission's regulation of the market, assuring that the SEC would continue to provide the needed support.
"On behalf of the Board and staff. We will give you all possible co-operation you desire to make your job easy. We are here to support this market and make it the market we all desire," he said.
The SEC boss stated that derivatives trading has commenced for people who want to manage their risk, adding that the SEC is working to increase the literacy of Nigerians so they can take better decisions.
"The future for this country is bright and we have the young population to push it. We can have a much better standard of living than we have now and we hope you will continue to give a lot to the market.
"We are committed to any initiative that will further spur the growth of the capital market. We also have a review of the ISA bill pending at the National Assembly and that bill has a lot that will revitalize this market," he added.
In his remarks, the President of CIS, Mr Oluwole Adeosun, commended the SEC for the relationship that exists between the Commission and the Institute and thanked the Management for always supporting the organisation.
"Thank you always because you have embraced the institute and made it clear that you desire a very harmonious relationship and we are happy about it.
"You have shown this in your actions since you came into office and we appreciate you for all your efforts, we pray that investors benefit greatly from their investments in the capital market. Thank you for all your support to the CIS Bill," he said.
The former President of CIS, Mr Olatunde Amolegbe, also thanked the DG for the efforts the management has been making to support the CIS, adding that the institute has been able to function effectively due to the support of the SEC.
Latest News on Business Post