UN Scribe Approves $100m for Nigeria, Mali, Others
By Modupe Gbadeyanka
Secretary-General of the United Nations, Mr António Guterres, has released $100 million from the UN Central Emergency Response Fund (CERF) to sustain aid operations in nine neglected emergencies.
CERF's largest allocation of the year will reach more than 6 million people in crises where levels of vulnerability are alarmingly high but funding remains critically low.
These countries are Cameroon, the Democratic People's Republic of Korea (DPRK), Libya, Madagascar, Mali, Niger, Nigeria, Somalia and Uganda.
"CERF is a lifeline for people caught up in crises that don't make the headlines but where needs are just as urgent," said the Secretary-General. "This funding is crucial so that the UN and partners can continue assisting people who need our help so desperately. I thank all Member States and donors who have made this possible."
A large portion of the funds will reach people affected by displacement – one of the most pressing humanitarian challenges in today's world where more than 65 million people are displaced.
CERF funds will ensure that millions of people who fled Boko Haram-related violence and conflict in Nigeria, Niger and Cameroon will receive health care, food assistance and shelter.
In Somalia, Uganda and Libya, CERF will bring relief to internally displaced people and refugees from neighbouring countries. Urgent support will also reach those suffering from malnutrition and food insecurity in Madagascar, Mali and DPRK.
This allocation of $100 million addresses only a small portion of urgent humanitarian needs. As the scale and intensity of emergencies continue to increase, a larger, more robust CERF is needed so that aid can reach people, whenever and wherever crises hit. To this end, the UN General Assembly has endorsed former Secretary-General Ban Ki-moon's recommendation to double CERF's annual target to $1 billion by 2018.
"CERF is one of the fastest ways to provide urgent aid. The allotment approved today will save lives in all nine countries," said Emergency Relief Coordinator and Under-Secretary-General for Humanitarian Affairs Stephen O'Brien. "As we race to address the humanitarian challenges of today, our goal of a $1billion CERF is vital so that help reaches people, whenever and wherever crises hit. A strong CERF — for all and by all – is a key step towards our shared commitment to leave no one behind."
Atiku Emerges PDP Presidential Candidate for 2023 Election
By Dipo Olowookere
Former Vice President, Mr Atiku Abubakar, has emerged as the candidate of the Peoples Democratic Party (PDP) for the 2023 presidential election.
He won the PDP presidential primary at the special national convention of the opposition party held on Saturday at the MKO Abiola Stadium, Abuja.
The flagbearer of the party in the 2019 presidential election polled 371 votes to beat his closest rival, Governor Nyesom Wike of Rivers State, who garnered 237 votes, to clinch the ticket.
Shortly before the voting started on Saturday night, one of the aspirants and Governor of Sokoto State, Mr Aminu Tambuwal, stepped down for Mr Atiku. This may have boosted the votes of the eventual winner of the exercise.
In his acceptance speech, the former VP promised to work together with the other contestants and unite the party so as to wrestle power from the ruling All Progressives Congress (APC).
He said if elected as President of Nigeria next year, his administration will tackle the security issues in the country and then work tirelessly to revamp the economy, which will lead to the creation of jobs for the youths.
He called on members of the party, especially those who left because of the way they were treated, to return and work with him to save the nation.
"Today, the battle to rebuild and unite our great country moves forward. I'm honoured to be named the PDP candidate. I look forward to speaking with Nigerians across the country, taking the message of hope and unity as we build one future for one people," the PDP presidential candidate said after he was announced the winner of the primary.
Mr Atiku first attempted to become the president of the country in 1992. In 1999, he was sworn in as VP and served with former President Olusegun Obasanjo, who governed the country between 1999 and 2007.
Temile, Hyundai LPG Vessel Construction Deal Thrills NCDMB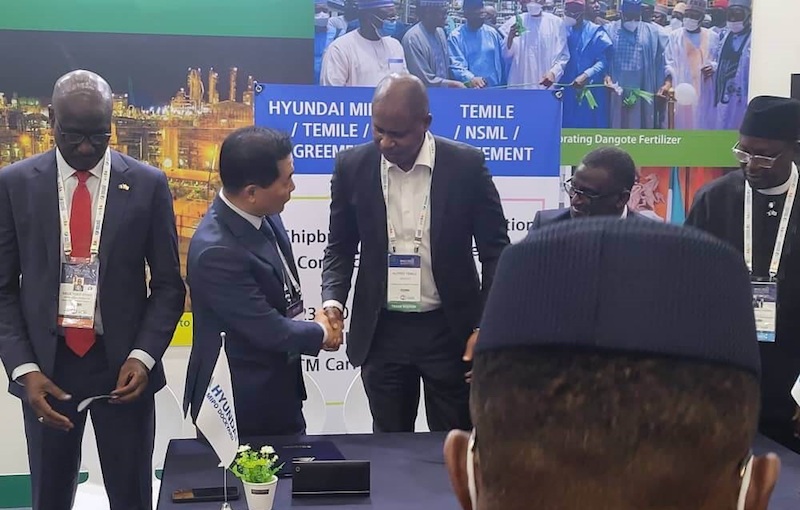 By Adedapo Adesanya
An indigenous shipping company, Temile Development Company, has signed a contractual agreement with Hyundai Mipo Dockyard (HMD) for the construction of a new 23,000 cubic meters Liquefied Petroleum Gas Carrier (LPG) Vessel.
The Nigerian shipping firm also sealed a separate deal with an integrated maritime services subsidiary of Nigeria LNG Limited, NSML, for the supervision of the project.
The LPG vessel is the second that is being constructed by the Temile Development Company and is a sequel to the first vessel which was constructed in 2018 and is currently chartered to Nigeria LNG Limited for domestic LPG supply.
This development has sweetened the Nigerian Content Development and Monitoring Board (NCDMB), which has expressed its excitement over the involvement of local companies in boosting gas development in the country.
The Executive Secretary of NCDMB, Mr Simbi Kesiye Wabote, saluted Temile Development Company for its bullish initiative in investing in an area that is regarded as off-limits for local players.
In a video message delivered during the signing ceremony held on the sidelines of the 2022 World Gas Conference in Daegu, South Korea, he described the accomplishment as evidence of significant growth in the capacity and confidence of local companies to play in the international arena and in complex areas of the oil and gas industry.
The new 23,000 cubic LPG/NH3/VCM Carrier to be constructed is a high-end specification vessel that has been designed by NSML in accordance with bespoke requirements using HMD's highly efficient eco-design. The new LPG carrier is expected for delivery on July 26, 2023, at HMD in Ulsan, Korea.
Mr Wabote indicated that the agreement signing event and subsequent construction and supervision of the contract align with the board's strategic plan of maximizing the potential in the Midstream and Downstream Sectors of the Nigerian oil and gas industry, especially as the oil and gas industry strives to actualize the Decade of Gas policy of the Federal Government.
According to him, "this project clearly supports our LPG penetration initiative in Nigeria and will further close the gap in LPG penetration in Nigeria."
He stated further that the project will bring invaluable local content opportunities in technology and innovation, human capital development and research and development.
Speaking further, the Executive Secretary commended Hyundai for the work it was doing at the Brass Shipyard and other investment projects in Nigeria that will support the repair of vessels.
He also applauded NLNG for the strategic initiative of deploying 100 per cent LPG to the local market to close the gap in respect of LPG penetration in-country, adding the company has helped in reducing cost as well as creating a cleaner source of energy for our people.
On his part, Mr Temile's Chief Executive, Mr Alfred Temile said "We are delighted to execute the construction of our new LPG carrier with HMD, bringing onboard NSML to supervise the construction, as an indigenous company this demonstrates our commitment and support to the Nigeria Local Content Act and as well establishes our confidence in local capacity to deliver international acceptable standards.
"Having taken delivery of our first LPG carrier vessel which is currently chartered to Nigeria LNG Limited for domestic LPG supply, we look forward to taking delivery of this new carrier in July 2023 to make an addition to the global gas supply industry."
He added that "working with HMD again makes us feel in very safe hands as we are confident that this eco-design / cleaner fuel vessel shall be constructed in line with international best practices and industry regulations thereby creating a space for the vessel in the international gas supply value chain."
Peter Obi Joins Labour Party
By Aduragbemi Omiyale
Former Governor of Anambra State, Mr Peter Obi, has joined the Labour Party after resigning his membership of the Peoples Democratic Party (PDP).
On Wednesday, May 25, 2022, Mr Obi, who was the vice presidential candidate of the PDP in the 2019 election, announced his exit from the party and thereafter withdrew from the presidential primary of the leading opposition party.
"I am writing to intimate you of my resignation from the Peoples Democratic Party (PDP), which was conveyed to the Chairman of Agalu Ward 2, Anaocha LGA Anambra, effective Friday, May 20, 2022.
"Consequently, I am by this letter informing you of my withdrawal from the PDP presidential primaries," a statement issued by him about 48 hours ago stated.
On Friday, the businessman confirmed that he has joined the Labour Party and would possibly use the platform to achieve his ambition of becoming the President of Nigeria.
"Since I resigned from the PDP because of issues that are at variance with my persona and principles, I have consulted widely with various parties and personalities to ensure we do not complicate the route to our desired destination.
"For me, the process of achieving our goal is as fundamental as what one will do thereafter.
Therefore, I have chosen a route that I consider to be in line with our aspirations and my mantra of taking the country from consumption to production; and that is the Labour Party which is synonymous with the people, workers, development, production, securing and uniting  Nigerians as one family.
"I invite all Nigerians to join me in taking back our country.
"Be assured that I'll never let you down," Mr Obi said in the statement today.
Latest News on Business Post