Youths Constitute 65% of New CVR Registrants—INEC Chairman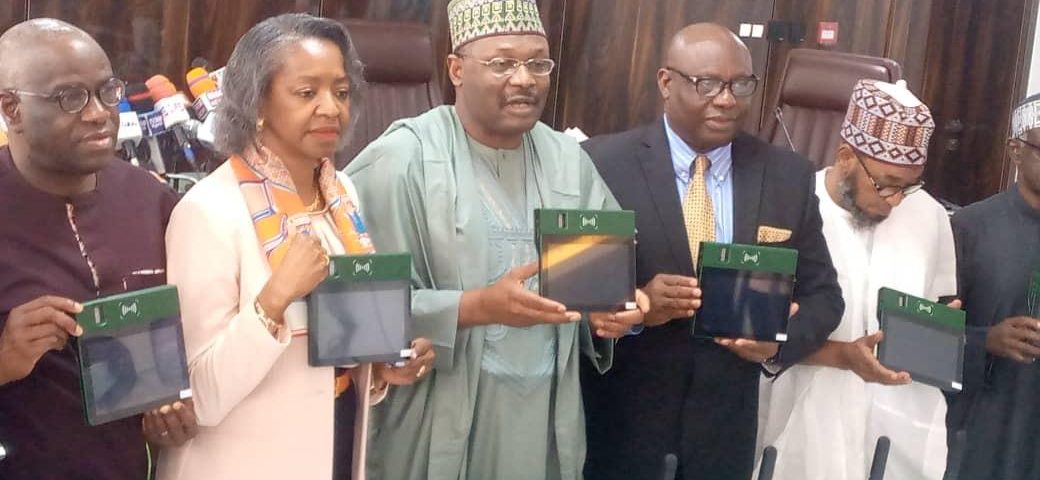 By Ashemiriogwa Emmanuel
Young Nigerians across the country between the ages of 18 and 34 make up 65 per cent of new registrants for the Continuous Voter Registration (CVR) exercise, and 72 per cent of completed registrations so far.
This was recently disclosed by the Chairman of the Independent Electoral Commission (INEC), Mr Mahmood Yakubu, while speaking at the third quarterly meeting with political parties held at the commission conference room in Abuja.
It would be recalled that the last meeting of its kind, which was held in June, saw the presentation of technology-driven innovations to facilitate the CVR exercise in the form of a portal for online pre-registration of voters as well as the new INEC Voter Enrolment Device (IVED) for physical registration.
While giving an update on the new CVR registrants, the INEC boss said, as of the time of presentation, nearly 3 million fresh voters have pre-registered online, while 717,000 Nigerians across states and local governments nationwide have completed their registration at the designated centres.
In the statement, Mr Yakubu said, "Since the resumption of the CVR online on June 28, 2021, we have been giving Nigerians weekly updates on the progress of the exercise which has entered its 11th week today.
"As of 7 am today, Monday, September 6, 2021, [a total of] 2,729,819 fresh voters have pre-registered online. Similarly, we have been giving weekly updates of the physical registration in our state and local government offices nationwide. We started on July 26, 2021. So far, 717,947 Nigerians have completed their registration at the designated centres."
Emphasizing the benefit of technology in the collation of data and cumulative distribution of registered voters based on demographics, Mr Yakubu relayed a statistical report on the engagement of Nigerians in the ongoing registration exercise.
"For instance, in terms of age, young Nigerians between the ages of 18 and 34 constitute 65 per cent of new registrants and 72 per cent of completed registrations so far.
"In terms of occupation, students constitute 32 per cent of the new registrants and 42 per cent of completed registrations and remain the largest category since the exercise began 11 weeks ago," the INEC chairman explained.
He added that the provision of these data will help leaders of political parties in articulating manifestos and planning campaigns to target the concerns of specific categories of citizens, as they have been uploaded to the Commission's website and social media platforms.
Mr Yakubu reiterated the commission's continued effort in innovating on how to strengthen the credibility of voter accreditation and result management during elections in Nigeria, noting that the deployment of appropriate technology is crucial and desirable.
Lagos NUJ Tasks Companies to Emulate Airtel's Support for Media Professionals
By Modupe Gbadeyanka
The Lagos State Chapter of the Nigeria Union of Journalists (NUJ) has commended Airtel Nigeria for throwing its full weight behind the media and journalists in the country, tasking other well-meaning private entities to emulate the telecommunications services provider.
The Chairman of the group, Mr Adeleye Ajayi, disclosed that the telco has always supported the fourth estate of the realm in the discharge of its responsibilities.
Speaking at the media briefing on Friday, October 15 at LTV Ikeja, Lagos, to officially announce the Lagos NUJ 2021 Press Week, Mr Ajayi said Airtel has demonstrated its commitment to supporting platforms and initiatives geared towards promoting and upholding professional and ethical standards in the journalism profession in Nigeria through the partnership with Lagos NUJ.
The Lagos NUJ 2021 Press Week commenced on Monday, October 18, will end on Sunday, October 24 and activities lined up are aimed at brainstorming on crucial issues of national interest as well as fostering camaraderie among council members of the organization. These are a health walk, novelty football match, public lecture, among others.
Felicitating with the Lagos NUJ, the Corporate Communications/CSR Director of Airtel Nigeria, Mr Emeka Oparah, lauded the organisation for creating a strong platform and rallying point for journalists to reflect on their important role of gatekeeping and nation-building as well as celebrating exemplary and outstanding professionals in their fold.
"Airtel is delighted to be part of this occasion and we are glad to be associated with Nigerian journalists as we believe journalists play an important role in empowering citizens and building a better society.
"We felicitate with the Lagos NUJ and we wish its leadership and members the very best as they reflect on their role in society and seek innovative solutions to keeping the society informed," Mr Oparah, who was represented at the briefing by the Head of Public Relations at Airtel Nigeria, Mr Erhumu Bayagbon, stated.
Coca-Cola Targets Total Renewable Energy Adoption by 2040
By Adedapo Adesanya
The Coca-Cola Hellenic Bottling Company (CCHBC) has announced its commitment to achieving net-zero emissions across its entire value chain by 2040.
The commitment, which was recently launched across 28 markets by the leading bottlers of the Coca-Cola brands, represents a bold response to the global concerns around climate emergency and its threats to the future of the planet.
The company aims to achieve this total renewable energy adoption target through the adoption of several initiatives, including the investment of €250 million in emissions reduction initiatives by 2025; switching to 100 per cent renewable electricity and low carbon energy sources; accelerating efforts towards low carbon packaging by increasing rPET use and adopting package-less and refillable options and removing plastics in secondary packaging.
The organisation also plans to provide energy-efficient and eco-friendly coolers to customers, reduce emissions from agricultural ingredients and implement a "Green Fleet" programme to switch to low and no-carbon alternatives.
Commenting on the initiative, Mr Zoran Bogdanovic, CEO of Coca-Cola HBC, said, "This commitment is the ultimate destination of a journey that we started many years ago. It is fully aligned with our philosophy to support the socio-economic development of our communities and to make a more positive environmental impact. Both are integral to our future growth.
"Although we don't yet have all the answers, our plan, track record and partnership approach give us confidence that we will deliver."
Also commenting on behalf of one of the company's partners, Mr Markus Pfanner, Vice President, Sustainability Tetra Pak, said: "As Tetra Pak also has a net-zero target and SBTi approved 1.50 aligned 2030 targets, we look forward to working with Coca-Cola HBC to reduce GHG emissions and together achieve our joint aims."
In Nigeria, NBC is playing its role to accelerate efforts towards reaching this target through several interventions.
The company commenced the transition of four of its manufacturing plants in Maiduguri, Kano, Asejire and Abuja, to renewable energy sources through the installation of solar power infrastructure. These efforts deliver up to 2,650 KWP to the facilities, and the expansion phase will even deliver more carbon footprint reduction.
Furthermore, NBC has completed the installation of Combined Heat and Power Plants (CHP) at four of its manufacturing plants which has resulted in a significant reduction of its carbon footprint across the country. With the CHPs, heat emission that would have been lost is effectively channelled back into powering boilers at the plants.
As an innovative leader in water stewardship, the company has also ensured that all its manufacturing facilities have effluent treatment plants which ensure that wastewater released from operations are safe for plant and animal life.
As a confirmation, all NBC plants have received the prestigious Alliance for Water Stewardship certification, the highest global benchmark for responsible water stewardship.
Speaking on the company's interventions so far, the Managing Director at NBC, Mr Mathieu Seguin, said, "Climate change is a global emergency that requires deliberate, proactive and coordinated efforts to be mitigated. We have seen its impact on agriculture and food production, rising sea levels, declining biodiversity, and the threat to coastal communities.
"We are passionate about leading efforts that strengthen the sustainability of the environment while supporting the socio-economic development of our communities. These priorities are integral to our future growth and central to our values as an organization."
Through an existing and approved science-based target, the CCHBC is aiming at a 25 per cent reduction in its value chain emissions by 2030 and a further 50 per cent reduction the following decade.
To address the 90 per cent of emissions resulting from third party actions, the company is broadening the existing partnership approach with suppliers whilst also investing in other climate protection measures wherever emissions cannot be eliminated entirely.
Prophet Iginla Fixes October 30 for Mother's Burial in Ekiti
By Dipo Olowookere

Popular Nigerian clergy, Prophet Joshua Iginla, has concluded plans to give his late mother, Deaconess Lasisi Iginla, a befitting burial, with the funeral rites lasting three days.
A statement issued by his media representatives disclosed that the burial rites will commence on Friday, October 29 and end on Sunday, October 31, 2021, in Ekiti State.
The General Overseer of Champions Royal Assembly lost his mother to the cold hands of death on Thursday, April 15, 2021.
The woman, who was aged 83 before her demise, was said to have lived an exemplary life, with the cleric describing her as the queen of peace and love.
In the statement, it was stated that several dignitaries from within and outside the country are expected to gather at Oke-Ila in Ekiti State to celebrate the life and times of Mama Iginla.
It was revealed that on Friday, there would be a service of songs at Champion Royal Assembly, which is located opposite Yemraf Hotel, Adebayo Ado-Ekiti from 5 pm to 9 pm, while the next day, the lying-in-state will take place at the same church from 7 am to 9 am and by 11 am, the internment will hold at her residence along Afao Road, behind CAC (Rejoice Arena), Ado-Ekiti, Ekiti, with the entertainment of guests fixed for Damlek Multi-Purpose Hall and Event Centre, Beside Five O's Filling Station, Afao Road, Oke-Ila, Ado-Ekiti,
On Sunday, October 31, a thanksgiving service will take place at Champions Royal Assembly in Ado-Ekiti by 7 am.
Prophet Iginla, while commenting on the death of his mother, said she was "the vehicle that brought me to the world. You are my hero of childhood mum. You held my hands when I was small, you caught me when I fell and you taught me love, forgiveness and how to be a giver."
"I remember your last word mum, today you have gone to be with the Lord. Death takes the body. God takes the soul and the spirit. Our mind holds your memories. Our heart keeps your love. Our faith let us know, we will meet you again.
"Your 83 years on earth was a blessing. Your memory [is] a treasure. I love you mum forever," he added.
Latest News on Business Post