18.2m People On Antiretroviral Therapy—UNAIDS
By Modupe Gbadeyanka
A new report by the UNAIDS has shown that countries are getting on the Fast-Track, with an additional one million people accessing treatment in just six months (January to June 2016).
The reports revealed that by June 2016, around 18.2 million [16.1 million–19.0 million] people had access to the life-saving medicines, including 910 000 children, double the number five years earlier. If these efforts are sustained and increased, the world will be on track to achieve the target of 30 million people on treatment by 2020.
Yesterday, the Get on the Fast-Track: the life-cycle approach to HIV, was launched in Windhoek, Namibia, by the President of Namibia, Hage Geingob and the Executive Director of UNAIDS, Michel Sidibé.
"Just under two years ago, 15 million people were accessing antiretroviral treatment—today more than 18 million are on treatment and new HIV infections among children continue to fall," said President Geingob. "Now, we must ensure that the world stays on the Fast-Track to end the AIDS epidemic by 2030 in Namibia, in Africa and across the world."
The report contains detailed data on the complexities of HIV and reveals that girls' transition to womanhood is a very dangerous time, particularly in sub-Saharan Africa. "Young women are facing a triple threat," said Mr Sidibé. "They are at high risk of HIV infection, have low rates of HIV testing, and have poor adherence to treatment. The world is failing young women and we urgently need to do more."
HIV prevention is key to ending the AIDS epidemic among young women and the cycle of HIV infection needs to be broken. Recent data from South Africa shows that young women are acquiring HIV from adult men, while men acquire HIV much later in life after they transition into adulthood and continue the cycle of new infections.
The report also shows that the life-extending impact of treatment is working. In 2015, there were more people over the age of 50 living with HIV than ever before—5.8 million. The report highlights that if treatment targets are reached, that number is expected to soar to 8.5 million by 2020. Older people living with HIV, however, have up to five times the risk of chronic disease and a comprehensive strategy is needed to respond to increasing long-term health-care costs.
The report also warns of the risk of drug resistance and the need to reduce the costs of second- and third-line treatments. It also highlights the need for more synergies with tuberculosis (TB), human papillomavirus (HPV) and cervical cancer, and hepatitis C programmes in order to reduce the major causes of illness and death among people living with HIV. In 2015, 440 000 of the 1.1 million people who died from an AIDS-related illness died from TB, including 40 000 children.
"The progress we have made is remarkable, particularly around treatment, but it is also incredibly fragile," said Mr Sidibé. "New threats are emerging and if we do not act now we risk resurgence and resistance. We have seen this with TB. We must not make the same mistakes again."
Get on the Fast-Track: the life-cycle approach to HIV outlines that large numbers of people at higher-risk of HIV infection and people living in high-burden areas are being left without access to HIV services at critical points in their lives, opening the door to new HIV infections and increasing the risk of dying from AIDS-related illnesses. The report examines the gaps and approaches needed in HIV programming across the life cycle and offers tailored HIV prevention and treatment solutions for every stage of life.
"Ending AIDS is possible only if we join hands—by each doing what is within our scope, creatively and aggressively embracing the 90–90–90 targets," said Eunice Makena Henguva, Youth Economic Empowerment Project Officer for the Namibian Women's Health Network.
From birth
Globally, access to HIV medicines to prevent mother-to-child transmission of HIV has increased to 77% in 2015 (up from 50% in 2010). As a result, new HIV infections among children have declined by 51% since 2010.
The report highlights that of the 150 000 children who were newly infected with HIV in 2015, around half were infected through breastfeeding. It stresses that infection through breastfeeding can be avoided if mothers living with HIV are supported to continue taking antiretroviral medicines, allowing them to breastfeed safely and ensure that their children receive the important protective benefits of breastmilk.
Testing also remains a major issue. The report shows that only four of 21 priority countries in Africa provided HIV testing for more than half the babies exposed to HIV within their first weeks of life. It also shows that in Nigeria, which accounts for more than a quarter of all new HIV infections among children globally, only half of pregnant women living with HIV are tested for HIV.
Get on the Fast-Track: the life-cycle approach to HIV stresses that more efforts are needed to expand HIV testing for pregnant women, expand treatment for children and improve and expand early infant diagnosis by using new diagnostic tools and innovative methods, such as SMS reminders, to retain mothers living with HIV and their babies in care.
The report also encourages countries to adopt the targets of the Start Free, Stay Free, AIDS Free framework led by UNAIDS and the United States President's Emergency Plan for AIDS Relief to reduce the number of new HIV infections among children, adolescents and young women, and ensure lifelong access to antiretroviral therapy if they are living with HIV.
Through adolescence
The report shows that the ages between 15 and 24 years are an incredibly dangerous time for young women. In 2015, around 7500 young women became newly infected with HIV every week. Data from studies in six locations within eastern and southern Africa reveal that in southern Africa girls aged between 15 and 19 years accounted for 90% of all new HIV infections among 10–19-year-olds, and more than 74% in eastern Africa.
Globally, between 2010 and 2015, the number of new HIV infections among young women aged between 15 and 24 years was reduced by just 6%, from 420 000 to 390 000. To reach the target of less than 100 000 new HIV infections among adolescent girls and young women by 2020 will require a 74% reduction in the four years between 2016 and 2020.
Many children who were born with HIV and survived are now entering adulthood. Studies from 25 countries in 2015 show that 40% of young people aged between 15 and 19 years became infected through mother-to-child transmission of HIV. This transition is also magnifying another major challenge—high numbers of AIDS-related deaths among adolescents. Adolescents living with HIV have the highest rates of poor medication adherence and treatment failure.
A range of solutions are needed to respond to the specific needs of adolescents, including increased HIV prevention efforts, keeping girls and boys in school, increasing HIV testing and voluntary medical male circumcision, pre-exposure prophylaxis and immediate access to antiretroviral therapy.
Key populations
In 2014, an estimated 45% of all new HIV infections globally were among members of key populations and their sexual partners. The report warns that new HIV infections are continuing to rise among people who inject drugs (by 36% from 2010 to 2015) and among gay men and other men who have sex with men (by 12% from 2010 to 2015) and are not declining among sex workers or transgender people.
The report outlines the critical need to reach key populations with HIV prevention and treatment programmes that meet their specific needs throughout their lives; however, total funding levels are far below what is needed for HIV programmes to reach key populations, particularly funding from domestic sources.
Adulthood
In July 2016, in the HIV prevention gap report, UNAIDS warned that HIV prevention efforts are not working for adults and that new HIV infections among adults have failed to decline for at least five years. Get on the Fast-Track: the life-cycle approach to HIV cites concerns that western and central Africa is off-track in responding to HIV. The region accounts for 18% of people living with HIV, but a serious lack of access to treatment means that the region accounts for 30% of all AIDS-related deaths globally.
The report sheds new light on HIV infection and treatment among adult men, showing that men are much less likely to know their HIV status and access treatment than women. One study in KwaZulu-Natal, South Africa, showed that just 26% of men were aware of their HIV status, only 5% were on treatment and that the viral load among men living with HIV was extremely high, making onward transmission of the virus much more likely.
Into later life
The report shows that antiretroviral therapy is allowing people living with HIV to live longer. In 2015, people more than 50 years old accounted for around 17% of the adult population (15 years and older) living with HIV. In high-income countries, 31% of people living with HIV were over the age of 50 years.
Get on the Fast-Track: the life-cycle approach also shows that around 100 000 people in low- and middle-income countries aged 50 years and over are estimated to newly acquire HIV every year, confirming the need to include older people in HIV prevention, as well as treatment, programming.
As people living with HIV grow older, they are also at risk of developing long-term side-effects from HIV treatment, developing drug resistance and requiring treatment of co-morbidities, such as TB and hepatitis C, which can also interact with antiretroviral therapy. Continued research and investment is needed to discover simpler, more tolerable treatments for HIV and co-morbidities and to discover an HIV vaccine and cure.
Finding solutions for everyone at every stage of life
The report concludes that investments must be made wisely across the life cycle, using a location–population approach to ensure that evidence-informed, high-impact programmes are available in the geographical areas and among the populations in greatest need.
It strongly urges countries to continue to Fast-Track HIV prevention, testing and treatment in order to end the AIDS epidemic as a public health threat by 2030 and ensure that future generations are free from HIV.
Ramadan: Ogun Community Gets Free Medical, Household Items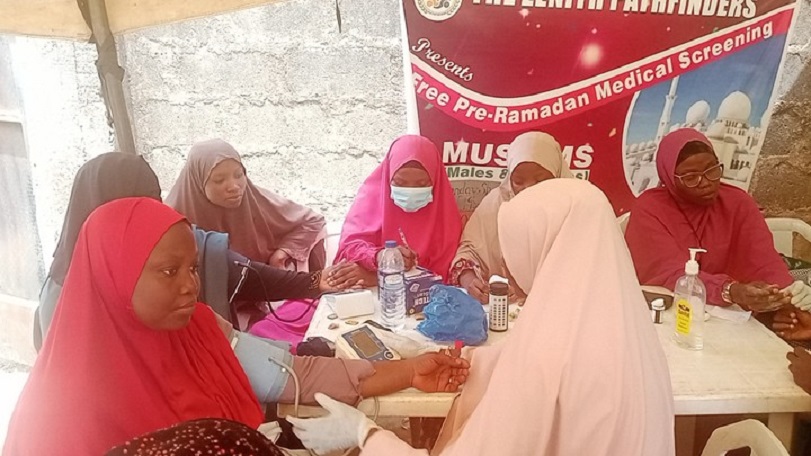 By Modupe Gbadeyanka
Ahead of the annual Islamic fast known as Ramadan starting in the coming days, a group known as the Zenith Pathfinders has organised a free medical screening for a community in Ogun State.
The group also shared free healthcare packages to residents of the Adiyan Muslim Community in Agbodo Oja, Ogun State, to enable them to be medically for the annual Islamic ritual.
According to a statement, the event was held on Sunday at 296 Orodu Road at Ilese Bus Stop, Adiyan in Agbado Oja, and more than 200 persons benefited from this.
The screening involved blood pressure, sugar level tests, as well as specialist consultation, with the required prescriptions and drugs given to the inhabitants of the community.
In a bid to also alleviate the suffering of the less privileged, Zenith Pathfinders also donated household items like shoes and clothes, among other items.
Addressing newsmen, the founder of Zenith Pathfinders, Hajiah Aminah Yahya, expressed joy at seeing the smiles on the faces of people who benefited from the gesture.
She explained that the purpose of the programme was to encourage Muslims to know their medical status before fasting so that can be able to have a hitch-free Ramadan.
"We are at the Adiyan Muslim community for the second edition of Pre-Ramadan Medical Screening. We started last year with over 300 participants, but this year, we have over 200 participants.
"The essence of having this programme before Ramadan is to encourage our people to know their medical status before Ramadan comes in.
"They have to know their health status so that they can take care of themselves before Ramadan so that they can have a hitch-free Ramadan. We also gave free household items like cloth materials, fans, freezers and others to over 150 Muslims," she added.
On his part, Dr Alabi Olarenwaju Usman of the Nigerian Navy Reference Hospital, Ojo, Lagos, said the majority of the Muslims who participated in the medical services were medically fit to fast in the month of Ramadan.
"We are here for humanitarian services for Adiyan Muslim Community. We attended to over 200 Muslims in the community. A few of the cases here involved hypertension, diabetes and malaria. We have given them the necessary assistance, and most of them are eligible for Ramadan," the medical practitioner, who was the consultant on the ground, said.
Some of the beneficiaries commended Zenith Pathfinders for the gesture, urging the government to do more to make health services affordable.
"This is good, and we sincerely thank the organisers. They conducted medical screening for us without collecting a dime. We are so grateful," the Imam of Ajumoni Central Mosque, Mutta Three, Ustadh Usman AbdulRaheem, said.
Russian COVID-19 Vaccines Disappear from Africa's Radar
By Kestér Kenn Klomegâh
Until recently, Africa has not been high on Russia's policy agenda. African leaders have to understand that Russia, for the past three decades, Africa was at the bottom of its policy agenda. After the end of the Soviet era, Russia has focused broadly on the United States and Europe, dreaming of becoming part of Europe, part of the configuration of the Global North. The low economic presence of Russia from 1991 until 2019 was a testament to the fact that Africa was at the bottom of its priority list. Of course, the October 2019 summit was symbolic, but after that, Russia has left most of the bilateral agreements undelivered across Africa.
With its "special military operation" on Ukraine that necessitated the imposition of stringent sanctions from the United States, European Union and their allies, the United Nations Security Council, mounting pressure on Russia since February 24 2022, pushes Russia to begin soliciting aggressively for support in Africa. Last July, in an article posted to its official website, Foreign Minister Sergey Lavrov wrote: "The development of a comprehensive partnership with African countries remains among top priorities of Russia's foreign policy; Moscow is open to its further build-up multifaceted relations with Africa."
In his Op-Ed article, Lavrov argues: "We have been rebuilding our positions for many years now. The Africans are reciprocating. They are interested in having us. It is good to see that our African friends have a similar understanding with Russia." Lavrov, however, informed about broadening African issues "in the new version of Russia's Foreign Policy Concept against the background of the waning of the Western direction" and this will objectively increase the share of the African direction in the work of the Foreign Ministry.
Lavrov consistently displays his passion for historical references. Soviet support for struggles for political independence and against colonialism should be laid to rest in the archives. The best way to fight neo-colonialism is to demonstrate by investing in those competitive sectors and depart away from hyperbolic rhetoric on an endless list of sectors. In practical terms, we rather face today's development challenges and what is in store for the future generation. Africa today does not need anti-Western slogans; Africa simply needs external players who would passionately and genuinely invest in the critical economic sectors. The fundamental fact is that Africa is making efforts to transform its economy to create employment, modern agriculture, and industrialize the continent, especially with the introduction of the African Continental Free Trade Area (AfCFTA).
Despite criticisms, China has built an exemplary distinctive economic power in Africa. Besides China, Africa is largely benefiting from the European Union and Western aid flows and economic and trade ties. Compared, Russia plays very little role in Africa's infrastructure, agriculture and industry and makes little effort to leverage the African Continental Free Trade Area (AfCFTA). Our monitoring shows that the Russian business community hardly pays attention to the significance of the African Continental Free Trade Area (AfCFTA), which provides a unique and valuable platform for businesses to access an integrated African market of over 1.3 billion people.
Lavrov's efforts toward building non-Western ties in these crucial times are highly commendable, especially with Africa. But, the highly respected Minister easily and most times forgot the fact that during these two-three years of a global pandemic, the coronavirus that engulfed the planet, in every corner of the world, Africa was desperately looking for vaccines. Health authorities are still warning that Covid-19 has not been completely faced throughout the world.
Quartz, a reputable global media, reported early this year that "as of the end of 2022, about a quarter of the population of African countries has been fully vaccinated against Covid-19, according to the latest figures shared by Africa CDC. The coverage varies drastically depending on the country. In Liberia, for instance, nearly 80% of the population is fully vaccinated, while only 34% is in neighbouring Sierra Leone. Congo, Sudan, Senegal, and Madagascar all have vaccination rates below 10%.
In his briefing, Ouma said the target for Africa remains to vaccinate 70% of the population. That goal, however, was set by the World Health Organization (WHO) for the overall population. These numbers are about to change – and not because of an increase in vaccinations. Africa CDC acting director Ahmed Ogwell Ouma announced in a video briefing on December 22 that it will modify the way it reports vaccination rates. Rather than reporting coverage of the overall population, it will only report vaccinations of the eligible populations aged 12 or more.
Due to delays in international vaccine deliveries, Africa lags behind the rest of the world in Covid vaccination rates and is the only continent where less than 50% of the population is fully vaccinated. Currently, just more than 800 million doses of vaccines have been administered in Africa, or 80% of the total received. About a third of the vaccinations have been made with Johnson & Johnson's vaccine, followed by Pfizer (22%), AstraZeneca (17%), China's Sinopharm (15%) and Sinovac (7%).
Several reports monitored by this author show that Russia has played a minimal role in the entire health sector in Africa. With the Covid-19 vaccination, Russia randomly sprinkled a few thousand as humanitarian assistance among its "Soviet friends", including Egypt, Ethiopia, Guinea, Angola, Mozambique, Zimbabwe and South Africa. Nevertheless, the worse was Russia's sudden failure to supply the 300 million vaccines through the African Union (AU), especially during the times of health crisis.
An authoritative policy report presented in November 2021 titled 'Situation Analytical Report' and prepared by 25 Russian policy experts headed by Sergei A. Karaganov noted explicitly the failure to supply Sputnik vaccines to the African Union. The report criticized Russia's current policy and lukewarm approach towards Africa.
"In several ways, Russia's possibilities are overestimated both publicly and in closed negotiations. The supply of Russian-made vaccines to Africa is an example. Having concluded contracts for the supply of Sputnik V to a number of African states, Russian suppliers failed to meet contractual obligations on time," says the report in part.
The coronavirus outbreak a pandemic on March 11, 2020. Worth noting that Russia claims that it was the first to find a coronavirus cure. The World Health Organization (WHO), until today, has not certified Russia's vaccines, though. On the other hand, all the vaccines that have been registered in Russia – Sputnik V, Sputnik Light, CoviVac and EpiVacCorona – are produced in large quantities by Russian pharmaceutical companies and are currently used for vaccination.
Director of the Gamaleya National Research Centre for Epidemiology and Microbiology Alexander Gintsburg has several times highlighted aspects of vaccine production and marketing. He noted to raise the attractiveness of the vaccines on foreign markets, including countries in the Middle East, Africa and Latin America.
The Russian Direct Investment Fund, tasked to engage in marketing the vaccines abroad, got messed up, especially in Africa. Of course, it took steps and speedily registered the vaccines in more than 20 African countries but terribly failed on delivery deadlines. Worse was the Russian Direct Investment Fund supplied, at exorbitant prices, through middlemen in the Arab Emirates to a number of African countries. Russia's Foreign Ministry has, however, held a series of African Foreign Ministers during this Covid-19 period and desperate moment reiterated to assist with direct supplies to Africa. That is Russia, considered a reliable partner for Africa.
The above thoughts on the part of the Covid-19 business offered the reasons why Russia absolutely refused to join and be part of the Covax facility, which acts as a global collective bargaining initiative to secure vaccine doses for countries who signed up, including those are self-financing their purchases, as well as assistance from donors for poorer developing countries. The first vaccines purchased through Covax were indeed destined to reach Africa. That was, monitored by this author, some 88.7 million doses of the AstraZeneca and Pfizer vaccines distributed to 47 countries, including Africa, during the first half of 2021. This same year, during the virtual meeting of G7 leaders, the European Union announced it had donated a further 500 million euros to the COVAX program. The World Bank also committed $12 billion as concessional loans to assist African countries in accessing foreign vaccines.
That is not all from several reports monitored. In April 2022, writing under the headline: "How Russia's Hollow Humanitarian Hurt Its Vaccine Diplomacy in Africa," – the co-authors, Matthew T. Page and Paul Stronski, both noted in 2020 that Russia touted deliveries of medical and protective supplies to several African countries, while the Russian-developed Sputnik V vaccine offered hopes that African countries would soon be able to launch large-scale immunization drives. Russian efforts to promote Sputnik V in Africa have floundered for a variety of reasons, including regulatory worries, production and logistical shortfalls, bureaucratic inertia, and even sticker shock. There is, however, another key factor behind Moscow's failed vaccine diplomacy: its traditionally diminutive post-Soviet development presence on the continent.
Compared to Australia, Canada, the European Union, Japan, the United Kingdom, the United States, and even many foundations, Russia has provided a tiny share of international development assistance to African countries since the end of the Cold War. Unlike India and Cuba, it has provided scanty medical assistance to – or investment in – African countries.
Suppose Russia wants to be influential on the continent. In that case, African political and economic leaders should demand more of Moscow, not simply settle for the symbolic diplomatic engagements or agreements at which the Russian leadership excels. Indeed, Africa has not ranked high on the Russian foreign policy agenda for much of the past three decades, getting barely a mention in the country's key security documents except as either a partner in an emerging multipolar world or a source of instability.
Indeed the time has come for African leaders to rally together to ensure that no effort is spared in facilitating and supporting the building of large-scale vaccine manufacturing capacity on the continent. The African Vaccine Manufacturing Summit held in April 2021 was an encouraging start. Focus needs to be on developing real vaccine R&D capacity, which must necessarily lead to health products. This requires substantial investment and a long-term commitment. In a similar vein, under the aegis of the African Union, leaders have to begin looking for inside solutions rather than base hopes on these geopolitical games, great external powers seeking only support for their peculiar or parochial interests.
Understandably, while making efforts to maintain and expand its presence in Africa, Russia simply lacks the capability to deliver on its various promises in Africa. Surely, African countries have to begin to re-evaluate their relationship with Russia. African leaders should not expect anything tangible from meetings, conferences and summits. Since the first Russia-Africa summit held in 2019, very little has been achieved. Given the stringent sanctions imposed following Putin's invasion of neighbouring Ukraine, it is even more improbable that Moscow would commit adequate financial resources to invest in economic sectors.
In stark contrast to key global players, for instance, the United States, China and the European Union and many others, Russia obviously has limitations. Notwithstanding that, for Russia to regain a part of its Soviet-era influence, it has to address its policy approach, this time trying to shift towards new paradigms – implementing some of the decade-old pledges and promises, and those bilateral agreements; secondly to promote development-oriented policies and how to make these strategic efforts more practical, more consistent, more effective and most admirably result-oriented with African countries.
Fidson Shops For N3.5bn from Series 4 Commercial Paper Issuance
By Dipo Olowookere
A leading manufacturer of pharmaceutical and nutraceutical products, Fidson Healthcare Plc, is planning to get about N3.5 billion from the capital market.
The firm, which operates a World Health Organisation (WHO) compliant state-of-the-art manufacturing facility, is issuing series 4 commercial paper under its N10 billion commercial paper issuance programme.
Subscription for the exercise started on Friday, March 10, 2023, and will close on Thursday, March 16, 2023.
According to details of the sales, the least of the commercial paper of Fidson investors can purchase is N5 million.
Business Post reports that the tranche of this exercise is 268 days, with a yield of 14.50 per cent.
Funds from this series 4 commercial paper sales would be used to support the company's short-term working capital and funding requirement.
Fidson is one of the top players in the Nigerian health sector and has maintained an organic growth strategy by investing in research, extensive distribution channels, and product innovation.
The organisation also associates with global partners to deliver high-quality products to its customers and insists on these same values across its entire value chain.
Fidson commenced operations on March 1, 1995, as a local distributor of pharmaceutical products and barely a year after, it began importing its brand of finished medicines, introducing Ciprotab and Peflotab brands of quinolones to the market.
By July 2002, the firm set up its first local manufacturing facility and later became the first company in sub-Saharan Africa to manufacture Antiretroviral (ARVs) drugs in March 2005.
In February 2007, Fidson set up a second manufacturing facility and ceded the former manufacturing facility to an international joint venture project, which led to the setting up of Ecomed Pharma Limited. In November of the same year, the company received the NIS ISO 9001:2000 certification for its Quality Management System from the Standard Organization of Nigeria (SON).
Expanding its business further, the company was listed on the floor of the Nigerian Exchange (NGX) Limited to become a publicly quoted company in 2008 and completed its 3rd factory (FPL) in the same year.
Further positioning itself as a leading pharmaceutical manufacturer in Nigeria, Fidson completed its 4th factory, an ultra-modern WHO-compliant plant in Ota, Ogun State, in 2016 and increased its capacity to manufacture more products across various therapeutic categories.
Latest News on Business Post