Medical Experts Recommend Mouka Pillows for Proper Spine Alignment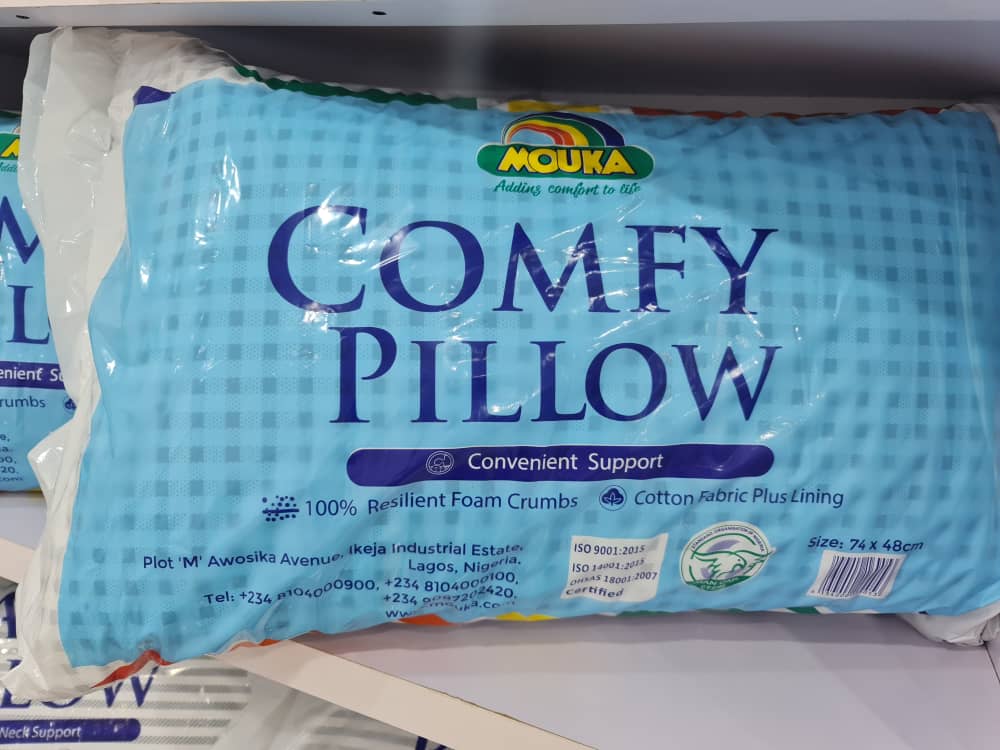 By Aduragbemi Omiyale
For proper spine alignment to prevent aches and pains, which can be detrimental to health, medical experts have recommended the use of Mouka's range of quality pillows and should be replaced for healthy sleep at least every 1-2 years.
One of them, Dr Nnenna Chigbo, president of the Nigeria Society of Physiotherapy (NSP), submitted that quality pillows play an essential role in maintaining spine alignment during sleep to prevent neck pain and stiffness, thereby relieving pressure and counterbalancing the joints in the body.
In addition, she said specific cells that help fight infection in the body increase significantly during healthy sleep.
"Quality mattresses and pillows determine how well one sleeps, as the body needs to align properly on them.
"When you are not comfortable on the mattress or pillow, it will affect the quality of your sleep, and this can be detrimental to your physical and mental health," she affirmed.
Another medical expert, Dr Onigbinde Ayodele Teslim, who is the National President of the National Association of Orthopaedic Manual Therapists (NAOMT), said Mouka pillows have are good because they have met ergonomic and global standards.
Dr Teslim pointed out that poor ergonomic compliance in most mattresses and pillows result in unhealthy sleep due to aches and pains from their usage, noting that this situation also leads to poor postural alignments and deformities.
He stated that Mouka's unique pillows align the neck with other body parts to support good posture.
"There are several pillow products in the market, but it is only Mouka that NAOMT is currently satisfied with because of their high-quality. This is why we recommend them to consumers," he said.
Mr Teslim, an Associate Professor of Orthopaedic Rehabilitation and Pharmacophysiotherapy at Obafemi Awolowo University, stressed that the non-usage of pillows during sleep results in uneven pressure distribution in the neck muscles.
"Mouka is the standard for comfortable and ergonomically compliant mattresses and pillows as their production protocols are of global standard. The durability, quality, and the comfort they offer are satisfactory," he enthused.
Medic West Africa Conference to Focus on Healthcare Innovation
By Adedapo Adesanya
Medic West Africa Exhibition and Conference, the biggest gathering of healthcare trade professionals in the West African region, will be making a long-awaited in-person return to the Landmark Centre in Lagos, Nigeria from September 7-9, 2022.
Organised by Informa Markets, the 9th edition of the show will bring together healthcare equipment manufacturers, distributors, procurement professionals, dealers, medical practitioners, and regulators.
More than 5,000 healthcare professionals are expected to attend, with 150 exhibitors representing 32 countries taking part. Addressing post-pandemic market needs, the event will furthermore see the addition of a dedicated space for laboratory professionals for the first time, called "Medlab Area".
Speaking on this, Amogh Wadwalkar, Exhibition Manager, Medic West Africa, said: "Medic West Africa is the premier healthcare exhibition and conference platform showcasing global healthcare technologies and innovations in support of healthcare solutions in Nigeria and West Africa.
"We look forward to connecting all parties in the healthcare ecosystem as the one-stop shop for all healthcare sourcing and procurement needs in the region, and to unveil the latest innovations in healthcare technology – needed for the urgent transformation of our health infrastructures."
Among the scheduled exhibitors are leading local and international industry players such as GE Healthcare West Africa, Siemens Healthineers, DCL Laboratories, Erba Manheim, Alpha Specialties, Qiagen, Abbott, and Standard Electro Medical Equipment Company (SEMED).
Products and services on display will include state-of-the-art imaging equipment, laboratory and IVD technology, developments in surgery, advances in prosthetics, and cost-effective disposables, among many others.
In addition, Medic West Africa is set to play host to several interactive sessions, leveraging the expertise of key players in the industry on topical issues for the advancement of the healthcare industry.
According to Cynthia Makarutse, Senior Conference Producer, Medic West Africa, "In collaboration with Nigerian healthcare societies, Medic West Africa conferences will promote dialogue on key stakeholder issues for the advancement of the industry. We connect government stakeholders with leading commercial entities to deliver solutions to topical issues and challenges facing healthcare professionals in West Africa.
"The conference will focus on key post-pandemic outcomes such as innovation and disruption, health equity, and workforce resilience. It is the pre-eminent event for healthcare professionals who value the power of knowledge-sharing, networking, and business".
Key discussions will occur in the following planned conferences: Healthcare Leadership Conference – Leveraging disruption in healthcare – opportunities & challenges in technology, in partnership with the Healthcare Federation of Nigeria;
Quality Management Conference — Human Resource for Healthcare: Building an efficient and resilient workforce, in partnership with the Society for Quality in Healthcare in Nigeria.
Others include Healthcare Business Conference – Consumer-Driven Healthcare Innovations (CDHIs) – Data, Devices and Digital Health Solutions, in partnership with Healthcare Leadership Academy, and  Access to Healthcare Conference – COVID – A socioeconomic phenomenon, in partnership with Bey Health.
Attendance at the Medic West Africa trade exhibition is free for healthcare and trade professionals and interested candidates can visit www.medicwestafrica.com.
WHO, Edo Intensify Response to Combat Monkeypox
By Adedapo Adesanya
The World Health Organisation (WHO) and the Edo State government have intensified a coordinated response to contain the spread of the Monkeypox disease.
So far, Nigeria has reported 357 suspected cases with 133 confirmed monkeypox cases from 25 states – Lagos, Adamawa, Delta, Rivers, Edo, Bayelsa, Nasarawa Plateau FCT, Ondo, Anambra Cross River, Kwara, Borno, Taraba, Oyo, Imo, Kano, Katsina, Gombe, Niger Ogun, Kogi, Bauchi, Akwa Ibom and Abia.
Meanwhile, eight persons have so far tested positive for monkeypox in Edo state, and all the people diagnosed with the disease have recovered.
The Director, Public Health, Edo State Ministry of Health, Dr Ojeifo Stephenson, said it has become imperative to warn the residents of the state about the health risks that the virus poses and reiterate the need to be cautious and adhere to preventive measures.
He said the state Ministry of Health with support from the World Health Organization (WHO) and partners, has ramped up surveillance, diagnostics and other activities to curb the spread of infectious diseases.
"We have stepped up surveillance including prompt investigation of suspected cases, facilitating documentation of contacts, contact tracing and monitoring, as well as developed and disseminated public health advisory to raise awareness about the disease among residents of the state," he said.
Additionally, Dr Benson Okwara, who works at UBTH, said WHO has been an invaluable partner in the response to monkeypox diagnosis and treatment in the facility.
Dr Okwara has five years of experience in managing patients with monkeypox.
He lamented that the disease spreads within the communities because of the poor health-seeking behaviour and late presentation of the case to the hospital.
"However, with WHO's coordination, there is an early response following notification of suspected/confirmed cases with detailed case investigations using the monkeypox case investigation form (CIF) to collect data on patient contacts.
"There is a need for continuous risk messaging to educate people about infectious diseases and the importance of seeking medical care early and at appropriate health facilities to prevent the spread of diseases," he said.
Across Nigeria, the Nigeria Centre for Disease Control (NCDC), supported by WHO, has activated Monkeypox Emergency Operations Centre to strengthen in-country preparedness and contribute to the global response to the outbreak.
Furthermore, WHO is supporting the coordination of technical assistance and operational support of partners, including the national One-health risk surveillance and information sharing (NOHRSIS) group, to facilitate timely information exchange on all prioritized zoonotic diseases.
Monkeypox is a zoonotic disease endemic in Nigeria and some parts of Africa.
However, there has been sporadic spread to other countries as more than 16,000 cases of monkeypox have been reported across more than 70 countries so far this year, and the number of confirmed infections rose 77 per cent from late June through early July.
The virus is being transmitted from animals to humans.
Recently, WHO activated its highest alert level for the growing monkeypox outbreak, declaring the virus a public health emergency of international concern.
WHO to Help Nigeria Achieve NHIA Act 2022 Objectives
By Adedapo Adesanya
The World Health Organization (WHO) has expressed its desire to support Nigeria in operationalising the National Health Insurance Authority (NHIA) Act 2022 signed by President Muhammadu Buhari in May 2022.
WHO's Country Representative (WR), Dr Walter Kazadi Mulombo, made this pledge during a high-level meeting with the Secretary to the Government of the Federation (SGF), Mr Boss Mustapha, the Director General, National Health Insurance Authority (NHIA), Professor Mohammed Sambo, and a team of WHO Health Financing Mission delegates from the WHO Geneva, Africa Regional Office, and Nigeria.
The first ever high-level WHO Health Financing Mission to Nigeria, led by Dr Joseph Kutzin, was scheduled to provide sustainable health financing support to the country towards Universal Health Coverage (UHC) and health security while undertaking targeted advocacy to accelerate operationalization of the NHIA Act including the Vulnerable Group Fund (VGF).
This is in line with WHO's goal of ensuring that all individuals and communities receive the quality health services they need without suffering financial hardship.
Dr Mulombo said President Buhari's signing of the NHIA Bill into law will make health insurance mandatory for all legal residents in Nigeria and expands coverage to over 83 million poor and vulnerable people.
He expressed the optimism that government will prioritize immediate appropriation of the Special Intervention Fund in the Act to establish the Vulnerable Group Fund.
"Indeed, the task of ensuring that all citizens have access to the quality healthcare they need without falling into poverty is a deliberate political decision to achieve the cardinal objectives of population coverage, service coverage, and financial protection. I have no doubts that in a large federal nation like Nigeria, this milestone of appropriating the Special Intervention Fund will be achieved in the 2023 fiscal year", he said.
In his remarks, Mr Mustapha appreciated WHO as the foremost development partner to Nigeria on health and lauded WHO's invaluable guidance, particularly on the COVID-19 pandemic.
"WHO has demonstrated that it is an organization that cares for and caters for the health needs of the people. On the NHIA, let me commend the DG for his tenacity and determination to have this Act come to fruition. I want to thank WHO and other partners who supported in the drafting of the Bill. This modest attempt has provided basic health insurance coverage to the vulnerable, and making it mandatory will go a long way in assisting our people to manage their income and remain at work in terms of the depressed economy we are witnessing".
The SGF further expressed the government's commitment to appropriate the Special Intervention Fund (SIF) in the 2023 national budget for the establishment of the Vulnerable Group Fund (VGF).
"No family in Nigeria has economically survived catering for any of their own suffering from cancer. The health of our people is therefore topmost on our priorities despite competing demands", he stated.
Latest News on Business Post