Nearly 3 million People Access Hepatitis C Cure—WHO
By Dipo Olowookere
The World Health Organisation (WHO) has revealed that a record 3 million people were able to obtain treatment for hepatitis C over the past two years, and 2.8 million more people embarked on lifelong treatment for hepatitis B in 2016.
This information is coming as stakeholders in the health sector across the globe gather in Brazil for the World Hepatitis Summit.
WHO stated that lately, there has been increasing global momentum in the response to viral hepatitis.
"We have seen a nearly 5-fold increase in the number of countries developing national plans to eliminate life-threatening viral hepatitis over the last 5 years," says Dr Gottfried Hirnschall, Director of WHO's Department of HIV and Global Hepatitis Programme. "These results bring hope that the elimination of hepatitis can and will become a reality."
Hosted by the Government of Brazil, the World Hepatitis Summit 2017 is being co-organized by the World Health Organization and the World Hepatitis Alliance. The Summit aims to encourage more countries to take decisive action to tackle hepatitis, which still causes more than 1.3 million deaths every year and affects more than 325 million people.
"We cannot lose sight of the fact that last year 194 governments committed to eliminating viral hepatitis by 2030. For sure we are still a long way from this goal but that doesn't mean it's some unattainable dream. It's eminently achievable. It just requires immediate action," says Charles Gore, President of World Hepatitis Alliance. "The World Hepatitis Summit 2017 is all about how to turn WHO's global strategy into concrete actions and inspire people to leave with a 'can do' attitude."
"Brazil is honoured to host the World Hepatitis Summit 2017 – and welcomes this extraordinary team of experts, researchers, managers and civil society representatives to discuss the global health problem posed by viral hepatitis," says Dr Adele Schwartz Benzaken, Director of the Brazilian Ministry of Health's Department of Surveillance, Prevention and Control of STIs, HIV/AIDS and Viral Hepatitis." Brazil is committed to taking recent advances in its response to hepatitis forward – on the road to elimination."
Progress in treatment and cure
Many countries are demonstrating strong political leadership, facilitating dramatic price reductions in hepatitis medicines, including through the use of generic medicines—which allow better access for more people within a short time.
In 2016, 1.76 million people were newly treated for hepatitis C, a significant increase on the 1.1 million people who were treated in 2015. The 2.8 million additional people starting lifelong treatment for hepatitis B in 2016 was a marked increase from the 1.7 million people starting it in 2015. But these milestones represent only initial steps – access to treatment must be increased globally if the 80% treatment target is to be reached by 2030.
However, funding remains a major constraint: most countries lack adequate financial resources to fund key hepatitis services.
Diagnosis challenge
To achieve rapid scale-up of treatment, countries need urgently to increase uptake of testing and diagnosis for hepatitis B and C. As of 2015, an estimated 1 in 10 people living with hepatitis B, and 1 in 5 people living with hepatitis C, were aware of their infection. Countries need to improve policies, and programmes to increase awareness and subsequent diagnosis.
Prevention gaps
Countries need to provide a full range of hepatitis prevention services that are accessible to different population groups, particularly those at greater risk.
Largely due to increases in the uptake of hepatitis B vaccine, hepatitis B infection rates in children under 5 fell to 1.3% in 2015, from 4.7% in the pre-vaccine era.
However, the delivery of other prevention services, such as birth-dose vaccination for hepatitis B, harm reduction services for people who inject drugs, and infection control in many health services, remains low. This has led to continuing rates of new infections, including 1.75 million new hepatitis C cases every year.
Need for innovation
Innovation in many aspects of the hepatitis response must continue. New tools required include a functional cure for hepatitis B infection and the development of more effective point-of-care diagnostic tools for both hepatitis B and C.
"We cannot meet the ambitious hepatitis elimination targets without innovation in prevention interventions and approaches, and implementing them to scale," said Dr Ren Minghui, Assistant Director-General for Communicable Diseases, WHO. "The great successes of hepatitis B vaccination programmes in many countries need to be replicated and sustained globally in the context of moving forward to universal health coverage."
Implementation of elimination strategy
The World Hepatitis Summit 2017 will be attended by over 900 delegates from more than 100 countries, including Ministers of Health, national programme managers, and representatives from organizations of people affected by viral hepatitis. The Summit will review progress and renew commitments by global partners to achieve the elimination of viral hepatitis by 2030 – a target reflected in WHO's elimination strategy and the UN Sustainable Development Goals.
AfDB Establishes African Pharmaceutical Technology Foundation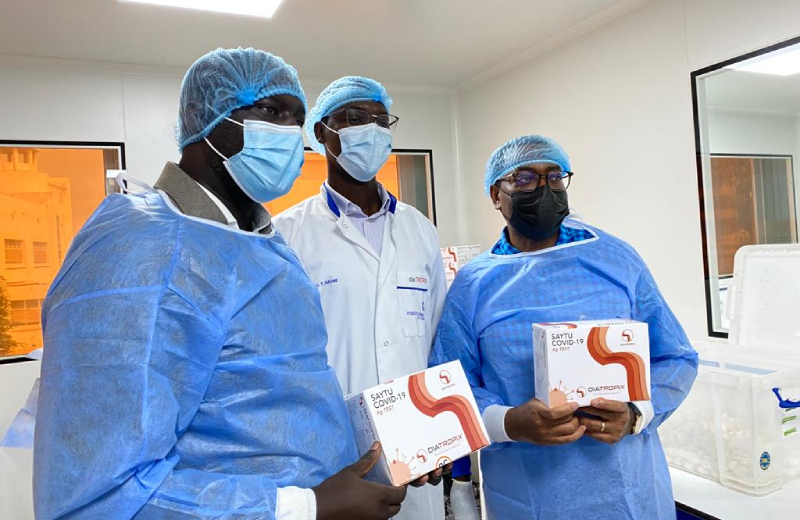 By Adedapo Adesanya
The African Development Bank (AfDB) has approved the establishment of the African Pharmaceutical Technology Foundation.
The foundation is a new groundbreaking institution that will significantly enhance Africa's access to the technologies that underpin the manufacture of medicines, vaccines, and other pharmaceutical products.
Rwanda will host the African Pharmaceutical Technology Foundation. A common benefits entity, the foundation will have its own governance and operational structures. It will promote and broker alliances between foreign and African pharmaceutical companies.
The African Pharmaceutical Technology Foundation will strengthen local pharmaceutical companies to engage in local production initiatives with systematic technology learning and technology upgrading at the plant level.
President of AfDB, Mr Akinwumi Adesina, described the initiative as "a great development for Africa. Africa must have a health defense system, which must include three major areas: revamping Africa's pharmaceutical industry, building Africa's vaccine manufacturing capacity, and building Africa's quality healthcare infrastructure."
During the African Union Summit in Addis Ababa in February 2022, the continent's leaders called on the regional lender to facilitate the establishment of the African Pharmaceutical Technology Foundation.
Mr Adesina, who presented the case for the institution to the African Union said "Africa can no longer outsource the healthcare security of its 1.3 billion citizens to the benevolence of others." With this bold initiative, the AfDB has made good on that commitment.
The decision is a major boost to the health prospects of a continent that has been battered for decades by the burden of several diseases and pandemics such as COVID-19, but with a very limited capacity to produce its own medicines and vaccines. Africa imports more than 70 per cent of all the medicines it needs, gulping $14 billion per year.
When fully established, the organisation will be staffed with world-class experts on pharmaceutical innovation and development, intellectual property rights, and health policy; acting as a transparent intermediator advancing and brokering the interests of the African pharmaceutical sector with global and other Southern pharmaceutical companies to share IP-protected technologies, know-how and patented processes.
"Even with the decision of the TRIPS Waiver at the World Trade Organization (WTO), millions are dying -and will most likely continue to die – from lack of vaccines and effective protection. The African Pharmaceutical Technology Foundation provides a practical solution and will help to tilt the access to proprietary technologies, knowledge, know-how and processes in favour of Africa," Mr Adesina said.
On her part, the Director-General of the World Trade Organization, Mrs Ngozi Okonjo-Iweala, said "The African Pharmaceutical Technology Foundation is innovative thinking and action by the African Development Bank. It provides part of the infrastructure needed to assure an emergent pharmaceutical industry in Africa."
The Director-General of the World Health Organization, Dr Tedros Ghebreyesus, while also commenting, said, "Establishing the African Pharmaceutical Technology Foundation, by the African Development Bank, is a game changer on accelerating the access of African pharmaceutical companies to IP-protected technologies and know-how in Africa."
Can You Use CBD Oil Hydrotherapy?
People are finding new ways to live healthier, happier lives by addressing the various aspects of their health that they feel need improvement. Cannabis is slowly becoming more mainstream, and more people are seeking ways to reap CBD oil's benefits. This oil, which stands for cannabidiol, has been proven to bring relief from several health conditions, including anxiety, neuropathic pain, chronic pain, and seizures. With that in mind, it states that CBD oil could get used as an effective treatment for acne!
It can be used for topical applications, ingesting it orally as edibles or capsules, and even put on your skin. There are benefits to using CBD oil for specific purposes.
This article will take a closer look at CBD oil in UK and how its benefits can be experienced through hydrotherapy. As per the skin condition you are trying to treat, it might be best to try a topical application. If you want to consume CBD oil and use it as a dietary supplement, there are different ways you can do this. So, learn more about it here!
How Do You Use CBD Oil Hydrotherapy?
CBD oil hydrotherapy is a popular way to use CBD products. Hydrotherapy is using water to help treat a range of ailments. The most common uses include baths, douches, and enemas. The method works by increasing blood flow and circulation and helping to improve the symptoms of conditions such as anxiety, pain, and depression.
Hydrotherapy can be used independently or in combination with other treatments such as medication and therapy. You should speak with a doctor before starting hydrotherapy if you are pregnant or have any health concerns. There are different ways to use CBD oil hydrotherapy, including:
Topical Application
Hydrotherapy can be beneficial in various health conditions, and the application of CBD oil to the skin is no exception. This topical application involves using the oil directly on the skin and can get done in various ways. However, it's important to note that CBD oil should only be applied topically as a lower concentration that would not affect the body. So, let's look at them now:
1. Rubbing It On Your Skin Or Joints
CBD Oil is organic and has powerful healing properties. It works by penetrating the skin to reduce inflammation, ache, and increase circulation. You can put it directly on your skin or even on top of your skin for instant results. The active ingredient in CBD is cannabidiol (CBD), which has numerous health benefits such as reducing pain, reducing anxiety, improving mood disorders, and even cancer treatment. You might also mix it with other natural oils or creams for easier absorption through the skin. As long as it gets made with pure ingredients, there should be no problem using CBD oil topically or orally.
2. Using CBD As A Lip Balm And Moisturizer
This herb functions as a moisturizer, which is excellent for preventing skin issues. It also has multiple benefits, such as anti-aging properties, and dermatologists even use it to keep skin hydrated during laser treatments. You can use it as a topical lotion or lip balm. You can also use it for external applications such as massages and hydrotherapy treatments. The CBD oil interacts with the body by mimicking its endocannabinoids (natural cannabinoids found in cannabis) and some natural cannabinoids found in the human body. These endocannabinoids regulate pain, and our immune system, manage mood and prevent seizures and other neurological disorders.
Ingesting It Orally
CBD oil comes in different types and treats a wide range of conditions and hydrotherapy. There are two main ways CBD oil is taken orally: as an oil and as a tincture. You can take it by placing a drop under the tongue, while the medicine can get swallowed. There are also other ways to use it. Let's check them out:
1. As Edibles By Mixing It In Juices, Gummies, Tea
CBD oil can get ingested orally to ingest it through mixing it in juices, gummies, and tea for hydrotherapy. There are several ways to prepare CBD oils:
You can make a CBD syrup by mixing the oil with an appropriate amount of purified water and powder; You can add the oil directly to your favorite smoothie to create delicious treats. You may also use capsules or food items that do not require heat (such as yogurt) to administer it; Finally, you can inject the oil directly into your body. These methods require significant preparation or expertise to get the most out of them.
2. Consuming It As Tinctures, Capsules
You can also consume this herb orally and in powdered form by chewing on the capsule or eating a small amount of oil in each meal and through the widespread use of tinctures, dissolving CBD oil into the water. It acts as a natural anti-inflammatory and pain reliever when you ingest CBD oil orally. It also serves to stimulate the receptors in the brain that block pain. The cannabinoids found in CBD have helped reduce inflammation, relieve pain, and fight off infection, among other things.
Is CBD Oil Safe To Use For Hydrotherapy?
If you're considering using this CBD for hydrotherapy, it's essential to do your research first. Here are some things you should know:
It is essential to be aware that CBD oil is not legal in all states. Therefore, people using this oil for hydrotherapy should check the state laws in their area before using it.
You should ensure that you have a consultation with a health professional. It is because CBD oil can interact with other medications that you are taking. So, inform your health care provider about any other medical conditions.
Some potential side effects of this oil include drowsiness, dizziness, confusion, and even seizures. If you're using it for hydrotherapy, talk to your doctor about any risks before starting treatment.
Takeaway
While some research needs to get conducted to determine the full range of benefits and risks associated with using CBD oil hydrotherapy, it seems clear that this type of treatment can offer tremendous relief for a wide variety of medical conditions. And also, when used in the right way, CBD oil can be an incredibly effective treatment for a variety of health concerns.
If you consider using CBD oil hydrotherapy as an alternative treatment for you or a loved one, we motivate you to do your research first. As with anything else, always consult with a healthcare professional before starting any treatments. It will help you ensure that they are safe and appropriate for your circumstances.
Nigeria Preparing to Defend Against Future Pandemic—FG
By Adedapo Adesanya
Nigeria is currently mapping out strategies to ensure that it is prepared to face any future pandemic, according to the Minister of Health, Mr Osagie Ehanire, who also vowed that Nigeria will not allow itself to be taken unawares the way it found itself during the COVID-19 outbreak.
He, however, noted that Nigeria was not in a hurry to produce the COVID-19 vaccine because, according to him, the world now has many COVID-19 vaccines.
The Minister further disclosed that the federal government recently procured over 30 million doses of the COVID-19 vaccines added with the ones that were donated by other countries.
According to Mr Ehanire, the country is ready to begin the manufacture of the 15 per cent of routine vaccines needed in the country.
"There is an initiative of the federal government working with the private sector already existing to produce the so-called routine vaccines.
"Normally vaccines for Expanded Programme on Immunization (EPI) were already in the pipeline. That one is running on its own and they are to start by producing 15 per cent of routine vaccines.
"Nigeria is among those countries that were granted the right to have the technology to produce COVID-19 vaccine which is being handled by Bio-vaccine Limited with support from the Federal Ministry of Health.
"Another consortium (group of companies) came to make a presentation to the president about vaccine production and the Federal Ministry of Health engaged that consortium and it is about that consortium that the report to the presidency was due which has been done.
"But generally, the world now has plenty of vaccines of COVID-19 which are being donated to Nigeria," the Minister said.
He explained that: "The Federal Government also ordered for over 30 million doses of the vaccines, but even the vaccines which we ordered which the federal government is paying for were not being used yet because we are using donations from other countries.
"So the urgency to produce our own COVID-19 vaccine now is a bit reduced because we have donations and we have the ones that the government has procured."
On what the government is doing to ensure that Nigeria is prepared locally to combat any form of epidemic in the future, the Minister said: "But the urgency to have the technology to know how to produce vaccines is what is pressing.
"And so, we are bringing together all our experts including the producers and manufacturers of vaccines to find a way to have the technology in case of any future outbreaks to produce vaccines to join in research and innovation.
"We are bringing together all our research capacities and assets to have that knowledge and that skill and the technology for indigenous domestic vaccine production in case of any other such attack.
"The technical working group needs to pursue that avenue of research and development because the rest of the world agreed that anytime in the future there can be Disease X, that is the disease that we do not know about.
"It may be like COVID or something else, but what is clear is that there will be a need for vaccines.
"There is research going on in many countries trying to find out that vaccine. Nigeria wants to be part of that research and development efforts.
"We must have the assets, the technology and knowledge and all that the country needs to be able to join the rest of the world in finding the answers so that if Nigeria finds the answer first, we can also support the rest of the world in getting access to the vaccines."
Speaking on efforts by the federal government to ensure sickle cell patients get help, Dr Salma Anas Kolo disclosed that Nigeria which has half of the global burden of Sickle cell is working hard to ensure those affected live without pain.
According to her, no country in the world has invested in sickle cell like Nigeria in areas like advocacy and awareness creation.
This, she said, led to the development of a herbal remedy by the Nigeria Institute for Pharmaceutical Research and Development (NIPRD) called NIPRISAN.
"This shows the importance the government attached to the fight against sickle cell across the spectrum of prevention, provision of counselling services, enhancing access to prompt diagnosis and treatment of those affected by the disease.
"Also, in partnership with CSOs, the private sector and other government parastatals, the National Assembly passed a bill in 2021 on all the issues around prevention and strengthening of the health system to be able to provide quality services to the children that are already affected by sickle cell and ensuring that they live a normal life and in addition to guidelines that have been developed.
"The federal government has also decentralized the campaign to subnational levels, hence, every state and local government have the responsibility to commemorate the sickle cell day."
Latest News on Business Post