Aiteo Appoints Knezevic as International Advisor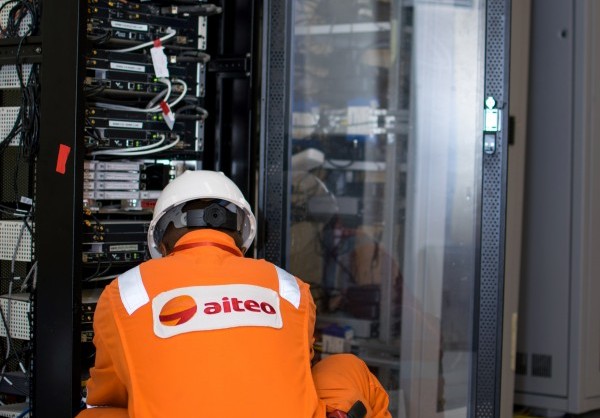 By Modupe Gbadeyanka
Prominent Nigerian oil and gas firm, Aiteo Group, has appointed Mr Ratko Knezevic to its Global Executive Management team as Group Advisor on Business and Capital Development.
A statement issued by the firm disclosed that Mr Knezevic, whose appointment became effect from May 5, 2017, will lead Aiteo's funds raising activities from global capital markets with the primary objective of reinforcing the group's growth and diversification targets in Nigeria and across Africa as a whole.
Mr Knezevic brings to this role vast experience and expertise acquired through proven track record of direct operational leadership, strategy development, team building, financial and relationship management.
He has achieved this immense depth of capability from more than 20 years of top flight experience in international business, investment banking, world political affairs, and international government relations through, amongst many roles, previous roles as Vice Chairman of Macquarie Capital EMEA and senior advisory roles with some of the biggest blue chip companies in the world.
Mr Knezevic also served as Special Advisor for Economic and Foreign affairs to Prime Minister of Montenegro from 1994-1997 during which time he also served as Chief of the Montenegrin Mission to the United States of America.
Commenting on this development, the Vice President and CEO of the Aiteo Global Group, Benedict Peters, noted that, "This appointment is a testament to Aiteo's commitment to stable, experienced leadership and I believe with Ratko Knezevic's exemplary guidance and advice, based on his vast experience in the UK, US, Europe and China in capital markets, we will continue to grow in the kind of significant proportions that we have come to be known.
"Mr Knezevic's unrivalled network within global capital markets offers an excellent opportunity for investment in Nigeria and Africa through the Aiteo Group."
On his part, the appointee said, "Africa is a new market and offers me a new challenge. My previous clients are some of the world's biggest capital movers, and looking through their eyes, I can see the potential of Aiteo as a major commercial organisation in Africa and the world.
"I will be saying nothing new to recognise that future world economic growth lies with Africa, and I am excited about playing a role in Aiteo's expansion, diversification and international stakeholder engagement."
JTI Nigeria Remains Top Employer for 4th Consecutive Year
By Aduragbemi Omiyale
For the fourth consecutive year, the Nigerian subsidiary of Japan Tobacco International (JTI), Habanera Limited, has been recognised as a Top Employer, while the parent firm retained its position for the 9th consecutive year.
This latest certification recognises the excellent working condition provided at the organisation as excelling in each of the assessment categories, which included outstanding HR policies and practices, employee well-being, diversity and inclusion and exceptional learning and development opportunities.
Speaking on this year's recognition as a Top Employer in Nigeria, the General Manager of JTI's entity in Nigeria, Mr Thomas Adams, said, "We are extremely delighted to be recertified by Top Employer Institute as a Top Employer both in Nigeria and globally. This award is a confirmation of the efficiency of our people policies, which continue to create an optimal environment for our talents to grow, thrive and fulfil their potential."
Mr Adams further stated that, "At JTI, investment in our people is at the heart of everything we do. From the provision of equal opportunities, an open environment, and development programmes to general employee well-being initiatives, we continue to offer the right resources for our people to attain their personal and career aspirations.
"This latest award will push us to continue prioritising our people by keeping them safe, engaged and inspired towards ensuring JTI remains a great place to work for our valued talents and an attractive destination for future talents."
The Top Employer certification is awarded by the Top Employers Institute, which conducts an annual international audit of leading employers around the world.
The research firm assesses participating companies in nine key areas: talent strategy, workforce planning, on-boarding, learning and development, performance management, and leadership development.
Puchercos Retires as Dangote Cement CEO, Pathak Takes Over
By Dipo Olowookere
Mr Michel Puchercos will, on February 28, 2023, retire as the Group Managing Director/Chief Executive Officer of Dangote Cement Plc, a statement from the company has disclosed.
From March 1, 2023, Mr Arvind Pathak will take control of the position following his approval by the board of the cement manufacturing firm.
Mr Puchercos stunned the cement industry three years ago when he resigned from a rival organisation, Lafarge Africa Plc, to take charge of Dangote Cement.
But after three years of piloting the affairs of Dangote Cement and repositioning it for greatness, he is bowing out in style and handing over the baton to Mr Pathak.
In a statement issued to the Nigerian Exchange (NGX) Limited on Thursday, the company thanked Mr Puchercos "for his commitment and contributions to the board and [wished] him well in his future endeavours."
In the statement signed by the acting company secretary, Mr Edward Imoedemhe, Dangote Cement described Mr Pathak as "an experienced business leader who worked as MD and CEO of Birla Corporation Ltd before this appointment."
Also, he was the Chief Operating Officer and Deputy Group Managing Director of Dangote Cement Plc until 2021.
With over 30 years of experience in the cement industry, he has worked most of his tenure in turning around businesses, operations and maintenance of plants, as well as leading important greenfield projects.
The leading cement firm noted that the appointment of Mr Pathak would be included in the agenda at the next Annual General Meeting for ratification by the shareholders in accordance with the Companies and
Allied Matters Act.
While welcoming Mr Pathak back to the Dangote family, the board of the organisation wished him "success in his new role."
Seyi Layade Joins Insight Publicis Management Team
By Modupe Gbadeyanka
The management team of Insight Publicis has been strengthened with the addition of Ms Seyi Layade as the new Account Management Director.
A statement from the firm, which is a member of West Africa's largest integrated marketing communications group, Redefini, and global Publicis Groupe, it was stated that she would be expected to use her wealth of experience to take the organisation into a greater height.
Before joining Insight Publicis, the appointee served as the Group Operations Manager for SPV Communications of the Omnicom Group and then, as Group Head, Innovation and Client Service at Ogilvy Nigeria, leading such brands as Coca-Cola, Airtel, Bill and Melinda Gates Foundation, PZ Cussons, Unified Payments and Mondelez International (Cadbury Nigeria), as well as MTN Nigeria.
Ms Layade is an advocate for collaboration and innovation for business growth.
At SPV Communications, she directed a first-of-a-kind business model, championing collaboration for the delivery of many exciting campaigns associated with the MTN brand in Nigeria. Thereafter, her innovation led to the expansion of the previously core-creative Ogilvy Nigeria business into activations and PR.
In her new role, Ms Layade will bring to bear her experience in the dynamic marketing communications industry. With more than 12 years in brand management, business development, and marketing strategy, she will be responsible for consolidating Insight Publicis' quality service commitments to its diverse clientele, as well as leading the execution of the company's strategic priorities.
Commenting on the appointment, the Group CEO of Redefini, Mr Tayo Oyedeji, expressed confidence in having Ms Layade on board.
"The management team is pleased to welcome Seyi to Insight Publicis. She represents a set of values that we hold dearly as a company. Her experience and expertise are a veritable asset for the course we continue to chart," he said of the graduate of Banking and Finance from the Olabisi Onabanjo University (OOU), Ago-Iwoye, Ogun State.
Latest News on Business Post