Heifer International Picks Rufus Idris to Head Operations in Nigeria
By Aduragbemi Omiyale
An expert in development economics, Mr Rufus Idris, has been appointed as the new Nigeria Country Director for Heifer International.
The seasoned development specialist with cross-cultural experience spanning over 17 years was chosen to lead the Nigerian operations of the organisation and operationalize its global mission and strategy in Africa's largest and most populous economy.
It was gathered that the new appointee assumed his duties in June 2021 and has already set the ball rolling.
"I am excited to join Heifer International as the Nigeria Country Director and to lead its innovative and inclusive in-country programs to end hunger and poverty, leveraging the creativity of our young women and men, new technologies, and strong public-private partnerships to unlock Nigeria's potential for food sufficiency and a sustainable living income," Mr Idris said.
The Senior Vice President for Africa Programs at Heifer International, Adesuwa Ifedi, while commenting on the choice of Mr Idris for the exalted position, stated that, "Rufus's proven capacity as an administrator, mobiliser and excellent team player will serve him well in his new role as Country Director for Heifer Nigeria.
"His appointment will deepen Heifer's interventions and support for Nigeria's food systems resilience and sustainability agenda. I trust that he will provide the much-needed operational acumen required for Heifer International's transformational journey in the years ahead."
Mr Idris is an expert who has developed and led innovative economic development programs in Nigeria and the United States.
As Country Director for Heifer Nigeria, he will provide the leadership and the strategic focus required to develop and leverage public-private partnerships, implementing market-driven programs that address the systemic constraints and stimulating lasting market systems improvements for farmers to attain sustainable living incomes.
Prior to joining Heifer International, he served as Deputy Chief of Party for the USAID Feed the Future Nigeria Agribusiness Investment Activity, a five-year program aimed at strengthening the enabling environment for agribusiness finance and investment in five key value chains (rice, cowpea, soya, maize and aquaculture) and seven focal Nigerian states (Benue, Kaduna, Niger, Kebbi, Delta, Ebonyi and Cross River).
He was the Program Director for the UK Department for International Development (DFID) funded program Promoting Learning in Agribusiness using New Technologies (PLANT) where he led TechnoServe's collaboration with DFID and the British Council to develop a more competitive agriculture sector in Nigeria by increasing innovation and uptake of technology within the sector.
He was also the Portfolio Manager for a DFID-funded – Market Development (MADE) Program in the Niger Delta region of Nigeria implemented by Development Alternatives Inc. (DAI).
Mr Idris holds a Master of Science in Community Economic Development from Southern New Hampshire University (Manchester, NH), Executive Education in Performance Measurement for Effective Management of Non-profit Organizations from Harvard University (Cambridge, MA), Bachelors degree in Biology from La Roche University (Pittsburgh, PA), and a Diploma in Fisheries Technology from Federal College of Fisheries and Marine Technology (Lagos, Nigeria).
Working with rural communities across Africa for 47 years, Heifer International supports farmers and local food producers to strengthen local economies and build secure livelihoods that provide a sustainable living income.
The organization is repositioning its work in Africa to invest in infrastructure, young agritech entrepreneurs, and smallholder farmers to support the transformation of the continent's agricultural sector.
Heifer has the vision to support additional three million smallholder farmers in Africa to reach a sustainable living income. As a part of this commitment, the organisation has extended its operations to Nigeria to assist more than one million farmers (largely young men and women) to reach a sustainable living income by 2030 through strategic private and public sector partnerships, unlocking demand and market opportunities, leveraging finance across priority value chains, and leveraging innovation and emerging agricultural technologies to reach transformational scale.
Buhari Renews Appointment of Patience Oniha as DMO DG
By Aduragbemi Omiyale
Ms Patience Oniha has been given an opportunity to remain in office as the Director-General of the Debt Management Office (DMO) for another term of five years.
The debt office chief, who has been in office for the past five years, was allowed to continue on the approval of the renewal of her appointment by President Muhammadu Buhari.
A statement signed by the Senior Special Assistant to the President on Media and Publicity, Mr Garba Shehu, on Thursday night explained that the reappointment of Ms Oniha was purely based on her "significant achievements;" in the last five years.
The image-maker of Mr Buhari noted that the DMO DG, since she assumed office, has internally introduced reforms to strengthen the agency as a critical agency in the public finance ecosystem of the country.
It was stated that amongst her achievements are the "introduction of Sukuk and green bonds to finance the development of infrastructure where there is a huge gap."
"Under her watch, as part of the initiatives to improve the sustainability of the public debt and opening up avenues for raising long-term funds for corporates, the DMO introduced long-term bonds with tenors of 30 years in the domestic and international markets," the statement added.
"This is aside from attracting diverse investors including retail investors to the FGN bond market," the presidency further disclosed.
The reappointment, which Mr Shehu said "takes effect from July 1, 2022, [is] in accordance with Section IV (9-i) of the Debt Management Office (Establishment ETC) Act, 2003."
TUC Gives Fayemi 21 Days to Pay Backlog of Salaries
By Adedapo Adesanya
The Ekiti State chapter of the Trade Union Congress (TUC) has given the state governor, Mr Kayode Fayemi, a 21-day ultimatum to pay the backlog of salaries of workers.
The union reminded Mr Fayemi that during his electioneering campaign in 2018, he promised to clear the backlog and till now, he was yet to fulfil this promise. The tenure of the Governor is expected to expire on October 15, 2022.
According to the group, redeeming such a pledge would further reinforce workers' trust in the administration of the All Progressives Congress (APC) in the state and smoothen the relationship with the incoming Governor, Mr Biodun Oyebanji.
In a statement signed by its State Chairman, Mr Sola Adigun, the union congratulated Mr Oyebanji on his victory in the recently concluded governorship poll, urging him to be magnanimous in victory by being inclusive in governance and forming a robust alliance with opposition to build Ekiti of his dream.
The union condemned in strong terms, the rate of kidnapping of citizens in the state, urging Mr Fayemi to devise means to curtail the nefarious act threatening peaceful coexistence and investment drives.
Sequel to the government's inability to meet some pending workers' demands, TUC issued the 21-day ultimatum to the Governor to pay all arrears of salaries, deductions and promotion, failing which industrial harmony could no longer be guaranteed.
"The TUC commends the government's prompt payment of salary since the inception of this outgoing administration in October 2018 till date. However, the TUC reminded Governor Fayemi of his initial promise to offset all arrears payments before the expiration of the tenure.
"But we noted with dismay, the refusal of the government to remit the already deducted dues such as co-operative deductions, contributory pension, bank loans repayment, NHF fund, to the appropriate quarters.
"We equally frown seriously at the refusal of the Accountant-General of the State to continue with cooperative savings update of Ekiti workers, due to the alleged presence of some syndicate operating in her office.
"Most members of TUC have not benefited from the new minimum wage after almost two years of implementation in the state," the group concluded.
Chams Appoints Former UBA MD/CEO to Board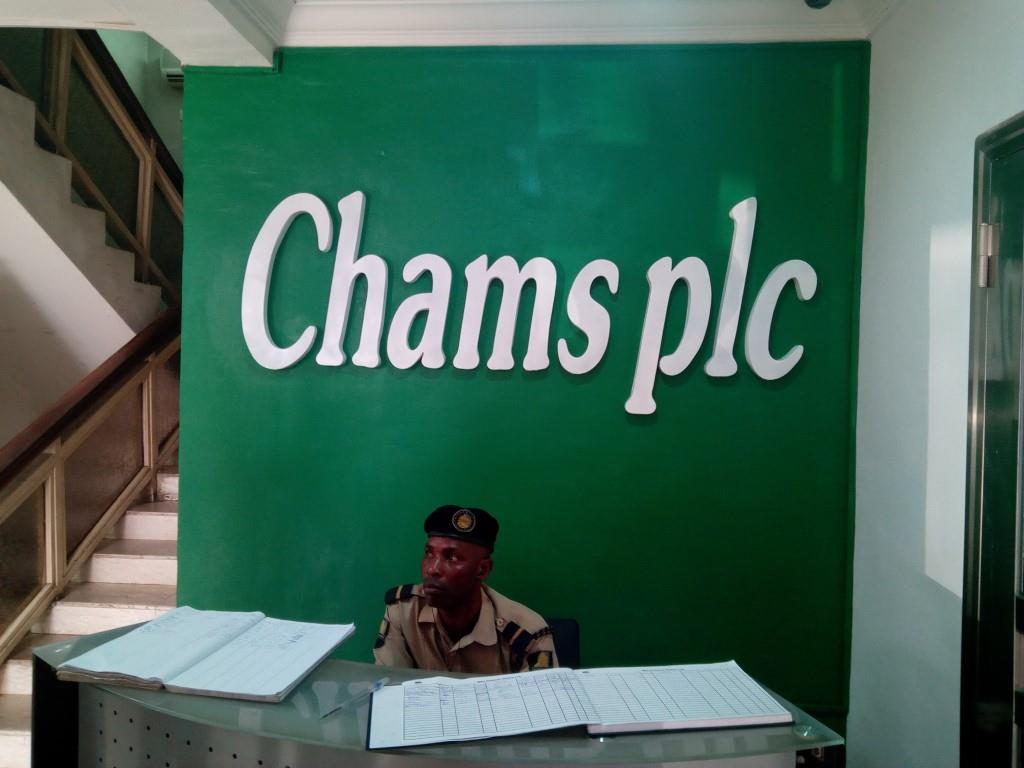 By Aduragbemi Omiyale
A former Managing Director/Chief Executive Officer of the United Bank for Africa (UBA) Plc in Tanzania, Mr Ayobola Abiola, has been appointed to the board of directors of Chams Plc.
Mr Abiola headed the Tanzanian operations of the leading financial institution for four years and was also and the General Manager/Divisional Director in charge of Corporate Banking at UBA. He was once the Senior Vice President and Head of West & Lagos Regions at First City Monument Bank (FCMB).
In a statement issued by the Legal Adviser of Chams, Ms Yetunde Emmanuel, it was disclosed that Mr Abiola will be on the board of the organisation as a non-executive director effective July 1, 2022.
The new board member is an economics, banking, finance and tax expert with over 25 years of cognate experience in investment, commercial and mortgage banking.
He is the founder and Chief Executive Officer Capstone Development (West Africa) Limited, a real estate investment and advisory firm. He was until recently the Executive Director, Business Development and Treasury Services at Federal Mortgage Bank of Nigeria (FMBN), a position he was appointed to by President Muhammadu Buhari.
Prior to joining FMBN, he was Vice Chairman and Chief Executive Officer of Fullhouse Advisory Partners, an Investment and financial advisory services firm which specializes in capital raising, project finance and investment advisory services.
Latest News on Business Post