Nigeria Ratifies ILO Convention on Violence, Harassment in Workplace
By Adedapo Adesanya
President Muhammadu Buhari has signed the Instrument of Ratification for ILO Convention No.190 on Violence and Harassment.
Convention No. 190 is the first international labour standard to address violence and harassment in workplace. Together with Recommendation No. 206, it provides a common framework for action and a unique opportunity to shape a future of work based on dignity and respect.
These instruments will be key to achieving the objectives set by the ILO Centenary Declaration on the Future of Work, adopted in 2019, which clearly commits to a world of work free from violence and harassment.
Following his assent, the document is set to be deposited with the Director-General of the International Labour Organisation by the Federal Ministry of Labour and Employment.
The Permanent Secretary in the ministry, Ms Kachollom Daju, confirmed this at the opening ceremony of a 2-day Regional Sensitization Workshop on ILO Convention No. 190 on Violence and Harassment and Eliminating Gender-Based Violence (GBV) in the Workplace for Professional Officers in the three Northern Geo-Political Zones.
Ms Daju noted that Nigeria is the fourth country in Africa and the eighth in the world to ratify the convention, adding that the ministry has already inserted prohibitions on violence and harassment, including sexual harassment, in the just concluded review exercise of the National Labour Bills.
She stated that the ratification comes with an enormous responsibility and reporting obligation for Nigeria. She called on labour officers in the states to put their best foot forward as they must implement, intercept and intervene in all cases of violence and harassment and other related unfair labour practices in all workplaces after the convention is domesticated.
"The Ministry's Headquarters will also depend on you to generate and gather data that will be used to develop a comprehensive First Report of Nigeria's implementation of the Convention to the ILO when the time comes," she said.
The Permanent Secretary appreciated the ILO Regional Office in Abuja, and the International Labour Office, Geneva, for providing the technical support for the workshop and for its support in ensuring that Nigeria's Labour Administration System operates in line with international best practices.
On her part, the Director, Productivity Measurement and Labour Standards, Mrs Juliana A. Adebambo, said that to facilitate wide spread and acceptance of the Convention, the Ministry, with technical support from the ILO, had convened a series of preliminary activities across the six Geo-Political zones in the country and the 2-day workshop was first in the lineup.
The opening Ceremony had in attendance very important dignitaries, including the Country Director of the ILO office for Nigeria, Ghana, Liberia and Sierra Leone, Mrs Vanessa Lerato Phala.
The convention affirms that everyone has the right to a world of work free from violence and harassment. It also provides for the first internationally agreed definition of violence and harassment in the world of work.
Asha Mweru Mbowa to Lead AMI Enterprise as Managing Director
By Modupe Gbadeyanka
A leading business learning company, African Management Institute (AMI), has appointed Mrs Asha Mweru Mbowa as the Managing Director of its newly launched AMI Enterprise, a new division dedicated to boosting workplace and professional skills for growth-stage and established companies.
The Kenyan national was promoted to the new position from her role as AMI's Director of Operations and Talent, where she oversaw a 118 per cent growth of AMI employees from 2020 to 2022.
Her promotion continues the precedent set by AMI in which women represent over 60 per cent of all senior leadership positions at AMI.
The new division of AMI leverages its long-standing position in the continent's training sector and its Africa-focused approach, proven to drive performance among leaders, managers, and Africa's growing workforce.
She will lead an AMI Enterprise division with a deep bench and an ever-growing footprint across the continent, including sales and learning delivery team members in Ghana, South Africa, Kenya, Senegal, and Nigeria.
AMI Enterprise will complement AMI Impact, the company's other internal division, which works alongside development partners to deliver large-scale learning and business growth programmes to support the entrepreneurial economy.
"AMI's team not only prepares the next generation of African leaders and workforce. our team is part of the next generation. We know that Africa's business and professional talent are the driving factor behind the growth of the continent's established and emerging businesses," said Mrs Mweru Mbowa, who is based in Accra, Ghana.
"It's time for Africa to do away with the learning methodologies of the past, not rooted in our own experiences.
"As an African learning company and a pioneer in this space, we're excited to expand our enterprise offerings to reach even more professionals and accelerate the pace at which companies working in Africa's business ecosystem can achieve their goals and put Africa at the centre for the global economy," she added.
The Africa-based learning company equips businesses, managers, and Africa's future workforce with the practical tools and training they need to succeed and drive growth.
AMI's proven learning approach incorporates virtual and in-person workshops with on-the-job practice and support accompanied by practical online and mobile learning tools. Programmes are delivered by experienced world-class and African-based facilitators.
"AMI was founded nearly a decade ago with a vision for enabling Africa's ambitious enterprises to thrive through practical management tools and training. We've grown rapidly, supporting leaders and managers at thousands of organisations, from Raddison Blu and Uber to Africa's own rising stars, such as MKOPA and RwandAir.
"Our practical business learning is proven to accelerate Africa's entrepreneurial economy. The recent establishment of AMI Enterprise as a core division will allow us to scale up our support for these companies as they grow to be a force in the global economy," said Rebecca Harrison, AMI's CEO and co-founder. "There's no one more qualified than Asha Mweru Mbowa to lead AMI Enterprise as we respond to the rapid growth and demand across Africa for AMI's corporate and growth-stage business training programmes."
AMI's Enterprise clients can select from AMI's 4-6 month flagship leadership, management, and workforce performance programmes, shorter 1-2 month focused professional power skills programmes, and AMI's Enterprise Academy solution, which provides virtual, on-demand, and localised blended learning for hundreds of participants.
The firm also develops bespoke learning programmes rooted in AMI methodology and leveraging its proprietary online learning platform, which includes over 3,000 downloadable tools, over 80 online courses and content in 5 languages. AMI learning programmes incorporate African-contextualized content and case studies based on African businesses and management experiences.
Mrs Mbowa joined AMI in 2020 after extensive experience working in Africa's investment sector and with business education providers. She served as an Investment Advisor with Novastar Ventures and in key leadership roles with Kenya's business education company, Sinapis Group.
She is active as an experienced entrepreneur and is the co-founder of Women Work Kenya, a technology-driven company focused on the advancement of African women entrepreneurs and professionals through digital communities and access to growth opportunities. She also serves as an Advisory board member of LendHer Capital and Profish Ghana Limited.
Mrs Mweru Mbowa is currently pursuing a Masters in Liberal Arts, Management from the Harvard Extension School and is a graduate with a Bachelor of Science in Business and Information Technology from Strathmore University.
Former FIRS Boss Ballama Manu Joins PZ Cussons Board
By Dipo Olowookere
A former executive chairman of the Federal Inland Revenue Service (FIRS), Mr Ballama Manu, has been appointed to the board of PZ Cussons Plc.
A statement from the organisation disclosed that the former tax chief would serve as an independent non-executive director on the board. His appointment became effective on November 21, 2022.
In 2004, Mr Manu resigned as the chairman of the tax agency and told reporters that he was not forced to leave by the then Minister of Finance as speculated, saying he left to return to his former place of work.
Mr Manu, who is the chairman and chief executive of Sicom Capital Services Limited, graduated from the Ahmadu Bello University Zaria with First Class Honours in Accounting. He proceeded to the London School of Economics and Political Science to secure an MSc in Accounting and Finance.
He also sits on the boards of Union Bank of Nigeria Plc and the Nigeria Deposit Insurance Corporation (NDIC). He is not new to the Nigerian Exchange (NGX) Limited as he was once the acting president of the defunct Nigerian Stock Exchange (NSE).
Also, PZ Cussons has announced the appointment of Mrs Oluwatoyin Odutayo as an independent non-executive director of the board with effect from November 21, 2022.
Mrs Odutayo obtained a BSc (Hons) in Computer Science from the University of Lagos and an MSc. with Distinction in Information Systems Engineering from the London South Bank University. She also boasts a Master's in Business Administration from the Cranfield School of Management.
She is a visionary technology leader with over 30 years of extensive experience in technology strategy and digital transformation and was once on the board of Wakanow.com Limited as the Executive Director in charge of technology, where she developed Nigeria's foremost technology platform for travel sales.
Mrs Odutayo has been the information technology lead at Virgin Nigeria Limited and Oando Plc, where she developed and implemented IT strategies for growth and efficiency.
She is the founder and Managing Partner at Benchmark IT Services and Applications Limited, where she leads technology initiatives for start-ups and SMEs in various sectors, including travel, financial services and lifestyle.
FG Implements 14-Day Paternity Leave for Civil Servants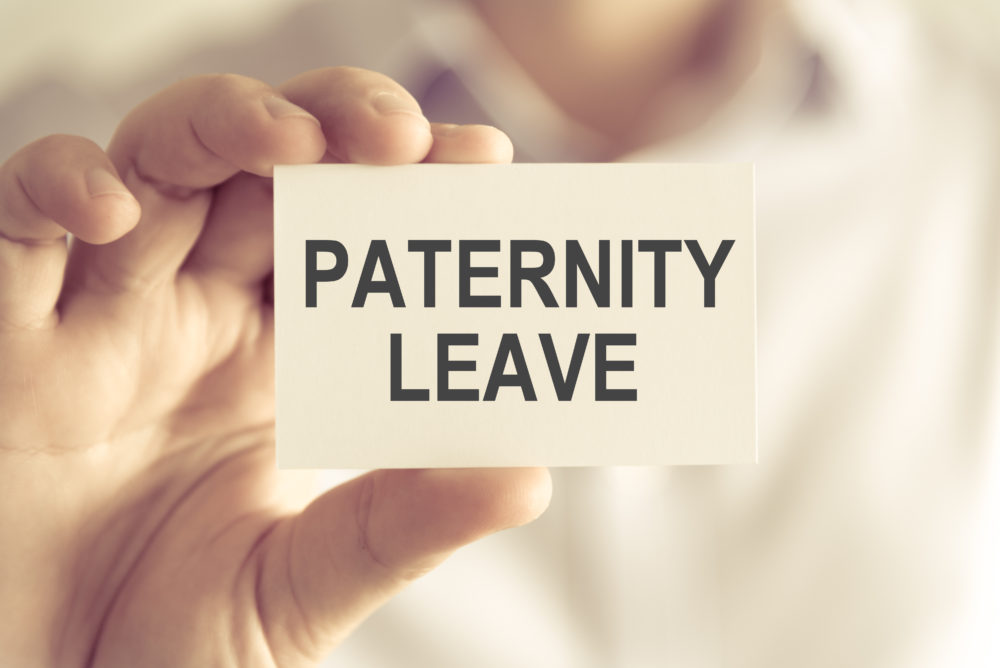 By Adedapo Adesanya
The federal government has commenced the implementation of the 14-day paternity leave policy for serving civil servants on its payroll. The leave with pay is mainly for employees whose spouses deliver a baby.
Head of Civil Service of the Federation, Mrs Folasade Yemi-Esan, in a circular, said the leave would take effect from November 25, 2022, adding that it is in line with the provisions of the Public Service Rules, 2021 Edition.
"Government has also approved paternity leave for serving male officers whose spouse delivers a baby. The period of the leave shall be 14 working days. The leave shall not be more than once in two years and for a maximum of four children.
"Where the family of a male officer adopts a child under four months old, the officer will similarly enjoy paternity leave for a period of 14 working days," the circular read.
Mrs Yemi-Esan also said the request for such leave must be accompanied by the Expected Date of Delivery's (EDD) report of the officer's wife or evidence of approval of the adoption of the child by the relevant government bodies.
Business Post reported last year that the Federal Executive Council (FEC) had approved the introduction of 14-day paternity leave for public servants in the new Public Service Rules (PSR), which replaced the 2008 policy.
Latest News on Business Post