Phillips Consulting Unveils 2019 Digital Learning Technology Training Calendar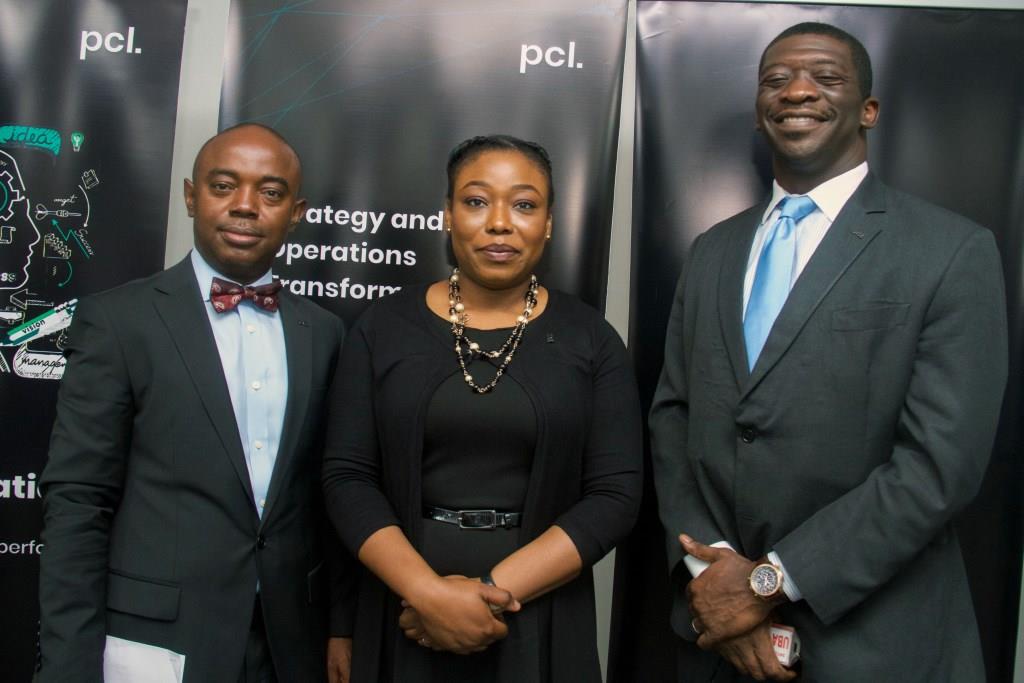 By Dipo Olowookere
An innovator in instructor led and online trainings, Phillips Consulting (PCL), has launched its 2019 Training Calendar, highlighting the best, up-to-date and most relevant training courses essential to all professionals and companies to meet expected goals and outcomes.
The calendar was unveiled at a press briefing held at the PCL Lagos office on Thursday, November 1, 2018 by Senior Partner, People Transformation, Mr Paul Ayim; Head of Digital Learning, Mrs Modupe Thomas-Owoseni; and Head of Classroom Learning, Nwaji Jibunoh.
The team revealed that it was crucial to empower people to perform at the very highest level and explained that PCL's carefully designed and executed programs are provided through methods designed for optimal impact on participants' behaviour.
They also revealed that an ever-changing operating landscape means there is need to continuously evolve to ensure the provision of world-class learning interventions from creation through to delivery, in alliance with global thought-leader partners around the world.
Speaking on the offerings, Senior Partner, Mr Paul Ayim said, "Over the years, several blue chip organisations have trusted the quality of our classroom and digital learning interventions. This confidence has brought a paradigm shift in their mindset from seeing training as a cost to a significant investment in their most critical of all assets, their people.
"Our digital learning interventions further enhance their ability to embed learning into their employees' flow of work. Employing blended learning approaches have led to impressive results as knowledge gained is immediately applicable in the work people do and reduces the significance of scrap learning, which occurs when people do not use what they learn."
He said, "Our aim is simple: to help your people succeed. We will go to any length to ensure that this happens."
The 2019 training calendar features a wide range of In-House, Open-Standard, Technology-focused and International programs that can be delivered locally and internationally at the client's discretion.
According to Head of Classroom Learning, Mr Nwaji Jibunoh, "The 2019 calendar gives a full view of our wide range of learning interventions which includes: Instructor Led Facilitation courses, held at our training facilities with programmes covering Leadership and Management, Workforce Management, Infotech and Bespoke Learning Courses.
"Our specialized solutions which include Knowledge Management, Strategic and Managerial Competency Development Solutions guides those who seek to build strong, sustainable establishments through the documentation and sharing of organisational intelligence."
He said, "In addition we also have Online Learning Solutions that are either customised digital courses or curated off-the-shelf content, designed to help organisations embed learning into the workflow.
Also speaking on Digital Learning's offerings, Managing Consultant, Modupe Thomas-Owoseni said:
"With the wave of Digital Disruptions taking place in the global market place; there is an urgent need to rapidly upskill all employees on the various frameworks and technologies being adopted. This will help the entire organization to become more digitally aware, in readiness for their digital transformation journey. Phillips Consulting, through its plethora of digital learning solutions is poised to support organisations through this agile journey of learning in a digital world for optimal business performance and sustainability".
With over 26 years of experience in learning and development and training facilitation, Phillips Consulting is renowned for its ability at working closely with organisations to understand specific goals and requirement(s) that guides in planning and developing exceptional training interventions to meet their client's essential objectives. This is achieved through a team of recognized consultants and facilitators who are successful industry professionals and possess several years of experience in their various fields of expertise.
ECOWAS Trade Network Re-elects Nigeria's Yakusak Ezra as President
By Adedapo Adesanya
The Executive Director/Chief Executive Officer of the Nigerian Export Promotion Council (NEPC), Mr Yakusak Ezra, has been re-elected as the President of ECOWAS Trade Promotion Organisations (TPOs) Network in Accra, Ghana.
With the election, Mr Ezra is to serve another one-year tenure and will lead 15 other member ECOWAS countries in driving trade within the sub-region.
A statement signed by Mr Ndubueze Okeke, Head, Corporate Communications of NEPC said Mr Ezra's re-election was also in line with Article 11 of the ECOWAS TPO Network.
"The ECOWAS Trade Promotion Organization is a network of all Trade Promotion Organizations in West Africa established by the decisions of the Council of Ministers at the Ordinary Session.
"Nigeria became the pioneer president in April 2021. Dr Ezra became the president following the expiration of the tenure of Mr Awolowo as ED/CEO of NEPC.
"The re-election of Dr Ezra was at the end of 2nd Annual General Meeting of the Network held at Alisa Hotel, Accra, Ghana from 19th – 20th May 2022.
"He was re-elected along with the vice president, Mr Ben Guy Mbangue from Cote' D'Ivoire.
"The duo constitute the Executive Bureau of the Network and the tenure expires after one year. All members present unanimously re-elected the President and Vice President respectively," the statement said.
ECOWAS TPO Network is a public-sector led entity and will work in partnership with the ECOWAS commission to drive inclusive trade development initiatives within West Africa and beyond.
The body is part of steps towards building mutual trust and cooperation without borders within the ECOWAS region. As of today, intra-Africa exports only account for about 16 per cent of Africa's global export, and more specifically intra-ECOWAS trade only accounts for a tenth of ECOWAS countries' global trade.
FG Names Anamekwe Nwabuoku as Acting Accountant General
By Aduragbemi Omiyale
Mr Anamekwe Nwabuoku has been appointed by the federal government as the acting Accountant General of the Federation (AGF).
The appointment of Mr Nwabuoku followed the suspension of Mr Ahmed Idris from office after the Economic and Financial Crimes Commission (EFCC) arrested him over an alleged N80 billion.
Last Monday, the anti-graft agency apprehended Mr Idris after his failure to honour an invitation extended to him over the matter.
He was taken into the EFCC custody to answer questions about the alleged fraud and to ensure an "unhindered investigation," the Minister of Finance, Budget and National Planning, Mrs Zainab Ahmed, asked him to step aside.
This action led to the postponement of the monthly Federal Account Allocation Committee (FAAC) last week as the embattled AGF leads the gathering.
In order not to create a vacuum, the federal government has asked Mr Nwabuoku to head the office in an acting capacity pending the outcome of the probe into the fraud allegation against Mr Idris.
His appointment was confirmed in a letter dated Friday, May 20, 2022, and signed by the Permanent Secretary in the Federal Ministry of Finance, Budget and National Planning, Mr Aliyu Ahmed.
According to the notice, the acting AGF is expected to carry out his duties in strict compliance with extant rules and observe the highest sense of professionalism.
Semiu Adeniran Becomes Nigeria's Statistician-General, NBS Chief
By Modupe Gbadeyanka
A professional statistician, Mr Semiu Adeniran, has become the substantive Statistician-General of the Federation and Chief Executive Officer (CEO) of the National Bureau of Statistics (NBS).
The appointment of Mr Adeniran was approved by President Muhammadu Buhari, a statement signed on Friday by Sufuyan Ojeifo, the Special Assistant on Media to the Minister of State for Budget and National Planning, Mr Clem Agba, disclosed.
The new Nigeria's statistician-general was selected for the job following the death of the former occupier of the position, Mr Harry Simon on April 13, 2022.
According to the statement today, prior to his new appointment, Mr Semiu was the Director of Demographic and Household Statistics at the stats office.
The new NBS CEO has over three decades of statistical hands-on experience garnered from various local and international institutions and has a bias toward Demography and Social Statistics.
It was stated that the appointment is with immediate effect.
Latest News on Business Post