Total Energies Nigeria Appoints Jean-Philippe Torres as Chairman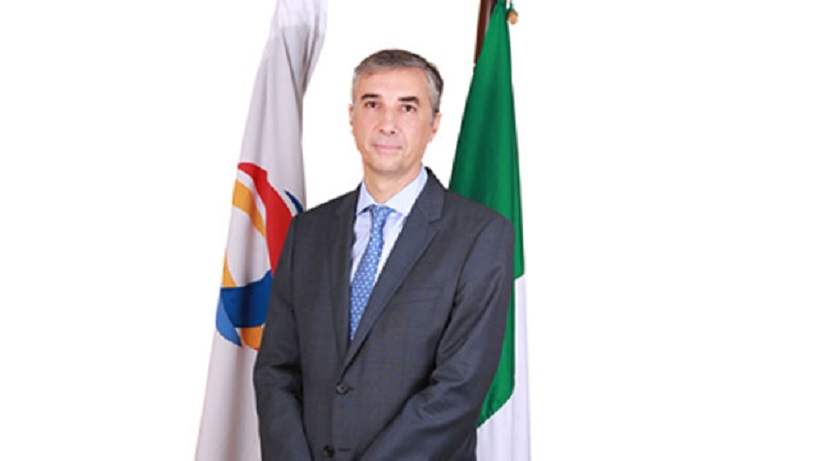 By Aduragbemi Omiyale
A Frenchman, Mr Jean-Philippe Torres, has been appointed as a Director and Chairman of TotalEnergies Marketing Nigeria Plc, one of the oil companies operating in the country.
A statement from the company disclosed that the appointment of Mr Torres was approved by the board of directors of the organisation on Thursday, November 25, 2021.
The chairman would be expected to use his position to take the company to higher heights and expand the operations of the firm in the country.
Mr Torres started his working career as an Analyst in the French Ministry for Economy and Finance, joining the Total Group in 1992 as a Financial Controller in the Combustible Fuels Division of Elf Antar France.
A year later, he moved to Elf Raffinage Distribution as Treasurer in charge of the African affiliates and in 1995, he was the Sales and Marketing Manager for Elf Oil Zaire and went on to hold a similar position in Senegal in 1997 and in 1999, he was appointed General Manager of TotalFinaElf Gambia.
Two years later, Mr Torres was appointed Managing Director of Total Togo and Total Benin and in 2004, he became the Managing Director of Fina Congo.
In 2007, he was appointed Strategy and M&A Senior Project Manager Total Raffinage Marketing, Paris and in 2011, he was appointed General Manager Retail and Fuel Cards of Total Germany.
In the notice issued by the company, it was disclosed that Mr Torres became the Executive Vice-President of North & Central America of Total Marketing & Services, Americas Division in 2014 and in 2016, he was appointed the Managing Director of Total Nigeria Plc.
In 2018, he left the board when he was appointed the Vice President East & Central Africa. He later became the Executive Vice President of Mediterranean & Indian Ocean in September 2021 and last month, he was named the Senior Vice President of Africa, TotalEnergies Marketing & Services.
Investors Pump $10m into SeamlessHR for Expansion
By Adedapo Adesanya
SeamlessHR, a startup that builds world-class cloud solutions to help organisations manage most HR processes on one platform, has raised $10 million in its Series A funding round which will see it expand to new frontiers in Southern and East Africa.
This funding round was led by TLcom Capital, with significant contributions from Capria Ventures, Lateral Capital, Enza Capital, Ingressive Capital, and some private investors.
The new fund is coming just about a year after announcing a seed round. The fresh capital is expected to further strengthen the company's position as Africa's leading cloud HR and payroll platform.
The new funds will also help the company achieve its vision of helping more African businesses become more productive and successful.
In addition, SeamlessHR will be launching a new embedded finance product to help improve the lives of working people across Africa, and will also add new product functionalities around AI and HR data analytics.
The endorsements of new investors like TLcom and Capria follow investments made by Lateral Capital, Enza Capital, and Ingressive Capital will help it achieve these.
Speaking on this, the company's CEO, Dr Emmanuel Okeleji said, "We are fanatical about customer success, and this funding will enable us to invest in the continuous optimisation of customer experience across all touchpoints, adding new features and functionalities to empower our customers even more."
Adding her input, Ms Andreata Muforo, Partner at TLcom Capital, expressed her "belief in our ability to unlock more value in Africa's business-to-business (B2B) space."
"Over the last few years, SeamlessHR has consistently demonstrated its ability to deliver a robust HR and payroll platform for Africa's medium and large businesses.
"The strong execution shown by Emmanuel and his team is a vital ingredient required to build a successful business, and as they expand their products to include embedded finance and launch their solutions to new markets, we're proud to partner alongside them and strengthen their push to unlock more value within Africa's B2B space.
"At TLcom, we believe SeamlessHR can be the preferred platform for businesses to digitise workplaces and support their personnel," she noted.
Mr Will Poole, the Managing Partner at Capria noted, "SeamlessHR is addressing the needs of African enterprises in ways that the global giants can't compete with by building customer-centric SaaS designed from the ground-up to address complexity unique to the continent.
"Now that they've proven they can address the needs of disparate countries across Africa, we are confident that they will be the solution provider of choice to support their customers that are expanding globally."
SeamlessHR is the only enterprise-grade HR and payroll SaaS company in Africa that fully manages the entire lifecycle on one platform.
Its clientele spreads across multiple sectors and regions in Africa, including renowned brands like PwC, Flutterwave, Sterling Bank, TGI Group, Lagos Business School, AXA, and Chapel Hill Denham.
SeamlessHR was founded in 2018 by Dr Emmanuel Okeleji and Deji Lana – who currently serve in their capacities as CEO and CTO respectively.
The platform equips clients and their people with the cutting-edge tools required to remain ahead of the rapidly changing HR management curve.
FG Appoints Matthew Pwajok as NAMA Acting MD
By Adedapo Adesanya
The federal government has appointed Mr Matthew Pwajok, a former Director of Operations, as the acting Managing Director of the Nigerian Airspace Management Agency (NAMA).
Mr Pwajok takes over from Captain Fola Akinkuotu whose tenure expired on January 7, 2022.
The appointment of Mr Pwajok, who retired from service in December 2021 was contained in a letter emanating from the Ministry of Aviation, Human Resource Management with a reference number FMA/PS/APPT/CEO/014/1/23.
The letter titled Appointment of Director to Oversee the Office of the Managing Director/CEO and signed by A.D Muhammad for the Minister read: "I am directed to inform you that the Minister has approved that Mr Pwajok Mathew Lawrence, Director of Operations, to oversee the Office of the Managing Director pending the appointment of a substantive MD/CEO.
"You are to kindly accord the director all the necessary support and cooperation he needs while overseeing the office.
"While thanking you for your usual cooperation, please accept the esteem regards of the minister."
Established by the Act of Parliament No. 48, commencement date of 29th May 1999, NAMA provides safe, efficient, effective and economic air navigation services to airspace users, through the deployment of new technologies and a dedicated workforce.
The agency provides air traffic services in Nigeria, including air traffic control, visual and non-visual aids, aeronautical telecommunication services and electricity supplies relating thereto, to enable public transport, private, business and military aircraft.
NAMA secures the safety, efficiency and regularity of air navigation; procure, install and maintain adequate communication, navigation and surveillance and air traffic management facilities at all airports in Nigeria and ensures there is effective coordination in the use of Nigerian airspace in line with established standards and procedures.
It has a governing board headed by a part-time chairman, who is appointed by the President for a term of four years.
UN Reappoints Amina Mohammed as Deputy Secretary-General
By Adedapo Adesanya
Nigeria's Ms Amina Mohammed has been reappointed as the Deputy Secretary-General of the United Nations Sustainable Development Group.
In delegating development coordination to the Deputy Secretary-General, the Secretary-General of the UN, Mr Antonio Guiterres set in motion the most ambitious reform in the history of the UN development system.
Ms Mohammed's leadership helped advance the conceptual shift from the UN that the Member States called for in adopting the Sustainable Development Goals (SDGs).
Over the last five years, the UN Sustainable Development Group was strengthened to enhance global leadership and oversight for the development and the UN established a strengthened UN Resident Coordinator system as the foundation of a more effective development system.
The Secretary-General expressed his appreciation for the Deputy Secretary-General's leadership of the UN Sustainable Development Group and her determination to reinforce collective results and maximize the impact of the UN development's system on the ground.
"From our robust response to the socio-economic effects of the COVID-19 crisis; through a boost in climate action and unprecedented momentum for Financing for Development; to her strong emphasis on coherence across humanitarian, political and development action – her role was instrumental in keeping the SDGs alive at the country level and protecting the Paris Agreement, despite significant headwinds," he said in a statement.
Prior to first assuming her role as Deputy Secretary-General in January 2017, Ms Mohammed served as Minister of Environment of the Federal Republic of Nigeria and Special Adviser to Secretary-General Ban Ki-moon on Post-2015 Development Planning.
Before joining the UN, she worked for three successive administrations in Nigeria, serving as Special Adviser on the Millennium Development Goals, providing advice on issues including poverty, public sector reform and sustainable development, and coordinating poverty reduction interventions.
Latest News on Business Post