Unilever Begins Hybrid Working Structure for Employees
By Sodeinde Temidayo David
Unilever Nigeria has begun a new hybrid working structure that permits its employees to work in the physical office twice weekly with adherence to COVID safety protocols.
This is coming after working from home for 19 months as a result of the pandemic. Unilever Nigeria has now reopened its head office to workers under the new hybrid structure.
Under the hybrid structure, Unilever employees are allowed to work at the physical office twice a week, while they continue working from home on other days.
Welcoming employees to the physical office, the Managing Director, Unilever West Africa, Mr Carl Cruz, lauded the employees for their dedication while working from home in the last 19 months, and expressed delight in the opportunity given for workers to meet physically.
"You have all demonstrated resilience through challenging times and shown commitment to Unilever that has kept us together as one big happy family.
"Now that we are back, it is important to keep observing all COVID safety protocols on site and off site," he noted.
Also speaking, the Permanent Secretary, Lagos State Ministry of Health, Mr Segun Ogboye, commended Unilever for putting its people first with strict observance of COVID-19 safety measures on site.
He added that the Lagos State government is in support of businesses returning to physical offices within the stipulated COVID-19 safety protocols to ensure the sustenance of the livelihoods of individuals and families.
Mr Ogboye further noted that it is important to get vaccinated as this is the surest way to guarantee safety.
Before the pandemic, Unilever has also been operating an agile working structure that allows its employees flexible working arrangements of choosing where to work. The company is set to secure vaccination of workers of their will.
Chams Appoints Former UBA MD/CEO to Board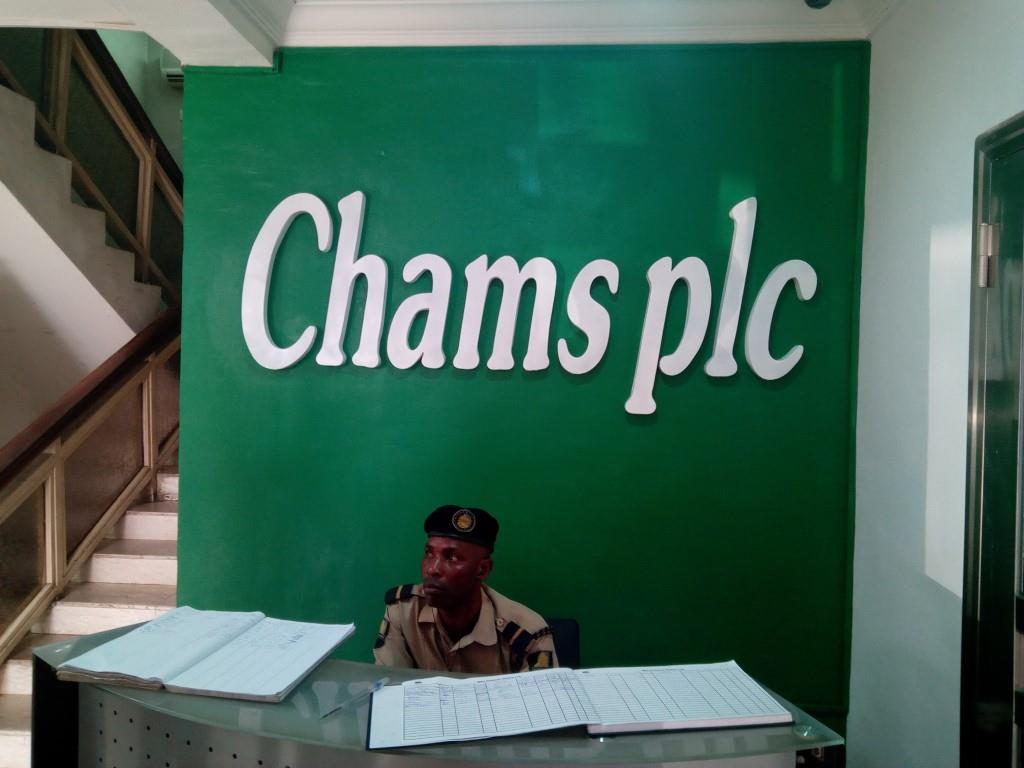 By Aduragbemi Omiyale
A former Managing Director/Chief Executive Officer of the United Bank for Africa (UBA) Plc in Tanzania, Mr Ayobola Abiola, has been appointed to the board of directors of Chams Plc.
Mr Abiola headed the Tanzanian operations of the leading financial institution for four years and was also and the General Manager/Divisional Director in charge of Corporate Banking at UBA. He was once the Senior Vice President and Head of West & Lagos Regions at First City Monument Bank (FCMB).
In a statement issued by the Legal Adviser of Chams, Ms Yetunde Emmanuel, it was disclosed that Mr Abiola will be on the board of the organisation as a non-executive director effective July 1, 2022.
The new board member is an economics, banking, finance and tax expert with over 25 years of cognate experience in investment, commercial and mortgage banking.
He is the founder and Chief Executive Officer Capstone Development (West Africa) Limited, a real estate investment and advisory firm. He was until recently the Executive Director, Business Development and Treasury Services at Federal Mortgage Bank of Nigeria (FMBN), a position he was appointed to by President Muhammadu Buhari.
Prior to joining FMBN, he was Vice Chairman and Chief Executive Officer of Fullhouse Advisory Partners, an Investment and financial advisory services firm which specializes in capital raising, project finance and investment advisory services.
How Businesses Can Focus on Employees to Avoid The Great Resignation
By Hyther Nizam
Across the globe, The Great Resignation has become a source of concern among businesses. It refers to the unprecedented number of workers quitting their jobs in the Covid-19 and post-pandemic eras.
In Nigeria, businesses have recently seen their fair share of voluntary employee resignations. Most notable was the "big quit," an exodus of top tech talents from Nigerian Banks. Nigerian millennials and Gen Zers, who comprise a large percentage of job-hoppers, also account for the majority of the young workforce population in the country. Now, they are re-evaluating their working experiences after the hard hit of the pandemic. The Deloitte Global 2022 Gen Z and Millennial Survey reveals that the youngest generations in the workplace are now seeking balance, prioritising happiness, and expressing higher expectations for compensation.
With an unemployment rate of just over 33%, you may think few employed Nigerians can really afford to leave their jobs. But the truth is, even here, employers aren't immune to The Great Resignation. Thanks to the rise of remote work, Nigerian workers (especially those with in-demand skills) can truly compete in the global job market, and not limit themselves to regional roles. They have faced many of the same pressures as other workers around the world as a result of the pandemic, meaning they have the same temptations to start their own businesses or enter the freelance market.
What can businesses do to avoid losing employees to the Great Resignation? While the answer may vary depending on industry and market, the one universally key solution is to earn employee support.
The importance of employee loyalty
Before digging into how organisations can earn employee support, it's important to remember why it matters. Losing an employee can take a big toll on your company (with the effect magnified for smaller organisations). On average, it takes 41 days to fill a position. That's 41 days other people in the business have to do all of a former employee's duties in addition to their own.
Further, replacing an employee can be incredibly expensive. According to the analytics and advisory company, Gallup, it can cost one-half to two times the employee's annual salary to replace them. Whichever way you cut it, you could give that employee a substantial salary increase and it would still be more financially viable than replacing them.
It's also worth pointing out that there's a positive correlation between good employee experiences and good customer experiences. That makes sense—a single positive interaction with an employee can dramatically alter how a customer perceives and experiences the company. The chances of a positive interaction taking place are much slimmer in companies that have high levels of employee turnover and a lack of institutional experience.
Building employee support
With that in mind, how should companies go about building the employee experiences they need to ensure they have the full support of their workers?
The HR team can leverage cloud technology and implement a comprehensive human resource management system (HRMS) in order to automate most of their mundane manual tasks. Through HRMS, an organisation can also create a self-service model so employees have a single portal for various activities, such as applying for leave and adding medical claims. By creating workflows, the company can ensure that when a request is raised, the appropriate approver is automatically notified. Automating processes will free up the HR team to focus on employee engagement activities.
Rethinking talent acquisition
The rise of remote work as a result of the pandemic saw many people leave big cities for smaller towns and villages. For some, the move was inspired by the prospect of a better quality of life; for others, it was about being closer to family.
Rather than lament the loss of centralised offices in big cities, smart organisations should see this as an opportunity. Instead of fighting over the same pool of talent available in metro cities, they can create opportunities for those living in non-urban centres or rural areas, and invest in skill development.
At Zoho, for instance, we have always believed that talent is everywhere, though opportunities are not. We have traditionally hired people from all backgrounds and opened offices away from city centres in order to tap under-utilised talent in smaller towns and rural areas. We expanded this approach during the pandemic by opening smaller, satellite offices wherever we had enough employees residing, instead of prompting them to come back to the office. We have been hiring locally in these satellite offices. By creating opportunities in the sought-after tech sector in non-urban and rural areas, we help communities retain talent and flourish. This adds a sense of purpose to the job, which also helps in retaining talent.
The right (virtual) environment
Even if an organisation meets its employees' needs when it comes to working location, it's still important for it to provide the best possible working environment (even if it's a virtual one).
One of the most effective ways of doing this is to take a considered approach to the software solutions your employees work with on a daily basis. Rather than a patchwork of software solutions, for example, organisations can benefit from a unified enterprise software suite that meets all their needs—from documentation to meetings, to CRM. In an increasingly hybrid work environment, keeping data and processes on a unified system leads to better visibility and fosters cross-functional collaboration.
A holistic approach
Employers looking to ensure that their businesses do not fall prey to The Great Resignation need to have an understanding of the concerns Gen Z and millennial employees have with respect to the workplace and their career paths. They should be deliberate in creating a flexible working experience where the employee can thrive in a globally competitive environment.
Sabi Hires Four Advisers to Bolster Growth
By Adedapo Adesanya
Sabi, Africa's leading provider of commerce infrastructure for the distribution of goods and services, has appointed four new advisory group members whose experience and networks will support its mission to resource and grow small and medium-scale enterprises (SMEs) in the informal sector.
Those hired by the organisation are Mr Vidit Aatrey, founder/CEO of Meesho; Mr Ian Black, Managing Director of Shopify; Mrs Sapna Goyal, Corporate Development Director of Udaan; and Mr Bame Pule, founder of Africa Lighthouse Capital.
Mr Aatrey, one of the leading Indian entrepreneurs of his generation, is an alumnus of IIT-Delhi and embarked on the journey of creating Meesho back in 2015 together with his college batchmate and friend, Mr Sanjeev Barnwal, with an aim to build an e-commerce start-up for small businesses at a time when everyone told them that e-commerce was saturated.
Seven years later, they have today built India's largest social commerce platform at Meesho, which has already empowered 2 million+ entrepreneurs, mostly women, and is on its way to creating more.
Through its platform, it enables entrepreneurs to start an online business with zero investment and provides them with the resources, tools, logistics and payment capabilities to run their business. Prior to Meesho, Mr Aatrey worked with ITC and Inmobi.
Mr Black, who heads Shopify Canada, has managed the business and go-to-market strategy for Shopify Retail in Toronto by overseeing sales, solutions, partnerships, and operations, working alongside marketing and R&D leadership.
Prior to joining Shopify, he was head of UberEATS' American and Canadian divisions. He was also a management consultant with Bain & Company in Toronto and New York where he advised companies and private equity funds on strategy and growth.
Mrs Goyal, on her part, has an investing experience in early and growth-stage internet start-ups in India. Prior to Udaan, she worked with Goldman Sachs Investment Partners VC & Growth Equity Fund and was responsible for investments in the Indian internet space.
Mrs Goyal also has investing experience in Indian Public Markets as part of a hedge fund at Goldman Sachs. She is passionate about the power of digital transformation on the Indian economy and how it is a great leveller. She is an active angel investor.
Mr Pule founded Africa Lighthouse Capital, an independent private equity firm in 2012 to invest in and nurture businesses into African champions.
The firm has a particular focus on helping investee companies adopt global best practices regardless of sector, attain benchmarks equivalent to those of global peers, and expand into multiple key African markets. Prior to founding Africa Lighthouse Capital, Mr Pule worked at Actis Capital, ShoreView Capital, Goldman Sachs & Credit Suisse in New York and Salomon Brothers/Citigroup in Los Angeles.
Commenting on the appointments, Mrs Anu Adasolum, co-founder/CEO of Sabi: said "Our goal has always been to build and establish a robust team of experts – from our leadership team right down to our agent network – that lives and breathes our core values and mission to transform the B2B commerce industry in Africa.
"We're extremely pleased to announce that the four members are talented and strategic business leaders whose broad experience will further strengthen our commitment to enable financial inclusion within the B2B community in Africa's growing informal economy while providing world-class solutions for our merchants. I look forward to working closely with the team to drive forward the next phase of growth."
Latest News on Business Post