Dignitaries Honour UBA's Abiodun Coker at Grandma's Burial
By Modupe Gbadeyanka
Friday, October 22, 2021, will remain fresh for a long time for Mr Abiodun Coker, a journalist, public relations expert and core member of the media relations department of United Bank for Africa (UBA).
It was a day for the burial of the grandmother of the former reporter with a foremost business newspaper in Nigeria, Business Day, in Lagos, Mrs Joanna Tokunbo, who was born on August 31, 1934, died on September 23, 2021, at the age of 87.
The three days event kicked off with a Christian wake on Tuesday, October 19, service of songs on Wednesday, October 20 which was followed by a requiem mass and interment on Friday, October 23 at Ikoyi Cemetery.
The memorable Requiem Mass was held at St. Michael's Catholic Church, Lafiaji on Friday and was attended by family and friends of the deceased who came out in their numbers to pay their last respect.
The event climaxed with an elaborate shindig which saw guests, including eminent personalities from all walks of life, being entertained at NAF Base, Kofo Abayomi Street, Victoria Island, Lagos.
In his tribute, Mr Coker extolled the virtues of his late grandma, describing her as compassionate and an epitome of love that cared for all. He said Mama's humility and selfless service to God and humanity were second to none.
"My special Grandmother, may you rest in the bosom of the lord till we see to part no more.
"These words felt like a dagger to the chest, knowing that you are gone. But I know you will never be forgotten.
"I know for a fact that I will never forget you and how much you've impacted my life. Not only that but also the lives of every single person you came across. I know for a fact that you touched many lives. Little wonder you were adored so much and I know that they will all miss you to bits.
"You truly were a special, special woman! You may have passed on, but your memories are etched in my heart. In there you will always live on.
"As I write this piece, I do it with a lot of struggle. Losing you on that 23rd of September brought a pain that cut so deep! Thank you for your sacrifices, your care and concern, your love, compassion and everything that you have done for me.
"Wherever you are, I look back to when I was very much younger when you put me on your back to pound Jero while mum was at work and also attended to the neighbours who depended on you for so much because they were not lettered.
"You worked so hard and multi-tasked, doing so much at once yet perfectly, helping others. You were more like a rallying point for all the neighbours who all came to you for help, support and guidance. I guess it's from you and Papa that my Mum and we the children learnt how to be passionate and dedicated to any course we embarked upon.
"You loved your children, grandchildren, and great-grandchildren unconditionally. You were truly the epitome of love and taught us all how to effortlessly stand by others genuinely and selflessly. l am proud to have had you as my grandmother. Mama General, I will miss you sorely! I know it is important to be strong for others so as to advance your wonderful legacy.
"When I summoned up the courage to tell Fadekemi about your passing after she asked about you repeatedly, I was shocked when she hugged me and said, I know my great-grandma is resting in heaven and God will look after her. Without a doubt, I know an angel spoke through her and I am certain that indeed you accomplished all that God sent you here to do and he has called you to be with Him.
"I am consoled by the fact that you are in a much better place!
"Love you Mama General. You truly were a treasure to all of us," he penned.
Buga Keeps Kizz Daniel on Spotify's Top Artist Chart for 13th Week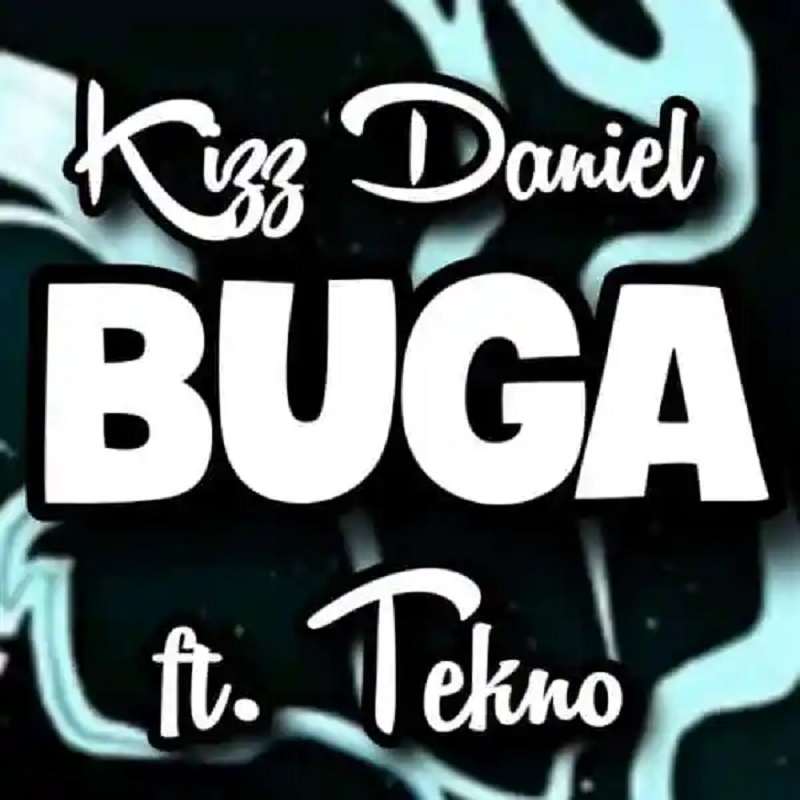 By Dipo Olowookere
For the 13th straight week, Afro-beat act, Kizz Daniel, has remained on Spotify's Top Artist Chart courtesy of his latest song of the moment, Buga, which features Tekno.
In the latest chart released by the audio-streaming platform, Kizz Daniel, who has since moved on from his issues with his former record label, G-Worldwide, was number one. He was followed by Victony, Burna Boy, BNXN (formerly known as Buju) and Rema.
A look at this chart revealed that Tekno was the biggest climber at number, while Ktizo was the highest new entry for the week at number 127.
As for the Top Songs chart, Buga by Kizz Daniel moved up by 72 spots to number one, while Finesse by Pheels and Buju clinched the second spot. Kolomental by Victony occupied number three, Sungba (feat. Burna Boy) – Remix by Asake & Burna Boy is number four and Dada (feat. Davido) – Remix by Young Jonn & Davido is number five.
Further analysis of this log showed that Calm Down has remained on the list for 13 weeks stretch, while Chop & Slide by Victony is the highest new entry this week at number 14.
For the Top Albums of the week, Spotify said Come Home The Kids Miss You by Jack Harlow ranked as the highest new entry at number 5, with the top spot claimed by Rave and Rose by Rema. The second position was taken by I Never Liked You by Future, Barnabas by Kizz Daniel is third, while Made in Lagos Deluxe Edition by WizKid is fourth.
However, Drake continues to claim the most spots in Nigeria with Certified Lover Boy at number 14. Barnabas by Kizz Daniel has been on the Top Albums chart the longest with a 13-week streak, while Born 2 Shine by T DOLLAR is the biggest winner, moving up by 75 spots to number 118.
YouTube Music, Sarz Academy to Train Producers, Songwriters
By Adedapo Adesanya
YouTube Music has collaborated with The Sarz Academy to train emerging producers and songwriters in Nigeria as part of a series of initiatives commemorating Africa Month 2022.
The training is part of YouTube's Future Insiders program and will be a three-day training series designed to help young producers and songwriters build their skills and abilities through hands-on training from famous music and industry leaders.
Speaking on this, Mr Osabuohien Osaretin, popularly known as Sarz, founder of the Sarz Academy said, "We founded the Sarz Academy in 2015 to help creatives thrive in the creative and business of entertainment.
"Our objective has always been to help turn the enormous potential that exists in the music creative space into genuine accomplishments.
"We recognize that, although many young Nigerians possess the necessary abilities for the industry, many are unable to create a successful music career owing to a lack of grasp of the business and production foundations."
Business Post had earlier reported that a series of activities commemorating Africa Month will take place throughout the month of May.
The initiatives, including the Future Insiders' workshop, are meant to bring attention to and show appreciation for the artists and creatives who are moving Africa's music business forward.
On her part, Addy Awofisayo, YouTube's Head of Music, Sub-Saharan Africa explained, "At YouTube, we've always been committed to supporting the next generation of music creatives out of Africa, and we are thrilled at the opportunity to connect the impactful work of the YouTubeBlackVoices Fund with The Sarz Academy's efforts to support the artistic aspirations of Nigerian music creatives."
Future Insiders is a component of the Black Voices Fund's Music Community Pillar, which provides possibilities for exposure and learning for young people all across the world.
It has collaborated with community-oriented groups in New York, Los Angeles, the Bay Area, Rio de Janeiro, Houston, Atlanta, London, Lagos, Accra, and now Memphis.
In addition to technical production and business sessions, selected participants will access one-on-one sessions with YouTube to learn how to connect and use the platform to drive the best engagement, as well as learn about all the essential tips such as creating and developing their brands, self-marketing, building positive artist and producer relationships, and revenue streams to consider.
Also commenting, the General Secretary of Sarz Academy, Ms Olajumoke Olayiwola, explained that "the 2022 Future Insiders program will focus on the business and production sides of music, with the primary objective of assuring that new producers do not make the same errors as previous generations.
"This level of success demonstrates that we are on the right route, and we look forward to furthering sessions, the development of new hit-making producers, and the expansion of the Academy to more countries."
The Masterclass will be held at Ogidi Studios from May 25-27 2022, with attendees able to network and ask facilitators questions about the music industry.
Interested participants can apply via the website https://www.thesarzacademy.com/
Who Wears Nigerian Idol Season 7 Crown, Progress or Zadok?
By Dipo Olowookere
On Sunday, May 22, 2022, the Nigerian Idol Season 7 sponsored by Bigi and Binance will come to an end and a winner announced.
Last Sunday, Banty failed to make it to the Top 2 as she was eliminated from the show after securing the least votes, leaving Progress and Zadok to compete for the N100 million prizes promised by the organisers.
This Sunday, the duo will know their fate but they will expect that their performances in the last episode can fetch them the needed votes to clinch the coveted crown.
Last week, the two contestants showcased their musical talent in the songs performed, comprising their favourite, a song selected for them by the judges, and the last with the 121 Selah choir, a musical gospel group, which added colour to the evening performance.
Progress, who was the first to appear on the music stage, thrilled the judges and the audience electrifyingly with his favourite song A Change is Gonna Come by Sam Cooke, which led to a standing ovation, with IK Osakioduwa, the host, stating "that was amazing." And on what prompted his choice of song, Progress avowed that it is what the society needs at the moment, the change that would make things better for all and sundry.
His second song Joy released by Wizkid, picked for him by one of the judges, D'Banj, was also wonderfully done, with the host saying "that was very nice," while the third song, Jon Ogah's Uncle Zuru performed with the 121 Selah choir was fantastic met with applause and a standing ovation.
His rendition of this tune led to a good commendation from Obi Asika, who confessed that "your confidence is impressive, you are already a winner," while Simi affirmed "your performance is incredible, l want to be like you," and D'Banj saying "you have done well, keep progressing."
Zadok, who said he is a preacher of love, did When a man loves a woman by Michael Bolton, with IK Osakioduwa saying "this is what you know how to do best," and the second act, Michael Bolton's Soul Provider selected for him by Simi, one of the judges, was a fascinating performance that led to a flower gift from an excited lady fan, cheering him for the grand finale.
His third gig with Timi Dakolo's Wish me well got Simi excited, saying "that was astonishing, an excellent rendition" while D'Banj stated "you have a proper voice for the song, you are someone whom others would like to watch in a show," and Asika "I love the way you perform."
The final episode of the programme will air this weekend on Africa Magic Showcase (DStv channel 151), Africa Magic Urban (DStv channel 153, and GOtv Supa channel 6), and Africa Magic Family (DStv channel 154 & GOtv channel 2).
Latest News on Business Post