Filmmaker Raises Nollywood Standard With 'Dither' Movie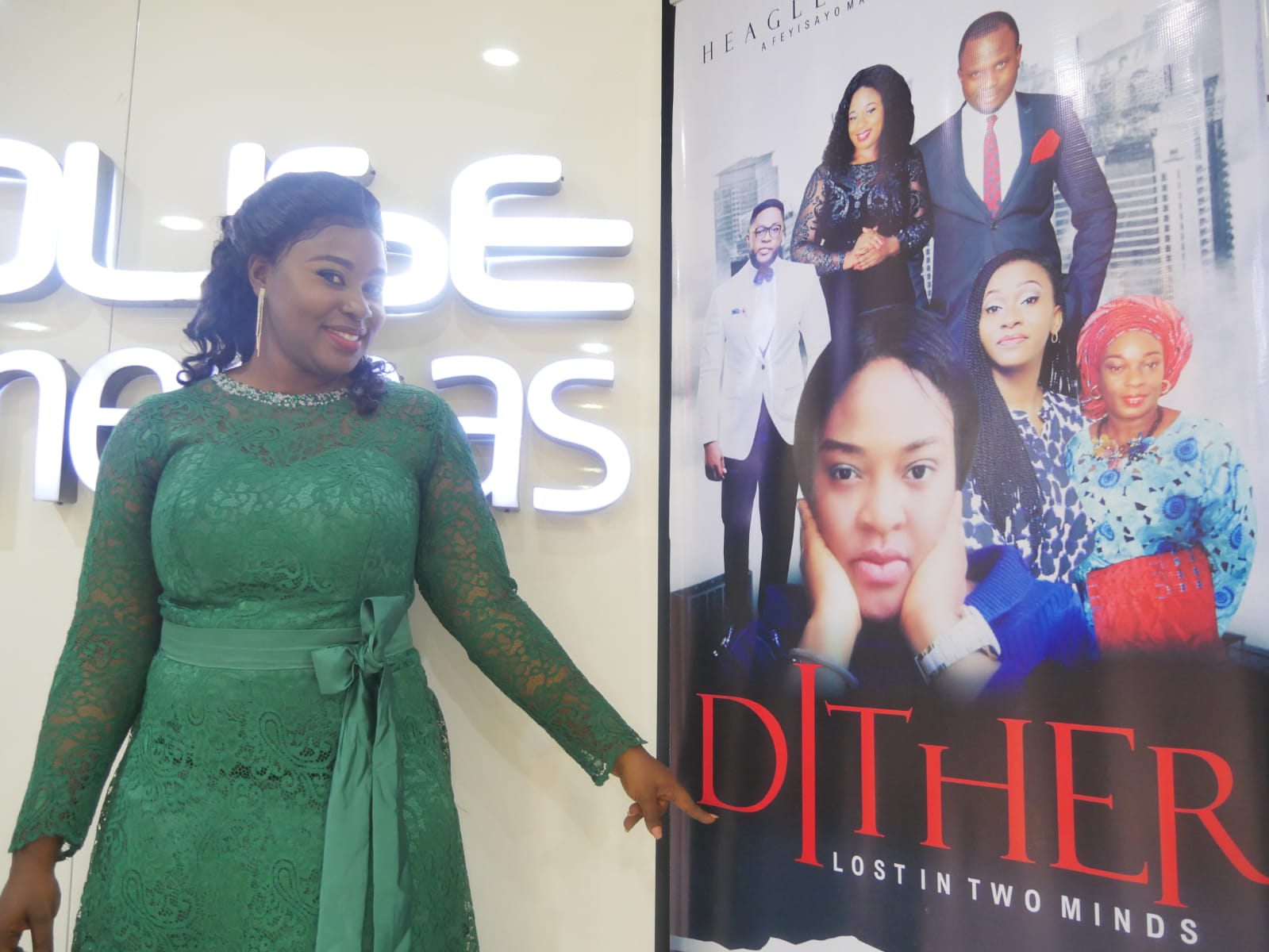 By Dipo Olowookere
A talented gospel filmmaker, Feyisayo Makanjuola, has taken a step further to raise the bar in the local movie industry fondly called Nollywood with the release of her new flick entitled Dither.
Feyi, as her pals fondly address her, recently premiered the movie in Port Harcourt, Rivers State and speaking on the project, the founder of Heagle Height Media said her film will change the face of Nollywood for good.
"The industry is doing well and growing really fast. As Nigerians, Nollywood has a great influence on our lives and ways directly and indirectly. So, like some people have done before me, if the gospel of Christ is beautifully packaged and delivered through this medium, we will reach and influence many. This is what I stand for and this is what I am up to," she said.
Speaking further at the event, which attracted a massive crowd of quality film lovers, including her colleagues in the showbiz world, Feyi explained that she went into gospel film production because she "was divinely inspired to go into it, noting that, "Movie production for me is a tool for the propagation of the gospel."
According to her, "My primary objective is to propagate the gospel globally. If I, therefore, need to entertain you to get this message across, so be it. Profitability is good and desirable but for those of us in the gospel movie industry, this is secondary. If money comes from this venture, we're good with it and if it doesn't, God will still have His way."
For her, she would love to "ensure that every movie coming out of Nollywood teaches good morals," expressing desire to act in secular movies as long as the objectives of the producer "perfectly aligns with mine," saying, "It's a period I am looking forward to when the objective of the gospel movie sub-sector will dominate the entire industry."
Explaining what Dither is all about, the prolific actress said, "Dither is a divinely inspired story like the five foolish virgins referred to in the Bible. The storyline of the movie is centred around a young lady who refused to forgive those who hurt her. She refused to let go of the past and slowly it consumed and controlled her decisions. The truth meant nothing to her as she became paranoid and suspicious of every intention people had. This became her greatest challenge."
On the challenges she faced while shooting the film, she said, "Due to the ethics and peculiarities of our sub-sector, the major challenge I encountered was getting the right cast for the movie. But after consultations with my colleagues in the industry, we were able to overcome this challenge. Access to our desired locations was also a bit of a challenge, and of course finance, but God saw us through all these."
However, she assured that viewers of the movie will enjoy "great motion picture quality, fantastic actors, beautiful storyline and amazing sounds," noting that, "Arrangements are in top gear to ensure that Dither is screened in major cinemas all over Nigeria."
According to her, "The movie will also be available on Netflix, YouTube and DSTV in due course. Our target is to put this movie on as many platforms as possible to reach a good number of people."
We Need Entrepreneur-friendly Policies—Daniel Adewoye Olamide
Former Mr Universe 2018, Daniel Adewoye Olamide, is a filmmaker, creative designer, content developer, journalist and among other entertainment engagements, He is also the global head of media for Gtext Homes, a leading real estate firm in Nigeria. In this interview, he talks about his career in the industry. Among other issues, he talks of his plans for the future, and more.
How did you start filmmaking as a journalist?
Well, I didn't start filmmaking or journalism at first, although I had started building the skills. I joined the creative industry as a model and won Mr Universe Africa and then transitioned full time into filmmaking. It started with always wanting to put ideas and scenarios in my head into motion, bringing it to life and being behind the camera.
What inspired you to go into filmmaking and how did it all begin?
It's only in the film industry you can be God and create your scenarios and outcomes. Basically, being the author and finisher of the actor's fate. I like to create my worlds and scenarios that likely won't be something you see in real life at the same it lets you create awareness about important matters and topics.
Did you actually learn it somewhere or how did you start?
No, I didn't intern under anyone as a filmmaker. I am a self-taught filmmaker. Most of my learning resources were from the internet and also I did one or two courses in and outside Nigeria to back up my knowledge and craft.
What is your goal in the film industry?
I want a name crested in the hall of fame, but above all, I want to make an impact with my work, influence and change lives positively.
Apart from being the global head of media at GText Homes yourself, you are also a filmmaker, content developer and graphic designer. How do you handle all of these at the same time?
It all flows together, that's what makes you a manager or supervisor; having an idea of all these things and how they blend into one and work together.
You have continued to remain relevant in GText Homes. What does it take to accomplish that?
Honestly, value plus dedication equals relevancy; so, I think that answers it.
On what platform are you selling yourself?
By selling, I guess you mean promoting. My Instagram page has some of my works. My website is coming up soon with all of my work on there.
What are your hobbies?
I don't have many friends that really hang around me physically. Most of them are creatives and content creators so they are mostly working as well. I watch movies a lot, then music too. I have a very nice set of playlists for different moods. So, yeah, I don't do much, to be honest.
Since you started filmmaking, will you say it has given you some financial independence?
Well yes, it has, but in Nigeria, you don't get rewarded as much as the skill you have.
Like in a month when the business is good, how much do you make?
It depends on your clientele really and the kind of project you do, it's relative.
Where do you hope to take this filmmaking venture to?
The plan is to pass on what I know to the coming creatives. I didn't have it all starting up. I didn't have access to major information starting up. So, I intend to make this easier for those starting up and trying to self learn filmmaking.
What is your plan for growing the brand?
Well, I hope to work with more major brands and create my own piece of ideas and thoughts.
Like how many people do you have working for you?
I have quite a team of skilled photographers and cinematographers, they are partners really because we mostly collaborate to create. There's no boss or employee in the creative field, in my opinion.
How many films have you produced so far?
Technically none, but I have been part of major TV shows and commercials. One of them is The Investment chat in a Rolls Royce, I worked on it as a co-producer and senior editor, and others are coming out soon as well.
What project are you working on currently?
I have a story or should I say a short film I wrote I'm working on with my team. The production is set to start soon, ceteris paribus.
What would you describe as the best aspect of your career?
The fact that you get to put your own imaginations into writing then onto the screen and people can see and feel your work, sometimes even have a different view and spinoff from what you created.
Would you say you have attained some level of perfection now?
To be honest, I am better than I was yesterday. With filmmaking, you can't always be perfect but you can be the best at what you do, there are new things to learn every day.
Who is/are your role model(s) in the film and entertainment industry and why?
I don't have a role model, I have pacesetters; people that set the pace in terms of their creative prowess and thinking capability, and delivery as well.
What brands have you worked on?
I've worked with BBnaija Housemates, Koko by Khloe, Whitemoney, Tega, Jackie B just to mention a few. I handled some of their brand ambassadorial commercials. I did Kennyblaq's UK tour video campaign, Destalker UK tour as well as Seyi Law's recently I got in a fight in UK Tour, Telesoftas, a Lithuania tech company. I have done something for Cantu as well and Dunnie.
I've also worked with Kanayo O Kanayo, Korede Bello, Cosmas Maduka, MD of Coscharis, Aare Dele Momodu, Dr Stephen Akintayo, and Taylor Live magazines, Sanni Danja and Mr Macaroni. My work has really put me in places with a lot of known personalities. These are the few I can remember really.
You directed the 'Sacrifice' commercial that trended, what was it like working with Kanayo O Kanayo?
Well, it was one of those projects that really tested how far I can stretch and deliver under a short timeline. It wasn't till after the shoot I realised what I had just done. I just directed a commercial and it was a veteran I had on set. He was sceptical when he found out I was the director, but in the end, he wasn't disappointed, I guess.
You have been a filmmaker for years now. How far would you say Nigeria's film industry has gone?  
There has been a major improvement even though Nollywood has shitty movies and films that will make you puke, lol but the most important is we are getting better and we have directors that are changing the narrative.
To what extent do you think the film industry has contributed to the economic growth of Nigeria?
I would say it has contributed more to Nigeria socially than it has financially, considering piracy is still at large in Nigeria.
Do you agree that the government doesn't patronize the film industry?
Well, they don't because the people in government don't care about your film, it takes creative and innovative leaders to know the importance of the film industry, our leaders are not informed even the minister of information is not as well, according to news.
What do you think the government can do to promote entrepreneurship?
They need to give the space and create more schemes that allow entrepreneurs to have access to platforms that support what they do and collaborate with industries outside Nigeria that can help entrepreneurs and their establishment and at the same time make entrepreneur-friendly policies, so you don't get frustrated as well.
What is your advice to upcoming filmmakers as well as those with acting potential or intentions?
Don't be about the money first, be about how much knowledge you can acquire. Filmmaking is a straightforward craft, you bill what you can deliver because you can't cut corners; it will always show in your delivery. If you're an actor as well, you need to work on your delivery and be better at it, especially with the expression of emotions. You also have to be versatile. The internet has made it easy to be detectable, you just have to be smart and don't be desperate.
In simpler words, acquire knowledge, build relationships and don't pursue money
Buga Keeps Kizz Daniel on Spotify's Top Artist Chart for 13th Week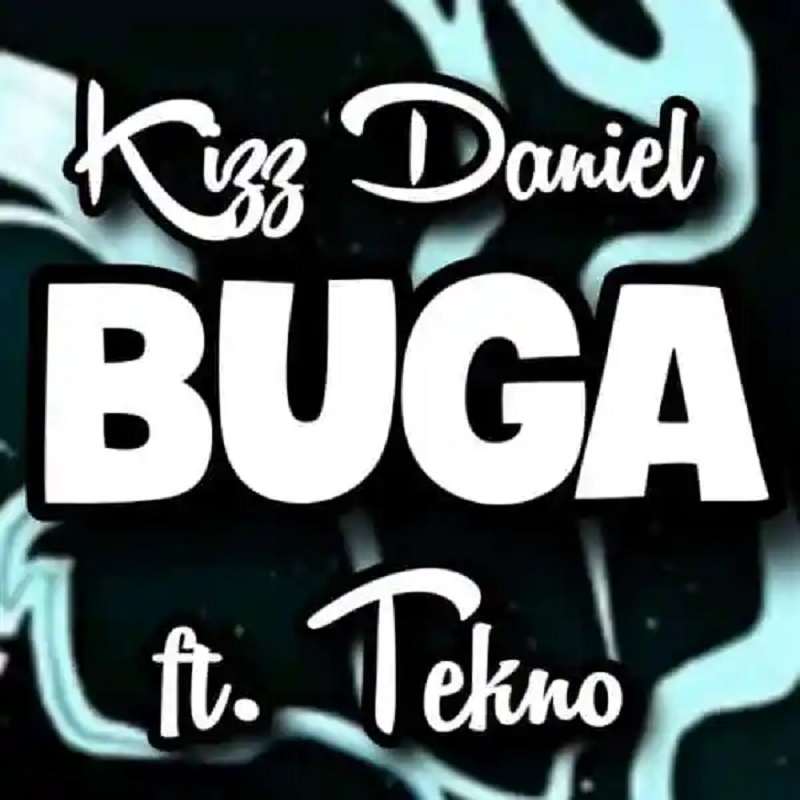 By Dipo Olowookere
For the 13th straight week, Afro-beat act, Kizz Daniel, has remained on Spotify's Top Artist Chart courtesy of his latest song of the moment, Buga, which features Tekno.
In the latest chart released by the audio-streaming platform, Kizz Daniel, who has since moved on from his issues with his former record label, G-Worldwide, was number one. He was followed by Victony, Burna Boy, BNXN (formerly known as Buju) and Rema.
A look at this chart revealed that Tekno was the biggest climber at number, while Ktizo was the highest new entry for the week at number 127.
As for the Top Songs chart, Buga by Kizz Daniel moved up by 72 spots to number one, while Finesse by Pheels and Buju clinched the second spot. Kolomental by Victony occupied number three, Sungba (feat. Burna Boy) – Remix by Asake & Burna Boy is number four and Dada (feat. Davido) – Remix by Young Jonn & Davido is number five.
Further analysis of this log showed that Calm Down has remained on the list for 13 weeks stretch, while Chop & Slide by Victony is the highest new entry this week at number 14.
For the Top Albums of the week, Spotify said Come Home The Kids Miss You by Jack Harlow ranked as the highest new entry at number 5, with the top spot claimed by Rave and Rose by Rema. The second position was taken by I Never Liked You by Future, Barnabas by Kizz Daniel is third, while Made in Lagos Deluxe Edition by WizKid is fourth.
However, Drake continues to claim the most spots in Nigeria with Certified Lover Boy at number 14. Barnabas by Kizz Daniel has been on the Top Albums chart the longest with a 13-week streak, while Born 2 Shine by T DOLLAR is the biggest winner, moving up by 75 spots to number 118.
YouTube Music, Sarz Academy to Train Producers, Songwriters
By Adedapo Adesanya
YouTube Music has collaborated with The Sarz Academy to train emerging producers and songwriters in Nigeria as part of a series of initiatives commemorating Africa Month 2022.
The training is part of YouTube's Future Insiders program and will be a three-day training series designed to help young producers and songwriters build their skills and abilities through hands-on training from famous music and industry leaders.
Speaking on this, Mr Osabuohien Osaretin, popularly known as Sarz, founder of the Sarz Academy said, "We founded the Sarz Academy in 2015 to help creatives thrive in the creative and business of entertainment.
"Our objective has always been to help turn the enormous potential that exists in the music creative space into genuine accomplishments.
"We recognize that, although many young Nigerians possess the necessary abilities for the industry, many are unable to create a successful music career owing to a lack of grasp of the business and production foundations."
Business Post had earlier reported that a series of activities commemorating Africa Month will take place throughout the month of May.
The initiatives, including the Future Insiders' workshop, are meant to bring attention to and show appreciation for the artists and creatives who are moving Africa's music business forward.
On her part, Addy Awofisayo, YouTube's Head of Music, Sub-Saharan Africa explained, "At YouTube, we've always been committed to supporting the next generation of music creatives out of Africa, and we are thrilled at the opportunity to connect the impactful work of the YouTubeBlackVoices Fund with The Sarz Academy's efforts to support the artistic aspirations of Nigerian music creatives."
Future Insiders is a component of the Black Voices Fund's Music Community Pillar, which provides possibilities for exposure and learning for young people all across the world.
It has collaborated with community-oriented groups in New York, Los Angeles, the Bay Area, Rio de Janeiro, Houston, Atlanta, London, Lagos, Accra, and now Memphis.
In addition to technical production and business sessions, selected participants will access one-on-one sessions with YouTube to learn how to connect and use the platform to drive the best engagement, as well as learn about all the essential tips such as creating and developing their brands, self-marketing, building positive artist and producer relationships, and revenue streams to consider.
Also commenting, the General Secretary of Sarz Academy, Ms Olajumoke Olayiwola, explained that "the 2022 Future Insiders program will focus on the business and production sides of music, with the primary objective of assuring that new producers do not make the same errors as previous generations.
"This level of success demonstrates that we are on the right route, and we look forward to furthering sessions, the development of new hit-making producers, and the expansion of the Academy to more countries."
The Masterclass will be held at Ogidi Studios from May 25-27 2022, with attendees able to network and ask facilitators questions about the music industry.
Interested participants can apply via the website https://www.thesarzacademy.com/
Latest News on Business Post