Oraimo Launches First-Ever Convertible Earbuds
By Adedapo Adesanya
With the launch of the new FreePods 3, Oraimo has become the first smart accessory maker to produce convertible earbuds with both Bass and Awareness mode.
The FreePods 3 come with two different modes that users can switch to seamlessly. Both modes offer unique experiences that fit perfectly into researched user preferences. Users can block all of the noise out and travel into another world when listening to music with their earbuds.
The Bass Mode
The Bass Mode keeps out ambient noise and prevents every form of air leakage to boost the bass from any audio output when users listen. This mode has proven to be great for watching movies as it creates a cinematic audio experience that is thoroughly enjoyable. It can also be perfect for meditation exercises as it helps avoid any form of distraction.
For Sound, Oraimo has introduced an all-new exclusive sound technology called HavyBass, the Oraimo exclusive bass boost system, which will be applied in Oraimo audio products.
They have collaborated with world-class audio engineers who used to work in Harman Kardon, to deliver the best sound quality. Conscious of the fact that Africans like bass, they have also made the 2baba tuned version great for afrobeat.
The Awareness Mode
The Awareness Mode allows users to adapt to their surroundings without losing the rich quality of the music as it slips into the ears.
Oraimo has taken the listening experience to increasingly new heights for its users ever since it launched its smart audio accessory line of products. The brand was the first to launch the TWS feature in the Nigerian market and has not rested on its oars ever since.
Oraimo has gained staunchly devoted supporters and advocates over the years because of its indubitable reputation for creating the most reliable smartphone accessories as seen in its brand projects – charging bricks to power banks, charging chords, and down to FreePods.
As a result of this, Oraimo has recorded a great number of achievements over the years. Some of her recent awards include the National Award for the Most Outstanding Quality Mobile Electronics Trading & Distribution Company of the Year, Nigeria's Best World-Class Quality Phone Accessories Products Company of the Year 2021, and Africa's Most Innovative Mobile Product Company in Support of Fintech Services Brand of the Year 2021.
In addition to these awards, the brand currently has over 100 million users in over 50 countries
Oraimo continues to solve the problem of access to durable smart accessories for users in Nigeria and beyond, through its e-commerce store www.ng.oraimo.com. Several consumers are also enjoying added value from its warranty services provided in partnership with Carlcare.
In addition, Oraimo has also introduced a new technology for its power series AniFast technology, its Oraimo's exclusive smart-charging technology.
As the company continues to push its excellent service delivery beyond the envelope, its customers will only continue to enjoy smart accessories delivered at best.
Funke Akindele's Second Marriage Collapses as JJC Skillz Quits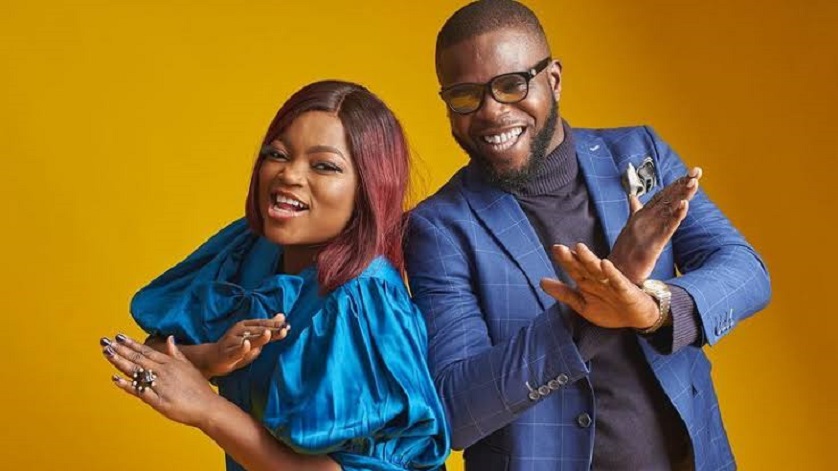 By Dipo Olowookere
After months of making efforts to salvage the situation, the marriage of popular actress, Funke Akindele, to musician and producer, JJC Skillz, has packed up.
JJC Skillz, whose real name is Abdulrasheed Bello, confirmed his separation from his wife via a post on his Instagram page on Thursday morning.
There had been speculations that the union between the two showbiz personalities was in trouble but efforts were made to cover things up. Some weeks ago, at an awards ceremony in Lagos, the couple mounted the stage together and gave a hint that all was well between them.
But in the post today, JJC Skillz, who has two children with Funke Akindele, otherwise known as Jenifa, said it has been very difficult to iron things out with his lover, noting that he has since moved out of their home in Lagos.
"Dear friends and family, I need to let you know that Funke and I have separated. While it lasted, we shared a lot of things together and have created 2 beautiful children.
"The last two years have been extremely difficult for us. I know I have tried my best to fix things but I believe it is beyond repair now. Three months ago and at Funke's insistence, I moved out of the house and apart from AMVCA have not been able to get Funke to sit down in an amicable manner to discuss the future of our relationship.
"I'm making this announcement so that the public is clear that we both are pursuing separate lives. We still have issues that need to be addressed such as the custody and wellbeing of our children which is paramount as well as business interests which need to be disentangled but I have no doubt that these will be resolved one way or the other," the singer wrote.
In 2016, Funke Akindele and JJC Skillz got married and a few years later, they welcome twin children. It was the second marriage for the actress. Her first was with a socialite, Mr Kehinde Almaroof, in 2012, in Lagos.
AFRIMA Insists on August 5 Deadline for Entry Submission
By Modupe Gbadeyanka
The organisers of the prestigious All African Music Awards (AFRIMA) have stressed that they will not bow to any pressure to extend the deadline for entry submission slated for Friday, August 5, 2022.
In a statement issued this week, the international committee of AFRIMA, urged all artists, music professionals and other relevant stakeholders within Africa and across the diaspora to submit their entries before the portal closes.
"It is important that all relevant parties submit their entries on time this year. We are a very thorough and transparent organisation, and we have a clear process for the award ceremony every year.
"Once submission of entries ends, we spend time judging the materials before we can derive our final nominations list.
"We also have a specific time allotted to voting. The entire process is also audited by a firm of international repute, PricewaterhouseCoopers. We do not just wake up and nominate people.
"AFRIMA 2022 will be held from November 3 – 6 this year. To achieve this, we cannot extend deadlines at this point," the juror representing Diaspora Northern America, Hadja Kobele Keita, said.
AFRIMA advised all prospective entries created between August 20, 2021, and August 5, 2022, to enter the competition via www.afrima.org, noting that all submissions must be done in consonance with AFRIMA guidelines, and terms and conditions, which are also available on the website.
This year's edition retains its existing categories, all of which are carefully curated to celebrate the best of talents within the African music scene as well as communicate the strengths of Africa for global competitiveness.
A pre-screening and the main screening process will be carried out, respectively, by a world-class 13-member jury composed of seasoned music experts from across the five regions of Africa and in the diaspora, between August 5 and 16, 2022.
A world media announcement of the AFRIMA 2022 nominees list will be held on August 17, 2022, officially heralding the voting period for this year's edition. From August 24, 2022, the AFRIMA Academy as well as music fans and followers around the globe will begin to participate in the public voting process to be conducted on AFRIMA's website, during which the nominees will receive votes that could lead them to emerge winners in the various categories of the awards.
The voting process, which closes 24 hours before the awards ceremony, would be monitored and audited by a reputable international auditing firm, PricewaterhouseCoopers.
The awards ceremony will be held from Thursday, November 3 to Sunday, November 6, 2022. It will feature a 4-day fiesta of music, glitz, and glamour. The event is scheduled to commence with the welcome soiree, followed by the AFRIMA Music Village, the host city tour, African Music Business Summit, and the exclusive nominees' party and concluded with the live awards ceremony broadcast to over 84 countries around the world.
Mr Eazi Climbs 115 Steps to 70 on Spotify Top Artists Chart
By Dipo Olowookere
Music act-cum-entrepreneur, Mr Eazi, has recorded the biggest movement upward on the Spotify Top Artists Chart this week, taking 115 steps higher to number 70, according to data released by the entertainment outfit.
The 30-year-old artist, who was born in Port Harcourt as Oluwatosin Ajibade, is the pioneer of Banku Music, a fusion of sound he describes as a mixture of Ghanaian highlife and Nigerian chord progressions and patterns, according to his Wikipedia page.
Since he gained the limelight a few years ago, he has remained relevant, churning out tunes that have endeared him to his teeming fans across Nigeria and beyond.
On the same chart, Mellow & Sleazy had the slot of the highest new entry at number 194, while an embattled Grammy award winner, Burna Boy, maintained his ranking as the longest-reigning artist on the log with an 18-week run this week.
The top 5 artists of this week are Burna Boy, Asake, Davido, Drake and WizKid in that order.
On the Top Songs Table, the highest new entry is Big Energy by LADIPOE at number 17, while Baddest Boy by Skiibii moved up an impressive 42 places to number 123, with Burna Boy's Last Last as the highest at number 2, and Omo Ope by Asake feat. Olamide on the charts for 18 weeks straight.
But the number spot on the log was taken by PALAZZO by SPINALL & Asake, followed by Last Last by Burna Boy; Overloading (OVERDOSE) by Mavins, Crayon, Ayra Starr, LADIPOE, Magixx, Boy Spyce; Buga (Lo Lo Lo) by Kizz Danie & Tekno; and Loving You by Zinoleesky.
On the Top Albums Charts, Ctrl by SZA is the highest climber with 132 steps to number 41, while BTS has the most spots on the chart in Nigeria, with Proof the highest new entry at number 2. WizKid's Made in Lagos Deluxe Edition has been on the table the longest for 18 consecutive weeks.
On top of the log is Rave and Rose by Rema, Proof by BTS is second, Made in Lagos Deluxe Edition by WizKid is third, Mr Morale & The Big Steppers by Kendrick Lamar is fourth, while B A H D by Falz is sitting on the fifth spot.
Latest News on Business Post