Peace Hyde Covers November Edition of MediaGuide.ng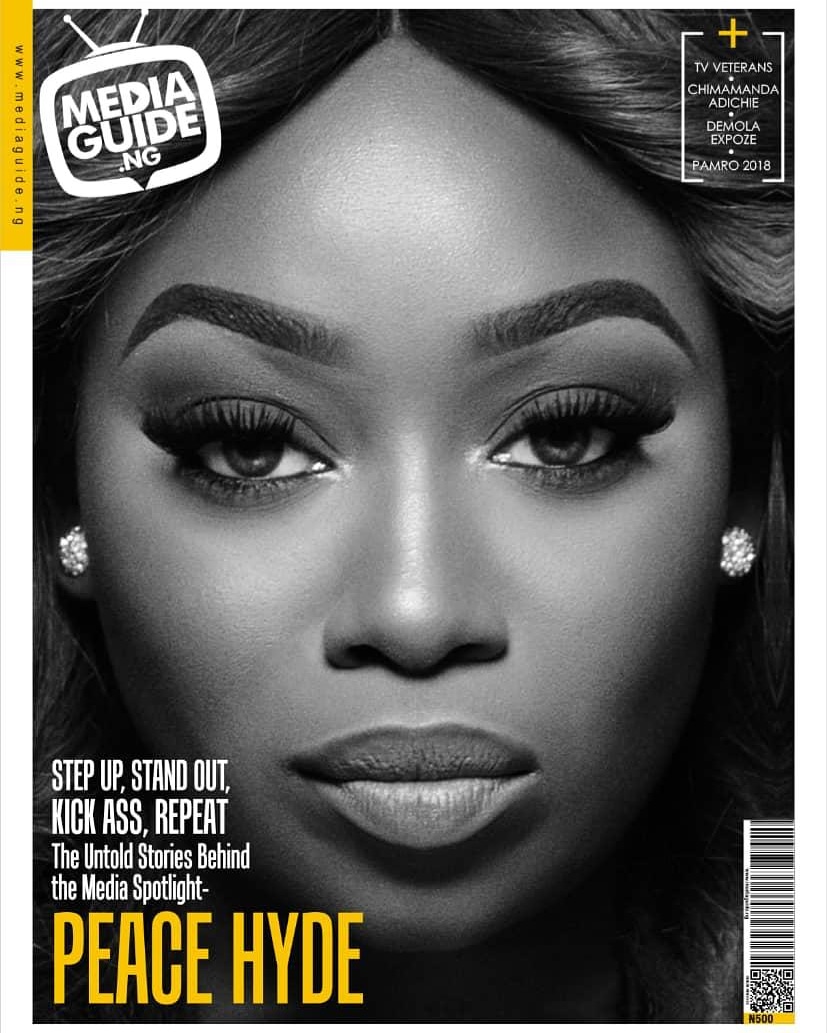 By Dipo Olowookere
Media personality, Peace Hyde, has made the cover of the November edition for mediaguide.ng, featuring her inspirational story.
The latest issue comes with the title The Untold Stories Behind The Media Spotlight, mainly focusing on Peace Hyde's journey to spotlight.
Peace Hyde is Forbes Africa's Head of Digital Media and Partnerships and Correspondent and the latest issue of the publication looks beyond the greatness and delves into the success story of the award-winning journalist and media personality who is also the founder of education non-profit, Aim Higher Africa.
This issue of MediaGuide.NG Magazine is all about the drive to achieve your fullest purpose and to stay on top in the media game and how personalities such as #PeaceHyde keep up the pace.
Social media has made it possible to conceal the hard work that goes into the process, while showcasing the winning moments.
This issue aims to highlight the side we do not see and showcase what one of Africa's hardest working media personalities has to overcome daily to achieve the remarkable heights she has attained so far in her journey.
From her meteoric rise as a correspondent to heading up the digital media and partnerships of Forbes Africa and her nomination to the exclusive 2018 Obama foundation Africa Leaders Program and perhaps more importantly her inspirational work with her non-profit organization, Aim Higher Africa where she empowers African youths to transform their passion into tangible businesses that builds economic prosperity, Peace Hyde is an unstoppable force in Africa.
"Success is not a respecter of individual; the level of outcome depends on the 'Extra' work attached to the 'HARDWORK' involved.
"All the way from Ghana, the name PEACE HYDE rings a huge bell in African Media Industry, and yes, it is not magic. The Aim Higher Africa founder gives us an untold inside story of her journey to the top media personality we know today," says Kolade Akeni, the publisher of Mediaguide.ng.
This edition also comes with a scoop of happenings on TV, Radio, Cinema and Online media. In other words, it is everything and more than the pages you want to turn.
Mr Eazi Climbs 115 Steps to 70 on Spotify Top Artists Chart
By Dipo Olowookere
Music act-cum-entrepreneur, Mr Eazi, has recorded the biggest movement upward on the Spotify Top Artists Chart this week, taking 115 steps higher to number 70, according to data released by the entertainment outfit.
The 30-year-old artist, who was born in Port Harcourt as Oluwatosin Ajibade, is the pioneer of Banku Music, a fusion of sound he describes as a mixture of Ghanaian highlife and Nigerian chord progressions and patterns, according to his Wikipedia page.
Since he gained the limelight a few years ago, he has remained relevant, churning out tunes that have endeared him to his teeming fans across Nigeria and beyond.
On the same chart, Mellow & Sleazy had the slot of the highest new entry at number 194, while an embattled Grammy award winner, Burna Boy, maintained his ranking as the longest-reigning artist on the log with an 18-week run this week.
The top 5 artists of this week are Burna Boy, Asake, Davido, Drake and WizKid in that order.
On the Top Songs Table, the highest new entry is Big Energy by LADIPOE at number 17, while Baddest Boy by Skiibii moved up an impressive 42 places to number 123, with Burna Boy's Last Last as the highest at number 2, and Omo Ope by Asake feat. Olamide on the charts for 18 weeks straight.
But the number spot on the log was taken by PALAZZO by SPINALL & Asake, followed by Last Last by Burna Boy; Overloading (OVERDOSE) by Mavins, Crayon, Ayra Starr, LADIPOE, Magixx, Boy Spyce; Buga (Lo Lo Lo) by Kizz Danie & Tekno; and Loving You by Zinoleesky.
On the Top Albums Charts, Ctrl by SZA is the highest climber with 132 steps to number 41, while BTS has the most spots on the chart in Nigeria, with Proof the highest new entry at number 2. WizKid's Made in Lagos Deluxe Edition has been on the table the longest for 18 consecutive weeks.
On top of the log is Rave and Rose by Rema, Proof by BTS is second, Made in Lagos Deluxe Edition by WizKid is third, Mr Morale & The Big Steppers by Kendrick Lamar is fourth, while B A H D by Falz is sitting on the fifth spot.
Burna Boy, Asake Dominate This Week's Spotify Charts
By Dipo Olowookere
In the latest charts released by a leading streaming platform, Spotify, Grammy winner, Burna Boy and a new kid in the bloc, Asake, are in charge, with the former retaining his ranking on the Top Artists log as the longest artist for the 17th week.
However, 1da Banton was the biggest climber in the week after taking 55 steps to number 74, while Niniola has the slot of the highest new entry at number 178.
As for the top five, Burna Boy was on top, followed by Post Malone, Davido, Asake and Kizz Daniel in that order.
In the Top Songs category, Last Last by Burna Boy had the most spots in Nigeria at number 2, while I Like You (A Happier Song) (with Doja Cat) by Post Malone and Doja Cat got the highest new entry at number 36. Montego Bay by Naira Marley climbed an impressive 125 places to number 54 to claim the biggest winner position, while Omo Ope (feat. Olamide) by Asake remained on the Top Songs charts for 17 weeks straight.
A look at the Top 5 songs showed that the first spot was occupied by Palazzo by DJ Spinall & Asake, with second, third, fourth and fifth places taken by Last Last by Burna Boy; Overloading (Overdose) by Mavins, Crayon, Ayra Starr, Ladipoe, Magixx, Boy Spyce; Buga (Lo Lo Lo) by Kizz Danie & Teknol; and Loving You by Zinoleesky respectively.
On the Top Albums chart, Twelve Carat Toothache by Post Malone ranked as the highest new entry this week at number one. Stoney (Deluxe) by Post Malone moved up by 40 slots as the biggest winner at number 82, while WizKid's Made in Lagos Deluxe Edition claimed the most spots at number 4, staying on the chart for the 17th week.
The Top 5 albums in Nigeria on Spotify Charts are Twelve Carat Toothache by Post Malone, Rave and Rose by Rema, Mr Morale & The Big Steppers by Kendrick Lamar, Made in Lagos Deluxe Edition by WizKid, and I Never Liked You by Future.
Airtel Touching Lives Season 6 Hits TV Screens Tomorrow
By Modupe Gbadeyanka
From Saturday, June 11, 2022, fans and followers of the award-winning reality television programme, Airtel Touching Lives, will begin to watch season 6 of the show.
A statement from the organisers of the programme disclosed that before the premiere this weekend, subscribers of Airtel Nigeria can catch the first episode on Airtel TV from Thursday, June 9 via https://prod-content-tv-stream.cloudmi.datami.com/s/zPRUXmI4BF3Z9SvH_DMI or by downloading the Airtel TV App on IOS and Android play stores.
It was stated that non-subscribers will have to wait till tomorrow to see the show across terrestrial and cable television stations.
According to the broadcast schedule released by Airtel Nigeria, the first episode will air on Africa Magic Family Channel 154 and GOTV Channel 2 from 6:00 p.m. to 6:30 p.m. on Saturday. The same episode will air from 7:00 pm to 7:30 pm on AIT Channel 253 on DSTV. On Sunday, from 5:30 p.m. to 6:00 p.m., a rerun will be broadcast on Africa Magic Family channel 154.
Airtel Touching Lives season 6 was premiered on Friday, May 13 in Lagos at an exclusive event that was attended by several dignitaries.
Managing Director and Chief Executive Officer of Airtel Nigeria, Mr Surendran Chemmenkotil, while speaking at the event, said Airtel Touching Lives has not only recorded milestones but has offered real help to individuals, communities, groups, and institutions since the launch of the initiative.
"In Season 6, Airtel Nigeria has helped to rebuild a dream, a life, a hospital. We helped children rebuild their confidence, get an education, and we tested millions for COVID. We turned tears of sadness into tears of Joy," he stated.
Mr Chemmenkotil further encouraged other corporate entities as well as well-spirited individuals to join hands in improving the society, as collaboration to solve societal problems can make a huge difference, and if the privileged people continue to support the needy, society will excel and triumph at a quicker pace.
Airtel Touching Lives takes the format of a reality television show, allowing the public to nominate causes, communities, and underprivileged persons/people with special needs. Airtel thereafter evaluates and selects the causes to support, and the activities are filmed and broadcasted on terrestrial and satellite television stations with the aim of inspiring other corporate organizations as well as well-meaning individuals to join in supporting the weak across society.
Latest News on Business Post