Sound Sultan: The Poetic Ambassador on Migration UN Never Had
By Segun Adesokan
Motherland, referring to Nigeria in his song, at the time of its release, was timely and its messages even till the present day is rich and timeless as it could be passed off as an immigrant travel guide.
The early part of the song had reminded us about how Chinedu had borrowed some money to fund his trip to Chicago. It further adds: how Nnamdi had also sold off his car to facilitate the trip of a beloved to America. In the middle of it all is also the emotionally drained lover or spouse left behind, whose wellbeing and fragile mind is left hanging in the balance, sadly in some instances, some partners never return.
The song perhaps appears to have critically observed the obsession of many immigrants whose inordinate or misplaced quest for survival believes that immigrating to the West or other European countries is a critical means by which survival is sought, hence Sound Sultan's Motherland came in handy: offering some counsel, suggesting that sometimes, a sojourner may have to beat a retreat by returning to his ancestral home, Motherland, given the fact that sometimes, in a bid to survive in a foreign land, the unpredictability of such adventures may unavoidably require one to do so.
As often the case with many immigrants from Nigeria and by extension many others from African countries, who had at one time or the other undertaken such adventurous trips in search of greener pasture abroad, even the period leading to their departure also comes at a great cost and sacrifices as some families sell off assets and other prized possessions to fund such trips, unsure whether the risk would eventually pay off or not.
While the craze in search of the golden fleece rage on, some Africans in their desperation may have also thrown caution in the air, leading to situations where thousands have reportedly died in the wake of risky voyages across Mediterranean or Sahara wastelands, as hundreds have also fallen prey to wild beasts, transnational armed syndicate and human traffickers who deal in drugs and séx slaves, having promised many unsuspecting victims an elusive Eldorado life, waiting for them in Europe.
Many African households have believed some of these false narratives built into their psyche for many years and it has become so difficult to undo.
The late singer was never opposed to the idea of people seeking better opportunities or greener pastures outside the country, but rather also reminds them about home and the need for them to apply cautious optimism where applicable, in their quest to travelling overseas.
Notwithstanding, the home would still be home regardless of the prevailing circumstance which may have forcibly led to one's uneventful return.
This writer believes late Olarewaju Fasasi, fondly called Sound Sultan, as a social crusader, an iconic singer using his musical crafts as a vehicle to remind us about the need to be introspective, also feels compelled to note that Motherland, mirroring the life of most immigrants and some of the challenges often associated with it, brings to the fore also a social problem and the need for concerned international organisations like UN and its relevant agencies to do more in terms of advocacy and policies in reversing the tales of woes of many migrants.
Though UN's 2030 Agenda for Sustainable Development recognizes for the first time the contribution of migration to its sustainable development, thus, 11 out of the 17 Sustainable Development Goals (SDGs) contain targets and indicators relevant to migration or mobility for which parts of its Agenda's core principle is to "leave no one behind," not even migrants.
The SDGs' central reference to migration is made in some of its major targets, which is to facilitate orderly, safe, regular and responsible migration and mobility of people, including through the implementation of planned and well-managed migration policies.
Other targets directly related to migration mention trafficking, remittances, international student mobility, and more. Moreover, migration is indirectly relevant to many more cross-cutting targets.
UN, more recently, through International Organization on Migration, a leading partner on the inter-governmental organisation in the field of migration works to ensure the orderly and humane management of migration, to promote international cooperation on migration issues, to assist in the search for practical solutions to migration problems and to provide humanitarian assistance to migrants in need, including refugees and internally displaced people.
 In 2016, IOM entered into an agreement with the United Nations, becoming one of its specialized agencies.
However, the above plans and efforts of UN appear commendable but today's realities in some part of Europe and other Asian countries, judging by their immigration policies at present largely remains a far cry from the much-advertised SDG's policies.
While many Africans battle so hard to grapple with harsh realities and hostilities of their host countries ranging from racism, prejudice, little or too rigid legal documentation processes for immigrants, and biting chances of economic survival, many have also become susceptible to illegal drug dealings which in most cases often result in cruel fate or even avoidable deaths.
The sad news on the passing of Sound Sultan, one of Nigeria's notable songwriter, artist, producer, and comedian, who a few weeks ago was reported to have lost the battle to a cancerous related aliment around the throat, brings with it feelings of pain, grief, and national loss.
By national loss, Nigeria just lost a voice and a social crusader reputed for his numerous campaigns against bad governance, injustice, corruption, and bad leadership a major clog in the wheel of Nigeria's progress. He will fondly be remembered for his many statesmanly roles towards mobilizing the citizens through his several songs on how to constructively hold them accountable to their constitutional functions.
To the memory of the late singer, President Muhammadu Buhari also penned a glowing tribute to him for his contribution to basketball development in Nigeria.
He was even reported to have co-owned a basketball team. D'Tigers, the Nigerian men basketball national team, would also honour the late singer by wearing T-shirts bearing the late singer's name and image on it, for his roles in promoting the sports.
Coincidentally, his death would also leave a lasting memory following D'Tiger's phenomenal triumph over the US men basketball national team, a feat no African team had ever done, the same day he was said to have died.
The Motherland crooner died at age 44 in the US and his remains have since been buried in the US, same day, according to Islamic rites, leaving behind his three kids and his beloved wife.
Ecobank Nigeria to Host Photography, Art, Design Exhibition
By Modupe Gbadeyanka
As part of activities to commemorate this year's World Photography Day slated for Friday, August 19, Ecobank Nigeria will host a Photography, Arts and Design Exhibition (PADE).
The 3-day event themed A Canvas for Africa's Creatives will hold at the state-of-the-art head office complex of the bank, Ecobank Pan African Centre (EPAC), on Ozumba Mbadiwe, Victoria Island from Friday, August 19 to Sunday, August 21, 2022.
The Head of Marketing and Corporate Communications of Ecobank Nigeria, Mr Jide Sipe, explained in a statement that the exhibition was conceived by the financial institution to help showcase the brilliance of Nigerian creatives to the world.
He further stated that the exhibition is part of the bank's current strategy as a pan-African bank to sustain its legacy as a foremost supporter of the creative industry in the country, noting that it provides a platform for harnessing and powering the creativity of the African continent.
The event, which he said is open for members of the public to attend for free, will witness an assemblage of creative influencers in photography, visual arts, vocal and dramatic arts, and designs, adding that there will also be digital engagement ideas for creatives, photography contest and draws on social media, amongst others.
"At the event, we expect portrait photographers, event photographers, landscape photo artists and basically everyone with lenses to capture moments and frame memories in time.
"We also expect creative influencers in visual arts such as painters, calligraphers, cartoonists, make-up artists and basically everyone good with a brush or pen. In attendance too will be spoken word poets, influencers, videographers and basically everyone who can compose a distinct audio-visual reality.
"We are in contact with architects, interior designers, graphic designers and basically everyone who enjoys bringing abstractions to life. There will also be side attractions, including games, photo booths, performances, VR station for kids, and 3D virtual art displays," he said.
Mr Sipe further called on all creatives and influencers to do short videos introducing and showcasing themselves on social media.
"We will have a contest where people would take pictures or paint a notable Nigerian landmark and share their inspiration with us.
"Participants must hashtag their photos or paintings with #Padebyecobank to participate. There will also be a raffle draw on social media to determine who wins the free family photoshoot during the exhibition. This is open to people who attend the exhibition. It is a total package,"
Prime Video Intensifies Efforts to Cut Market Share of Netflix, Others in Nigeria
By Adedapo Adesanya
Global streaming service, Amazon's Prime Video, has increased its investment in Nigeria with customers now able to sign up for the streaming service in the local currency, Nigerian Naira, a move that will see it compete with Netflix and other competitors in the Nigerian market.
The news comes as Prime Video's first local marketing campaign for Nigeria launches with the announcement of two Local Amazon Originals for Nigerian customers, Gangs of Lagos and LOL: Last One Laughing Naija.
In a release, it said for N2,300 per month, customers in Nigeria can sign up for a Prime Video membership at PrimeVideo.com and enjoy a great selection of entertainment, including global Amazon Original movies and TV series, popular Hollywood titles, exclusive Nollywood movies, and local Nigerian originals coming soon.
Prime Video members can also stream and download and watch anytime, anywhere through the Prime Video app on compatible mobile devices, tablets, Smart TVs, or online at PrimeVideo.com.
Customers can also control the amount of data they use by selecting Good, Better, or Best streaming quality, or downloading on their mobile device for offline viewing later.
Speaking on the foray into the Nigerian market, Mr Josh McIvor, director of International Expansion, Prime Video said, "We're delighted to be increasing our investment in Prime Video for customers in Nigeria, making it a truly localised experience.
"From local payment and a full-scale local marketing campaign to more local content specifically for Nigerian customers, our investment in Nigeria is a significant step towards our broader expansion plans in Africa and our ambition to be the most local of global streaming services."
Adding her input, Mrs Wangi Mba-Uzoukwu, head of Nigerian Originals, Prime Video said, "We know our customers want to see locally relevant faces, places, and stories alongside our global content on Prime Video, so we're excited to be bringing Nigerian customers these brand-new Local Amazon Originals, Gangs of Lagos and LOL: Last One Laughing Naija, which will complement our growing selection of Nollywood and African series and movies.
"The news signals our continued commitment to the Nigerian TV and Film industry, bringing the very best of authentic, homegrown stories to not only our customers in Nigeria but also Prime Video members around the world."
Prime Video noted that both local productions build on recent film deals made by the service including an exclusive commissioning slate deal with Nemsia Films for three feature films, beginning with Breath of Life, launching next year.
Other exclusive licensing agreements include deals with leading Nigerian production studios Inkblot Studios and Anthill Studios, bringing Prime Video customers exclusive access to their movies after theatrical releases, such as box-office hit King of Thieves, Superstar, Progressive Tailors Club, Bad Comments, and Badamasi, which are currently available to watch. This highlights the commitment by Prime Video to deliver local and authentic African films to a global audience of more than 200 million Prime members worldwide.
The new Nigerian Originals will join Prime Video's selection of global Amazon Original series like The Boys, The Terminal List, The Marvelous Mrs Maisel, and upcoming, highly anticipated The Lord of the Rings: The Rings of Power, as well as popular Amazon Original movies like Coming 2 America, The Tomorrow War, and Tom Clancy's Without Remorse.
Joeboy, 29 Others for YouTube Music Foundry Class of 2022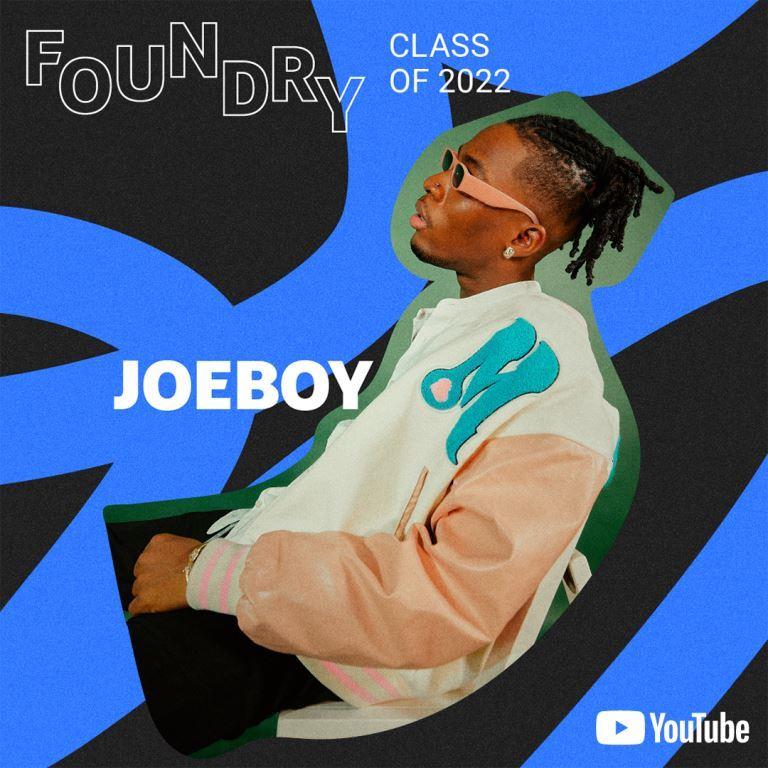 By Modupe Gbadeyanka
Nigerian music sensation, Joeboy, has been chosen alongside 29 independent artists across the globe for the YouTube Music Foundry Class of 2022.
The Foundry program was created in 2015 to assist the artists to build sustainable careers on their own terms and so far, 250 independent entertainers have passed through the system, including Arlo Parks, beabadoobee, Dave, Dua Lipa, Clairo, ENNY, Eladio Carrion, girl in red, Gunna, Japanese Breakfast, Kenny Beats, Natanael Cano, Omar Apollo, Rema, Rina Sawayama, ROSALÍA, Saba, Snail Mail, Tems, Tenille Arts and many more talented musicians.
It was gathered that this year's program is the largest class to date, with 30 independent artists drawn from 15 countries, including Ghana, the United States, Canada, the United Kingdom, Mexico, Japan, and Australia, among others.
Foundry artists are recognised for their storytelling, and innovative approach to music and are viewed as the next generation entertainers.
The 2022 Foundry Class reinforces YouTube's commitment to supporting Sub-Saharan artists as next-generation global music stars; playing a part in developing individual talent in the region.
The Foundry programme ensures that artists can be independent and still have a successful career in music with the support of platforms like YouTube and this year will power two programs, the Foundry Class of 2022 and the independent release support.
Commenting on his inclusion, Joeboy said, "Being an independent artist simply requires me to be at the centre of all of my dealings as a creative. Aside from creating the music, I have to carry out due diligence to make sure I am making the right decisions every now and then."
On his part, Ghana's Black Sherif said, "Success as an independent artist is connecting with one more person on any level through my music. Once that is constantly achieved, in my opinion, everything else will follow. Being a Foundry artist for me means a strong global platform with support to visually take my expression to the next level and reach more people in the process."
"It's no small task to be an artist in 2022, working to find stability, fulfilment, and fans who get it. Foundry celebrates the courage of independent artists and the communities that surround them. Our global team is lucky to be their champion and reduce barriers on their journey, every step of the way," the YouTube Artist Partnerships Lead, Naomi Zeichner said.
Also, SSA YouTube Music Lead, Addy Awofisayo, disclosed that, "We believe that lowering the barrier to entry that unlocks opportunities for music artists to create and connect with a global audience is crucial. But beyond that, Foundry will assist the music artists participants in navigating a new increasingly digital industry as they connect with fans and generate revenue."
Latest News on Business Post