Spotify Invests in Emerging Artists in Ghana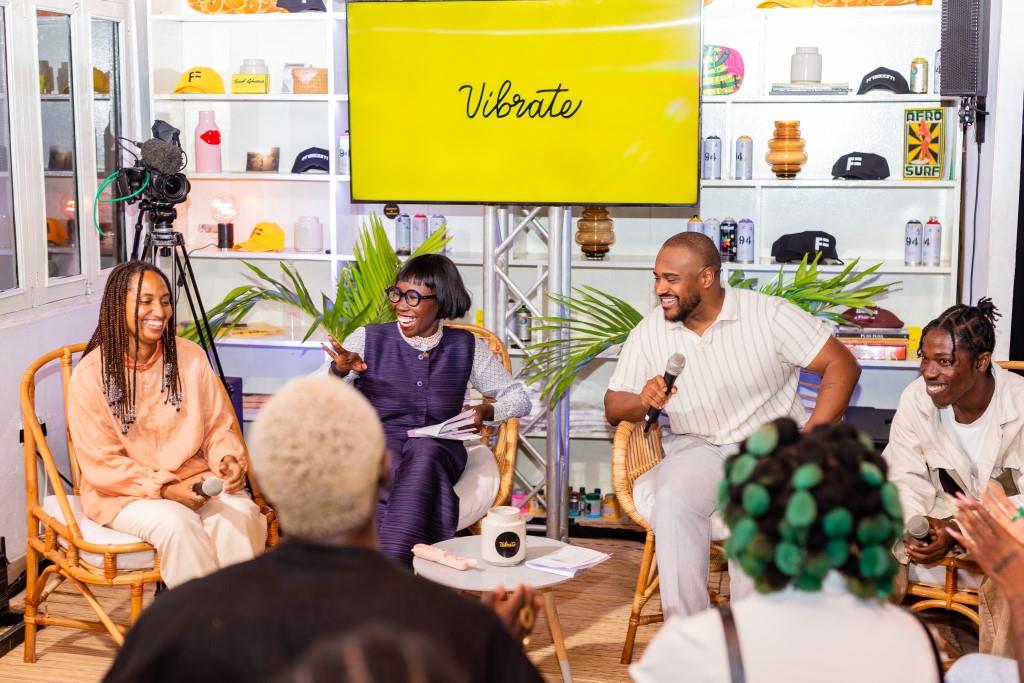 By Modupe Gbadeyanka
To support emerging artists in Ghana, a global streaming platform, Spotify, has announced a multi-year investment through its Creator Equity Fund by donating to Accra-based Vibrate Space.
Vibrate Space, a non-profit organisation operated by Surf Ghana, is a community recording studio and music business programme offering education, mentorship and space to young Ghanaian artists so that they can create, connect and collaborate.
Spotify first partnered with Vibrate in September 2022 with a donation that facilitated the launch of the studio. Over the past six months, the platform has registered over 200 studio bookings and hosted many more creators for events and classes.
To help Vibrate achieve its robust plans to grow and support the creative economy in Ghana, Spotify is making a sizeable donation from its Creator Equity Fund to be administered over multiple years.
"Since Spotify's arrival in Africa five years ago, we have worked to identify opportunities to support artists in ways that speak directly to each of our markets.
"The partnership with Vibrate allows us to continue supporting emerging artists and cultural entrepreneurs in Ghana in addition to the on-platform work we are doing in the country," the Head of Music for Sub-Saharan Africa (SSA) at Spotify, Ms Phiona Okumu, said.
Also commenting, the Global Head of Artist and Audience Partnerships at Spotify, Mr Joe Hadley, said, "Spotify is proud to continue our efforts to support and uplift creatives with our Creator Equity Fund.
"I'm excited to share that from that fund, we're announcing a donation to the Vibrate Space in Accra, Ghana. They have been incredible partners to us, continually pouring into the local community and creating a space where artists can come together to grow creatively. We're looking forward to hearing the music, stories, and success that will come out of Vibrate."
Similarly, the Managing Director for Spotify SSA, Ms Jocelyne Muhutu-Remy, said, "Spotify is constantly seeking new and innovative ways to promote African music and celebrate and support its creators.
"We see ourselves as a global platform with a local focus, and we really drill down to understand what is happening across the continent and how we can support both artists and users in those markets.
"Our partnership with Vibrate is one way that we are doing this in Ghana, but we have plans and projects in place to support artists both on and off platforms across the region."
On her part, the founder and director of Surf Ghana, Ms Sandy Alibo, said, "We are happy to be partnered with Spotify. They're really supportive of the alternative scene, and not every brand understands that.
"We work with young and emerging artists and creators who are looking to make a mark in the music industry, and Spotify is a brand that speaks to young people and has played a significant role in taking African and Ghanaian music to the world."
Vibrate intends to use the additional funding for artist support and establish an artist-in-residency and exchange programme to fuel creativity, collaboration and cultural exchange, as well as a women's programme aimed at supporting women's growth in the industry.
The platform also wants to expand its educational offerings by extending the highly successful monthly masterclasses for another two years and introducing a three-month instrument learning programme, starting with piano lessons and expanding into other instruments.
Excitement as Nigerian Idol Season 8 Live Show Begins
By Modupe Gbadeyanka
All is now set for the commencement of the Nigerian Idol Season 8 Live Show this weekend after the judges chose 10 contestants for the stage.
The process started last December with entries received from across the country and reached its high point when the trio of Obi Asika, D'Bank, and Simi selected 10 budding singers from the 29 who made it to the theatre week.
The live show is the crucial phase of Nigerian Idol, as the fate of the contestants is in the hands of the voting public.
Savvy Henry, Constance, Goodness, Abraham, Quest, Precious Mac, Victory, Reigny, Ose Daniel, and Chisom were selected for the final stage after five weeks of audition and theatre week performances.
Performances on the live show will be judged by the viewers, who hold the power to retain and evict contestants through their votes.
Viewers can follow their favourite contestants on Nigerian Idol season 8 by tuning in to Africa Magic Showcase, Africa Magic Urban, and Africa Magic Family every Sunday at 7 pm.
Judges Pick 10 Contestants for Nigerian Idol Season 8 Live Show
By Aduragbemi Omiyale
The ongoing Nigerian Idol Season 8 will take a new twist this weekend as 10 contestants will begin the race to clinch the coveted prize with the help of the voting public.
Before now, the judges for the show, Simi, Obi Asika, and D'Banj, have had the final say on the thousands of budding singers that applied for the programme.
But from this weekend, it would be the turn of the viewers to seal the fate of the contestants. The three judges picked 10 contestants from the 29 that made it to the final stage of Theatre Week after doing their final solo performance.
The aspiring music stars would be expected to sing and impress the viewers with their performances during the Nigerian Idol Season 8 live show on Sunday, May 28, 2023.
The first pick for the final top 10 was Henry Savy, who impressed the judges with his Para performance of Davido, as 17-year old Constance stole the show as she melted hearts with Positions by Ariana Grande, while Precious Mac thrilled and filled the theatre with singer Simi's Ayo.
The judges also selected Victory, Daniel Ose, Goodness, Abraham, Reigny and Quest after singing No Shaking by 2baba, Catch me if you can by Adekunle Gold, About damn time by Lizzo, Under the Influence by Chris Brown, Karma by Summer Walker, and Flowers by Miley Cyrus, respectively.
The last man standing, Chizo, narrowly escaped this time around, unlike last season when he was sent off at a crucial moment.
Meanwhile, 19 contenders – Arite, Sapphire Whinnas, Amaka, Akinwande, Mura's twin brother (Mina), Eloehi, Daniel, Sir Danny, Soultunes, Busayo, and nine others were tactfully eliminated from the moving train as it could only accommodate the 10 best acts this time around.
While commenting, Ms Aransiola Biola, who is the Assistant Brand Manager of the sponsor of the show, Bigi, said the support was to help discover and nurture talent across the country and the African continent and a demonstration of its mantra that it is for every moment, connecting consumers through worthy platforms.
"We are excited to sponsor Nigerian Idol for three consecutive years, the Seasons 6 and 7, due to our love for promoting the entertainment industry and to support the next generation of musical talents," she stated.
"This show is a great opportunity for contestants to showcase what they have as they unlock new opportunities in the music industry," she added.
Legendary Singer Tina Turner Dies at 83
By Modupe Gbadeyanka
A legendary singer, Tina Turner, has died at her home in Küsnacht near Zurich, Switzerland at the age of 83.
The musician breathed her last on Wednesday, May 24, 2023, after a long illness.
Tina Turner became very popular in the 70s when she was part of the Ike and Tina Turner duo that rocked the period.
She later went solo and became very successful because of the energy she put into her performances, and she was known as the Queen of Rock'n Roll.
Tina Turner, who was born in 1939 in Brownsville, Tennessee, is referred to as one of the most successful female performers in history.
Latest News on Business Post