FIFA Suspends CAF President over Alleged Corrupt Practices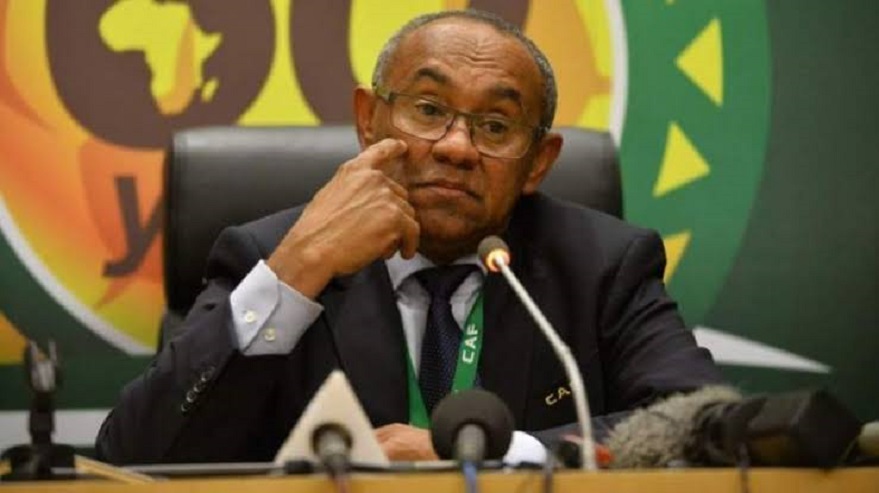 By Adedapo Adesanya
Football's governing body, Federation of International Football Association (FIFA), has banned Mr Ahmad Ahmad, the President of the Confederation of African Football (CAF), for five years for breaching some of its codes.
He has been sanctioned with a ban from all football-related activities (administrative, sports or any other) at both national and international levels for the duration.
In addition, Mr Ahmad, former president of the Madagascar Football Association, has been fined 200,000 Swiss francs.
Under FIFA rules, Mr Ahmad can appeal the decision at the Court of Arbitration for Sport (CAS) once he has received the full grounds for the ban.
He is one of the candidates who have announced their intention to contest the CAF elections that will be held in March 2021.
The FIFA statement said the adjudicatory chamber of the independent Ethics Committee found him guilty of having breached article 15 (Duty of loyalty), article 20 (Offering and accepting gifts or other benefits) and article 25 (Abuse of position) of the 2020 edition of the FIFA Code of Ethics, as well as article 28 (Misappropriation of funds) of the 2018 edition.
It said "the investigation into Mr Ahmad's conduct in his position as CAF President during the period from 2017 to 2019 concerned various CAF-related governance issues, including the organisation and financing of an Umrah pilgrimage to Mecca, his involvement in CAF's dealings with the sports equipment company, Tactical Steel, and other activities.
"In its decision, following an extensive hearing, the adjudicatory chamber ruled that, based on information gathered by the investigatory chamber, Mr Ahmad had breached his duty of loyalty, offered gifts and other benefits, mismanaged funds and abused his position as the CAF President, pursuant to the FIFA Code of Ethics."
The statement said the terms of the decision were notified to Mr Ahmad on Monday, the date on which the ban comes into force.
"In accordance with article 78 part 2 of the FIFA Code of Ethics, the full, motivated decision will be notified to Mr Ahmad in the next 60 days, after which it will be published on legal.fifa.com," it said.
The football world has been rocked with several cases of corruption and scandal in the past few years including those of FIFA former president, Sepp Blatter.
How to Make a Premier League Team Profitable
Shockwaves rippled through the footballing world this week after it was confirmed Newcastle Football Club has been bought out in a £300m deal, ending owner Mike Ashley's 14-year tenure.
The takeover leaves Newcastle in the hands of the Saudi Arabia Public Investment Fund (PIF), which now owns 80% of the club. The other 20% is split evenly between Amanda Staveley and the Reuben brothers.
After years of frustration and disappointment, Newcastle fans are now full of hope for the future as their new owners are the wealthiest in the sport, worth an eye-watering £700bn. To put that into context, Manchester City previously had the wealthiest owners in the Premier League, who are worth £23bn.
That is not to say Newcastle is now worth £700bn, but they will now have a war chest which dwarfs all others, giving them the financial means to bring in big players.
This news might tempt you to check a major football betting site like 888Sport to see what Newcastle's chances are of winning the Premier League this season, but their odds remain largely unchanged. City are still hot favourites to lift the trophy at odds of roughly 10/11.
So, besides a takeover from a wealthy consortium, how do Premier League clubs make their money? Their biggest revenue stream comes from television broadcast rights for the league.
The English top-flight is the most popular league in the world, in any sport; the viewing figures back this up. As such, the cost of domestic broadcast rights are astronomically high; they're now in the billions.
Sky Sports and BT Sport are the two main contenders for this content, though Amazon Prime and the BBC also contribute.
Exactly half – 50% – of this revenue is split evenly between the 20 Premier League clubs. A further 25% is then distributed according to how many times a team is broadcast live (these are known as facility fees) and the final 25% is based on where a team places in the league (merit fees).
So, a team that is shown live on TV more often will receive a larger chunk of the facility fees, and likewise, a club that finishes high up in the league table will be rewarded with higher merit fees revenue.
This, in theory, should create more of a meritocracy and allow clubs to earn more money based on their performances. However, in reality, big clubs like Liverpool, Chelsea and Manchester United will always get more airtime and, thus, more money.
International broadcast rights revenue is split evenly between the 20 clubs, however, those that make it into the Champions League will get even more funds from TV rights. This is because of separate deals for this competition, and the amount they get largely depends on how far they go in the Champions League.
The TV rights battle only properly boomed over the past decade or so, leading to the staggering figures that are forked over by broadcasters nowadays, which only seem to keep growing.
A more traditional form of revenue for clubs are ticket sales. Clubs will charge each and every person that attends a game for their seat in the stadium, and these prices will vary depending on their position in the venue and the context of the game itself. A London derby between Chelsea and Tottenham will cost more to attend than a game against Aston Villa at Stamford Bridge.
Clubs will also make money from season ticket holders, who will pay a lump sum to have tickets in the same seats for every home game for their team.
On top of this, most Premier League clubs also offer exclusive hospitality and business packages to those willing to splash out on game day. These are particularly attractive to companies that want to impress clients or reward their colleagues. These packages cost a lot more than regular tickets and can be decent earners for Premier League clubs.
In a similar vein, major clubs provide tours of their stadiums outside of match days, charging people to look around and inside the venue to get a closer feel.
Aside from ticket sales, clubs will also be charging for food and drink inside the stadium, and these can generate huge sums of money when totalled up.
Then, of course, there is merchandise. Clubs will have their own shops and stalls on site that sell things like shirts and scarves, but they also have websites where fans can purchase these items as well.
Last, but certainly not least, are the shirt sponsor deals that Premier Clubs can command. Brands like Chevrolet and Yokohama pay tens of millions of pounds to have their logo featured prominently on the shirts of players, providing these teams with yet more income.
However, it isn't all plain sailing, even for the world's biggest football teams. Just look at FC Barcelona, who are facing the worst financial crisis in their long history. Their debt is over the £1bn mark, and they have a lot of work to do before they're out of it.
A large part of their problems stem from player salaries which, according to club president Joan Laporta, represents 103% of their total income. Obviously, such a business model is not sustainable, particularly as they will have many other costs elsewhere.
Obviously, managing the finances of a major football club is no easy task and while it's not possible to get a detailed look at exactly what has gone wrong at Barcelona, it's clear that inflated salaries have been a huge issue.
Premier League clubs earn revenue from numerous streams, some of which aren't wholly under their control but will still have a significant impact on their bottom line. Salaries will be their main outgoing so, as long as they can keep these in check, profits should come.
Firm Enters Nigeria with $14.5m to Disrupt Igaming Market
By Sodeinde Temidayo David
Pan-African igaming operator, Cola Group, has secured a total of $14.5 million capital to expand its igaming division and accelerate its growth within multiple African online gambling marketplaces.
The company is coming to disrupt the igaming market in Nigeria after getting a licence from the Lagos State Lotteries Board through its Nigerian subsidiary, Cola Games Limited, to launch of Cola.bet.
The approval made by the Lagos state lotteries board will secure the brand to enter its fourth African igaming marketplace, following successful launches in Zambia Kenya and Ethiopia.
The operator said that it will leverage its operating blueprint from Ethiopia, which shares similarities with the Nigerian market due to both being retail-centric rather than online.
Following its success across African markets, Cola.bet aims to become Nigeria's leading mobile-first operator, providing seamless integration with all local payment providers.
In the words of the chief operating officer of Cola.bet, Mr Dinu Bors, "Cola.bet delivers an exceptional customer-first experience and the launch augments our global ambitions within the igaming space."
In addition to operating its own brands, Cola Group said its mobile-first Cola.bet platform can be easily adjusted and customised for B2B partners, offering players a broad selection of sport events, esports and casino games.
"The platform is highly customisable and grants B2B partners instant access to curated content for a plethora of markets. We'll be rolling out several innovative features over the coming months, we're only just getting started," Mr Bors noted.
Also, the chief marketing officer of Cola.bet, Mr Dana Varnytska, added that, "Our strategy is built on a localised programme which has been developed through thorough research into market nuances and player preference. Players will benefit from bespoke bonus promotions and extremely competitive odds on the most popular events."
Securing its new investment, Cola Group, which maintains a Curaçao gambling licence, disclosed that it was in the process of obtaining licenses in the regulated markets of Africa, LATAM and Europe.
Saudi Arabia Finally Acquires Newcastle United
By Ashemiriogwa Emmanuel
A Saudi Arabia-backed consortium has finally acquired the English Premier League club, Newcastle United Football Club, after a prolonged legal fight involving concerns about piracy and rights abuses.
The deal was concluded after the approval from the Premier League following the assurances that the Saudi state would not have control of the club.
This means the idea of the Gulf state looking at Inter Milan as an alternate option has come to an end.
In a statement confirming the deal, the Premier League said, "The Premier League, Newcastle United Football Club, and St James Holdings Limited have today settled the dispute over the takeover of the club by the consortium of PIF, PCP Capital Partners, and RB Sports & Media.
"Following the completion of the Premier League's Owners' and Directors' Test, the club has been sold to the consortium with immediate effect. It has now received legally binding assurances that the Kingdom of Saudi Arabia will not control Newcastle United Football Club."
The £300-million ($409 million) takeover by the Saudi Public Investment Fund (PIF) ranks Newcastle to the top in the list of richest owners in world football (€320 billion), ahead of Qatar's Paris Sait Germain (PSG) (€220 billion), and the United Arab Emirates' Manchester City (€21 billion).
Speaking on the successful deal, the PIF governor, Yasir Al-Rumayyan said, "We are extremely proud to become the new owners of Newcastle United, one of the most famous clubs in English football.
"We thank the Newcastle fans for their tremendously loyal support over the years and we are excited to work together with them."
Recall that Saudi Arabia's Public Investment Fund, PCP Capital Partners, and the Reuben Brothers, who are the parties in the deal had, earlier last year, withdrawn their proposed takeover due to the worldwide uncertainty caused by the coronavirus pandemic.
Business Post reported that the decision, after a month, had seen the interest of new buyers with the lead of a Singapore-backed company, Bellagraph Nova Group (BNG) but later fell through
The takeover by the Saudi state, which was disclosed on Thursday, sees the end of the 14-year ownership by British retail tycoon, Mr Mike Ashley over the football outfit, with sports pundits saying the club will witness a new era in terms of its ability to compete with the bigger outfits in Europe.
Latest News on Business Post