Airtel Donates ICT Centre to Imodi Ijebu Community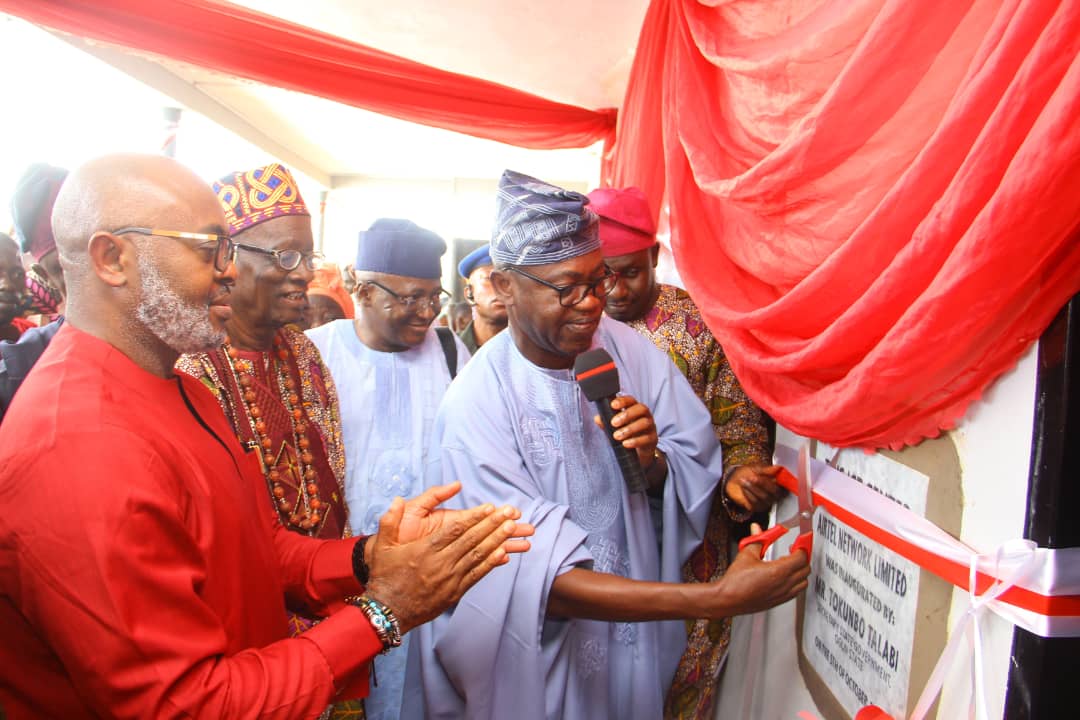 Residents of Imodi Ijebu community in Ogun State have been empowered by a leading telecommunications service provider in the country, Airtel Nigeria, with the donation of a fully equipped ICT centre to them.
The gesture was made to the community on Saturday, October 9, 2019, with the facility having over 30 brand new cutting-edge computers.
It was gathered that the ICT Centre was donated under Airtel Nigeria's CSR initiative, 'Airtel Touching Lives'; so as to foster learning and give the community members unfettered access to information.
The commissioning ceremony was attended by community leaders, dignitaries, and indigenes, who came out in numbers to witness a momentous development in the community's history.
Airtel MD Comments on the Donation
Delivering his address at the ceremony, Airtel CEO and Managing Director, Mr Segun Ogunsanya, who is also an indigene of Imodi and was represented by Director of Corporate Communications, Airtel, Mr Emeka Oparah, stated that the ICT centre will usher in a new wave of innovation for the community in today's technology driven-world.
"At Airtel, we are always excited to offer opportunities that will help uplift communities, empower young people and transform lives.
"We believe an ICT centre is critical to the success of a community and the development of both young and old because it offers a passport to the world. Without ICT, a community will remain isolated, detached, removed, forlorn and hard to reach," he remarked.
"So, with this newly built ICT Centre complete with very modern computers, and riding on Airtel's robust 4G/LTE network, Imodi is now fully connected to the world and on a global map.
"With this facility, more entrepreneurs will spring up, the youth will become more productive and the entire ecosystem will blossom and become more prosperous," he added.
Ogun State Governor Speaks
Ogun State governor, Mr Dapo Abiodun, who was represented by the Secretary to the State Government, Mr Olatokunbo Talabi, commended Airtel for the generous donation; citing the ICT centre as an opportunity for the community to grow in the areas of education and technology.
Mr Talabi went on to appeal to the community to make proper use of the facility and see it as a means to explore and empower themselves through research, so as to stay relevant. In the governor's address, he stated, "Please, don't let's make this a youth centre only – let's make sure others also get the benefit of this remarkable facility. Please, ensure the periodic maintenance of the facility as this is highly important in sustaining the numerous benefits it offers."
"We are in a technological age that constantly requires we develop and enlighten ourselves through information and as such, this centre will play an important role in developing and empowering this community.
"I will like to commend Airtel Nigeria for this commendable act of generosity – you are undeniably contributing to Ogun State's continuous efforts towards development in education and other areas and for this, I say thank you", he added.
ICT Centre to Benefit Other Communities
Mr Emeka Oparah appealed to Imodi community to also accommodate neighbouring communities and give them access to the ICT centre so it may benefit even more people.
He implored the youths to take advantage of the facility's reliable Airtel 4G internet access and use it to develop themselves through the myriad of information available on the internet.
Head of Community Thanks Airtel
Baale of Olumodi of Imodi-Ijebu, Mr Adewale Okusajo, expressed Imodi's utmost gratitude to Airtel, stating the ICT centre marks a remarkable development not only in the community but for neighbouring towns as well.
"On behalf of the entire Imodi Imosan community, I would like to deeply thank Airtel for this project. This means a lot to our people, and I assure you we will be make the best use of it.
"We know how important information is today and what you have given us is unlimited access to a world of it. For this, I say thank you once again," he commented.
The women, youths and children delivered heartfelt cultural music and dance performances in honour of Airtel during the commissioning ceremony to the delight of guests in attendance.
Mr Oparah stated that Airtel remains relentless in its vision to empower more underprivileged people and develop communities across the country under its CSR initiative, 'Touching Lives'.
Interswitch Unveils Report on Future of Africa's Digital Economy
By Modupe Gbadeyanka
A report aimed to help drive the growth of African businesses through blockchain technology has been unveiled by Interswitch Group, a leading integrated digital payment and e-commerce company on the continent.
The whitepaper titled Blockchain Technology: The Future of Africa's Digital Economy, according to the Managing Director of Transaction Switching and Payment Processing at Interswitch, Mr Akeem Lawal, "was inspired by the need to demystify the ambiguity around blockchain technology for African businesses, thereby driving digitization and socio-economic growth across African markets."
"We are passionate about empowering Africans and advancing the African payment landscape, and we are consistently identifying opportunities and exploring innovative ways to enable businesses to transform and scale," he added.
Blockchain technology is a digital ledger that stores transactions. Essentially, it is a digital system for recording transactions in multiple places at the same time thereby making it impossible to falsify the data stored on it. The technology is evolving globally and businesses are integrating Blockchain technology into their business infrastructure.
The whitepaper document released by Interswitch contains details on how businesses can leverage blockchain technology to transform their businesses and the prospects it portends for the future of Africa's digital economy.
Mr Lawal disclosed that the document encapsulates the benefits of blockchain technology and how it will help strengthen businesses because of its efficiency, better security in keeping records and safety.
"While the blockchain technology is a relatively new phenomenon in Nigeria and Africa, we are particularly excited about our partnership with Interstellar with whom we are developing a native blockchain infrastructure that is tailored to suit the African market," he stated.
"This initiative will deepen digital payment, lower the cost of local and cross border payment as well as champion the cause for localization of emerging technology," Mr Lawal assured.
He urged everyone to read the whitepaper document because it addresses existing challenges in the Fintech sector and simplifies the use of blockchain technology in unravelling these challenges.
Google Thrills Android Lovers With Pixel 6, Pixel 6 Pro
By Ashemiriogwa Emmanuel
It is an exciting moment for Andriod and Pixel lovers as Google is set to reveal its new Pixel 6 and 6 pro phones in a few hours' time.
While the multinational technology company traditionally holds an October hardware event to reveal its new Pixel phones, it is a new thing that it had already announced this year's innovations to be unveiled.
"On October 19, we're officially introducing you to Pixel 6 and Pixel 6 Pro—the completely reimagined Google phones. Powered by Tensor, Google's first custom mobile chip, they're fast, smart, and secure. And they adapt to you. #Pixel6Launch," the company had earlier disclosed.
However, the excitement from fans all over the globe seems to be below expectation given that a lot has already been learned about the upcoming Google flagship, thanks to some leaks on the key details of the phones which have been in circulation before now.
There are no confirmations on what the new products will function like, but various leaks have it that the regular Pixel 6 is set to have a 6.4-inch FHD+ display with a 90Hz refresh rate.
It has also been speculated to sport a 50MP main camera and a 12MP ultrawide, while the Pixel 6 Pro ups the ante with a 6.71-inch QHD+ display with a 120Hz refresh rate and a third 48MP telephoto camera with 4x optical zoom.
Regardless, the introduction of the two new versions will see not only a significant departure from previous Pixels but also Google's first attempt at its own silicon & Artificial Intelligence – a revolutionary outcome for Android users.
What has been confirmed is that the Pixel 6 and Pixel 6 Pro will be the flagship devices for the latest Android version – 12, which also has a major visual design change.
The event which is themed Pixel Fall Launch will not only focus on the introduction of Pixel 6 and Pixel 6 Pro as there is room for surprises, that is, the unveiling of sister gadgets or applications.
According to Google, the launch is scheduled to commence at 10 a.m. PT / 1 p.m. ET / 6 p.m. BST. This means that for West African Time, it will be watchable starting from 6 pm today, and can be viewed on several platforms using various live-stream options.
Apple Rolls Out New AirPods, MacBooks, Processor
By Adedapo Adesanya
At its virtual MacBook event on Monday, tech giant, Apple, launched the new generation AirPods which will support spatial audio, thanks to new sensors that support features like spatial audio.
The new Airpods sport a new design, closer to the AirPods Pro, but they lack the rubber in-ear tip. The case also charges magnetically using Apple's magnetic charger MagSafe.
Apple says the third-generation AirPods have more powerful bass than previous models and that the AirPods now have six hours of battery life for listening to audio.
The new AirPods cost $179 (N102,388) and will hit the shelves next week.
Apple launched its first AirPods in 2016 and turned the wireless earphone market on its head.
Apple is the largest AirPods brand as it holds 29 per cent of the market share in the third quarter of 2020, three times that of its closest competitor, Xiaomi.
Also at the event, the company announced new chips, M1 Pro and M1 Max, for new high-end MacBook Pro laptops.
The M1 Max is a more powerful version of the M1 and M1 Pro. It has 57 billion transistors, Apple said, and a 32-core graphics processor, saying that its graphics processor compares favourably to current laptop graphics processors, especially when using less power.
Apple said the new MacBook Pro laptops are completely reimagined as they will come with Apple's M1 Pro chip, a new processor Apple says has a 10-core processing unit that is 70 per cent faster than its current M1 chip.
The new models have an HDMI port to connect to displays and TVs, an SD card slot for photographers. It also uses a MagSafe magnetic connector, bringing back a beloved feature from older MacBooks.
Users can still charge using the USB-C ports, of which there are three, which support Thunderbolt connections.
It comes in 16-inch and 14-inch sizes with denser screens and ProMotion screens with a higher refresh rate, a feature that landed on the iPhone 13 this year. The displays are using MiniLED technology, the company said.
The new models do not have a Touch Bar touchscreen on the keyboard but have a fingerprint sensor on the power button.
The 14-inch MacBook Pro starts at $1,999 (N1.1 million). The 16-inch model starts at $2,499 (N1.4 million), representing a slight price increase from previous models.
Apple's $99 (N56,628) smart speaker, HomePod Mini, will also be available in a variety of new colours including orange, yellow, and blue. Previously, it was only available in white and dark grey.
** FX rates were calculated at N572 per Dollar, the black market rates.
Latest News on Business Post