Airtel, MTN Pays NCC N117.4bn to Renew 3G Spectrum Licences
By Dipo Olowookere
The sum of N117.4 billion has been paid to the Nigerian Communications Commission (NCC) by Airtel Networks Limited, otherwise known as Airtel Nigeria, and MTN Nigeria Communications Plc for the renewal of 3G spectrum licences for 15 years.
Airtel Africa, the parent company of the Nigerian telco, in a statement to the Nigerian Exchange (NGX) Limited on Tuesday, said it paid N58.7 billion for the 2×10 MHz 2100 MHz spectrum licence.
"This investment to renew the licence reflects our continued confidence in the opportunity inherent across the Nigerian market, supporting the local communities and economies through furthering digital inclusion and connectivity," a part of the notice disclosed.
Airtel Africa offers telecommunications and mobile money services in about 14 countries across Africa, including Nigeria, its largest market.
On its part, MTN Nigeria, in another disclosure, said it also paid the Nigerian telecommunications regulator N58.7 billion to renew its 3G licence.
"Having accepted NCC's offer to renew our 2100MHz spectrum for a period of 15 years, effective May 1, 2022, to April 20, 2037, MTN Nigeria has paid N58.66 billion to the NCC. The 2100MHz spectrum licence enables the provision of 3G mobile services on our network," a part of the statement from MTN said.
In a related development, MTN said it had paid N4.25 billion, including taxes, regulatory fees and ancillary charges, to lease a spectrum belonging to Natcom Development and Investment Limited (NTEL). It is a 5MHz Frequency Division Duplex (FDD) in the 900MHz spectrum band and 10MHz FDD in the 1800MHz spectrum band covering 19 states.
According to the firm, the transaction was approved by the NCC, and it is for two years, effective May 1, 2023.
The chief executive of MTN Nigeria, Mr Karl Toriola, while commenting on the developments, said, "This is a significant milestone in delivering our Ambition 2025 Strategy.
"The access to NTEL's 900MHz and 1800MHz spectrums broadens our spectrum holdings and improves our 3G and 4G user experience as coverage and capacity will be enhanced by utilising these spectrums."
Data Breaches in Nigeria Increase 64% in Q1 2023
By Adedapo Adesanya
Data breaches in Nigeria increased by 64 per cent, as 82,000 leaked accounts were recorded in the first three months of the year when compared with the last quarter of 2022.
This made Nigeria the 32nd most breached country in the world in the first three months of this year, according to the latest data from cybersecurity company, Surfshark, collected through its independent partners from 29,000 publicly available databases and aggregated by email addresses.
Globally, data breaches declined in the first quarter of 2023, with a total of 41.6 million accounts breached. This is almost 50 per cent less than the nearly 81 million seen in Q4'2022.
The increase in Nigeria's data breaches moved the country from the previous position of 41 to 32, with around 50,000 breaches recorded in Q4 2022.
Russia was ranked 1st in the world (6.6 million), followed by the United States (5 million), Taiwan (3.9 million), France (3.2 million), and Spain (3.2 million), making the top five.
Taiwan saw the highest quarter-over-quarter increase (21x), placing its total of 4 million leaked accounts 3rd in Q1'2023. The country had only placed 26th in Q4 2022 with 191,000 breached users.
Globally, data breaches declined, dropping to one user account leaked every second in Q1 2023.
"According to Surfshark's study, data breaches declined globally in the first quarter of 2023 if we compare it to the previous one," says Agneska Sablovskaja, Lead Researcher at Surfshark. "However, the fact that over 40 million accounts were breached in just a few months is still a cause for concern. Those whose data was compromised are at an increased risk of being targeted by cybercriminals as their personal information can be utilized for phishing attacks, fraud, identity theft, and other serious cybercrimes."
Surfshark showed that Europe was the most affected region by breaches in Q1'2023, followed by Asia and North America.
In the period under review, Europe was also the only region with a significant quarter-over-quarter increase in its statistics on data breaches. The number nearly doubled, growing from 9.9 million in Q4 2022 to 17.5 million in the first three months of 2023. To put this into perspective, 2 out of 5 accounts breached in Q1 2023 were of European origin, with 38 per cent of these being Russian. Within the region, the biggest quarter-over-quarter spikes in data breaches were recorded in Czechia (almost 9x), Armenia (around 6x), and Switzerland (6x).
Asia was the second-most vulnerable region, accounting for around a fourth of the quarter's breaches (10.6M). The three countries that saw the highest quarter-over-quarter increase overall were all Asian — Taiwan and Saudi Arabia both had around 20 times more leaked accounts in Q1'2023 than in Q4'2022, while South Korea saw its number increase 12 times.
An additional 13 per cent of the accounts were North American (5.3 million). All other regions comprised less than 5 per cent of the quarter's total. Out of all regions, Africa saw the greatest quarter-over-quarter decrease — a whopping 33 times, bringing its total of 18.6 million leaked accounts in Q4 2022 down to 557,600  in Q1 2023.
Some of the biggest breaches by email count were Sberbank (Russia), with 2.9M accounts leaked, Weee! (United States) with 1.1M, and Zurich Insurance (Switzerland) with 756,700.
The ten most breached countries of Q1'2023, in descending order, are Russia, the U.S., Taiwan, France, Spain, India, Czechia, South Korea, and Italy. The highest growth in user victims was spotted in Taiwan (21x), Saudi Arabia (19x), South Korea (12x), Czechia (9x), and Armenia (7x).
WhatsApp Now Allows Users Edit Messages
By Adedapo Adesanya
The social messaging platform, WhatsApp, has announced that rather than users deleting chats in case of a typo, they can now make simple edits.
The edited messages will have an "edited" tag next to the time stamp to mark the change, and other users won't be able to see the previous versions of edited messages.
The Meta-owned platform, through its chief executive officer, Mr Mark Zuckerberg, first noted the development in a Facebook post, revealing that users can now modify a message within 15 minutes of sending the message.
If users want to do this, they can press and hold on to a message and tap on the edit option to alter the message.
"We're excited that you'll now have more control over your chats, such as correcting misspellings or adding more context to a message. For this, within 15 minutes of sending the message, you have to tap and hold that message for a while and then select the option of 'Edit' from the menu," the company said in a blog post on Monday.
This will be good for users that want to correct a simple misspelling or those that want to add extra context to a message.
"We're excited to bring you more control over your chats. All you need to do is long-press on a sent message and choose 'Edit' from the menu for up to fifteen minutes after," WhatsApp said.
As with all personal messages, media and calls, messages and the edits made are protected by end-to-end encryption.
This feature has started rolling out to users globally and will be available to everyone in the coming weeks.
Rival platform, Telegram, has always allowed for edits and users can do so for a time frame of 48 hours.
Last week, the platform announced that users can now lock and hide conversations as part of privacy measures using biometrics or a special code.
WhatsApp Launches Chat Lock to Hide Conversations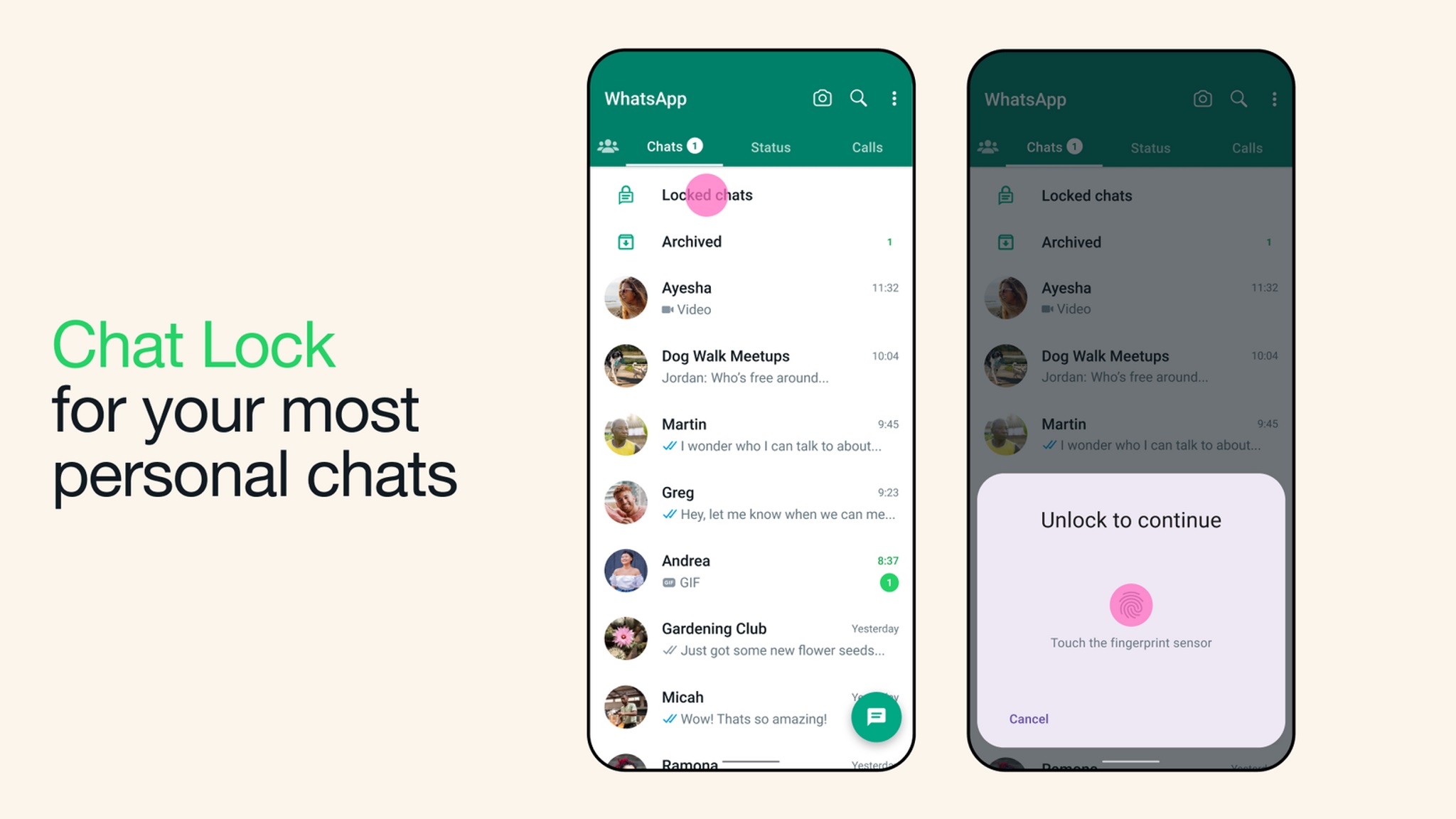 By Adedapo Adesanya
Social conversation platform, WhatsApp, has announced a new feature that will allow users to lock and hide conversations.
The new feature called Chat Lock will remove a chat thread from the app's regular onscreen inbox and place it into a new folder that can only be opened by a password or biometric, such as facial recognition or a fingerprint.
Calling it "one more layer of security", Meta – WhatsApp's parent company – added that Chat Lock would protect "your most intimate conversations" and hide notifications from them.
"Over the next few months, we're going to be adding more options for Chat Lock, including locking for companion devices, creating a custom password for your chats so that you can use a unique password different from your phone's," Meta wrote in a blog post.
"Locking a chat takes that thread out of the inbox and puts it behind its folder that can only be accessed with your device password or biometric, like a fingerprint. It also automatically hides the contents of that chat in notifications, too," the past announced.
Users can lock chat by tapping the name of a one-to-one or group and selecting the lock option. To reveal these chats, users will need to slowly pull down their inbox and enter their phone password or biometric alternative.
"We think this feature will be great for people who have reason to share their phones from time to time with a family member or those moments where someone else is holding your phone at the exact moment an extra special chat arrives," Meta added.
This is the latest feature since it fortified its mobile application with three new security features to protect the personal messages of its users.
Also, it announced that has started allowing in-app payment in Brazil last month.
Latest News on Business Post