Top 10 Players in Nigerian Fintech Space
By Adedapo Adesanya
The Nigerian financial technology space, like the sky, is wide enough to accommodate many players as the ways of doing financial transactions have been disrupted by digital innovations.
Contrary to what many might believe, the Nigerian government saw the possibility of this and in 2007, the Central Bank of Nigeria (CBN) launched the Payment Systems Vision 2020 (PSV 2020). This singular vision from the apex bank can be viewed as the catalyst that spurred the need for fintech companies to start multiplying over the years.
This CBN's activity of 2007 can be considered as the birth of another era. The PSV 2020 was the first time the CBN set forward a reasonable policy for a future cashless society.
Prior to this, there were technology companies in existence but then, they were not able to sit at the table with traditional banks, who had the largest share of the buffet. But within the space of 15 years, rapid growth has changed the narrative.
Now, the fintech space in Nigeria is very competitive as there are countless numbers of fintech startups/companies competing for market share. This means even the traditional banks are being forced to innovate to guarantee their survival amidst the spread of fintech startups or digital banks.
As at the past decade, the fintech industry was somewhat a $20 billion market but the estimated size as at now is $128 billion and this is expected to rapidly expand with an annual average of 24 per cent and could top $310 million in 2022.
In Nigeria, there are an estimated 250 fintech companies with their skin in the game, all jousting for offer services from agriculture technology to savings and investments to crowdfunding to mobile payments to cryptocurrencies.
The diversification of these offerings is making it possible to align with places where traditional banks may not be located and are pushing to achieve the CBN's goal of financial inclusion. The CBN has said that Nigeria will attain 95 per cent financial inclusion by 2024 and one cannot but wonder the role which fintechs will play to ensure this.
Business Post has streamlined the long list of players to 10 game-changers who are driving digital transactions and offering solutions that will not only close the gap in banking but are revolutionising how Nigerians pay for services, save and borrow money, make international payments, and even improve financial relationships among companies and even countries.
Interswitch  
Interswitch is one of the early players. It burst into the scene in 2002 and was founded by Mitchell Elegbe as a transaction switching and electronic payments processing company. Today, Interswitch's technology processes over 500 million transactions a month while its Verve payment card is the largest domestic debit card scheme in the country and has expanded outside of Africa.
Interswitch created the first electronic switch whereby Nigerian financial institutions could communicate and thereby operate ATMs and point of sales operations. The company now provides much of the transaction systems for Nigeria's online banking system.
In 2019, Interswitch confirmed a $1 billion evaluation after Visa, an American multinational financial services corporation invested $200 million for 20 per cent of its stake.
FlutterWave
As an umbrella fintech, Flutterwave founded by Iyin Aboyeji in 2014, completes payment services from more than 68 online payment gateways in Nigeria. It allows clients to tap into its application programming interface (API) and work with Flutterwave developers to customize payments applications.
The company majorly offers business to business (B2B) payments services for companies operating in Africa to pay other companies on the continent and abroad. Some of its customers include Uber, Booking.com and Jumia.
In 2019, Flutterwave processed 107 million transactions worth $5.4 billion, according to data on its website.
Paga
Founded by Tayo Oviosu and Jay Alabraba, the mobile payment company enables people to digitally send and receive money and creating simple financial access for everyone. In Nigeria, Paga has over 9 million customers and 17,000 agents.
It was initially launched in Nigeria to profit from the buildup of cash money in the financial industry and to execute financial services for all residents in Africa. However, it was one of the early birds to tap into mobile banking with customers able to access it multitudes of service offerings by dialling *242#.
PiggyVest
PiggyVest is an online savings platform that empowers savers to put away funds that they would prefer not to withdraw effectively. Founded by Somto Ifezue, Odunayo Eweniyi, and Joshua Chibueze, the fintech as at 2019 has over one million users and has saved up to $80 million.
PiggyVest doesn't just allow users to save, it also allows them to invest their money while offering a return within a period. It offers between 10 – 15.5 per cent on savings. Investments can get up to 22 per cent returns in one year.
One key feature that has found home with users is the SafeLock feature which was modelled after treasury bill transactions, where a buyer is paid a fixed percentage of their capital depending on how long you permit the government to hold your money.
Business Post understands that the average amount in a Piggyvest SafeLock is about N500,000 and is typically locked for between 4 and 6 months.
Paystack
Founded by Ezra Olubi and Shola Akinlade, Paystack offers payment solutions to businesses in Nigeria. They are one of the leading online payment gateways in the county. The fintech company, which was founded in 2015, has quickly become one of the favourite payment solutions for tech startups in the country.
Its last round of funding came in August 2018 when they raised $10.2 million in Series A funding led by Stripe and had previously recorded four previous fundings in seeds and non-equity assurance.
eTranzact
Also, one of the early players, it was launched in 2003 as a multi-application, multi-network and multi-channel electronic payment platform that supports every significant network; including AMEX, VISA and MasterCard.
eTranzact is one of the Fintech companies in Nigeria designed as a credible option in contrast to all transaction which is either cash or cheque based. The platform capacity is with the end goal that any arrangement driven by customer payment can be automated on the platform.
eTranzact as a Switch processes payment requests from various channels – Web, ATM, POS, mobile-utilizing automated procedures.
The switching platform validates transaction requests subsequent to running security checks on the payment cards.
Nigerians use it to pay at cinemas, event shows, and for other payments. The company has tech solutions for players in various sectors of the economy including banking, education, the financial market, travel and transportation, telecommunications, and public administrations.
Paylater (Now known as Carbon)
Carbon is a mobile-only digital bank founded by Chijioke and Ngozi Dozie. It provides innovative financial services to the financially underserved. It was formerly known as Paylater. Carbon offers bill payments, fund transfer, and savings products, in addition to loans.
They offer instant loans to Nigerians without collateral. With a very competitive interest rate, they have dominated the fintech sector. The app is used by over 1 million people to secure loans and other financial solutions.
In 2019, they secured $5m debt investment from New York and Nairobi-based debt platform Lendable. Mostly known for giving instant loan, they have since diversified into many areas such as mobile top-ups, investment and digital banking.
Business Post reported earlier this year that as at last year, the fintech had disbursed over 975,000 loans. This boosted its revenue as it recorded over 25,000 loans top-up, bring about a N6.3 billion in revenue.
Remita
Remita made the cut because of its affiliations to small and medium scale enterprises, multinationals, state governments, government agencies, NGOs, schools and educational institutions alongside Individuals to receive and make payments electronically.
Developed by SystemSpecs, Remita processes over two million salaries per month for Nigerian companies. In 2016, Remita processed N1.36 trillion for the Nigerian government when it consolidated all federal ministry and agency accounts under the Treasury Single Account (TSA) scheme.
The company started out as a developer and reseller of human resources and accounting tools. It eventually developed HumanManager, an HR and payroll system for corporate environments. Its payroll system has since expanded to Ghana, Benin Republic, Equatorial Guinea, Sierra Leone, Zimbabwe and South Sudan.
Kuda Bank
Kuda is the first digital-only bank in Nigeria with a standalone license. Unlike others, it is not fintech that has a mobile wallet or a mobile app affiliated with an existing bank, it is a bank on its own.
Based in Lagos and London, following its banking license from the Central Bank of Nigeria (CBN), this gives it a status different from other fintech startups.
Part of its offerings includes: checking accounts with no monthly fees, a free debit card, savings and peer-to-peer (P2P) payments options on its platform.
Customers can open an account within five minutes and will get an account number and can request a physical debit card afterwards.
CowryWise
Considered the direct rival of PiggyVest, it was founded by Edward Popoola and Razak Ahmed. The fintech allows users to save for long-term goals including home, vacation, family, emergency, education, business, retirement, among others.
A user can invest in Nigeria's money market via mutual funds. The platforms list funds like Afrivest Plutus Fund, United Capital Money Market Fund, Meristem Money Market Fund and more. Users can access Dollar mutual funds.
Cowrywise also offers between 10 – 15 per cent on savings while Mutual funds on its platform can get up to 20 per cent per annum.
Nigeria Lifts Suspension on New SIM Card Registration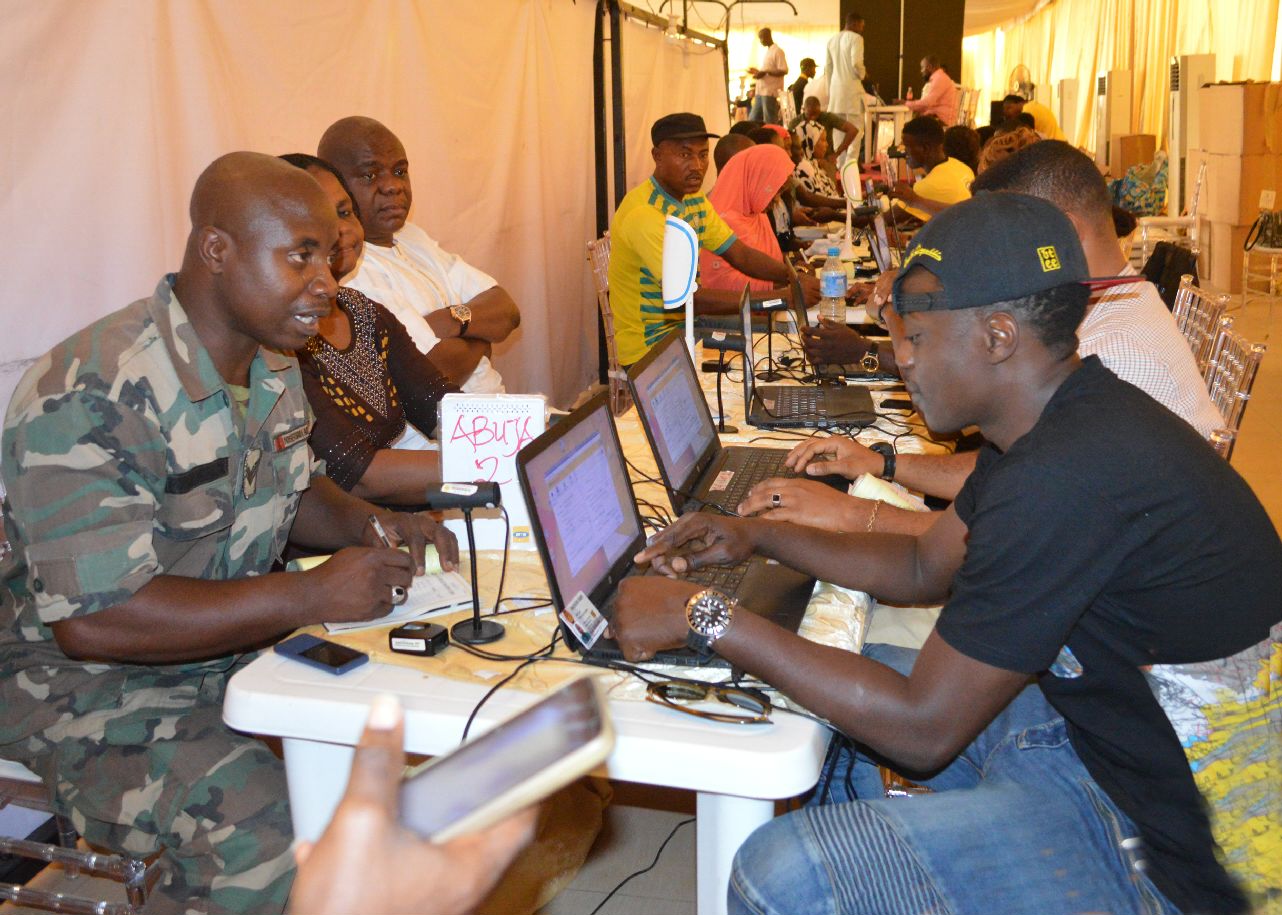 By Adedapo Adesanya
The suspension earlier place on the activation/registration of new SIM card in the country has been lifted by the Nigerian government.
The lifting of the suspension was announced by the federal government on Thursday. However, it stressed that the registration must be in compliance with guidelines from Monday, April 19, 2021.
The central government suspended the activation of new SIM cards by GSM network providers in December 2020 as it embarked on an audit of the Subscriber Registration Database.
On Thursday, the Ministry of Communications and Digital Economy, which announced the lifting of the embargo in a statement signed by Mr Femi Ademiluyi, a technical aide to the Minister, Mr Isa Pantami, said the latest development was in line with the Nigerian Communications Act (NCA) 2003, Section 23(a), which specifies the role of the Minister to include the formulation, determination and monitoring of the general policy for the communications sector.
On the Subscriber Registration Database, Mr Pantami, on behalf of President Muhammadu Buhari, coordinated and led the development of a Revised National Digital Identity Policy for SIM Card Registration in collaboration with all other stakeholders.
An earlier policy was approved on February 4, 2020, while the Revised Policy was developed in early March 2021.
In the statement, Mr Adeluyi noted that final amendments to the revised policy based on the directives of Mr President to make the use of NIN mandatory for all SIM registration were completed On Tuesday, April 14, 2021.
Prior to that, the key aspects of the draft Policy were presented to the stakeholders at the 4th Review Meeting of the Ministerial Task Force (MTF) on the NIN-SIM registration which held on Friday, February 26, 2021.
Key stakeholders and members of the MTF who joined the Honourable Minister at the meeting included the EVC/CEO of the Nigerian Communications Commission (NCC), DG/CEO of the National Identity Management Commission (NIMC), DG/CEO of the National Information Technology Development Agency (NITDA), Comptroller-General of the Nigeria Immigration Service (NIS) and the Chairman of the Association of Licensed Telecommunications Operators of Nigeria (ALTON). Others included the NCC Executive Commissioners for Technical Services and Stakeholder Management, MD/CEOs of MTN, Airtel, EMTS (9Mobile), NTEL, Spectranet and SMILE, as well as the COO of Glo.
The statement also noted that Mr Pantami also presented the revised policy to Mr Buhari on Friday, March 26 2021.
"Mr President made further improvements and endorsed it for implementation. Mr President also commended the Honourable Minister for his commitment in carrying out the responsibility of developing the digital economy sector, including championing the NIN-SIM registration process.
"The policy includes guidelines on new sIM acquisition and activation, SIM replacement, new SIM activation for corporates and Internet-of-Things/Machine-to-Machine (IoT/M2M), amongst others. The possession of a national identity number will be a prerequisite for each of these categories.
"For the corporate registration, institutions will be required to appoint a Telecoms Master (at the minimum of an executive management level) to provide the operational primary NIN representation. The telecoms master will also be responsible for ensuring that the users provide their NINs to serve as a secondary NIN", the statement read.
"For IoT/M2M activations, SIM security protocols would be implemented on the SIM profile to ensure that SIMs can only be used for point to point data services specific to the URL they are working with. All other services will be barred.
"In the event that a data-only service is particular to individual use (eg home car tracking, WiFi, MiFi services, etc), the standard NIN registration process will be followed. A telecoms master will also be required for Corporates requiring IoT/M2M activations. The full details of the requirements for each class of service will be made available in due course.
"Significant progress has been made in the NIN registration process across the country. Nonetheless, the federal government is committed to supporting all Nigerians and legal residents to obtain a NIN.
"The biometric verification process has been slower than anticipated, owing largely to the non-adherence of many previous SIM biometric capture processes to the NIMC standards. The revised policy will ensure that operators conform to the required standards for biometric capture.
"The guidelines in the policy have been painstakingly developed and while they are thorough, it should be noted that they have been developed that way in National interest since the SIM is essentially a national resource. Citizens and legal residents are encouraged to bear with the government as the process has been developed in the best interest of the country", he said.
"The Minister has also directed NCC and NIMC to ensure that the provisions of the policy are strictly followed by all operators and subscribers.
"Dr Pantami wishes to thank Nigerians for their patience and compliance with the federal government's directive on the NIN-SIM registration exercise".
"He reiterated government's commitment to continue taking decisions aimed at easing the pains of the citizens with regard to issues related to NIN and SIM registration", the statement concluded.
The blockchain brings new financing options to the business market. For example, Bitcoin Cash casino has adapted to only using cryptocurrency. This way, it makes it easier for their customers to deposit and withdraw in a BCH casino. Entrepreneurs have taken note of this and are looking to invest more in crypto than in fiat markets.
Latest News on Business Post