Umi Blockchain Ecosystem: Instant Transfers, Smart Contracts And Profitable Staking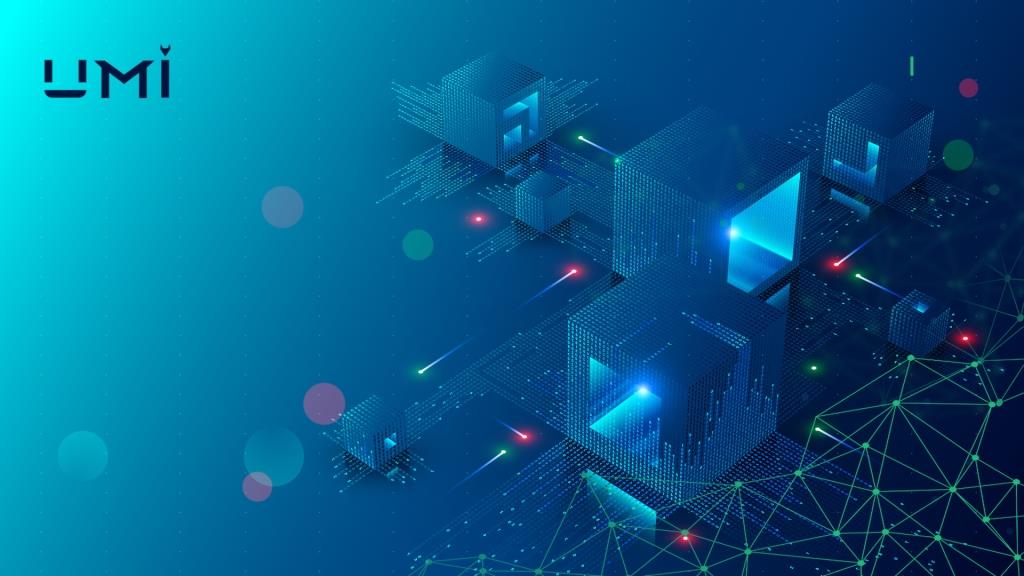 Thus far, the number of issued cryptocurrencies and digital tokens has exceeded 7,000 and in this ocean of crypto projects, it is difficult for investors to recognize promising services at an early stage of development, however, at the same time, investments at this stage maximize the profits.
UMI is one of the young projects created at the crossroad of DeFi and digital assets trends, which draws attention not only by its unique functionality but also by its future plans.
UMI is a universal monetary instrument that allows users to make instant, secure and free financial transfers, as well as earn crypto through profitable staking.
In addition, UMI is a full-fledged blockchain platform capable of executing smart contracts of any complexity. Let's take a closer look at UMI capabilities.
Watch a video about UMI below:
Transactions
The UMI network can execute approximately 4500 transactions per second. This significantly exceeds the capacity of most other blockchains, including fundamental ones like Bitcoin or Ethereum.
The UMI Mainnet was launched in the summer of 2020 and it's continuously improving. In the future, the UMI team will roll out an update that will increase enough high capacity to execute 10,000 transactions per second. This brings the UMI platform closer to the transactional conductance of major payment systems such as VISA and MasterCard.
The UMI developers also have a long-term goal – to achieve the capacity of 1 million transactions per second. Although this sounds too ambitious, there is a chance to reach it in the long run, and here is why.
First, the UMI network operates on an improved version of the Proof-of-Authority consensus (PoA consensus characteristics will be discussed in detail later in the article).
Secondly, such scaling can be achieved through the optimization of programming languages ​​and smart contracts, as well as with such tools as Kubernetes.
Finally, upgrades of the UMI network can be carried out faster and with less effort with the planned changes in the internal architecture of the ecosystem.
Another planned function of the UMI ecosystem payment service also appears to be very promising – offline transactions.
Other blockchain systems focus on transactions exclusively via the Internet, while in the UMI ecosystem, the procedure of sending transactions can be carried out without access to the World Wide Web using ordinary SMS or other communication methods.
For example, the length of a UMI transaction is 150 bytes. That's 1200 bits of information. The standard length of an SMS is 1120 bits (140 bytes), which means that only 2 SMS are required to send a transfer through the UMI blockchain. This is convenient if the transfer needs to be sent urgently, and the Internet is temporarily not accessible.
Technically, the UMI ecosystem is already capable of sending offline transactions without the Internet connection, but the service for initiating transfers has not been launched yet. The UMI team is currently developing it.
Although, the main feature of the UMI blockchain is not the network's capacity, the absence of any fees. This has been achieved by the unique technology on which the ecosystem is built, as well as a different economic model in comparison to other popular cryptocurrencies.
Technology
The UMI blockchain is based on Proof-of-Authority technology, a concept created by Ethereum co-founder Gavin Wood.
The difference between PoA and the popular Proof-of-Work algorithms (which Bitcoin runs on) or Proof-of-Stake (Ethereum plans to switch to PoS) is that in the PoA network there is no place for the contest between the miners and forgers for the right to generate a block and get a reward.
The generation of blocks, and most importantly, their integration into the blockchain, is handled by trusted nodes – 'master nodes'. In the UMI network, master nodes are large authorized nodes that meet stringent speed requirements. This feature significantly increases the network's capacity.
However, the original concept of PoA also has its drawbacks. The original PoA model assumes that ordinary users cannot influence the operating mechanics of the system, and only trusted nodes have the right to confirm transactions and record them in the blockchain, and those usually belong to one organization or affiliated companies. These factors increase the risks of network centralization, which deprives the cryptocurrency of its main value – decentralization – and make it little different from other already existing traditional payment systems.
In order to avoid the risk of network centralization, the nodes in the UMI blockchain are divided into two types – 'master nodes', that integrate blocks into the blockchain, and 'validator nodes' that validate the blocks. Only certain types of nodes can become master nodes – they include nodes launched both by the UMI team and their numerous partners from different countries, while any user can launch a validator node. Validator nodes monitor the work of the master nodes, and if the suspicious actions are detected, the unscrupulous masters are automatically disconnected from the system.
Along with the distribution of power among master nodes and validator nodes, another mechanism which is designed to prevent centralization is planned to be implemented in the UMI system in the future – integration with Proof-of-Stake consensus.
The UMI blockchain will continue to operate on the PoA algorithm, but if any problems with the master nodes arise, the system will automatically switch to the reserve PoS consensus.
Even if all of the masternodes suddenly stop functioning, the performance of the UMI network and its ability to conduct transactions will not be affected. PoS nodes do not need computing equipment to work, a regular laptop is enough. Any UMI user who has installed a desktop wallet with a validator node will be able to launch a backup PoS node.
Moreover, staking works on a smart contract in the UMI system, which means that the staker does not need to keep the computer on all the time. Thanks to staking on a smart contract, you can generate new UMI coins: up to 40% per month in 24h mode. With such a profitable economic model, UMI encourages users to actively join the system. This model is one of the features that allows UMI to avoid commissions for transfers – staking participants are interested in developing the ecosystem without additional incentives, such as commissions.
Smart contracts
The UMI blockchain allows you to create many specialized multifunctional smart contracts, including those suitable for integration into e-commerce services or for launching decentralized autonomous organizations (DAOs). These include various decentralized finance (DeFi) services.
Areas of application for the UMI blockchain smart contracts:
Decentralized exchanges and applications;
DeFi protocols, including Yield Farming and lending;
Online stores;
Crowdfunding platforms;
Gambling sites;
Gaming platforms;
Cashback and bonus programs;
and many other services.
Thanks to its high capacity, the UMI network will ensure the smooth operation of large DeFi projects, decentralized exchanges (DEX) or decentralized applications (DApps), and users will not face unprecedented high transaction fees, as it happened before with the Ethereum network.
Thus, the launch of UMI-based DeFi services will not have a negative impact on those who use the system exclusively for money transfers.
Staking in detail
Currently, UMI coins can be mined in two staking structures (pools) – ROY Club and ISP Club. In order to start mining, you need to create a personal wallet in the UMI blockchain and transfer a certain amount of UMI coins to your address.
After replenishing the wallet address, you can place your coins for staking in two pools. Unlike other staking systems, coins in the UMI system do not get frozen after joining a pool. They remain in the user's wallet and no one can access them except the owner. Staking rewards accrue 24/7. The user can withdraw and sell them at any time.
You can buy UMI coins via the SIGEN.pro trading platform, which includes an exchange, an automatic exchanger and a p2p platform. According to the statistics, the daily trading volume of UMI ranges from $ 250,000 to $ 300,000, and the liquidity of the order book for buying coins has already exceeded $ 3.2 million, taking into account the p2p-platform. For the project that was launched only four months ago, the numbers look very promising. The interest in UMI on the market is indirectly evidenced by the rapidly growing number of active users: their number exceeded 47,000.
Mobile apps
Thanks to high-quality and fast mobile apps, users can perform all key operations using a smartphone or tablet. The applications for Android or iOS can be downloaded from Google Play and App Store, respectively.
UMI mobile apps offer a wide list of functions. One can create and manage one or several UMI wallets, receive and send coins, connect to staking structures, view the history of transactions and get in touch with technical support.
The applications provide the ability to authorize using Face ID, fingerprint or PIN-code.
You can find all the latest information about the UMI project in the blog.
Visa to Acquire Swedish Fintech Tink for €1.8bn
By Adedapo Adesanya
Global payment service, Visa, said Thursday it would acquire Swedish financial technology firm Tink for €1.8 billion ($2.2 billion), months after the US credit card giant dropped a bid to acquire the startup's American rival, Plaid.
Tink is an open banking platform that connects 3,400 financial institutions in Europe with more than 250 million customers and gives its clients access to aggregated financial data.
Visa's planned takeover of Tink's US competitor Plaid was abandoned earlier this year after it was blocked by US authorities on competition grounds.
Tink started in 2012 when it launched an app allowing Swedish consumers to track their personal finances in one place, by connecting to multiple bank accounts.
Over the years Tink pivoted to providing business solutions for banks and financial institutions by leveraging financial data, and in 2020 the company scrapped its personal finance app.
In a statement, Visa wrote, "Tink enables financial institutions, fintechs and merchants to build tailored financial management tools, products and services for European consumers and businesses based on their financial data.
On its part, Visa said, "By bringing together Visa's network of networks and Tink's open banking capabilities we will deliver increased value to European consumers and businesses with tools to make their financial lives more simple, reliable and secure," Visa Chief Executive Officer, Mr Al Kelly said.
Speaking on the deal, Mr Daniel Kjellen, CEO and co-founder of Tink said the deal would allow the company to move faster and reach further than ever before.
Tink is already "integrated with more than 3,400 banks and financial institutions," and "will retain its brand and current management team, and its headquarters will remain in Stockholm, Sweden," Visa said.
The deal, which Visa said would be funded from cash on hand and is subject to regulatory approval.
Data Centre Launch: MainOne Assures Ghana Customers 100% Uptime
By Modupe Gbadeyanka
As the leading carrier-neutral data centre provider in West Africa, MainOne, is preparing for the launch of its data centre in Accra, Ghana, customers have been assured 100 per cent uptime.
A statement from the firm disclosed that the facility would be launched this month and it would boost business operations in the area.
MainOne is the leading provider of connectivity, cloud and data centre solutions in West Africa. The Appolonia Data Centre is located 20 kilometres from the heart of Accra.
The centre will expand MainOne's already robust infrastructure and service profile in West Africa because it was built to cater to the increasing demand for colocation and interconnection services by multinationals and businesses seeking shared services for their ICT resources in a world-class facility.
The Chief Operating Officer of MDXi, a subsidiary of MainOne, Mr Gbenga Adegbiji, stated the "Appolonia Data Centre is a state-of-the-art facility being built to the highest standards required for today's digital infrastructure and consistent with the MainOne brand.
"With the assurance of the high quality of service designed to meet business requirements for digital colocation and cloud infrastructure, the Appolonia (Accra) Data Centre will provide a highly secured, resilient and scalable solution for our customers."
Mr Adegbiji further said "the operations of the Uptime Tier III certified Appolonia data centre will be based on the global MDXI Standard Operating Procedures (SOP) which have been proven with 100 per cent facility uptime of the Lekki Data Centre since its launch in 2015."
Set for launch in June 2021, the 100-rack Appolonia Data Centre offers customers the opportunity to host infrastructure in a facility guaranteed to provide high levels of availability and rich connectivity with a global network of customers, partners and suppliers thus ensuring 24×7 online delivery of services to businesses.
"We established this data centre in Ghana to bring the highly sought services which MainOne is known for closer to institutions in the country," Emmanuel Kwarteng, Country Manager, MainOne Ghana noted. "We are confident that the Data Centre will not only deliver state-of-the-art services but also create jobs and ultimately contribute to the economic growth of Ghana." All data centre staff are directly employed by the company and are trained on the latest technology deployed to keep the data centre running smoothly. There are staff dedicated to monitoring all critical systems in the data centre to ensure that proactive actions are taken to guarantee availability on 24X7X365 basis.
The Appolonia Data Centre has also been fitted with high-definition CCTV motion detection cameras, laser-based perimeter intrusion detection systems, and three levels of security barriers before access to computer rooms.
Access to the facility is restricted to pre-authorized individuals with identification only and there is an access management system to record access history for audit purposes.
A dedicated service delivery team assists customers with onboarding and ongoing service management. Remote Hands and Eyes Support services are available for customers to troubleshoot or perform various maintenance activities to ensure their equipment operates as expected while allowing our customers to focus on their core business.
Six Affordable Nokia Phones You Can Purchase
Buying a phone can be arduous, especially when you want great design, durability and functionality at a reasonable price.
The exciting news is, despite your budget, there is the perfect Nokia phone for your needs. Every Nokia phone is built to last, undergoing tougher tests than the industry average, giving you peace of mind.
Each phone is beautiful with a timeless Finnish design and provides experiences at a great value. Three reasons to choose a Nokia phone is because you will love it, trust it and want to keep it.
Together for longer with Nokia 1.4
Feel more connected to the people and things you love with the Nokia 1.4. The big 6.51" HD+ screen is perfect for learning and playtime with the kids, and it's easy to capture beautiful photos with the versatile Camera Go app and focus on what you love with a built-in macro camera. Like family, this is a phone you can count on- featuring a two-day battery life1 Qualcomm chipset and fingerprint sensor.
Enjoy all of these and more with the Nokia 1.4 selling at N46,500.
Cherish every moment with Nokia C20 and Nokia C10
With the all-day battery life and stunningly clear 6.5" HD+ screen, spending a quiet moment alone or with your family has just become more enjoyable. Immerse yourself in your favourite tunes while travelling to work or settle in to watch a film with the kids.
The latest additions to the popular C Series range bring forward much-loved features like Android 11TM (Go edition), adding up to 20% faster speeds, and improved security features, as well as Nokia smartphone durability with quarterly security updates for two years.
The Nokia C20 is an ultra-high value smartphone that comes with standout features that include the front and rear LED flash to capture those special moments even in low-light. Spend more time speaking to those you love. With fast 4G, you can keep in touch with family on facetime, even on the move. With its Octa-core processor and the latest operating system, you can rely on C20 to get things done swiftly. Enjoy all this and more with just N40,400.
Nokia C10 is the most affordable device of the new portfolio. The Nokia C10 showcases its Nordic heritage in tandem with Nokia smartphones' trademark durability, and the superior build quality stems from rigorous testing and attention to the most minute details. The ergonomically designed casing with a micro-texture finish makes it easy to hold even for the smallest of hands.
The Nokia C10 is available in stores or on the Nokia official store on Jumia  for only N36,000.
A modern classic reimagined -the new Nokia 3310
Fall in love over again with the iconic Nokia 3310, built with care and made to last. With the new Nokia 3310, you can enjoy longer conversations with family, friends and colleagues; and trust its long-lasting battery to take you through the day.
Remember the legendary Snake game? It is back with an even better twist and a little update that makes it more fun to play in colour.
Access popular web content with Opera Mini Browser and manage communication easily with seamless Dual SIM switching.
With four attractive shades to choose from, you can pick a Nokia 3310 that matches your style at just N19,000.
Long-lasting battery with everyday essentials Nokia 105
Inspired by the heritage of Nokia phones, its contoured modern design makes the Nokia 105 a great fit in hand. Featuring inherent colour throughout its polycarbonate casing, minimising the visual impact of knocks and bumps, Nokia 105 is built for everyday life, delivering the quality, reliability and robust design fans expect from a Nokia phone.
Call family and friends for hours on end without worrying about the battery life. With up to 2,000 contacts and 500 SMS storage space, you'll always have the information that matters to you, ensuring you stay connected with all your contacts from one device.
Additionally, take your music on the go, with Nokia 105's built-in FM radio and light up your way with the ever-popular LED torchlight – simply press the up key twice to quickly turn the torch on and off.
Get the Nokia 105 for only N6,400.
Mix up the beat with the Nokia 5310
Keep the music flowing both indoors and outdoors with the Nokia 5310. Mix up the beat, anytime, anywhere, thanks to the MP3 player and wireless FM radio.  Enjoy the sound of your favourite songs wherever you are with the dual front-facing speakers.. The Nokia 5310 also comes with dedicated music buttons, meaning you can adjust the volume and shuffle through tracks with ease.
With all the reliability you would expect of a Nokia phone, the Nokia 5310 has a battery life that keeps you connected day after day. Stay connected more with a battery that lasts for up to 30 days in standby mode, and keep those calls going from sunrise to sunset.
Get the Nokia 5310 for N17,700, from any offline partner store or the  Nokia official store on Jumia.
There you have it. Six phones specially curated to make your life better and keep your wallet smiling.
You can purchase your Nokia mobile at any offline partner store – Finet, Slot, Spar, Pointek, Royalline or 3CHub or the Nokia official store on Jumia.
1Battery is based on a real-life usage test by HMD Global.
Latest News on Business Post