Emirates' Resumption of Flights to Nigeria Delights Passengers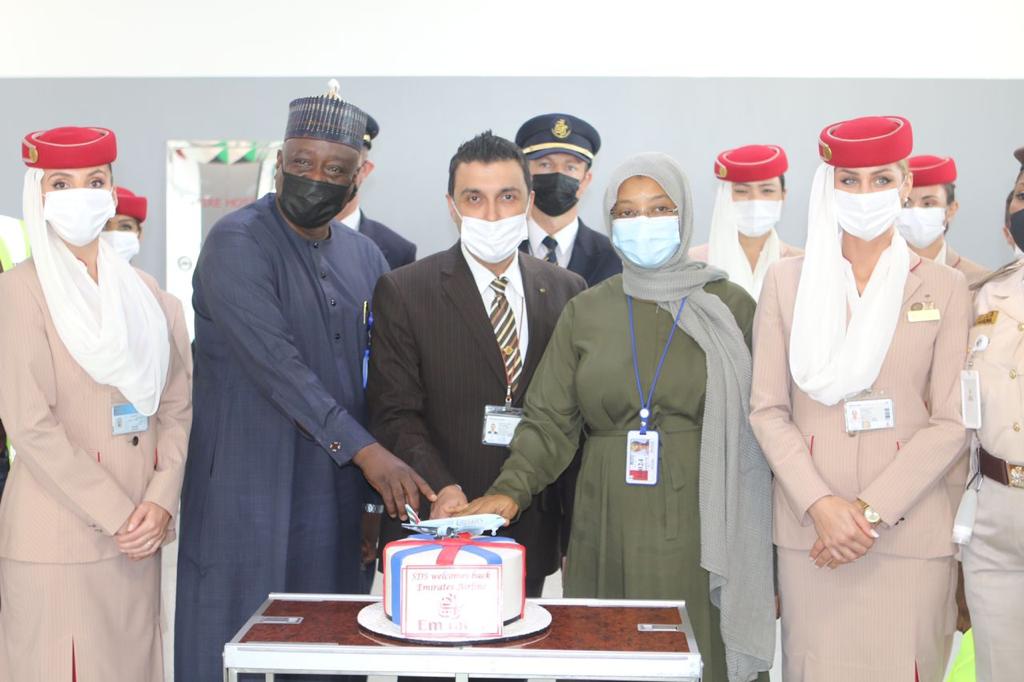 By Aduragbemi Omiyale
The resumption of flights to Nigeria by Emirates is already thrilling passengers, who have waited for a long time to have this happen.
On Sunday, two planes flew from Dubai to Nigeria and touched down at the Murtala Mohammed Airport, Lagos and the Nnamdi Azikwe International Airport, Abuja and were received with a spectacular water cannon welcome.
The arrival of the flights signalled the restart of daily services to Nigeria from Dubai. Both flights from Dubai, EK 785 to Abuja and EK 783 to Lagos, upon arrival, witnessed a cake cutting ceremony.
"We are delighted to resume operations to and from Nigeria and are pleased to see strong interest from our customers, reflected in robust forward bookings from the time of our announcement, as well as today's full flights from Dubai to Abuja and Lagos.
"The services will also give our customers the opportunity once again to safely experience Emirates' superior product and service, offering them convenient travel options to Dubai, an already popular destination for Nigerian travellers, as well as seamless connectivity other key cities across our network," Paulos Legesse, Country Manager Nigeria said.
The aircraft being deployed to both Nigerian cities is the three-class Boeing 777-300ER which offers 8 luxurious First Class suites, 42 generous Business Class seats, and over 300 seats in Economy Class.
Customers across all classes were able to enjoy the airline's regional delicacies onboard, as well as its renowned in-flight entertainment system, ice, featuring over 4,500 channels of on-demand entertainment, including Nollywood films and content.
Emirates operates to Abuja with EK 785 and 786. EK 785 departs Dubai at 1100hrs, arriving in Abuja at 1540hrs.
The return flight, EK 786 takes off from Abuja at 1900, arriving in Dubai at 0435hrs the next day. Emirates flight EK 783 to Lagos departs Dubai at 1030hrs, arriving in Lagos at 1540hrs. The return flight EK 784 departs Lagos at 1810hrs, arriving in Dubai at 0415hrs the next day.
Ensuring the safety of travellers, visitors, and the community, COVID-19 PCR tests are mandatory for all inbound passengers arriving to Dubai, including UAE citizens, residents and tourists, irrespective of the country they are coming from.
Travellers coming from Nigeria must hold a negative COVID-19 PCR test certificate for a test taken no more than 72 hours before departure.
Additionally, the Nigerian Centre for Disease Control (NCDC) has specified designated laboratories for passengers departing Nigeria and travellers must obtain their certificate from one of the labs listed here to be accepted on the flight. Travellers coming from Nigeria will also need to take another Covid-19 PCR test on arrival at Dubai International Airport.
Since it safely resumed tourism activity in July 2020, Dubai remains one of the world's most popular holiday destinations, especially during the winter season. The city is open for international business and leisure visitors. From sun-soaked beaches and heritage activities to world-class hospitality and leisure facilities,
Dubai offers a variety of world-class experiences. It was one of the world's first cities to obtain the Safe Travels stamp from the World Travel and Tourism Council (WTTC) – which endorses Dubai's comprehensive and effective measures to ensure guest health and safety.
Dubai is currently hosting the world for Expo 2020, happening between October 2021 and March 2022. Through the theme of Connecting Minds, Creating the Future, Expo 2020 Dubai aims to inspire people by showcasing the best examples of collaboration, innovation and cooperation from around the world.
Its programme is packed with experiences to suit all ages and interests, including a rich line-up of themed weeks, entertainment, and edutainment. Art and culture fans, as well as food and technology enthusiasts, can explore exhibits, workshops, performances, live shows and more.
Emirates continues to lead the industry with innovative products and services and recently took its customer care initiatives further with even more flexible booking policies which have been extended to May 31, 2022.
Air Passengers Vote Emirates as Best in In-Flight WiFi, Food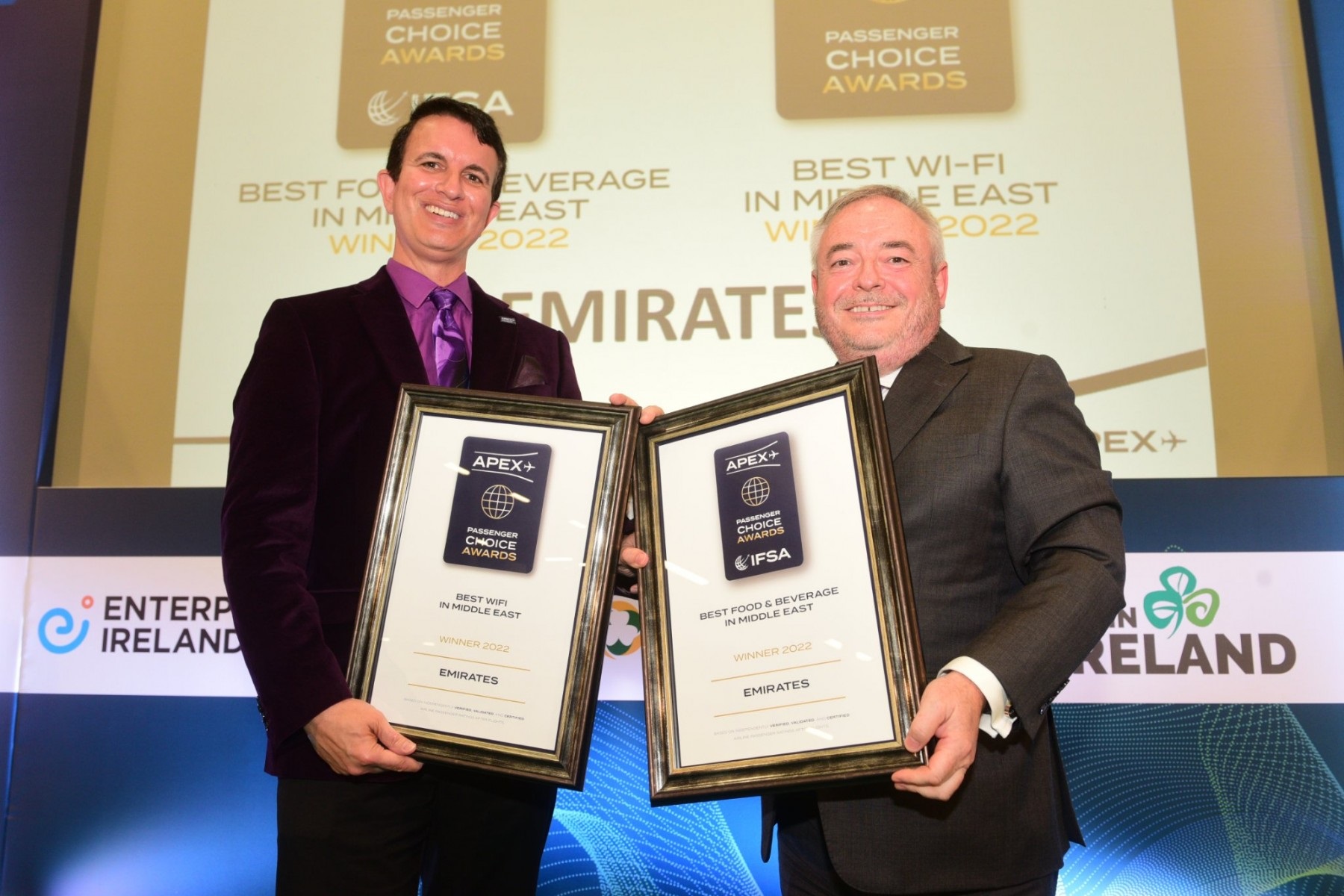 By Modupe Gbadeyanka
The decision of the management of Emirates to give its customers quality value-added services has finally paid off as air passengers across the world have voted the airline operator as the best in in-flight WiFi and food.
At the 2022 APEX Regional Passenger Choice Awards® ceremony held in Dublin, Ireland held recently, Emirates was announced as the winner of the Best Wi-Fi and Best Food & Beverage awards in the Middle East.
The organisers received votes from verified passengers flying on over one million flights on nearly 600 airlines from around the world. They were asked to rate their airline experiences in five subcategories: seat comfort, cabin service, food and beverage, entertainment, and Wi-Fi.
The two awards crown Emirates' continual efforts to deliver the best possible customer experiences on board and take the total count of APEX awards presented to Emirates, to 30, since the awards' launch in 2010.
The Best Food & Beverage award recognises Emirates' consistently high-quality, regionally inspired cuisine and extensive drinks menu. The airline's attention to detail ensures a clockwork operation where over 110 meals from close to 4,600 recipes that cater to every palate are loaded onto its flights each year.
Emirates also pays special attention to its beverage offering which ranges from fresh mocktails and vitality boost drinks, to a wide selection of hand-picked teas and coffee, alongside the very best champagnes and special vintages of wines and spirits that any sommelier would envy.
Staying connected is an everyday essential on the ground and also in the skies. Emirates was the first airline to equip its entire fleet with mobile phone connectivity, in 2007, and now every aircraft is equipped with Wi-Fi services.
Free connectivity options are available to all Business and First-Class passengers, and Skywards Platinum and above. Great value plans are available for full flight internet or chat. Last year, Emirates replaced MB limited plans with unlimited plans or timed plans – simplifying the options available as few users understood the MB consumption on a session.
In total, Emirates' award-winning ice inflight entertainment system, with over 5,000 channels, including up to 150 channels dedicated to family and children, presents an unmatched breadth of content in 40 languages to cater to its global customer base.
It also offers more than 4,000 hours of movies and TV, and close to 3,500 hours of music and podcasts to choose from, along with 5 channels of live TV including major sports events for sports lovers. New, exciting and exclusive content will be available onboard ice with something for everyone travelling this summer and beyond.
The APEX Passenger Choice Awards® recognize excellence in seat comfort, cabin service, food and beverage, entertainment and Wi-Fi. Partnering with TripIt® from Concur®, the world's highest-rated travel-organizing app, anonymous passenger feedback is gathered based on neutral, third-party passenger feedback and insights.
EAN Aviation Gets Authorisation to Sell Airbus Helicopters in West Africa
By Modupe Gbadeyanka
A Nigerian-based firm offering aviation services, aircraft maintenance and a luxury VIP terminal, EAN Aviation Limited, has become the distributor for Airbus Helicopters in West Africa after sealing a deal with the manufacturer.
It was gathered that the Nigerian company was selected as a result of its local commercial structure, capacity to further develop local and ancillary markets, ability to support Airbus customers and contribute to customer satisfaction according to Airbus Helicopters' Ethics & Compliance requirements.
According to a statement from the organisation, the strategic partnership between EAN Aviation and Airbus focuses only on the West African civilian market and will rely on the distributor for sales, servicing and support for helicopters in the region.
The Head of Sales for the Middle East and Africa at Airbus, Arnaud Montalvo, expressed the company's excitement at having EAN Aviation as "our first independent distributor in the West African region," saying the firm's "knowledge of the market is second to none."
"We are confident in their expert team to ensure the success of this partnership and excited about the opportunity to expand our footprint in West Africa by growing the civilian market for helicopters, which is well suited to the region's aviation needs, providing operational flexibility to develop the current transportation architecture," Montalvo added.
The CEO of EAN Aviation, Mr Segun Demuren, while reacting to the development, stated that, "EAN has been at the forefront of Business Aviation development in Nigeria for over a decade.
"We look forward to leveraging our impressive network, and in-depth market understanding to grow the helicopter services industry and to add value to Airbus Helicopters' activity in the West African region by deepening connectivity and operational efficiency. Take Nigeria for example, we have 32 airports but 774 local governments that helicopters can access," he added.
Speaking further, he said, "We are glad to be affiliated with a brand that has gained the trust of millions of people, based on their decades of experience and millions of flight hours. At Airbus, safety is at the heart of everything they do, the team strives to meet the highest safety levels, and will provide servicing and support to ensure the safe operation of all their aircraft and products in the West African region, which we know is very important to our clients."
Wakanow, Dana Air Partner to Provide Real-time Flight Schedules
By Aduragbemi Omiyale
A partnership aimed to make available to air passengers real-time flight schedules and inventory has been entered into between Wakanow and Dana Airlines, also known as Dana Air.
"Wakanow is expected to bring in another differentiator to the Nigerian travel industry as we begin this collaboration with Dana Airlines," the chief executive of Wakanow, Mr Adebayo Adedeji, stated.
"With this partnership, we are poised to change the face of domestic travel for Nigerian travellers and other tourists from across the world. We would bring our topnotch expertise to bear so that this collaboration will be a case study across the aviation industry," he added.
It was gathered that this collaboration between both organisations makes the leading travel tech company the only official online travel agency with Dana Airlines Nigeria's Live Inventory bookable in real-time.
This will enable the firm to deliver a seamless booking experience for its customers and passengers of the fully private sector-owned carrier in Nigeria.
"The aviation industry is undergoing changes that will delight travellers and will bring a boost to the quality of service provided to the travellers. With Wakanow, Nigerians will continue to have bespoke services and superior customer experience across all our touchpoints for Dana Airlines," Mr Adedeji assured.
In her words, the Chief Commercial Officer of Wakanow, Mrs Adenike Macaulay, said, "This integration with Dana Airlines will unlock an expanded domestic inventory selection for our customers making Wakanow the one-stop shop for domestic travel bookings in Nigeria.
"Our expertise in the travel industry will be brought to the fore in exceeding customers' experience with Dana Airlines bookings. She noted, "Our workforce is ready to support Dana Airlines in surpassing customers' expectations."
In his remarks, the deputy CEO of Dana Air, Mr Sukhjinder Mann, said, "Our collaboration with Wakanow is to create seamless, real-time booking options for our guests across the world and there are a lot of these partnerships in the works as part of efforts to continue to exceed the flying aspirations of our guests with improved customer experience."
Wakanow has become renowned for her support of local and international airlines and for enhancing the Nigerian aviation industry with distinct products and services. The travel tech company is built to cater to all the travel needs of travel enthusiasts from flights, hotels, holiday experiences, visa processing, and COVID-19 tests, among other offerings for Nigerian travellers.
As an indigenous African travel industry leader, Wakanow was a part of the 10th Aviation Stakeholders Convention that took place in Nairobi, Kenya recently.
Latest News on Business Post